---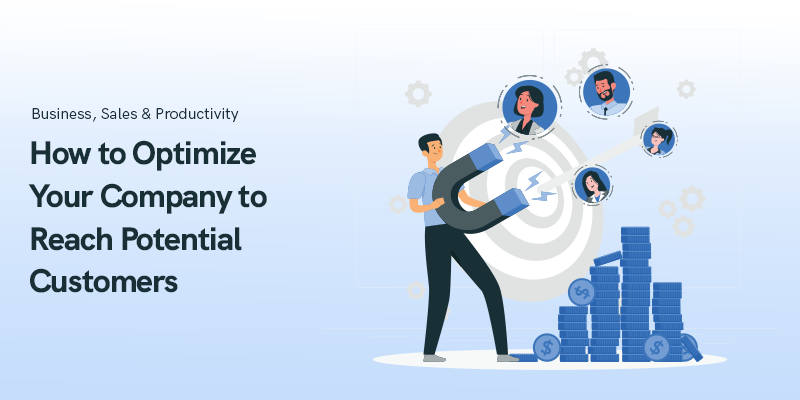 How to Optimize Your Company to Reach Potential Customers in 2023
No matter the industry or the size of your business, every organization is constantly looking for ways to attract new customers.
First, you can count on the potential local customers that can easily be attracted.
Second, you need to win over new customers from other areas, and third, you should do your best to keep your customers satisfied, so that they repeatedly get back to you.
However, working on the local potentials of your area needs to be taken care of meticulously.
Local search can be a powerful tool for service-area businesses.
This means the businesses that are not optimized for local search may be missing out on potential customers.
In other words, local SEO is important if you desire your local business to stay relevant.
Today we are going to first see how to optimize your company locally, then we'll see how to reach potential customers, and how to retain them.
Boosting Your Business Locally
Use Google My Business
Google My Business has gained popularity for local searches due to Google's preference for verified and supported content.
Google My Business aligns with their verification criteria, potentially earning your business a prominent sidebar spot in Google's local search results.
To ensure optimization, create and verify your Google My Business page.
Utilize Google posts to encourage customer reviews and respond to location-specific feedback.
Improve Internal Link Structure
While external links directing to your website are suitable, changing your internal link structure can also improve your SEO rankings.
It's worth noting that content still matters when it comes to SEO.
Every blog post for your page can be a new page to target search phrases.
Therefore, every time you decide to write pieces of content, you must optimize the content by using the right keywords, title, meta description, and many more.
Create Local Content
While you can write general content topics that appeal to many people, it's also a good idea to focus and write about industry or local news that attract a local audience.
You can become the local authority in your industry by promoting local news, employees, industry gatherings, and many other educational content. 
And now let's see how to convert our potential customers into real ones and how to retain them. 
Ways to Win Over Prospects and Retain Existing Customers
Here's a list of what you should do to win some new customers and keep the ones you've already attracted. 
Don't Make Empty Promises
Empty promises may create an initial buzz, but they ultimately lead to disappointment.
That's the kind of impression you don't want to create.
Deliver a Personalized Experience
Personalization will take you far when it comes to catching a prospect's eye and turning them into loyal customers.
You can attach personalized approaches to various facets of customer interaction.
If you are an e-commerce store that offers an assortment of products, offering relevant recommendations can help create a personalized customer experience.
Try Good Ol' Snail Mail
Speaking of personalization, have you considered the power of snail mail?
In today's highly digitalized world, there's nothing more charming than receiving handwritten thank you notes.
This simple strategy can leave a lasting impression on clients.
Develop a Loyalty Program
With an abundance of options, why should customers stick to your brand?
Customers want to feel seen and rewarded for their loyalty.
Loyalty programs are nothing new, but they are a tried and tested way to hold on to valuable customers.
So let your creative juices flow and come up with a loyalty program that appeals to your target audience.
Prioritize Clear Communication
Communication is key to customer retention.
Instead of sweeping customer complaints under the rug, address these issues head-on and offer a reasonable solution.
Not only will it help your support team resolve customer queries, but also help you deliver great customer experiences.
Utilize Customer Feedback
Customer feedback forms the cornerstone of your customer retention strategy.
Rather than guessing what your customers desire, adopt measures to collect valuable customer feedback.
Utilize this information to refine your strategies, which can help you efficiently cross-sell and upsell to existing customers.
Embrace Automation
Customer acquisition and retention involve several moving parts, which can make these processes time-consuming and challenging.
In today's technology-driven landscape, your business can't do without automation.
Automating repetitive tasks such as sending emails or collecting feedback can help you save time and resources.
Positive Surprises
Surprise and delight is a proven method to attract and nurture customers.
For example, why send a sample product on a random day when you can send it on a customer's birthday?
From Starbucks to Sephora, countless brands treat customers with birthday freebies.
Don't Underestimate Email Marketing
With so many newer platforms and tools, don't underestimate the power of email marketing.
Even if a person doesn't have a social media platform, they will likely have an email address.
Email marketing is one of the most efficient and cost-effective ways to keep your brand alive in customers' minds.
From product launches to blog posts, you can keep your customers informed with regular emails.
Track and Analyze Metrics
Just implementing strategies without any follow-ups is no better than shooting in the dark.
We cannot emphasize enough the importance of tracking and analyzing various metrics.
Whether you are implementing a new email marketing strategy or hosting an Instagram giveaway, you have to look into the numbers.
Monitoring metrics can also help you determine the churn rate and identify the reasons why customers stop doing business with you.
Determining and rectifying these errors is vital for long-term retention.
Conclusion
In today's competitive atmosphere in businesses, you definitely need to boost your business so that you won't fall behind.
In order to do so, you should first try to level up your business locally, meaning you should attract potential customers that are not far from your established location.
Then you should get into attracting new customers from other areas and lastly, you should do whatever you can in order to maintain them and make them come back to you again and again.
If you know any other strategies other than those presented in this article, feel free to share with us in the comments section.
Thank you for reading this.
Recommended Posts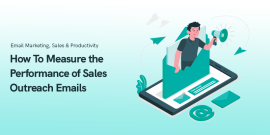 November 7, 2023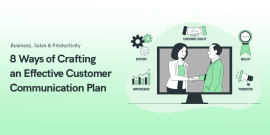 November 7, 2023