---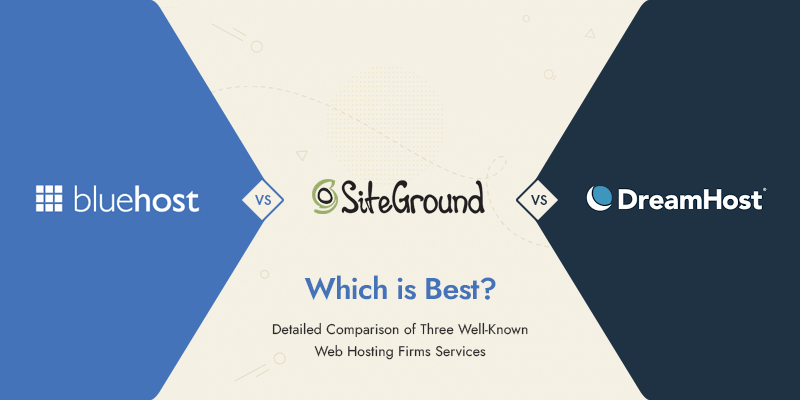 SiteGround vs Bluehost vs Dreamhost – Who's Best in 2023?
If you want to take advantage of the seemingly limitless opportunities afforded by internet enterprises, you must begin your entrepreneurial path by making sound business choices – ones that will make your efforts more lucrative.
As a result, you must begin by narrowing down the top web hosting options.
This is often the most significant hurdle, and to help you avoid it, as well as the other consequences of making the incorrect decision, we've compiled some really important information for you.
A Comparison of the Three Web Hosting Providers
let us begin by comparing the services provided by three well-known web hosting firms — Bluehost vs SiteGround vs Bluehost.
SiteGround
Siteground provides high-end performance at an affordable price. SiteGround is a managed hosting provider that provides services such as student hosting, enterprise hosting, dedicated hosting, cloud hosting, reseller hosting, and standard web hosting. Drupal, Magento, Joomla, WooCommerce, and WordPress are just a few of the apps supported.
Apart than caching WordPress, this platform is well-known for its one-click installation, GIT version control, content delivery network, and frequent upgrades, as well as performance-enhancing features.
The first thing you're likely to notice is the degree of security that SiteGround provides. As soon as you begin the registration process, its password checker kicks in to assist you in enforcing the password strength requirement. The system then employs what is known as the Leech Protect function to further secure your login credentials.
Combine this with anti-hacking monitoring, hotlink prevention, and anti-spam applications, as well as a 99.9% uptime guarantee. As a consequence, a secure framework for creating shopping carts, online businesses, and other ecommerce components is created.
BlueHost
BlueHost is a managed hosting provider that specializes in reseller hosting, dedicated hosting, virtual private server (VPS) hosting, shared hosting, and WordPress hosting. Above all, it is recognized for its managed WordPress capabilities, which are even recommended by WordPress.org.
However, it is not all. Numerous consumers have also lauded BlueHost for offering proprietary solutions that employ the company's own data centers, fiber networks, and Linux kernel running on bespoke servers. Additionally, if you're particularly interested in marketing, you may have heard about its capacity to maximize Bing and Google advertising.
Additionally, you get frequent backups of your user account. The most intriguing element, however, is the availability of power backup through diesel generators and uninterruptible power supplies.
This and much more features are available at a reasonable price, with low-tier members receiving the same level of specialist assistance as their high-tier counterparts. Another distinguishing feature is, perhaps, BlueHost's generous storage and bandwidth allocations.
DreamHost
DreamHost is also a managed hosting service, offering not just dedicated hosting but also cloud hosting, virtual private servers (VPS), shared hosting, and WordPress hosting. Nonetheless, the majority of its user base is made up of more than 600,000 WordPress websites and blogs.
Among the platform's significant features are free SSDs, unlimited bandwidth, automated WordPress updates, one-click WordPress installation, unlimited storage, and customizable dashboards.
Despite this, DreamHost continues to entice consumers with a free setup offer, which is matched with a complimentary domain. If you're on a budget, shared hosting based on Debian Linux would suffice.
Dedicated and VPS hosting, on the other hand, offer huge enterprises with specialized bespoke features at a premium price. However, charities and NGOs located in the United States are free from this requirement. They get free hosting.
Then, similar to BlueHost, you'll get frequent backups and multichannel support.
Specifications and Distinctive Value Propositions
Bluehost is based in Idaho and is a well-known web hosting provider that provides a slew of freebies. Similarly, Dreamhost is situated in Los Angeles and provides the most competitive rates, particularly for shared hosting.
While Bluehost and Dreamhost are all US-based firms founded by professionals, Siteground is a Bulgarian company founded by a group of friends during their undergraduate years.
However, we must acknowledge that Siteground is more professional and performs far better than any other web hosting provider on the planet on several fronts.
Additionally, Dreamhost has the greatest money-back guarantee, while Siteground is unquestionably the quickest. If your brain is whirling and you just cannot decide, have no fear.
By the time you're through reading this article, you'll have learned all you need to know to make the best option.
Shared Web Hosting
Bluehost's shared web hosting is available in four different plans, each of which has a unique collection of features. Bluehost's Basic Plan begins at $3.95 per month and allows for the hosting of one website.
However, with an entry-level plan, it provides far more storage (50 GB) than the majority of website hosting firms. This is in addition to other complimentary services such as an SSL certificate and unlimited bandwidth.
Another web hosting business, Siteground, provides a comparable entry-level plan for $3.95 a month, but with a monthly visitor limit of 10,000.
Speed and Performance
When it comes to speed, no one beats Siteground, simply because the firm prioritizes smart resource allocation on its servers. Siteground operates data centers in Europe, the United States, and Asia.
The organization is committed to devoting the appropriate resources in order to achieve optimum client satisfaction.
Although little is known about Bluehost's data centers, shared hosting seems to be the company's weakest segment in terms of customer satisfaction.
The majority of its clients say that their website's speed and performance degrade with time and that the problem is seldom remedied. It seems to be a situation of overloaded servers. Dreamhost does not promise the moon, but it is significantly slower than Siteground.
Shared Hosting Options from Bluehost
Bluehost and Siteground, on the other hand, charge much more than other web hosting businesses. Indeed, Dreamhost has the greatest rate on an entry-level shared hosting package, which costs $2.59 per month. Thus, we'd like to say that Dreamhost's entry-level shared hosting plan is the finest.
What Kinds of Hosting Plans Are Available? Bluehost vs. Dreamhost
Both hosts provide a range of plans. Here's a quick recap.
Shared Hosting
Both web hosting options begin with shared hosting, in which your website is shared with other websites on a same server.
Bluehost offers a variety of shared hosting packages, each of which includes one free domain and unlimited bandwidth.
Bandwidth refers to the quantity of data that a server can send over a certain time period and has an effect on the performance of your website. Unmetered implies that you are not charged based on the quantity of bandwidth or storage space used.
DreamHost offers a single shared hosting package that includes unlimited bandwidth and a free SSL certificate. Annual plans include a free domain and an unlimited number of email accounts.
Additionally, Dreamhost offers a drag-and-drop WordPress builder that simplifies the process of creating, customizing, and launching WordPress websites.
VPS Hosting: For Websites with a High Volume of Traffic
Bluehost's virtual private server hosting plans provide up to 8 GB of RAM. All VPS plans include unmetered bandwidth.
While the majority of hosting services provide limitless space and bandwidth, this is subject to the terms of service of each host. According to Bluehost, 99.95 percent of clients will have sufficient space and bandwidth to operate their website.
Additionally, DreamHost's VPS hosting plans provide unlimited bandwidth, as well as up to 8 GB RAM and 240 GB storage. Email is provided, and you may create an infinite number of domains.
Dedicated Hosting: For Enterprise Applications
Bluehost offers a variety of dedicated hosting options with up to four cores and 1 TB of storage.
DreamHost provides nine dedicated hosting plans with four- or twelve-core CPUs, up to 64 GB of RAM, and up to two terabytes of hard disk drive storage or 240 GB of SSD storage.
Cloud Computing Hosting
Bluehost offers a few cloud hosting options, the most expensive of which includes unlimited storage capacity. Their cloud options begin at $9.99 per month for two gigabytes of RAM and one gigabyte of storage.
Dreamhost's cloud hosting plans begin at $4.50 per month ($0.0075 per hour) for 100 GB of block storage and 80 GB of SSD (solid-state drive) disk space.
Is Reseller Hosting a Possible Option?
Although DreamHost does not provide reseller plans, you may add your customers' domains to your account and charge them.
Through Reseller Club, Bluehost provides a variety of reseller programs. Each has support for an unlimited number of websites and cPanel accounts.
WordPress Hosting
Dreamhost and Bluehost are both officially supported by WordPress.org, making them both excellent choices if you own a WordPress site. This recommendation is based on the use of up-to-date software and simplicity of installation.
(The only alternative server recommended by WordPress is SiteGround. They are well-known for their excellent customer support and provide a one-click WordPress installation.)
Bluehost and Dreamhost's shared hosting options have WordPress pre-installed. DreamHost is somewhat less expensive than Bluehost. Managed WordPress plans at DreamHost start at $16.95 per month, while Bluehost's begin at $19.95 per month.
If you're building your website using another popular content management system, both hosting companies provide straightforward connection for the majority of CMS.
Verdict: Which is the Best Hosting Option?
There is no doubt that Siteground is the clear winner in all aspects, from customer support to performance.
SiteGround is the only provider in our category that can compete with BlueHost in terms of customer assistance.
To begin, the support system here is quite similar to that of BlueHost. Apart from an extensive knowledge base, SiteGround also provides a ticketing system, toll-free phone help, and live chat assistance 24 hours a day, 365 days a year.
A 30-day audit of four SiteGround-powered websites indicated that the claim of 99.99 percent is most likely meant to maintain a realistic level. The final average uptime records surpassed that figure by a few decimals, making SiteGround the only hosting provider to have outperformed its matching uptime promise in testing.
And for an even broader comparison, check out other hosts. It could be prestashop hosting. There are many similarities and differences here. And so the result can be really interesting.
Recommended Posts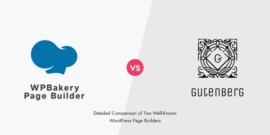 November 1, 2022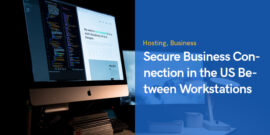 September 21, 2022