---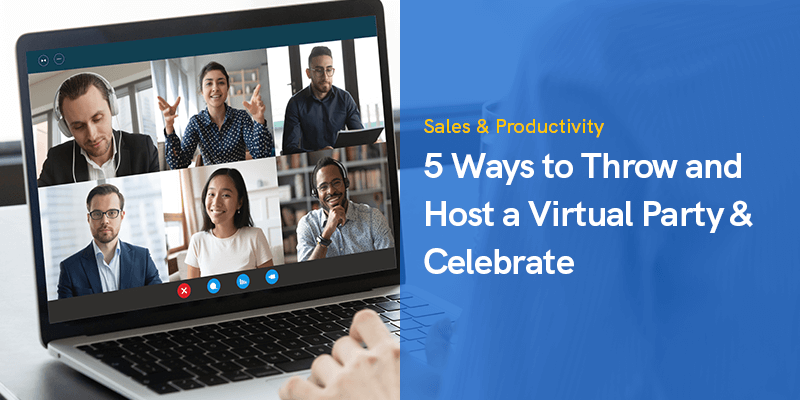 5 Ways to Throw and Host a Virtual Party & Celebrate
Social distancing and quarantine have changed the lives of people around the world in so many aspects.
Maybe it was far beyond the imagination of us that one day we would have to stay away from our loved ones for their own good; to protect them.
Many now miss social gatherings, meetings, parties, celebrations, seminars, etc. that once used to be an integral part of daily life in different ways.
However, being apart doesn't necessarily have to prevent us from partying! In fact, celebrating together during these times of isolation seems to be even more important than before.
Rather than meeting each other in person, we can keep holding different events virtually and have the chance to connect with our friends and family members.
Let it be a business-related meeting or a birthday party, going the virtual route helps us keep track of everyone around us.
Hosting a virtual party is way more comfortable than what it may seem to be in the first place.
All it takes is spending some time making schedules and using the proper technique for it.
 
How To Host a Virtual Party?
In the next paragraphs, we will go through five ways we can celebrate better in the current situation.
Also, we introduce MEC, which is one of the best WordPress event calendar plugins for holding online events that comes with multiple additional addons for further functionalities.
 
Remote Company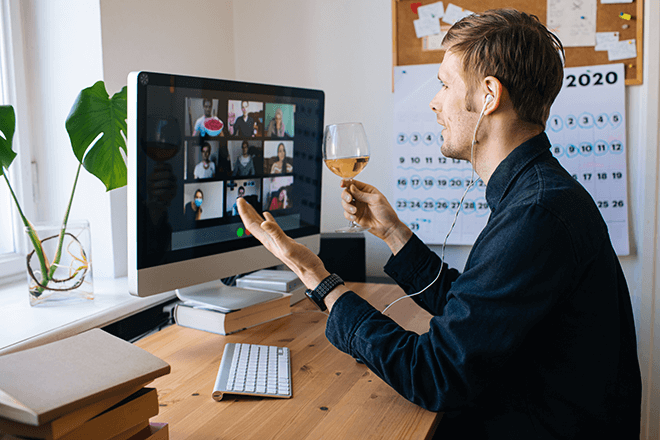 Keeping employees engaged during lock-down time is the key factor in the success of businesses.
Remote working doesn't mean not seeing each other, and we should do our best to keep in touch with coworkers and spend some time socializing.
The following list can give you ideas on how to throw a virtual party and let everyone enjoy it in the best way:
 
Make It Special with Costumes or Decorations
Having a theme has long been favored by so many event hosts, and a virtual party should be no exception either.
Getting dressed up in a way different than the regular outfits we use every day can be a fun way to start a conversation and display creativity.
Try to make a challenge for people before the event begins and awaken the spirit of competition in them.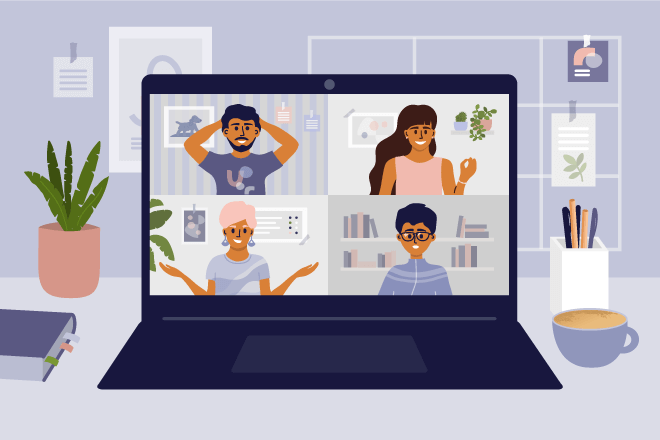 If possible, it would be great to buy them some special items online and set rewards for the most impressive appearance.
Complimenting those who have followed the theme in front of others can likewise be an excellent practice to increase engagement and cooperation.
All of these practices make your events memorable and ultimately creates better results.
 
Provide People with Food and Drinks
We know that at most get-togethers, people are served with foods and drinks, so why shouldn't it be the same for a virtual party?
Although it's not possible to see them and eat or drink together, you can use a couple of ways around this.
Online delivery services are a perfect match for this purpose, and you can schedule them so that all arrive at people's doors at the same time.
If you are unaware of their eating habits or can't just send foods to all of them simultaneously, offering a meal stipend gives them the possibility to order their favorites.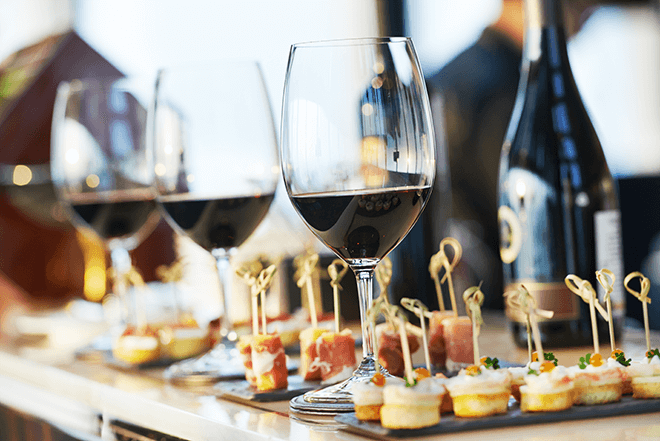 Also, it can be a good idea to send a special recipe to all of them beforehand and then compare the results during your virtual event.
To add more fun to the session and make it practical, you can co-host the event and ask a professional cook or bartender to teach people how to make food or drink.
This way, you leave a better impression on them, and again, make the event unforgettable.
 
Add Entertainment to Your Virtual Party
We are spending long hours at home these days, and many are weary of feeling isolated. Therefore, entertainment is now welcomed more than ever.
With that in mind, you can do different activities to make the session more entertaining.
For instance, ask a performer or a musician whom your team members like to perform online or teach people an interesting skill.
If your team consists of women, it can be extremely satisfying to have a makeup artist online and teach them some useful techniques in this regard.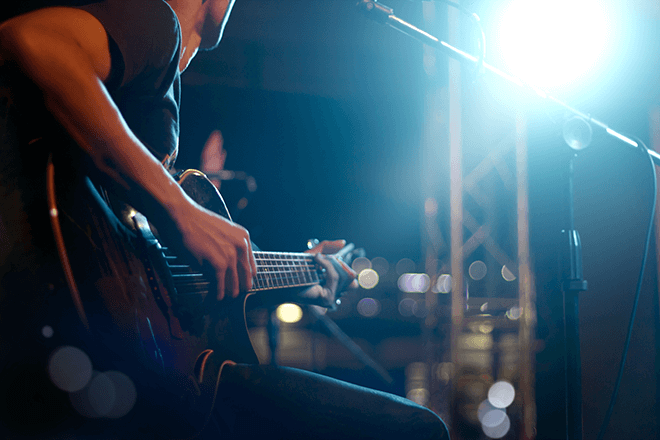 Online video streaming is another great entertainment for a virtual party.
You can use the watch party feature of Netflix or other platforms and start watching something cool with the group.
If you have a problem making up your mind about the right movie, do surveys and ask people about it.
Fun games are also a great fit for virtual events. Include board games, quizzes, trivia night, or any other interesting activities that heat up the competition.
There are a lot of free online apps and games available to be used for this purpose.
If your games require smaller teams, rooms of online event tools such as the Zoom's breakout rooms pave the way for them, too.
Whatever entertainment you put in your schedule, make sure it begins at the right time and let your employees know about it in advance.
 
Ask for Help if Necessary
If it is your first time hosting a virtual event, or don't know exactly what steps to take, feel no shame of asking others for help.
As COVID-19 hit, virtual events became a new trend, and at the same time, online event consultants increased.
These people can help you make events more interesting and provide you with solutions to make audiences more engaged.
Either you want to coordinate food deliveries or find an entertainer, they can manage things in the best way for you.
Otherwise, if you are on a budget and can't spend time on having a professional event planner, you can always ask a friend and give some of the responsibilities to them.
For example, your partner can take care of checking the internet connection and let you focus on the main event.
 
Virtual Birthdays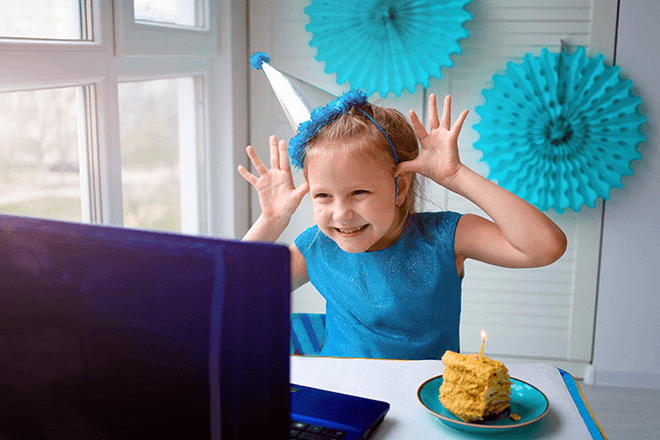 Aside from business, virtual events have turned out to be proper for birthday parties as well. It can be amusing, and you don't have to do cleanups after that!
The main principles of throwing a virtual birthday are similar to what we discussed in the previous section.
Yet, following the next tips can bring you much comfort for a virtual party:
 
Give Instructions to People
This step is necessary since you are inviting friends and family members, and some may not be familiar with technology and video chat tools.
Provide tips for using the tool you are going to use along with the invitations you send.
You can even make things much more understandable by recording your desktop screen for a start-to-finish tutorial on how to install the application and create or join rooms.
 
Schedule a Proper Duration
Staring at a screen during a video call for a long duration can be frustrating. The ideal length for a virtual birthday is about an hour, but make sure that you log in to your account before others.
Moreover, don't forget about different time zones as you and other participants are not bound by geography.
If you have friends who live in countries with a significant time difference, it will best suit you to hold more than one session for that virtual party.
Plus, don't forget to use your hosting skills during the virtual party, just like what you do for in-person meetings. In real life, you would try to make it a great time for everyone and draw people into the conversation if needed.
The same conditions apply to a virtual event, and it can get more awkward since some attendees may not be used to it.
Generally speaking, you are the person who leads the session. Just keep the conversation going, and in case there are newcomers among the attendees, ask everyone to introduce themselves.
To break the ice, start with the way people are coping with the current pandemic and ask questions about their experience, or possibly, pieces of advice.
 
Set the Scene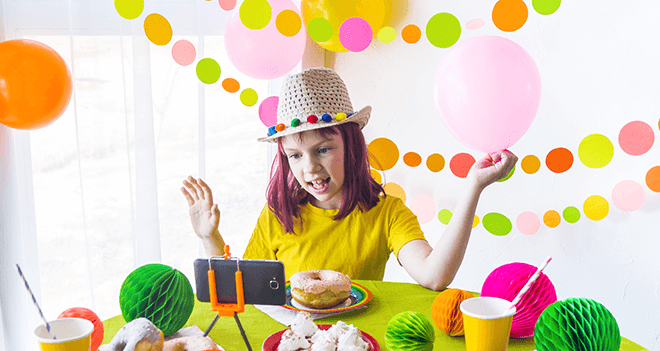 You, as an event host, should do your best to transform a typical video call into a birthday party.
So wear party clothes, install banners, make some decorations, and prepare a birthday cake with candles atop and blow them during the party.
Before that, install your webcam in a proper place and test it so that it lets others see your room and decorations at the right angle.
 
The Modern Events Calendar WordPress Plugin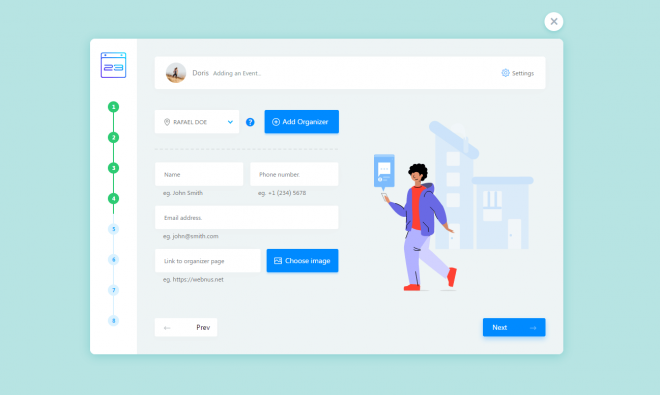 If you use a WordPress website and want to create and manage your online event of any kind, the Modern Events Calendar plugin is packed to the brim for your needs.
This feature-rich plugin simplifies online event management for you with its advanced capabilities and modern design.
Plenty of practical functionalities combined with various view options are available in the free version that makes it the best choice for budget-conscious even hosts. Furthermore, if you need more in-depth capabilities for a virtual event, upgrading to the Pro version for a single license costs only $75.
The developer team has done its best by providing custom-made addons for MEC.
Over the past two years, more than 12 addons have been published, and each of them helps you handle your virtual events a lot easier.
 
Virtual Events Addon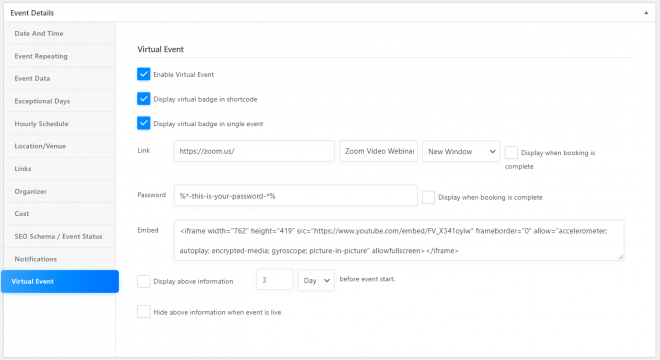 Virtual Events is a professional extension of MEC that aims at simplifying such events during these times of quarantine.
To put in perspective, let's review some of its highlighting features.
Sometimes you need to sell tickets for your event and ask people to secure their RSVP in the first place.
This addon provides you with options to protect your live stream from the ones who haven't purchased a ticket. It doesn't allow them to attend the event unless they make a reservation.
Plus, if you hold multiple events, it automatically highlights the virtual ones on the calendar and helps people find them much faster.
You can also display the direct link of the live stream on each event so that people join it by a simple click, or hide it until the time it begins.
If you use YouTube or Facebook videos in your business, you can directly embed them into each event using this addon.
Considering the updates of Google regarding the schema markups, this addon is wholly integrated with them for better SEO.
It means that your virtual event gets better visibility on SERPs since its codes follow the latest updates of Google.
Moreover, it enables you to search for the virtual events in the shortcodes you use for your site and make the required changes much easier than before.
 
Zapier Integration Addon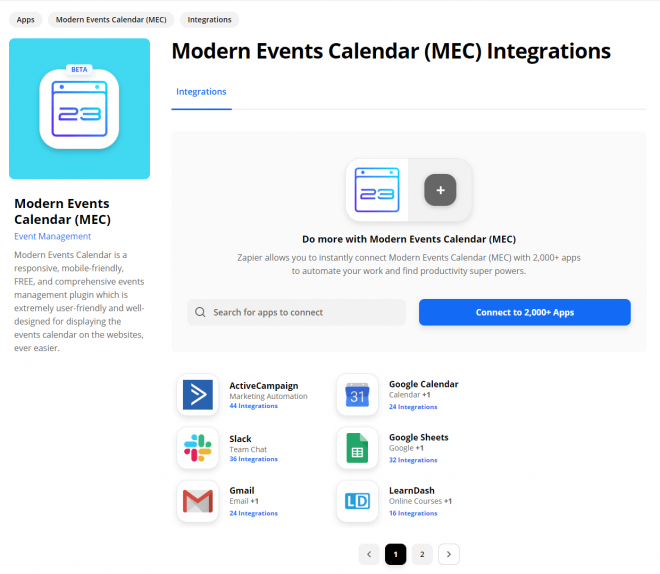 Zapier is an automation platform that lets internet users connect different apps and services to save time performing tasks. The automated workflows are called Zap that connects an app with the required service.
Using the Zapier Integration addon, you will be able to create a Zap of your own with other apps you use.
Mailchimp, Meetup, Active Campaign and Eventbrite are some of the widely-used platforms that can be integrated with your event calendar through this addon.
To be more specific, it currently supports about 2,000 apps that come in extremely handy for task automation and saving time.
It can be the best match for repetitive events since you don't have to create them all over again each time the intervals arrive.
If you need any assistance in using Zapier for your events, there is a comprehensive set of documentation available to guide you through the process of making customized Zaps.
 
Conclusion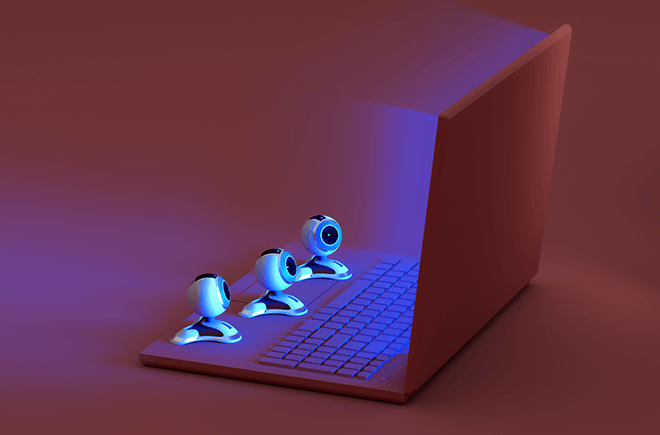 Virtual events are a smart way of connecting with people in times of uncertainty.
The era of virtual events is just beginning, and they will undoubtedly become more and more popular as time passes.
We know that this year didn't turn out the way many hoped it to be, but capitalizing on online events allows us to make the most out of our time and efforts.
Follow the tips provided in this article for your virtual party to run it most smoothly.
Additionally, if you need to manage your events online, go for the fully-functional MEC plugin. It brings a world of useful features for simplifying the tasks related to events and is the best match for your WordPress site.
Don't forget that being remote doesn't mean being isolated.
No matter how far your colleagues and friends are currently located, you can get closer to them by jumping on the wagon of virtual events today.