---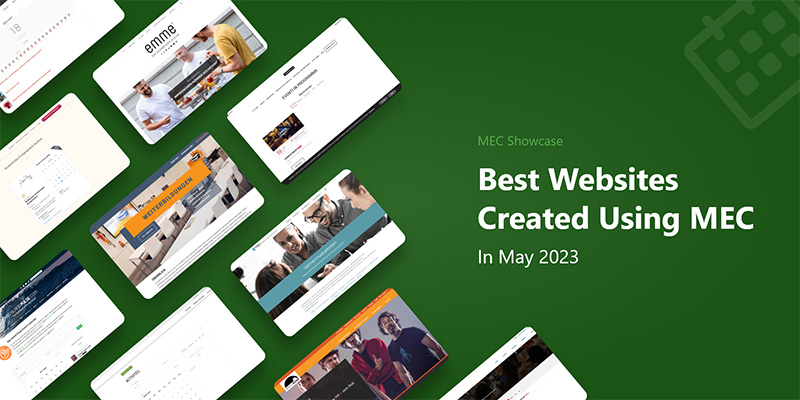 Top 10 Event Websites Created Using MEC in May 2023
Modern Events Calendar has become a popular choice for WordPress users looking to create and manage events on their websites with ease and style.
Its powerful features and user-friendly interface make it a versatile tool for various event types and industries.
This month, we have come up with a new list of websites that have successfully implemented the plugin to create dynamic and informative pages to promote events ranging from self help courses to art galleries.
Best MEC Event Websites of May 2023: Our Top 10 Picks
These examples demonstrate the plugin's adaptability and effectiveness in showcasing events in a professional and engaging manner.
Big Island Plus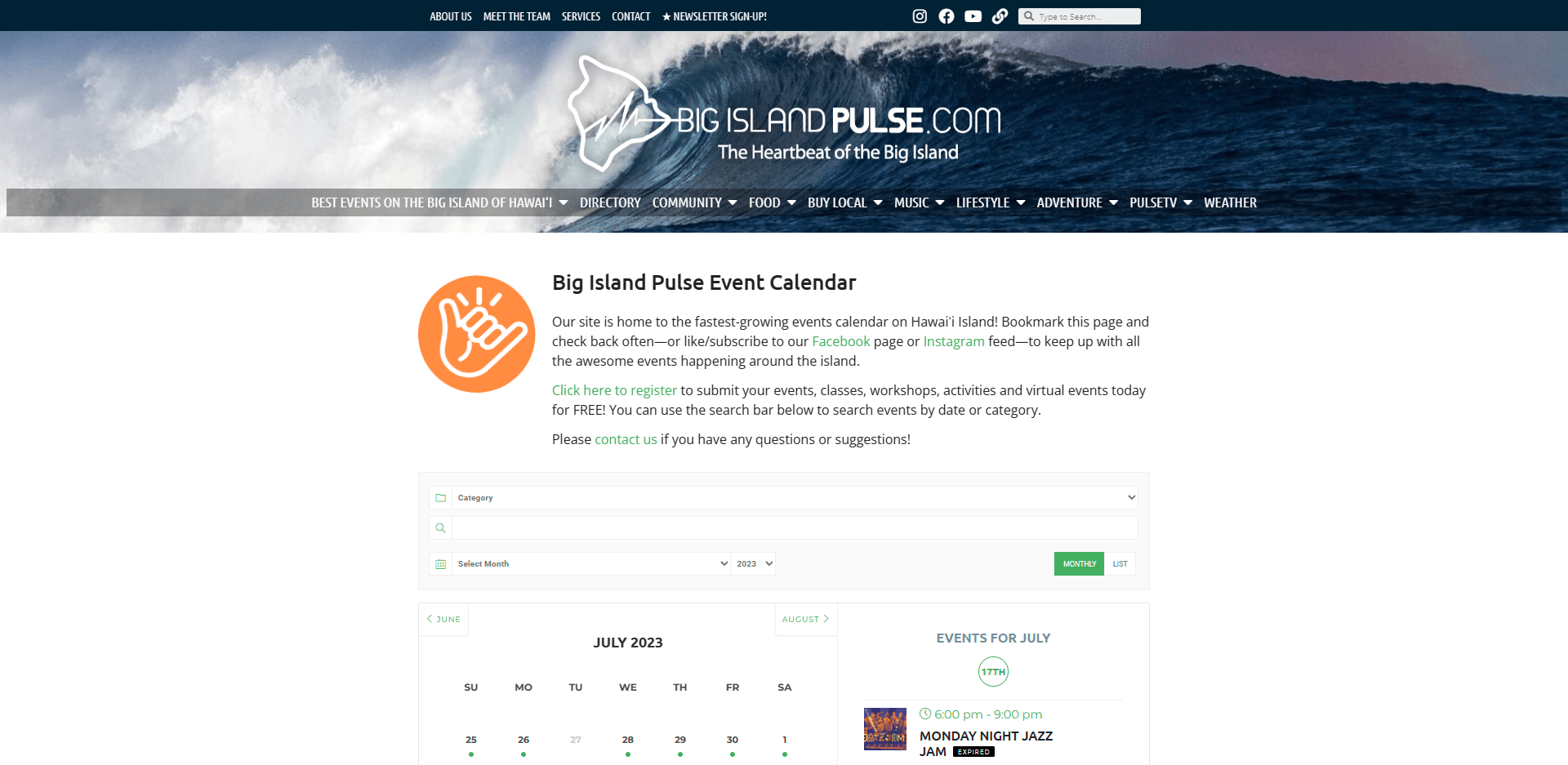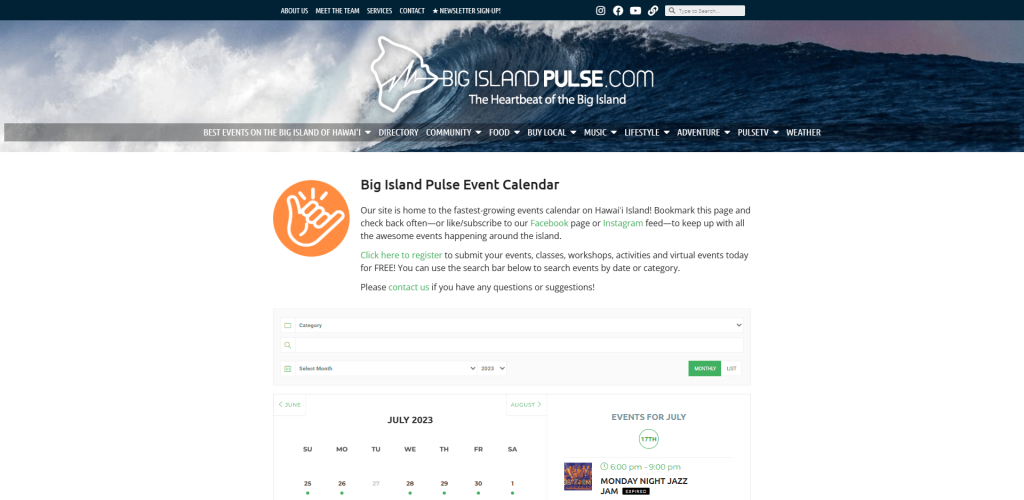 Big Island Plus is an exceptional website that provides a wealth of information about the Big Island of Hawaii.
From local news and events to culture, lifestyle, and tourism, this site has something for everyone. What's truly impressive about Big Island Pulse is its focus on community engagement and social impact.
The site actively encourages reader participation through user-generated content and community events.
On top of that, the website's modern design and intuitive navigation make it a fantastic resource for anyone looking to learn more about the Big Island and get involved in the local community.
Revolutionize Your Event Management
with Modern Events Calendar
Try Modern Events Calendar now and experience the power of our all-in-one event management software. With customizable forms, secure payment processing options, and a wide range of features, hosting events has never been easier.
Modern Events Calendar is an excellent addition to the website. It provides users with a clear and organized overview of upcoming events, making it easy to plan their schedules accordingly.
MEC also allows event holders to schedule all-day events, exceptional days, etc. to offer every tool needed for a precise event management tool.
FSP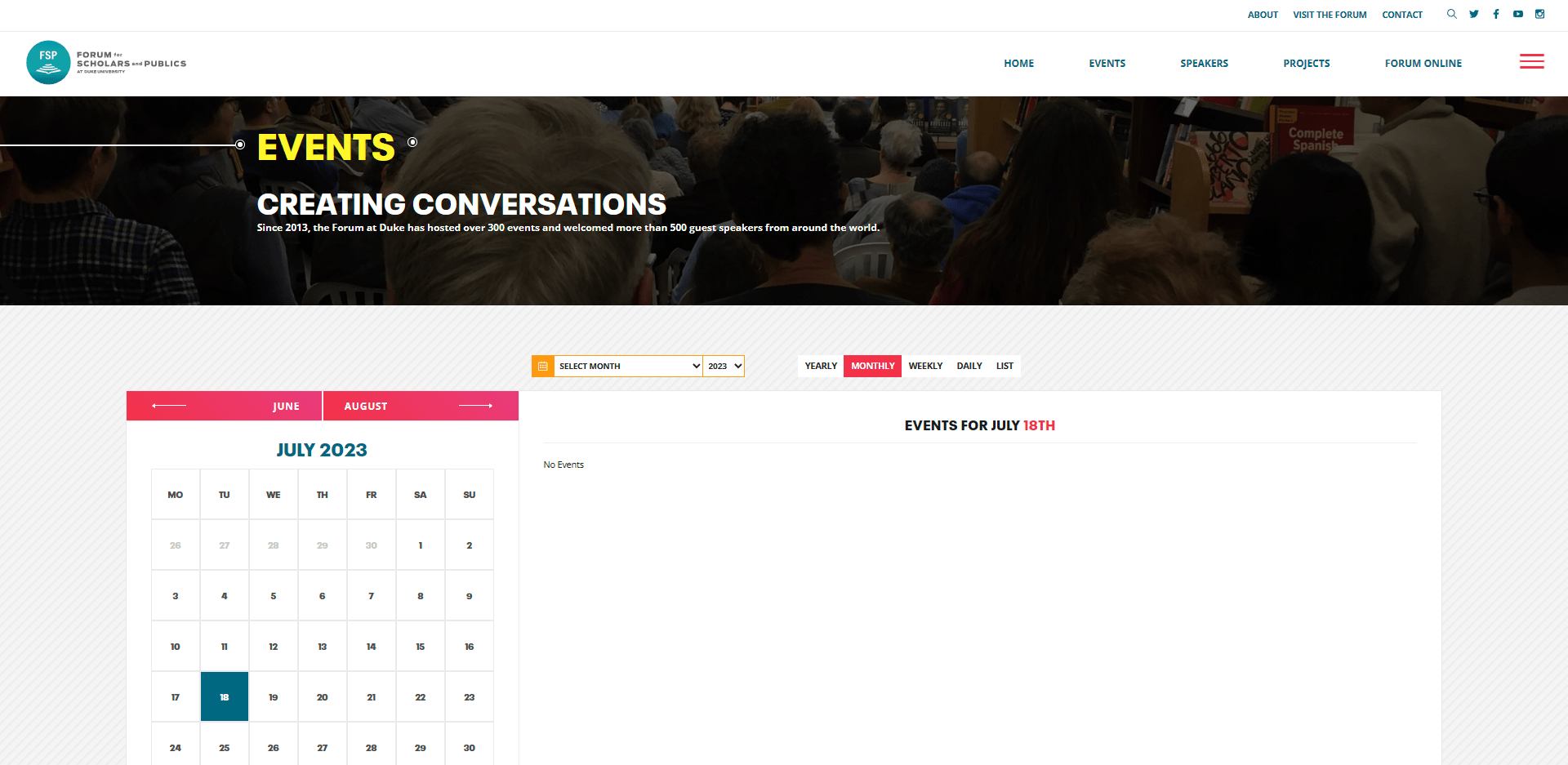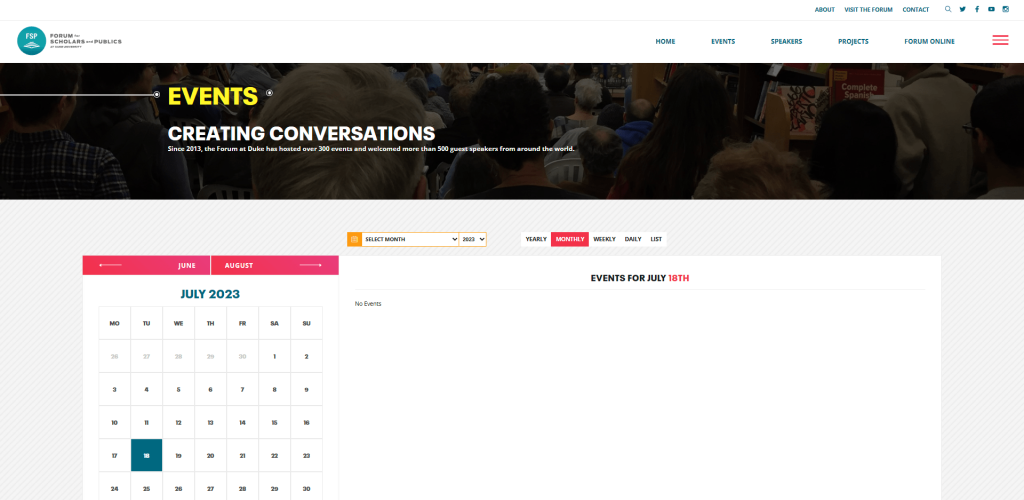 FSP is an exceptional resource for those interested in the study of grand strategy and international relations.
With an abundance of insightful research, informative events, and noteworthy publications, the website offers a comprehensive look at the complex and dynamic world of global politics.
Whether you're a student, scholar, or practitioner of international affairs, the Duke University Program in American Grand Strategy website is an excellent source of knowledge and inspiration. Highly recommended!
Modern Events Calendar works as an excellent tool for the students at Duke University to stay up-to-date on the latest happenings in the world of international affairs.
With a diverse range of events, including lectures, panels, and conferences, the calendar provides a comprehensive set of details and filters for the Full Calendar Skin settings to find your desired events ASAP.
Dayton Art Institute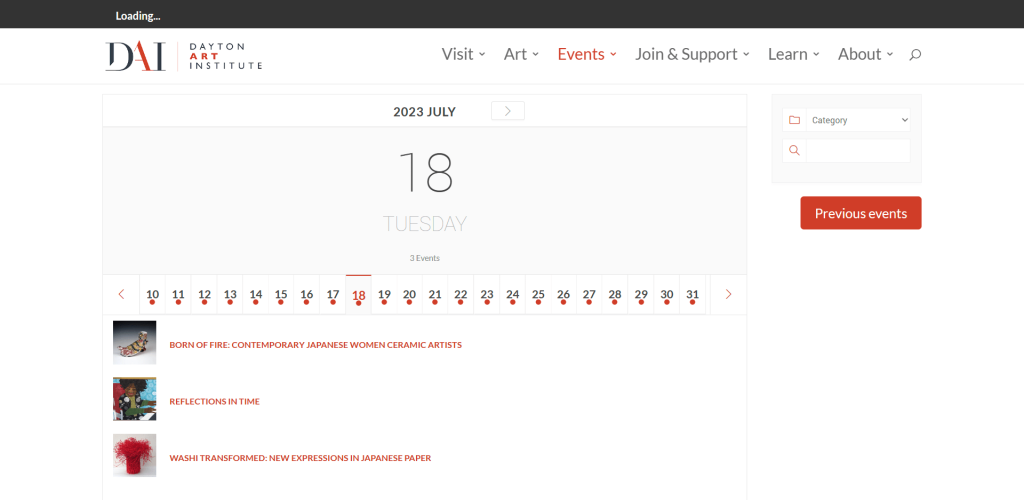 Dayton Art Institute website is a stunning and informative digital platform that beautifully showcases the museum's extensive collection of art spanning from ancient to modern times.
With rich visuals and detailed descriptions, the site offers visitors a virtual tour of the museum's galleries and exhibits, providing an immersive and engaging experience that brings the art to life.
The site also features a comprehensive calendar of events, including exhibitions, lectures, and workshops, that offers something for art enthusiasts of all ages and interests.
The site's user-friendly interface and clear organization make it easy to find and register for events, while the detailed descriptions and informative bios in the speakers module provide valuable context and background information.
The site also features a rich selection of virtual events and online resources, making it a valuable educational tool for art enthusiasts of all ages and backgrounds.
EMME Kitchens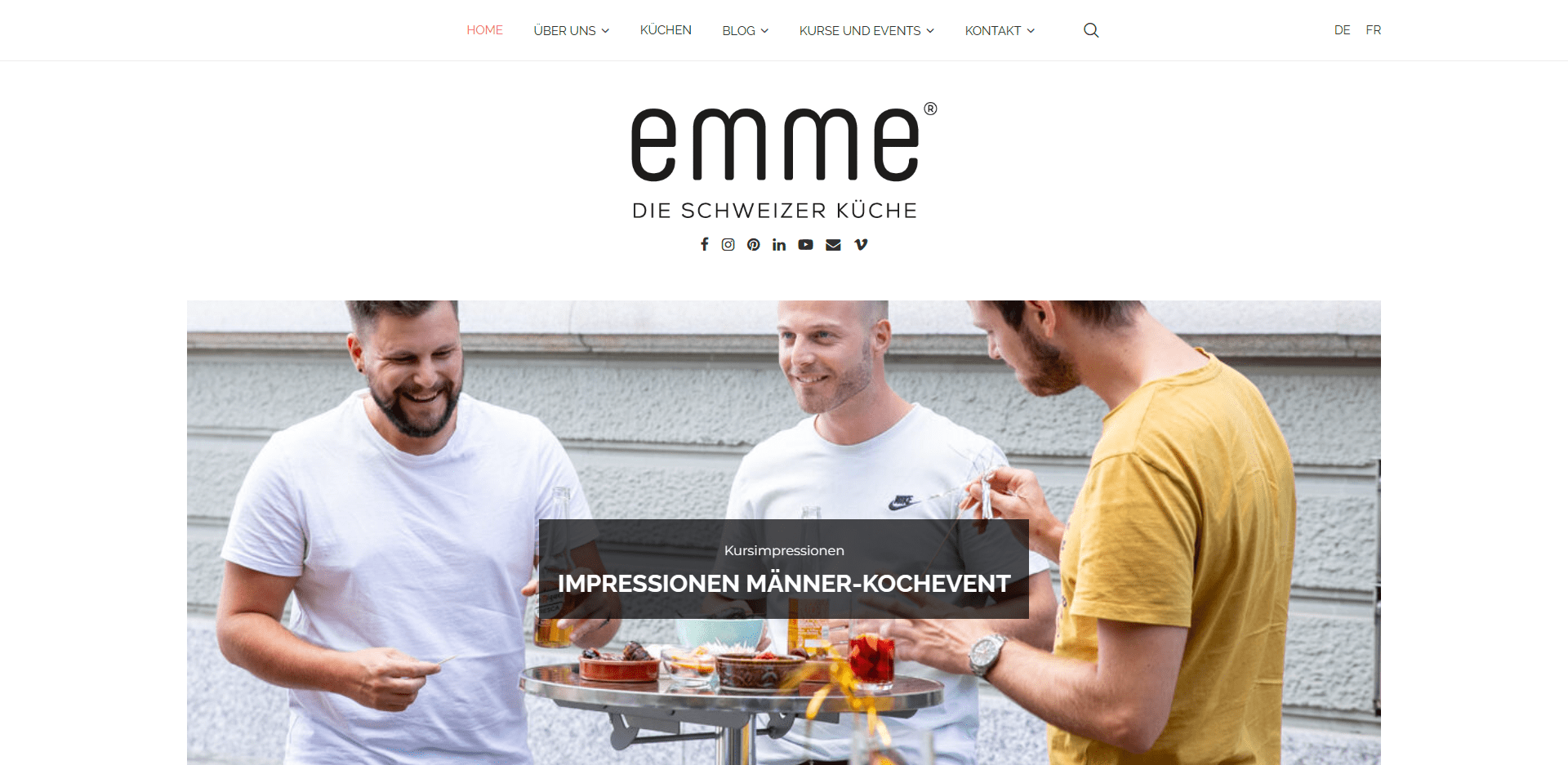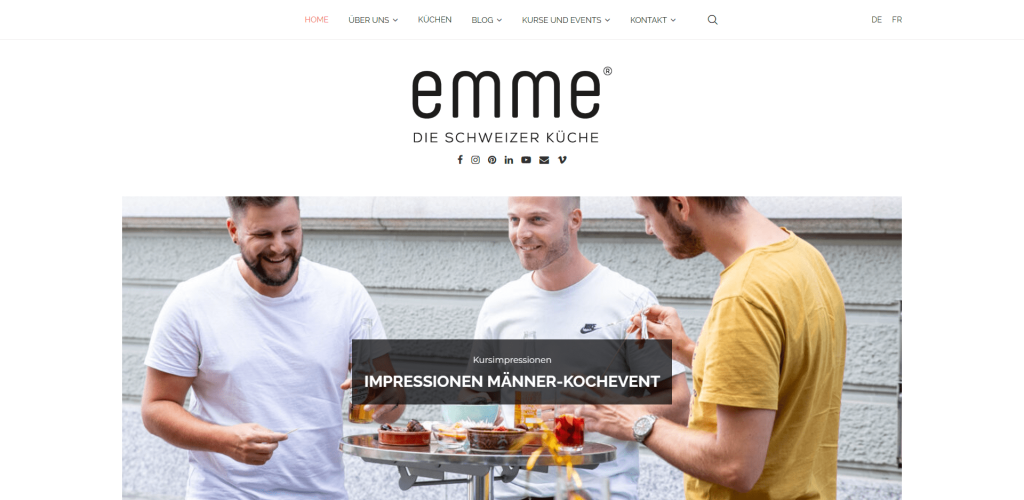 EMME Kitchens is a delightful digital platform that showcases the unique and innovative culinary offerings of this Swiss-based restaurant.
With stunning visuals and mouthwatering descriptions, the site offers visitors a tantalizing glimpse into the world of Emmekueche's cuisine, which combines traditional Swiss flavors with international culinary influences.
Whether you're a seasoned chef or a novice cook, the events and courses on the Emmekueche website is an exceptional resource for food enthusiasts looking to learn new skills and expand their culinary knowledge. 
Although there is an array of events and classes with a diverse range of interests and abilities, with the user-friendly interface and clear organization that Modern Events Calendar offers, it is super easy to find and book events.
Binger Bühne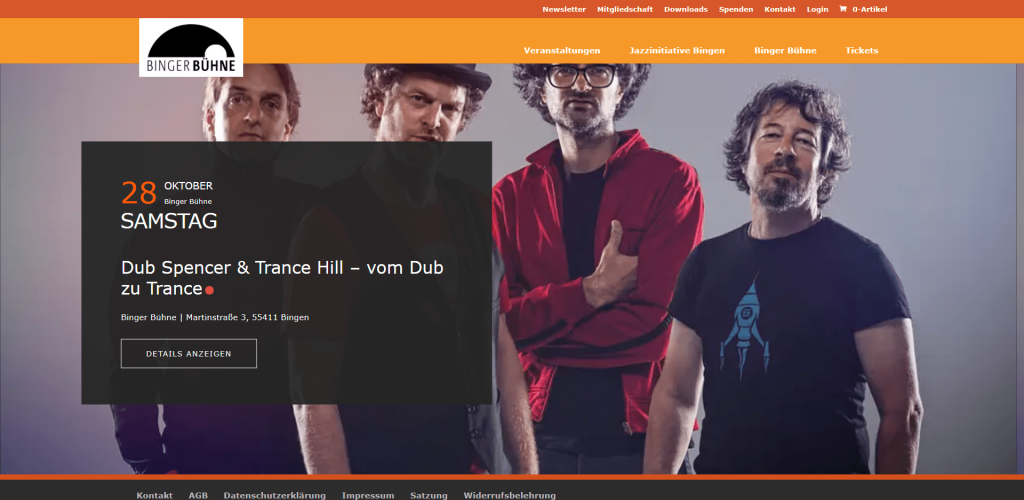 Binger Bühne is a fantastic resource for theater enthusiasts looking to explore the vibrant and dynamic world of German theater.
The site offers a comprehensive overview of the theater's repertoire, including upcoming productions, events, and performances.
The site features a rich selection of multimedia content, including photos and videos, that bring the theater's productions to life and provide a glimpse into the behind-the-scenes world of German theater.
The site offers a diverse range of programming, including plays, musicals, and other cultural events, ensuring that there is something for everyone to enjoy.
You can find the events on their homepage as well as a good-looking full calendar view with lots of tags and filtering options.
Once you click on each event you can notice a bunch of useful sidebar modules for further possibilities like displaying location, organizers, QR codes and maps that expand the capabilities of this amazing calendar plugin even further.
Retraite Active Peel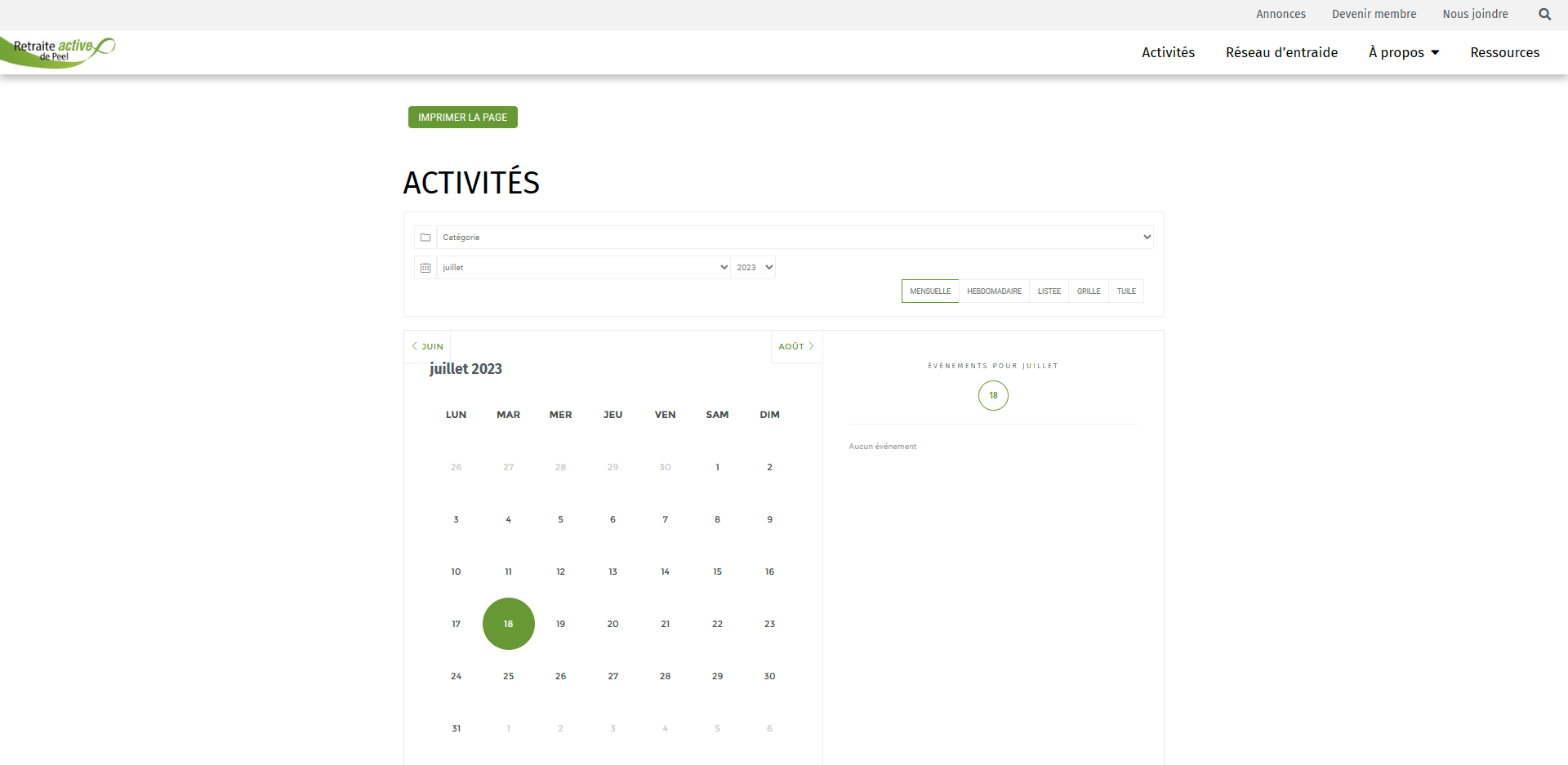 Retraite Active Peel The Retraite Active Peel website is an excellent resource for individuals seeking to live an active and fulfilling retirement in the Peel region of Ontario, Canada.
The site offers a wealth of information on local events, activities, and resources designed to promote healthy aging and lifelong learning.
The site features engaging multimedia content, including photos and videos, that bring the local community to life and showcase the many opportunities available to retirees in the Peel region.
The website boasts a beautiful MEC Grid View layout that provides a comprehensive overview of local events, including fitness classes, art exhibitions, social gatherings, and more.
Transform Your Event Pages with Ease: Get Elementor Single Builder Add-On Now!
Create beautiful, customizable single event templates with ease using the power of Elementor. Get started now and elevate your event management game to the next level!"
Once you click on a specific event, you'll be taken to a dedicated single event page that showcases the stunning design made possible through the Elementor Single Builder addon.
The site's attention to detail and user-friendly interface make it easy to find information on upcoming events and fully engage with the vibrant retirement community in the Peel region of Ontario, Canada.
Sabine Rogg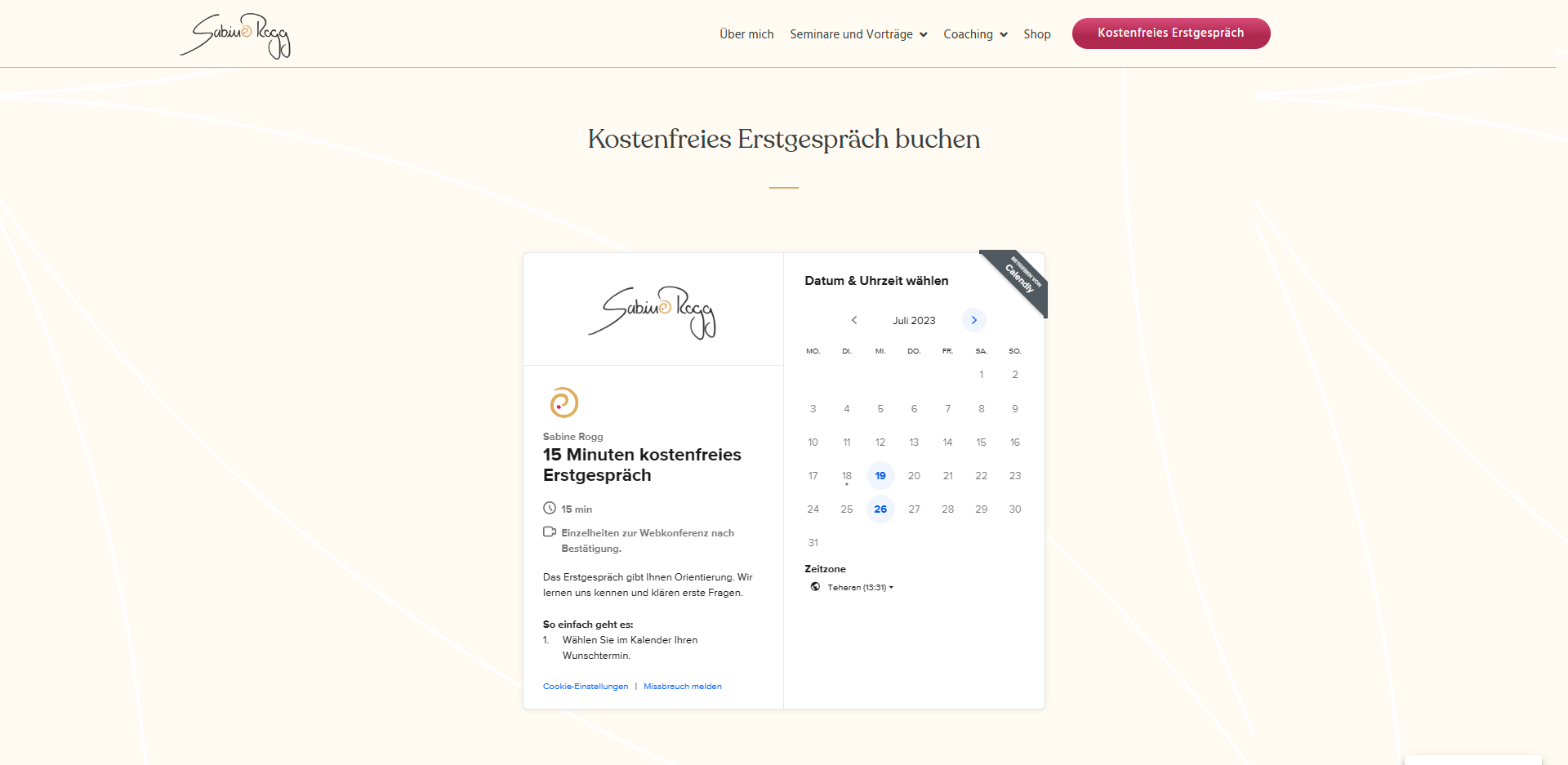 Sabine Rogg is an excellent resource for individuals seeking to improve their personal and professional lives.
The site offers a wealth of information on topics such as mindfulness, productivity, and personal growth, providing valuable insights and tools for individuals looking to achieve their goals and fulfill their potential.
Additionally, the site features engaging content that brings Sabine Rogg's insights to life and provides a glimpse into her approach to self-help and personal development.
We have chosen this website specifically to show you how even the Lite version can work wonders if you are looking to showcase your events for free.
With MEC Lite you will have access to almost all the same features as MEC Pro with the exception of the booking feature.
Fahrschule Martins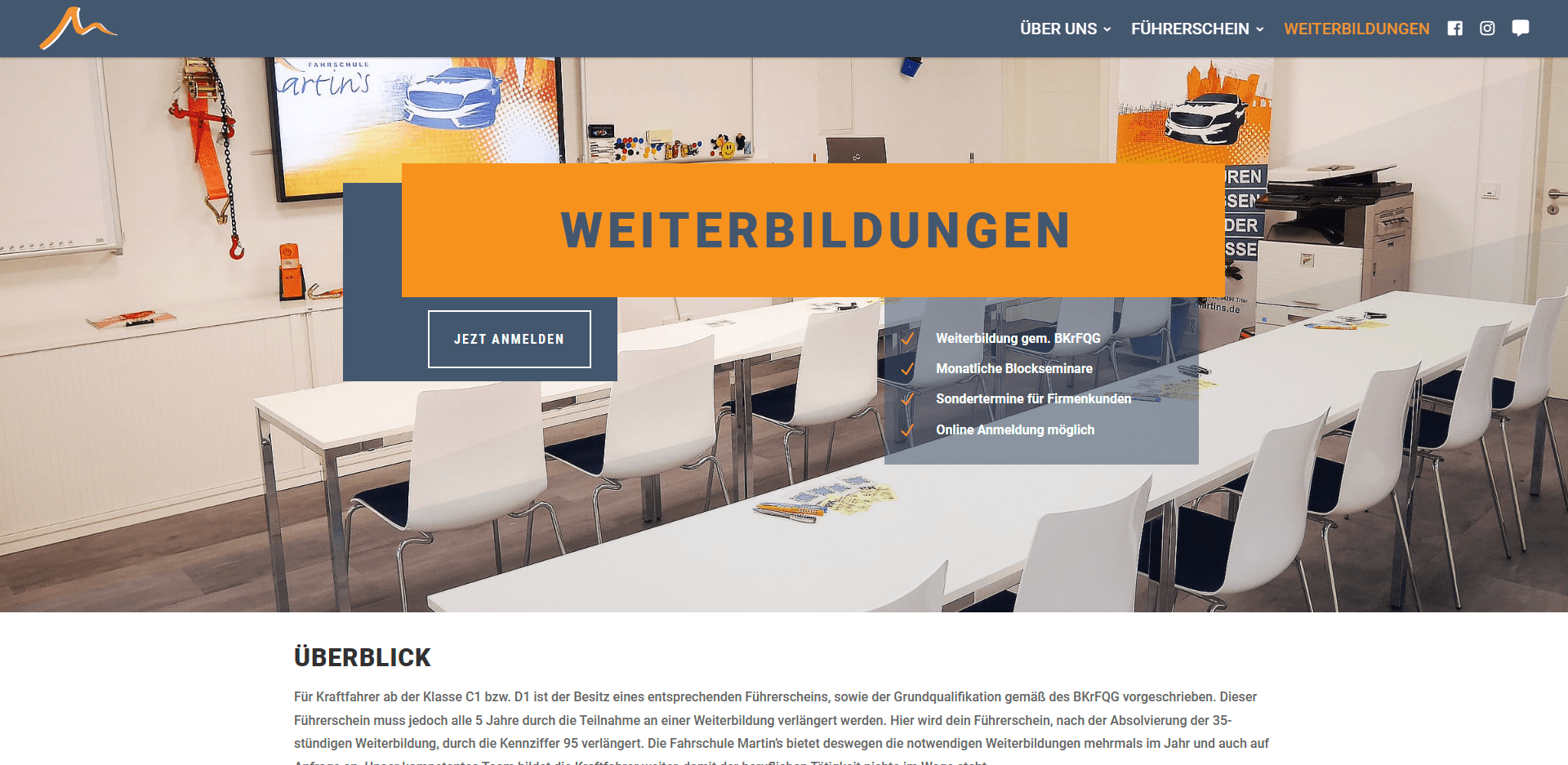 Fahrschule Martins is an exceptional website for anyone looking to learn how to drive in Germany. The website is well-designed, easy to navigate, and packed with useful information.
From the moment you land on the homepage, you'll feel like you're in good hands. The site offers a variety of services, including driving lessons, license acquisition, and refresher courses.
The team at Fahrschule Martins is knowledgeable, friendly, and patient, making the learning experience a pleasure.
What's more, the site is regularly updated with the latest news and information on driving in Germany, ensuring that visitors stay informed and up-to-date.
You can find their upcoming events in a clean Grid View layout which makes it easy to navigate, with a simple, yet effective platform.
Each course is clearly labeled with its name, date, and location to help their audience find and register for the appropriate session.
Additionally, the page provides a list of related events to the single event page you have opened to help you see the other courses available that you might like to check out.
Fabbrica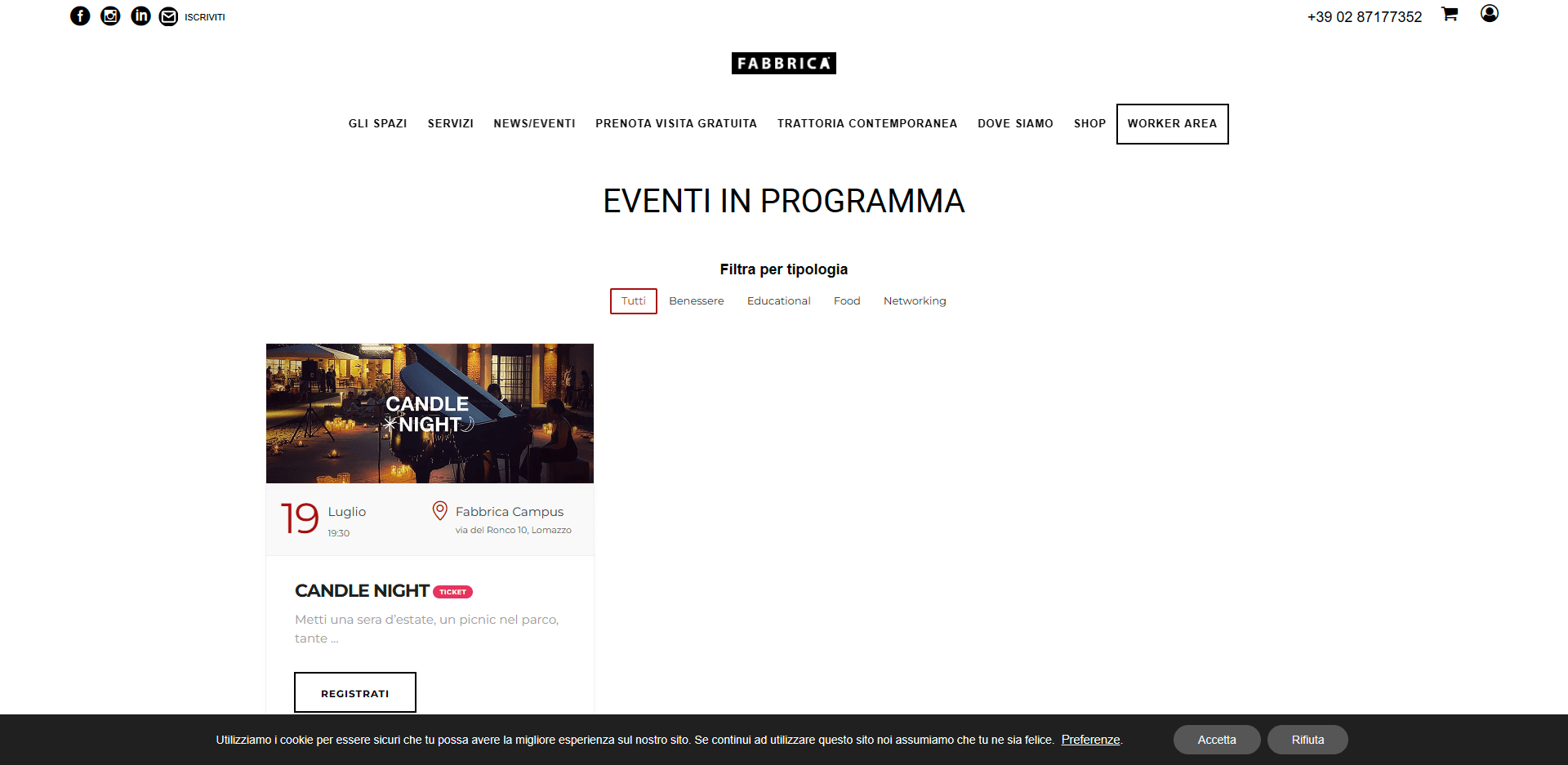 Fabbrica is a fantastic website for anyone looking to purchase high-quality Italian furniture and design pieces.
The site has a sleek and modern design that is both visually appealing and easy to navigate, making it a pleasure to use.
The product range is extensive, with a wide selection of furniture, lighting, and accessories from some of the most renowned Italian designers and brands.
The product pages are accompanied by detailed descriptions, high-quality images, and pricing information along with interesting events for their customers providing users with all they need.
The checkout process is also streamlined and secure, ensuring a hassle-free shopping experience.
Although they don't hold that many events, their beautiful website and the awesome Modern Events Calendar Masonry View is worth mentioning.
This layout allows for more efficient use of space and provides a visually appealing and dynamic way to display events.
Masonry view is particularly useful for websites that have a limited screen space, as it allows for a lot of information to be displayed in a compact and organized manner.
MLP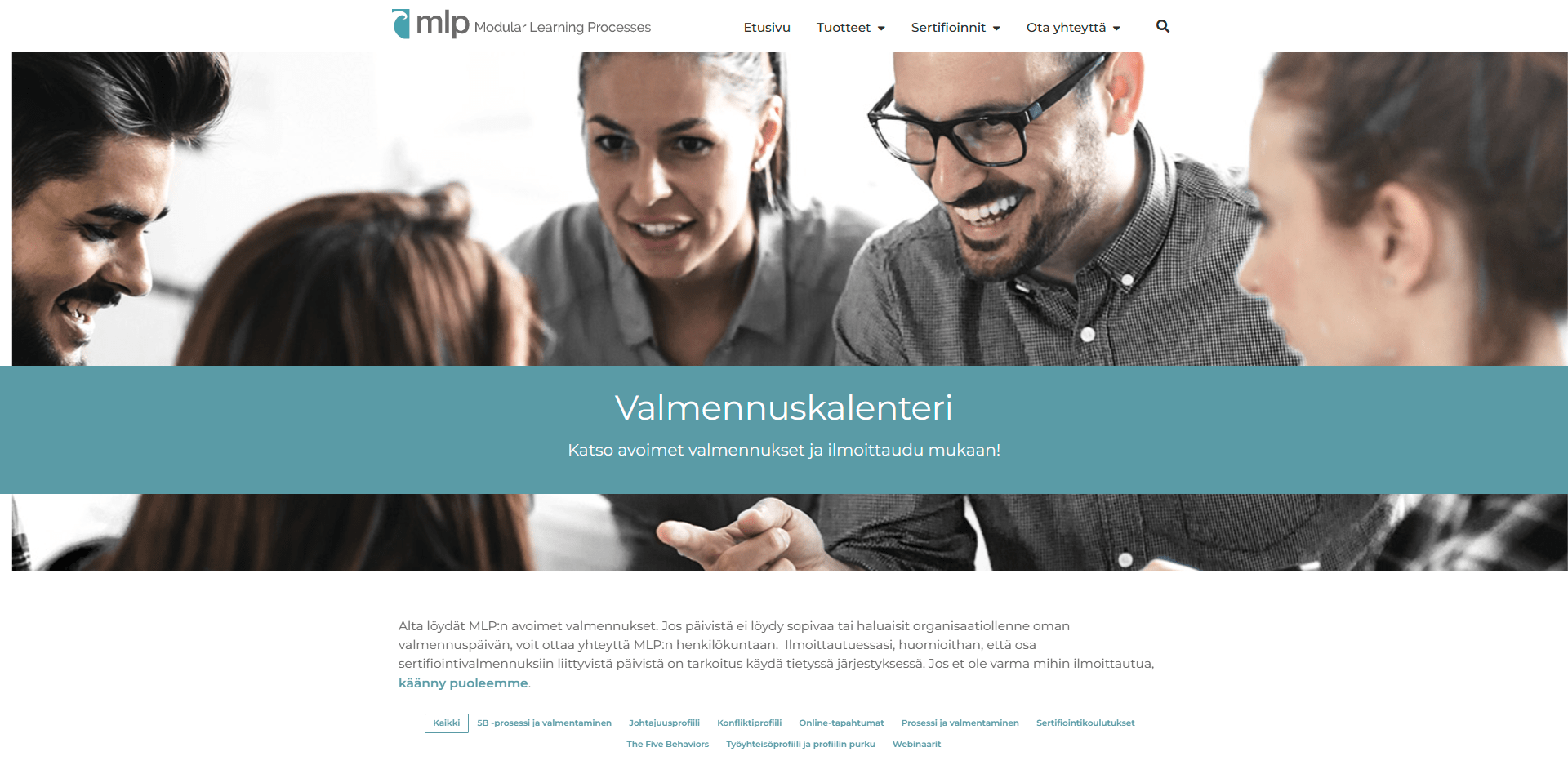 MLP is a website that offers leadership coaching and training services. The site is well-designed and easy to navigate, with a range of programs and courses that cater to individuals and organizations at various levels.
The site features detailed information on each program, including the duration, cost, and topics covered, as well as testimonials from past participants.
The team at MLP.fi is highly qualified and experienced, providing users with the guidance and support they need to achieve their leadership goals.
Overall, MLP.fi is an excellent resource for anyone looking to develop their leadership skills and take their career to the next level.
The amount of attention MLP pays to their events is quite apparent right from the start. They showcase their events on 2 different pages, their homepage in a Carousel View and their calendar page in a List View layout.
The Carousel View doesn't occupy much space which is why it fits the homepage perfectly, and the List View fits the dedicated calendar page where they have enough space to showcase all the events.
Summary
In conclusion, the Modern Events Calendar plugin continues to prove itself as a versatile and powerful tool for creating and managing events on WordPress websites.
The 10 websites featured in this article demonstrate the plugin's ability to cater to a wide range of industries and event types.
With its user-friendly interface and comprehensive set of features, Modern Events Calendar makes it easy for website owners to showcase their events in a professional and engaging manner.
Whether you're looking to create a simple calendar or a more complex booking system, the Modern Events Calendar plugin has got you covered.
Recommended Posts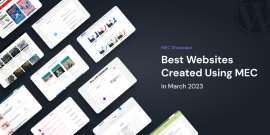 April 8, 2023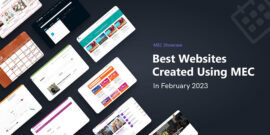 March 7, 2023