---
Top VoIP Integrations You Can Use with WordPress in 2023
If you're planning on taking calls from your customers and leading them in directly from your WordPress site, then using VoIP technology is the best way to go about it. You merely need to get a phone number online and set up an integration with your site, and you'll be good to go!
In this article, we will tell you everything you need to know about the best WordPress integrations you can use for calling virtually!
What Is VoIP?
The term "Voice over Internet Protocol" (VoIP) refers to a technology that allows you to make phone calls over a high-speed Internet connection rather than an analog phone line. Skype is famous for popularizing this technology.
While some VoIP services limit your calling to other users of the same service, others let you contact anyone with a phone number, regardless of where they are located in the world. For your business purposes, this is what you want to look for.
What Are the Top 7 VoIP Integrations for WordPress?
This is the main event! Here are the top seven integrations you will need to consider for your VoIP needs:
WP Call Button
The WordPress plugin WP Call Button makes it easy to make a call-to-action button without the help of a programmer. It's one of the most widely used and simple click-to-call button plugins for WordPress.
Providing the best possible service to users is a top priority. The comprehensive personalization options make it easy for even inexperienced users to create click-to-call buttons that are visually consistent with the rest of their site's design.
You can restrict the call button's visibility to only mobile devices with this plugin. Also, this plugin was built for both local and remote web servers, as speed is an essential part of search engine optimization (SEO) marketing and conversion optimization.
Key Features
It's incredibly easy to add
You can avoid typos entirely
Pros and Cons
| | |
| --- | --- |
| Pros | Cons |
| No complicated coding necessary | Doesn't have a huge range of features |
| Only mobile users see the button | |
Final Verdict
As a basic plugin, this is a wonderful tool to start off with.
Maaiiconnect
You may incorporate live chat and call services into your WordPress website to quickly answer online questions from your customers using the Maaiiconnect plugin.
Your website can attain maximum flexibility, effectiveness, and dependability by using this plugin. With the help of this VoIP phone system plugin, you may improve customer service and reach more customers. By using this plugin, just like the WP Call Button, you may better serve client demands and be more effective at what you do by using a platform to accomplish these goals.
If you add this plugin to your WordPress website, you'll be able to interact with your clients every single day, and your agents will be able to do the same. With the aid of a plugin like this, it is simple to distribute inquiries based on the moment they are received and the availability of staff.
Key Features
Internal group chat
Offline support
Pros and Cons
| | |
| --- | --- |
| Pros | Cons |
| Free plugin | Not something to use in the long run |
| Good call quality | |
Final Verdict
Maaiiconnect is easy to set up and use, though you should upgrade to something better once your business grows.
RingCentral
The RingCentral plugin integrates Just Connect with the RingCentral API in PHP, granting access to the full suite of RingCentral communication features. This plugin makes it easy to incorporate RingCentral's services into web applications from the get-go by allowing for the direct embedding of a RingCentral web phone.
On the page where settings for the plugin are managed, there is a checkbox that may be used to activate or deactivate it. It also has a built-in group chat feature for simplified communication.
This VoIP providers plugin allows you to make and receive calls from your WordPress admin panel with an integrated RingCentral phone. Website visitors can make phone calls via the RingCentral RingOut feature; if the number is not already in use, you will be able to save it in the system settings.
Key Features
Newsletter sign-up widget
Can manually add subscribers
Pros and Cons
| | |
| --- | --- |
| Pros | Cons |
| Default pages can be customized | Customer service isn't great |
| Newsletter announcements are sent | |
Final Verdict
As your first VoIP plugin, this has everything you need!
Nextiva
Nextiva is a VoIP service provider that focuses on facilitating online chats and phone calls. They also have a group chat, video conferencing, and telephone services that you can avail of. Service management options provided by them include call centers, automation software, and customer relationship management systems for businesses.
Nextiva's technical components have been streamlined so that newcomers won't have any trouble getting started. This is good because if you're just getting used to the system, you need something simple. The program has a drag-and-drop flow builder that you may use to create and improve your workflow.
With the Call Pop feature, you can learn more about your customers even before you pick up the phone to speak with them, so that you can find out who is calling and why, as well as their history with your organization.
Key Features
Call Pop
Easy drag-and-drop features
Pros and Cons
| | |
| --- | --- |
| Pros | Cons |
| Coupons for discounts available | Prices can be quite high |
| Good customer support | |
Final Verdict
Nextiva is a wonderful service that will serve any business well, though the best features do come at a steep price.
Ooma
Ooma's core features already include a multitude of innovative options. However, the Office Pro software package is necessary for some of these, most notably video conferencing. Because of its superior call quality and crystal-clear audio, Ooma stands out from other highly regarded systems.
Ooma may have a significant price tag if you make international calls frequently –which you might need to, depending on your customer base.
With ring groups, all callers are connected to an available person. With Ooma's ring group feature, calls to your business are distributed over multiple phones until someone answers. That can mean a collection of employees working together in one division or a team of people providing customer care or making sales.
Multiple phones may ring at once in response to an incoming call. If no one picks up the first time the phone rings, the call could be routed to the other phones in the ring group. Customers' calls are less likely to be sent to voicemail or be missed when ring groups are used.
Key Features
Handy app
Ring groups
Pros and Cons
| | |
| --- | --- |
| Pros | Cons |
| Crisp call quality | High cost of setting up |
| User-friendly | Costly international calls |
Final Verdict
Though the cost of setting Ooma up is high, its user-friendly nature makes it a great asset for first-timers.
Vonage
Vonage's contact centers, APIs, and unified voice, video, and messaging solutions allow tech-savvy businesses to create bespoke communication systems. With Vonage, you can choose from a mobile app, a premium service, or an advanced service for your unified communication needs. Using Vonage's free 14-day trial, you may test out the service without spending a dime.
APIs are available for a wide range of communication protocols, including SMS, MMS, video, phone, SIP trunking, social chat apps, email, multichannel discussions, and two-factor authentication.
Businesses that want to establish a call center can do so using the Vonage Contact Center (VCC) system. ISO 27001, Service Organization Controls 2 Type II, and General Data Protection Regulation are only a few of the security and compliance standards met by VCC.
Key Features
Available worldwide.
Incredibly secure.
Pros and Cons
| | |
| --- | --- |
| Pros | Cons |
| Unlimited calling and texts | Limited video conferencing |
| Simple interface | |
Final Verdict
Vonage is built with small businesses in mind, so take advantage of the trial and decide for yourself if it's for you!
VoiceShot
VoiceShot is a cloud-based phone system that helps businesses streamline functions like call forwarding, screening, transfer, and blocking. In the event of a disaster, such as a fire, a security breach, severe weather, or any other emergency, the urgent alert module can be used to send text and voice alerts to the public.
VoiceShot allows businesses to promptly deliver all voicemails by transmitting them as WAV files to designated email addresses. Customers can use pre-programmed voice menus and built-in speech recognition technology to enter their responses. Text to speech software, which has gotten popular recently, lets users create voicemails for their clients.
For a monthly fee, users have access to the site and its features, which include email, phone, and live chat support.
Key Features
Voicemails in WAV format
Phone apps available
Pros and Cons
| | |
| --- | --- |
| Pros | Cons |
| Excellent customer service | Setup is not as easy |
| Easy-to-navigate interface | |
Final Verdict
With wonderful customer service, VoiceShot has everything a business needs and more to reach a broad client base.
Conclusion
Your VoIP phone system is an integral part of your business. It's a practical tool for regular usage in interacting with clients, workers, and suppliers. Here we've listed some great tools for integrating VoIP into your WordPress site without impeding growth or productivity for your business. Consider your hardware, software, financial flexibility, and the needs of your organization at the present time while making your VoIP software selection.
Recommended Posts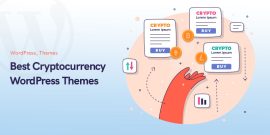 May 29, 2023