---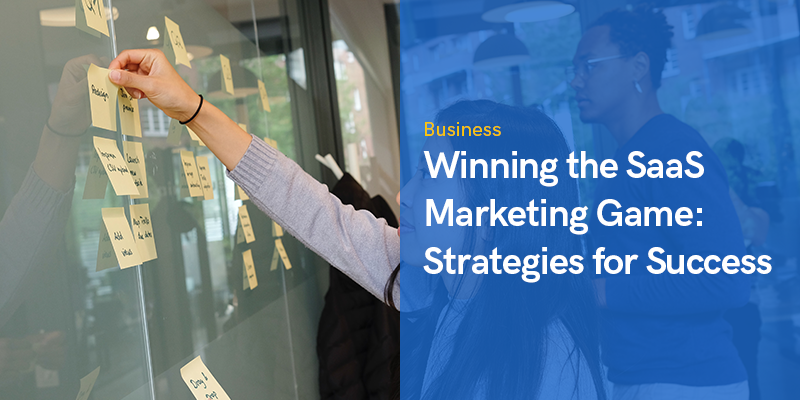 Winning the SaaS Marketing Game: Strategies for Success
Developing an effective marketing plan for your SaaS business and executing it requires thorough understanding and research.
It involves telling stories, experimentation, and gaining newer perspectives.
It's the science of understanding the interests of your prospects, figuring out what they want from a product, and how you can deliver it.
Once one gets the hang of it, building a path to success and driving good business becomes easy.
Building a Winning Strategy to Market Your SaaS Company
This blog shares steps to developing a winning marketing strategy for your SaaS business.
So, let's get started.
Identify your goals
To craft an effective marketing strategy, having a well-defined set of realistic goals is crucial.
It's also crucial to have a mission statement that encapsulates your business' purpose and how you plan to achieve it.
Consulting a reputable SaaS Marketing Agency can help in this case. They have plenty of experience managing marketing campaigns for clients across industries.
From helping you build a mission statement to developing and implementing the strategy, a reputable agency will help you throughout the process.
For example, for an AI-based 3D modelling tool, your business goal may be to get more businesses to view your product and book an appointment.
With this in mind, your marketing goal could be to attract a certain number of new prospects and increase bookings by a specific percentage.
As a result, your mission statement could be "Realizing imaginations!"
Such statements can convey the message and help connect with your target audience, driving them to take the desired action(s).
Thorough market research
Data-driven decision-making is at the heart of a winning marketing strategy.
To ensure your marketing strategy performs as desired, make sure to conduct proper market research and gain insights into your industry, competitors, and target audience.
Identify your business' strengths and weaknesses, assess market trends, and uncover opportunities to capitalize on.
Furthermore, understand the challenges both you and your competitors face. For instance, if your competitors struggle to prove their products' benefits to the customers, you might also face this issue.
To deal with this, you need to understand the Time to Value (TTV) value and shorten it. With this knowledge, you can develop a strategy that sets you apart and resonates with your audience.
Know your prospects
Your prospects are the lifeblood of your business. Understanding their interests and building your products and marketing campaigns is essential.
Figuring out their needs, wants, and preferences will help you tailor marketing messages that connect with them.
This targeted marketing approach will help increase the effectiveness of your campaigns and build stronger connections with potential customers.
Choose the right channels
To reach more people without spending heftily, it's essential to choose the right marketing channels.
So, start with analyzing your audience's preferences and behavior.
Most businesses looking for SaaS products can be active on LinkedIn.
However, apart from that, targeted Instagram and YouTube campaigns can also reap good results.
If you are unsure which platform to target for your business, you can consult a reputable SaaS marketing agency.
Their industry-specific experience will help you navigate multiple marketing channels and optimize your strategies to maximize the impact.
Personalize your campaigns
Personalized marketing is gaining more importance by the day.
Customers expect personalized experiences targeted toward their individual personalities and needs.
One simple method of executing this could be using your prospect's name while sending out a message.
For example, instead of writing Hi Sir, businesses can write Hi (Name of the recipient).
Businesses should use data and analytics to deliver personalized messages and use customer segmentation to create targeted campaigns.
By making your audience feel understood and valued, you can cultivate stronger relationships and drive higher levels of customer engagement and loyalty.
Define objectives
In addition to your overall business goals, establish specific and measurable objectives for your marketing strategy. These objectives serve as milestones that contribute to your goals.
Examples include acquiring new customers, increasing sales or conversion rates, enhancing brand awareness and engagement, or growing your email list.
Defining clear objectives allows you to track progress, measure success, and make data-driven adjustments along the way.
Create compelling content
High-quality content is critical for an effective marketing strategy.
Create interesting and valuable content that caters to your audience's interests and needs.
For instance, a website builder company could produce a blog series on "Transforming Small Websites: Effective Designing for More Leads."
By providing valuable content, SaaS businesses can showcase their expertise, build credibility, and position themselves as the go-to resource in their industry.
Monitor, measure, and optimize
To gauge marketing efforts' effectiveness, monitoring and measuring results is essential.
Businesses should track key performance indicators (KPIs) that align with their marketing objectives.
This data-driven approach provides valuable insights into what's working and what needs improvement.
Consider newly launched information working towards its SEO goals.
They'll need to track metrics such as engagement, website clicks, page views, and traffic source(s).
After noticing these metrics, they may be able to pinpoint the shortcomings in their SEO campaigns and work towards improving them. Additionally, if this doesn't produce results, they may need to check for reasons why their website is not ranking globally.
Stay agile and adaptable
The marketing world is ever-evolving, and staying agile is crucial to maintaining a competitive edge. It's crucial to stay in sync with emerging technologies and changes in consumer behavior.
For example, let's say you own a small SaaS company. Your business notices a surge in the popularity of website builder services. It hence introduces new offers to increase sales.
By aligning your marketing strategy with emerging trends and customer preferences, your business can attract a new segment of customers and stand out from your competitors.
This will help your business capitalize on the market shift, strengthen your brand's reputation and drive sales.
Collaborations are the way to go
Collaborations are taking the main stage in the present marketing scenarios.

By collaborating effectively with relevant creators, businesses can achieve their marketing goals and discover new possibilities.
For this reason, it's advisable for businesses to keep innovating, hold brainstorming sessions, welcome ideas from team members, and embrace a culture of experimentation and testing.
Regular team gatherings and collaborations can fuel innovation, helping your brand do better with every marketing campaign.
Wrapping up
The world of marketing moves at a fast pace. To succeed with your SaaS business' marketing strategy, it's crucial to be in sync with the latest trends and best practices. In this blog, we shared a few critical steps that can help SaaS businesses present themselves better on and off the web.