---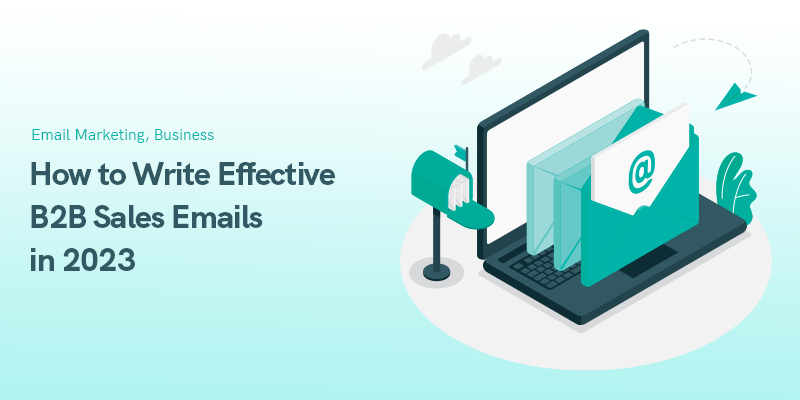 How to Write Effective B2B Sales Emails in 2023
Email marketing is critical to the success of any business. With emails, you can build and nurture relationships with potential clients and customers. The result? Well, just look at the numbers. According to an eMarketer study, the median email ROI is a whopping 122%.
In B2B, email is just as effective. In fact, according to Hubspot, 64% of B2B marketing professionals say their email strategy was effective for meeting business goals in 2021.
Does this mean you'll yield those positive results after writing your B2B emails? Not necessarily. You still need to write an excellent B2B email in the first place.
Best Tips to Write Effective B2B Sales Emails in 2023
In this article, we'll focus on how you can write B2B sales emails. So, whether it's a cold email or a prospecting email you're writing, follow these tips for the best results:
Use an Eye-Catching Subject Line
Getting your subject line right is the first step toward composing a compelling email. An eye-catching email subject will entice your recipient to open your email. Keep your subject line short. Your recipient should be able to read the entire email subject line with one look at their inbox. A Marketo study found that, in general, a short subject line means less than seven words.
Make sure your email subject line is personalized, too. That's the only way you'll get people to click on your B2B sales email and read it in the first place.
Remember, your recipients are busy people. If your email subject line is generic, it will only be ignored. You can personalize your subject line by mentioning your recipient's name or specific interest.
So, how does an eye-catching subject line look?
For B2B recipients (decision-makers or representatives of an organization), it looks something like this:

The subject line is great because it piques the reader's interest. Right away, you want to know what's the "2% average" group the sender is talking about. And why do I not want to be in the group?
Also, the inclusion of a figure makes the subject line stand out.
While creating subject lines for B2B sales emails, avoid using words that pack too much of an emotional punch. While these work with B2C email recipients, they typically don't with a B2B audience, who are perceived as more rational. A fact-driven email strategy is what works for them.
Prioritize Content Over Pitching
B2B clients are pitched to all the time. You can understand, then, why they hate pitches. If your email comes across right off the bat as a pitch, expect them not to read it.
So, how do you get them to read your email?
Business prospects love learning about new things. That's why the best B2B company blogs focus more on content than selling something. If you provide your prospects with thought-provoking, actionable content, they'll be more likely to read your email.
Check out this sample cold email from Heather Morgan of Salesfolk. Instead of pitching her company product outright, she introduces a problem the prospect is likely to relate to:
Only after introducing the problem does Heather mention her video course as a potential solution. She emphasizes, too, that the course is free to increase the chances of the prospect taking her up on her offer.
You may also repurpose a blog post and make it your email body. Share relevant case studies or whitepapers, among other types of content.
The rise of generative AI tools also presents new opportunities. A content generator platform like Ask Writer allows you to create sales prospecting emails with simple prompts.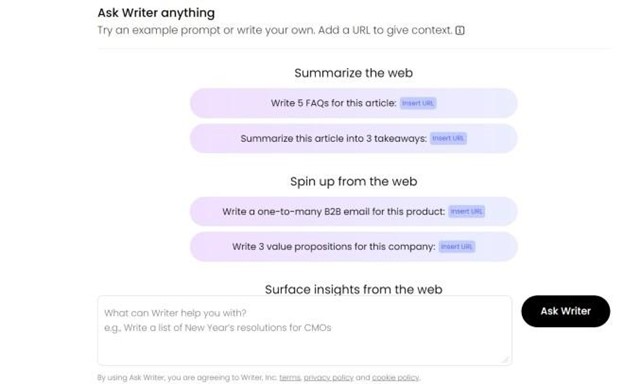 These tools can give you a good starting point in crafting valuable content for your B2B sales emails.
Personalize Your Email Body
We talked about the importance of personalizing subject lines. Well, just as important is personalizing the email body. So, instead of starting the email with a "to whom it may concern," use the recipient's name from the get-go, if you can.
But email body personalization isn't just that. It's also ensuring that your email content is tailored to your recipient.
So, if your prospect is a sales manager, for example, your content shouldn't be about designing websites. If you are targeting a B2B manufacturing company, you can share relevant industry insights and possibly send them to your B2B manufacturing website for more information, depending on the goal of your sales email.
You can also personalize your email body by sending specific content based on your prospect's previous interaction with your brand. Check out this example: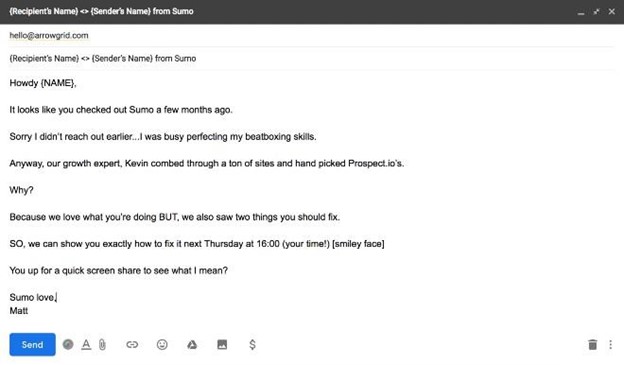 Notice that the email was sent to a prospect who specifically checked out Sumo's website. You can leverage prospect tracking to identify these website visitors. This is a common SaaS marketing strategy used to support cold email campaigns. Here's how it works.
You sign up for a tool like Albacross. This software tries to identify your site visitors by their IP addresses. So you may get information about who the site visitors are and the companies they work for.
You can then leverage those details to craft personalized email content.
Add a Strong CTA
It's not enough for you to share valuable content with prospects. Remember, your goal is still to generate a sale. That means your email should tell prospects exactly what to do. That action should bring you closer to converting them into paying customers.
So, make sure your emails have a strong call to action.
Through your email CTA, you may ask prospects to click on a link so they can schedule a product demo, reply to your email if they have any queries, or ask them to buy your product (if you've nurtured them enough, that is), among other things.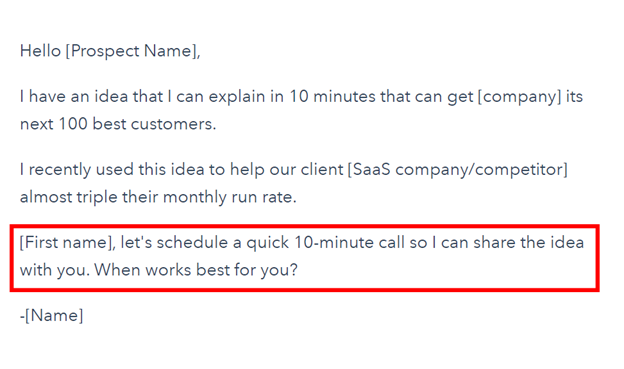 As in the example above, don't include too many CTAs in a single email, though. If you ask people to do so many things at the same time, they might end up not doing anything at all. That's what you call decision paralysis.
Send Timely Follow-Ups
Let's say you sent your email but didn't get any response. That doesn't mean you should forget your prospect and move on to the next. Remember, your prospects are busy people. They probably only need to be reminded that you sent them an email.
For this reason, follow-up emails should be part of your B2B email marketing strategy. Besides, when you follow up, you also show your prospect your dedication as a company.
But how do you send follow-ups without being too pushy?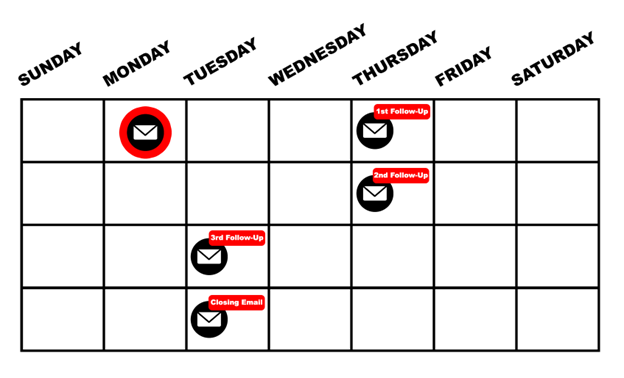 Experiment 27, which specializes in B2B email strategy, proposes these steps when following up with B2B prospects:
Two to three days after you sent your initial email, remind your prospect about the initial email. Or, you can rephrase the previous mail in a follow-up email.
Five to seven days after the first follow-up, send another email with new content tailored to the prospect's needs. Pitch your product as a solution.
Five to seven days from the second follow-up, share a customer testimonial or two. It's safe to assume that the prospect has seen your email but chooses not to respond. Testimonials can help remove any doubts about your company they may have.
Five to seven days after the recently sent email, it's time to say goodbye and focus on other prospective clients.
In Closing
To succeed as a B2B business, you must know how to build and nurture business relationships with potential clients. That means you need to know how to write an effective B2B sales email.
Use a short and personalized subject line to hook your prospect. In writing your email, make sure you prioritize content over pitching. Tailor your email content to your prospects, too. Personalizing your email body requires researching the B2B prospects you're reaching out to.
Also, add a strong CTA in your emails. Make sure you don't include too many. One CTA per email is ideal. Finally, send timely follow-ups.
If you follow these tips, you can write effective B2B sales emails that generate conversions. Your company will be well on its way to success. Best of luck!
Recommended Posts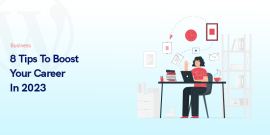 May 2, 2023