---
10 Best Blogging Platforms for 2023
Blogging is an amazing way for sharing your thoughts and opinions with others. Whether your interests are cooking, beauty, fitness and health or politics, you can have your own blog and create your community to generate discussion and exchange with others. You might say social media can also do that and you are right. But having a blog of your own gives you much more freedom and space to work with. Plus, it is all under your control and you can customize the way you present content.
However, in order to stay on top of your blogging game, you must make sure you have the right internet connection for it. As a blogger, you definitely don't want to lose connectivity right in the middle of your article going live.
This is why we recommend getting a dependable internet connection like the one offered by Cox Communications. With its superfast, seamless, and uninterrupted connectivity, you can keep your site updated along with your readers. Even if you encounter any kind of problems, you will be able to contact customer support at Cox en Español and talk to the sales agent, and that too in your native language to avoid any confusion or language barrier.
What are the Best Blogging Platforms?
Today we are going to introduce you to 10 of the best blogging platforms for 2023 so that you can choose the best fit for the start of your blogging journey.
WordPress.com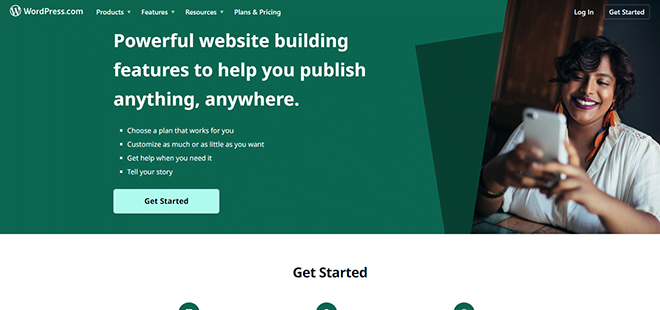 First question you might ask is which WordPress? .com or .org? The answer is both. But let's elaborate.
WordPress.org is the free CMS software that powers more than a third of all the websites on the Internet. If you decide to use WordPress.org, you will need a host and you can have your own website with any domain name you like. There are benefits and drawbacks to this. Having your own website means you will have control over everything. But it also means any problems that occur are your responsibility alone. Unless you choose to hire outside help. Another flipside is that you can select from a vast library of themes and plugins that help you change or add functionalities to your website, not to mention change how it looks. However, not all of these are free and the best themes and plugins are normally paid products.
WordPress.com, however, is a hosted version of WordPress.org. So, you don't need to get your own hosting service. Whereas WordPress.org needs some technical knowledge on your part to operate it, WordPress.com is completely beginner friendly. However, WordPress.com is not a free service. It does have a starting free plan but you will have to upgrade. Fortunately, it is not expensive at all and they offer various plans that you can choose from based on your budget and needs.
Bear in mind that with WordPress you can create any kind of website, thanks to its flexibility and its many themes and plugins. But originally, it was made as a blogging platform and today continues to be one of the best in that regard.
WIX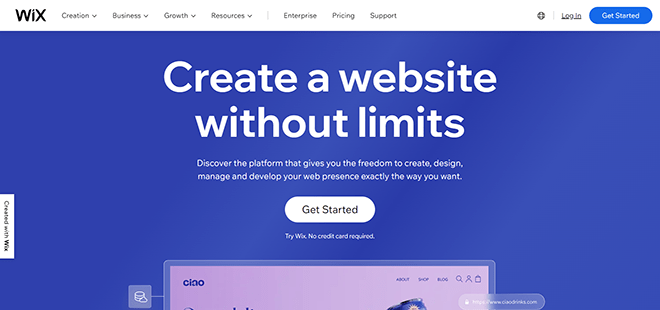 Wix.com is another beginner-friendly option for you to start a blogging career. However, Wix is not completely a clean slate. It is a website builder, which means you don't have all the freedoms of changing and customizing everything. However, if you are a beginner with no coding knowledge, you don't need to control everything. Better to leave it to those that maintain Wix so you can focus on your content.
Besides, Wix has an amazing builder with drag-and-drop functionality that is perfect for beginners that want to add their personal touch to their website. Not to mention the numerous customizable templates that Wix offers. Wix is also a freemium service, meaning it has both free and paid plans. The major difference between the free and paid plans is that the free plan gives you a subdomain of Wix.com and has ads. But the premium plans give you a custom domain and have no ads. You can check their website for more information about their plans and pricing.
Medium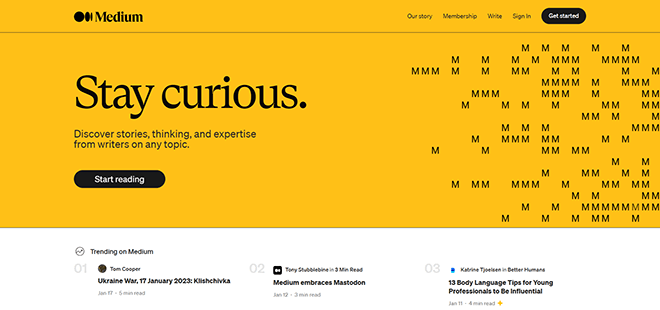 Medium is a bit different compared to the rest of this list. Although it is a great place for sharing content, most people use it to post repurposed content from their other blogs and their website. Let's say you have a beauty blog running on WordPress, when you publish articles, you can use snippets from it for sharing on Medium and redirect attention to your main blog.
Medium is a great option as it is a mix of content sharing and social media. You can also monetize your content on Medium through their medium Partner Program.
What's more is that it's free. You simply sign up, share your content with their staff who review it according to their guidelines and standards, sharing it if it complies and this way you can monetize your content.
A key feature of Medium is that it exposes you to millions of people that use it.
Although Medium is free for sharing content, with their paid membership plan you get access to exclusive content.
Blogger.com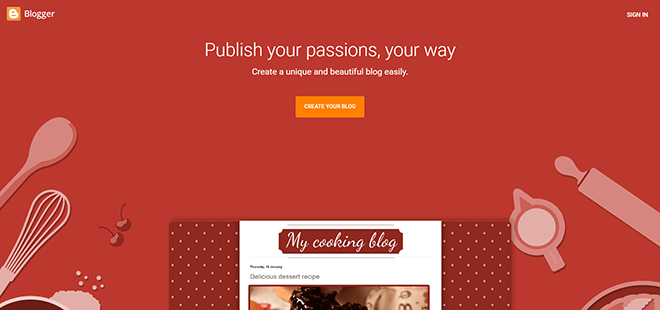 Blogger.com is a free publishing platform powered by Google. It was originally launched in 1999 and Google later acquired it. All you need to use it is a Google account. Once you log in, they will guide you through a few simple steps and viola. The intuitive design and setup of Blogger make it perfect for beginners with no coding knowledge.
You get a free domain via blogspot.com or you can have your own domain, it has integrated analytics feature for you to track your progress, it has easy-to-use templates and you can monetize it by integrating with Google AdSense.
Squarespace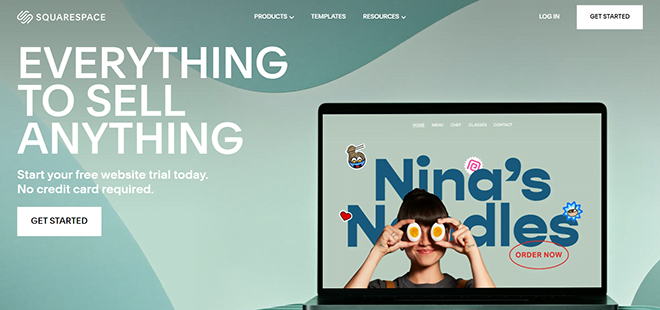 Squarespace is another popular website builder that you can use for any kind of website, not just blogging. You get a 14-day trial first and if everything was to your liking you can continue to purchase one of their plans. The benefits of Squarespace are many.
It gives you top-notch templates for free, it is easy to use, their annual plans include a free domain, you don't have bandwidth restrictions, and it has its own marketing tools.
But a big drawback is that it not the best option out there when it comes to SEO and it does not have as many options as some of the other items on this list, such as WordPress.
Squarespace might be one of the pricier options, but it definitely makes it worth your while if you can look past its relative shortcomings.
Also, to improve the SEO of your blogs you need to use SEO tools like Ahrefs, SEMrush and etc or SEO services like those on Fiverr, or SEO agencies like SEO Toronto.
Tumblr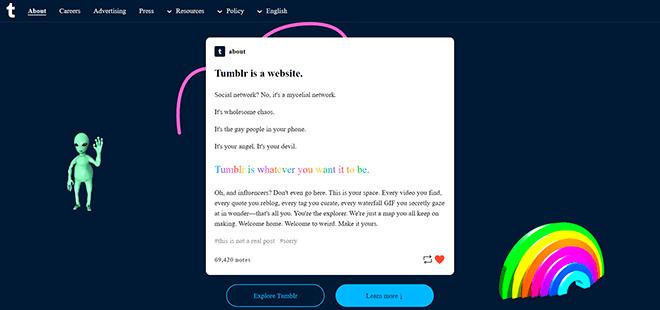 Tumblr is both a microblogging platform and a social media website. Microblogging means focusing on shorter content. Therefore, Tumblr is not a proper option for long, essay-like content and is better suited for short bursts of written creativity. The fact that you can incorporate multimedia content in your posts gives Tumblr its social media-like visage.
If you produce short written content and focus your creative energy on images and videos then Tumblr is a great option for you.
Some of the nice features of Tumblr include its custom domain, export tool to export your content, password protecting your content, and integration with other social media.
By the way, Tumblr is free of charge if you are fine with a Tmblr.com subdomain.
Ghost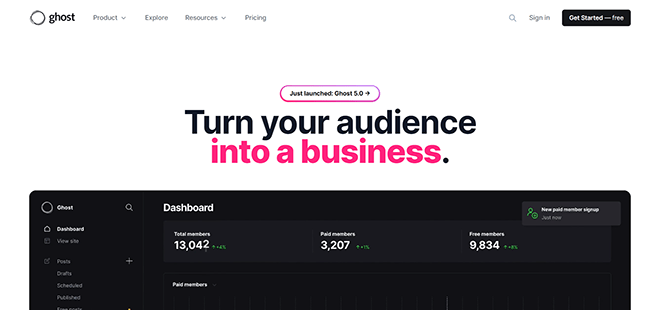 Do not be frightened by its name. Ghost is actually the best alternative to the best blogging platform, WordPress. Ghost is an open-source software that was launched after a successful Kickstarter campaign back in 2013. It is especially suitable for journalists, editors and writers. With Ghost there are no gods and no masters. You can literally do whatever you like in terms of customization. Similar to Squarespace, Ghost has a 14-day trial, after which you can buy a plan and continue. With Ghost you can send newsletters to your audience via email and monetize your content through their premium plans.
Two of the best features of Ghost are its post scheduling feature and its automatic backups. Contrary to Squarespace, it is also very good when it comes to SEO.
If you are serious about blogging and don't want to use WordPress then definitely check out Ghost.
Weebly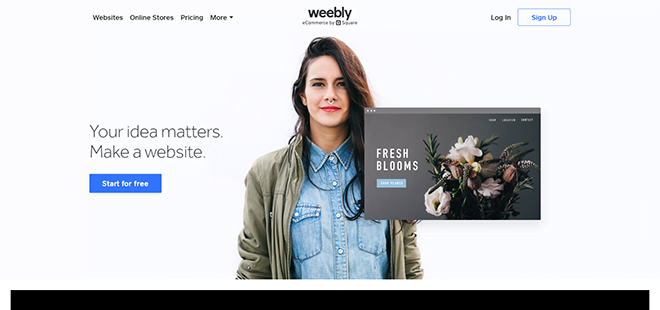 Weebly is another powerful website builder that is simple and accessible at the same time. Although Weebly was purchased by the payment company Square, which means their focus has changed to eCommerce and online shops, you can still make a pretty good blogging website.
Weebly's drag-and-drop design process and its integration with many other apps and free templates personalized for you make it a great option. With its free plan you get a Weebly.com subdomain and the paid versions give you custom domains and other goodies that you can check here.
LiveJournal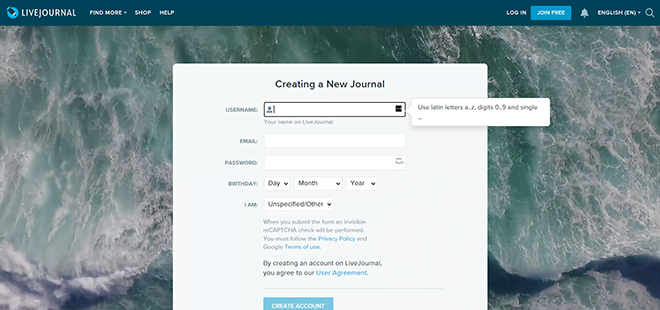 LiveJournal is a more complicated version of Tumblr. Which is a nice option if you know your way around codes and programs. It gives you the option to have multiple blogs on one subdomain.
It is also easier to manage than Tumblr because you can customize or change the theme and add addons to it. If this type of platform suits the type of content you make (short and with graphics), then give LiveJournal a try as it's free.
Substack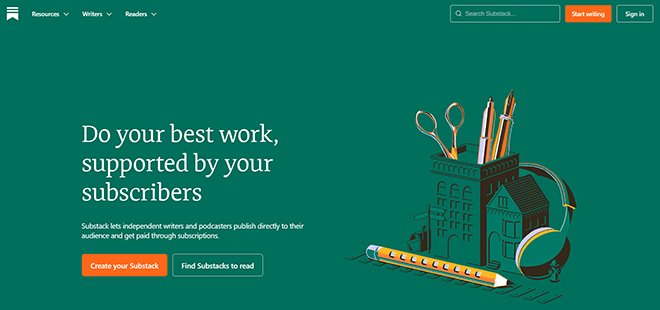 Substack's motto is an easy blog and newsletter for everyone. It is one of the more recent additions to the blogging space but between 2017 and 2022 it managed to become one of the most popular, especially among journalists and commentators. Independent writers can publish their content on Substack and get paid through subscriptions.
It is also a very popular option with podcasters to have their transcripts. Substack believes that content is owned by you because you wrote it. They don't have any gatekeeping process and you can manage everything yourself. When you create your Sub you are effectively getting a platform that combines a blog, a newsletter, a payment and subscription system and has customer support.
Publishing is free on Substack and they only charge you if you get paid subscriptions, which is only a fee of 10%.
Substack is very popular with independent journalists and other people producing serious content. If you fall into that category then you might want to check it out.
Hostinger
Homepage Builder The Hostinger is another excellent option for blogging. It features various functionalities that make it well-suited for this purpose, including an AI writer for content creation and integrated SEO tools to enhance search engine rankings.
The AI writer is still in its early stages but shows great promise.
This AI-powered tool can generate ideas, create outlines, and even produce complete blog posts with relevant images. It streamlines the writing process and opens up new possibilities for efficiency and creativity. So, the AI writer helps you save a lot of time and effort.
With Hostinger's Homepage Builder's SEO tools, you can optimize meta titles, meta descriptions, and alt texts. The platform also automatically generates a sitemap for your blog.
A sitemap can assist search engines like Bing and Google in indexing your blog more quickly. Additionally, Hostinger's Homepage Builder offers a drag-and-drop interface that simplifies the creation and editing of your blog entries.
Don't worry about design because the platform provides a library of responsive templates that can get your blog up and running with just a few clicks.
Take advantage of the free domain for one year as well, allowing you to create professional email addresses.
Recommended Posts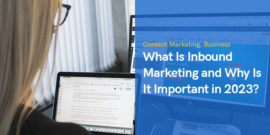 April 14, 2023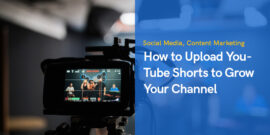 January 15, 2023