---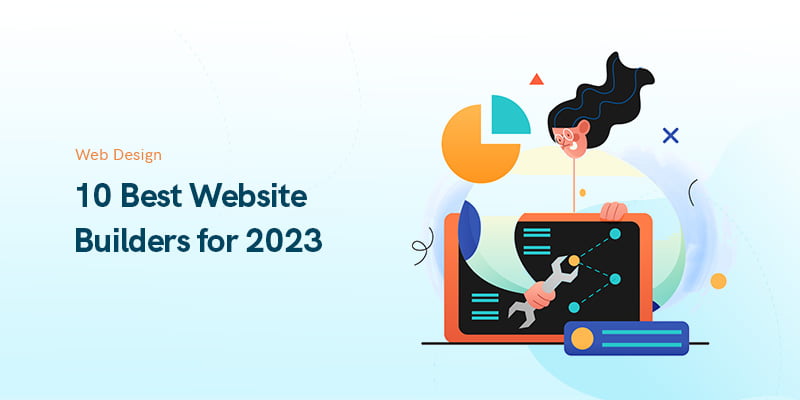 10 Best Website Builders for 2023
In 2023, it has never been easier to create and operate your own website. Whether you are an up-and-coming business or a popular and established brand, there are options out there that will make your life a whole lot easier when it comes to creating and managing your website. The days of websites being gated areas that required specific expertise are long gone now.
Today, the advances of technology have enabled us to create and configure a website in a matter of minutes, with practically no expertise in coding and design. You can let your creativity take over and leave the technical stuff to the professionals behind the platform.
In this article we are going to talk about top 10 website builders for 2023 and highlight their weaknesses and strengths to help you decide what is best for you.
What Are The Best Website Builders?
Let us now dive deep into each of these and examine what they offer and how good they are. Keep in mind that this list has no particular order, however, we will recommend some of the best options in the end.
WordPress.com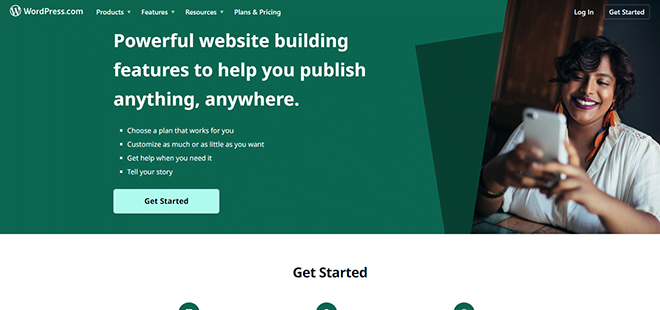 Let's first answer the perennial question. Do we mean WordPress.com or WordPress.org? Here we are talking about WordPress.com. It is the basic website building platform offered by WordPress. WordPress.org is the popular content management system that is free and open source. You can use this software on a host of your choice and create your website.
WordPress.com is the hosted version of WordPress. It has a free plan and premium plans going up to $45 per month (billed annually).
However, if you are relatively familiar with coding, you can choose either .com or .org, it doesn't matter. In fact, there are many benefits by choosing .org. You get a free but very powerful CMS and it gives you all the flexibility in the world to build what you want. WordPress project began as a blogging platform but now, thanks to its popularity and 420 million users worldwide, there is nothing you can't do with a WordPress website. It offers you thousands of free and paid themes and plugins that you can use to transform your website into anything you like. If you are looking for a good event calendar plugin for your WordPress website then make sure to check out our Modern Events Calendar. If you are considering moving to WordPress then we also offer one of the best, multi-purpose themes on the market called Deep Theme.
While WordPress is not difficult to use at all, it is not as easy as some of the other options on this list. But by choosing WordPress you will future proof yourself because it is the most customizable.
Wix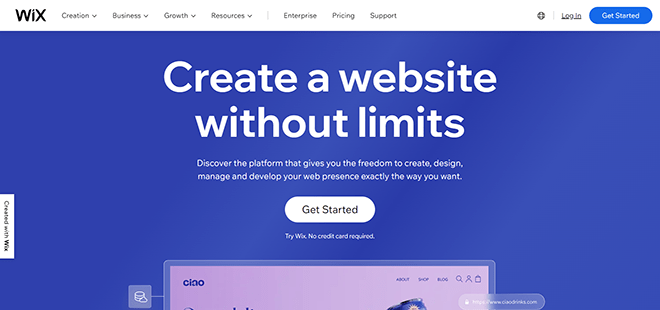 Wix is the second most popular website builder after WordPress. The reason for its popularity is that it offers something for everyone. Not to mention the fact that it is probably one of the easiest website builders to work with. Add to that more than 900 designer-made templates and you have something amazing going.
While WordPress doesn't have dedicated support and you need to rely on communities, with Wix you get 24/7 support. And you get more than 250 addons that help expand the functionality of your website. But its storage is limited and its top tier plans are a bit pricey.
Squarespace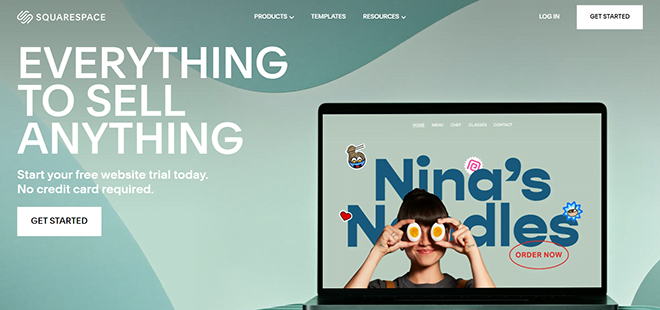 Squarespace's popularity is because of its versatility and its easy-to-use editor. It offers a mix of drag-and-drop and point-and-click style of editing. While it's very easy and intuitive, you might need some time to get used to all the menus and learn the location of each item. But its award-winning designs are definitely something to look forward to.
One of the most standout features of Squarespace, except its fabulous design templates, is its AMP feature, otherwise known as accelerated mobile pages. This lightens the load of pages and improves speed which is great for having a smooth experience and getting a better SEO ranking.
However, Squarespace's support leaves much to be desired and its great designs also limit customizability.
Webflow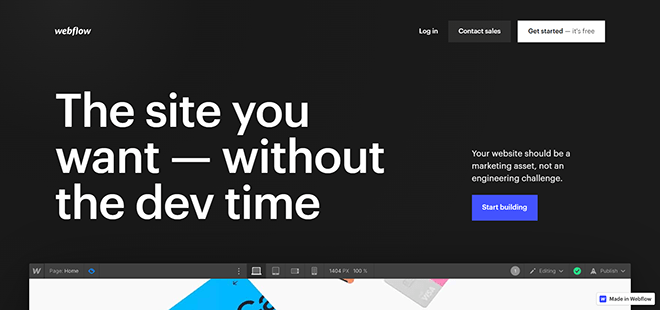 Webflow is one of the newer kids on the block but it's here with a bang. What makes Webflow unique is that it sits in between fully coding a website and using drag-and-drop editing like in Wix or Squarespace.
Webflow development is a great option for designers who want to create and customize their own websites. It gives you the ability to easily edit your website with drag-and-drop, but if you understand coding, it also gives you access to the code to make customization easier. And for a designer this is amazing. You can either do a fully custom website or use a template and tailor that however you like.
Webflow doesn't give you a free custom domain like Wix and Squarespace but it makes up for it by having fantastic options for SEO and having great loading speed. Plus, it has a free plan that is actually decent but its popular plan is more expensive than others. However, the options it gives you are totally worth the extra few dollars.
Shopify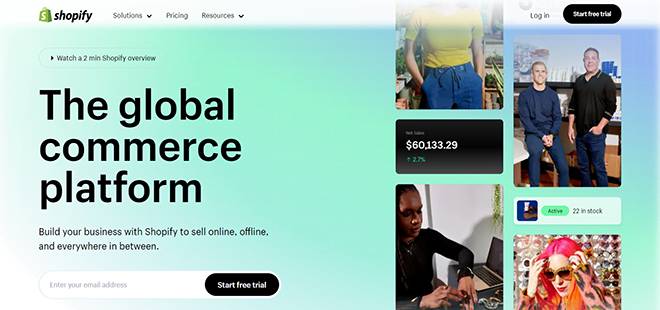 If you wish to have an online shop, then Shopify is the first option to consider.
All Shopify premium plans come with built-in shopping cart and marketing features that make setting up your store easier; unlike other items on this list where you have to use addons to extend their functionality and create your online store.
Shopify is meant for online stores not building any kind of website; therefore, it is recommended only serious ecommerce businesses go for Shopify. If you think this is suitable for you, you will find a website builder that has taken care of almost everything for you. However, Shopify doesn't automatically optimize your images for your products and most of its templates cost extra, on top of its expensive plans.
GoDaddy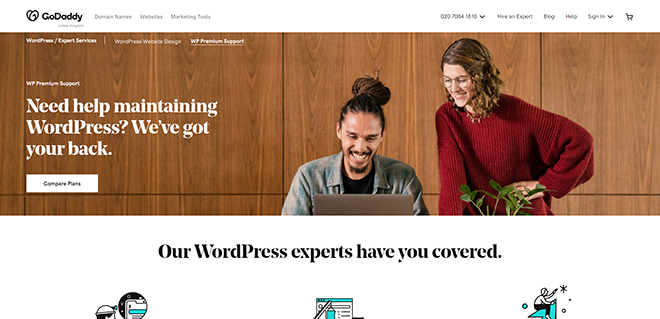 GoDaddy will get your website up and running faster than anything else on this list. That's because it uses AI to generate quick designs for you based on your needs. All you have to do is answer a few questions about what you need and GoDaddy will present you with a website that then you can customize further. It has a drag-and-drop editor but doesn't offer as many templates or design options as some of its competitors. However, its templates are nothing to scoff at. What's more is that it also has some of the lowest prices in this list for its paid plans, but you can use its free plan or its 1-month trial plan to check everything out and make sure this is what you want. You will also get 24.7 customer support.
However, as mentioned above, your customization is limited and its addons are also rather expensive and limited so expanding your website's functionalities won't be as easy.
Weebly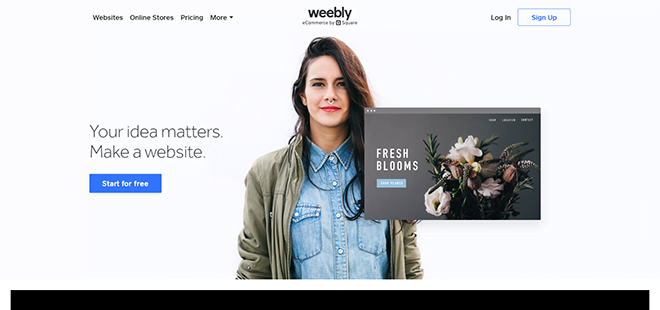 Weebly used to be one of the best and easiest website builders. But in 2018, it was acquired by the payment company Square and they developed it into a dedicated ecommerce website builder. You can still create any website with Weebly, but it is best used for ecommerce websites. With Weebly's drag-and-drop editor and Square's payment processing, you can get a powerful online shop going.
Its cart functionality that can be added anytime, plus its stylish themes that can be changed without deleting or removing content are amazing features that you won't find anywhere else.
The downsides to Weebly are its limited customization and support.
Zyro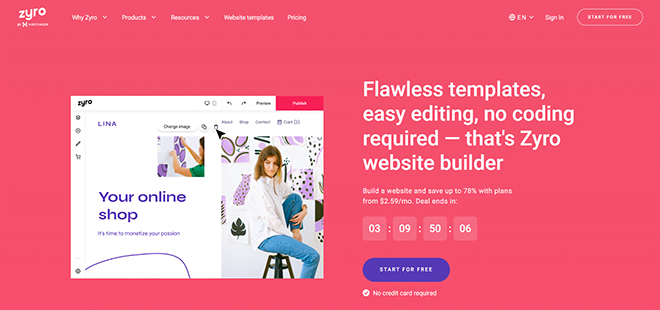 Zyro is another of the cheapest website builders for those that have a limited budget. But this comes at a cost: you have to agree to a four-year contract. It has more than 100 designs and a drag-and-drop editor.
Zyro includes SEO tools, has a logo maker and an AI powered website creator. Its standout feature is that you can import a website from anywhere into it and it will open it in its editor for you to customize. However, its bandwidth and storage for lower tiers are very limited, it doesn't offer free domain, and the renewal costs are high.
Duda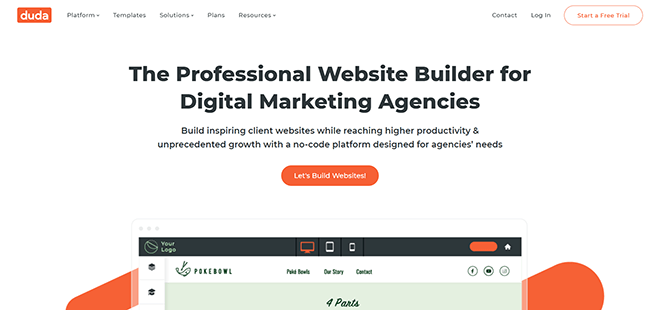 If SEO and Google rankings are your jam then you must try out Duda. In 2021, when Google made rankings all about speed, Duda suddenly jumped to the top. Websites created by Duda are very fast and tick all of the boxes for Google so you will get a high ranking in no time.
But it is not a one trick pony. Its editor is simple, it has white labeling, and it lets you control all of your sales from your social media and other places if you have an ecommerce website. Generally, with Duda you get a fast website with amazing customer support and fancy templates. The downsides are its price and limited plugins for expanding its functionality.
IONOS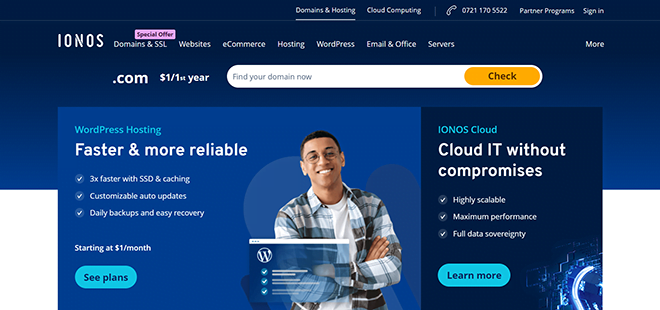 IONOS is better known as a web hosting service but it also has a website builder called MyWebsite that can compete with all the top options out there.
It offers an intuitive interface and reasonably priced plans. But to get the best features you must opt for the mid- or high-end plans. One amazing and unique feature offered by IONOS is that you can have different visitors see different pages on your website based on their role. It also integrates privacy and analytics tools for easier monitoring and growth, couple that with excellent customer support and user reviews and you have something special. But on lower priced plans it displays ads and its templates are not the most modern.
I want to have an online shop but I don't want to use Shopify. Which option do you recommend?
Without a doubt WordPress is the best option. It is both very customizable and has many plugins and themes that are perfect for running an online shop. It might come out to be more expensive but we believe it's absolutely worth it.
A second great option would be Weebly, if your customers are able to use Square payments. Weebly is owned by Square and is very suitable for all ecommerce websites.
Can I design a website in Webflow then export it to WordPress?
Unfortunately migrating between platforms is not always possible or easy to do. This is because each platform has unique things that are not recognized in other platforms. So you are better off choosing your platform carefully as migrating may prove to be difficult.
Which platform offers emails as well?
For emailing the best option is google and all of these platforms integrate with google suit. But it is not free. Google charges 7 USD (at the time of writing) for each email address.
Conclusion
Finally, we hope that you can choose the proper option using the guide we provided. But if you need a bit more help, then we recommend Webflow for most people that are beginners. It is a bit pricey, yes, but it is also amazing in terms of support and features. And it is perfect for total beginners. If you know your way around these things then the best option is WordPress. Its customizability is unmatched and it has a big and ever-growing community.
Recommended Posts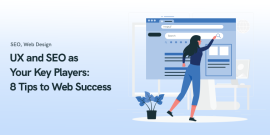 October 24, 2023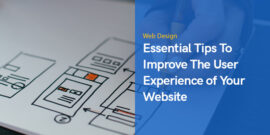 January 10, 2023