---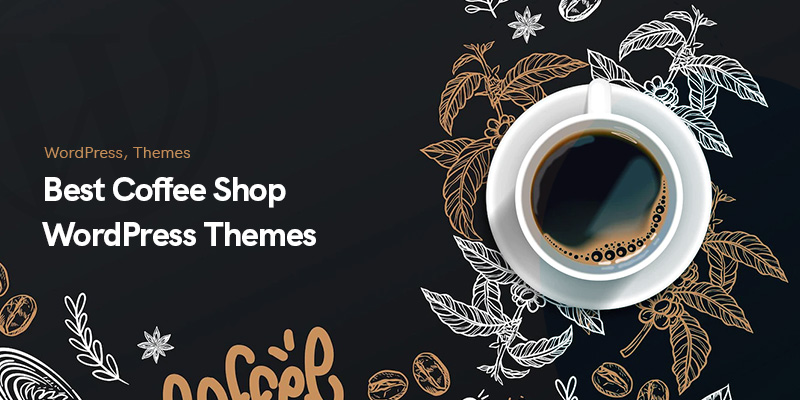 8 Best Coffee Shop WordPress Themes 2023
Throughout the ages, the concept of coffee shops has undergrown considerable changes. First, coffee shops was a place for its functional sake, and now it has become a multi-purpose place.
Like anything else in our current world, coffee shops need to stay in their own competitive loop. So if you are planning to design a website, either for your own or your employer, you should know that the first step to do so is to choose the right theme in order to have an effective website.
WordPress has made things easier than ever, allowing you to get your website up and running in no time, without any need to know about coding.
If you want to stand out from the crowd, the best thing to do is to select a theme that has been specifically designed for a coffee shop website. This means the theme you choose should be a multi-purpose one, with all the essential tools needed for such a website.
Here we have collected 8 best coffee shop WordPress themes that all has these features. They all feature pre-built templates alongside stylish homepage designs. Also, they include the essential pages a coffee shop website should have; pages such as about us, menu, contact us, location, etc.
Some of these themes here can be customized using the integrated drag-and-drop page builder, while with some of the others you can simply change the colors and stuff to make your theme suit your purpose.
So without further ado, let's go to see what these 8 best coffee shop WordPress themes are.
Best Coffee Shop WordPress Themes List
Here is our list of Best Coffee Shop WordPress Themes:
 Deep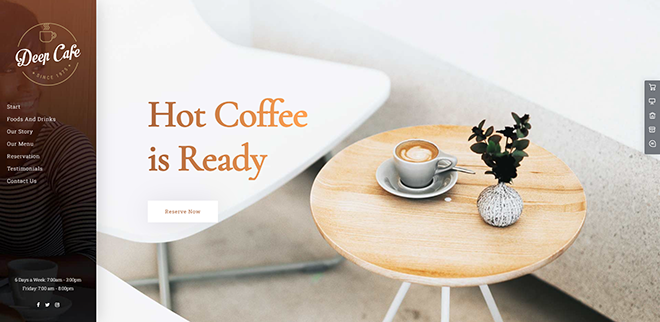 Developed by Webnus, Deep is a multi-purpose theme with more than 120 demos that will be suitable any kind of website, including a coffee-related one, whether it be a café or an online coffee shop.
Sleek and fast, Deep coffee shop template is a feature-rich, premium one, giving your website a professional look. Using Deep coffee shop template, you will not need any other theme to go for.
You can customize everything using the Elementor page builder, from the header and banner, to your homepage, banner, slider, etc.
Fully SEO-optimized and translation-ready, Deep is a lightning-fast theme with cutting-edge functionality that will skyrocket your experience to the moon.
Divi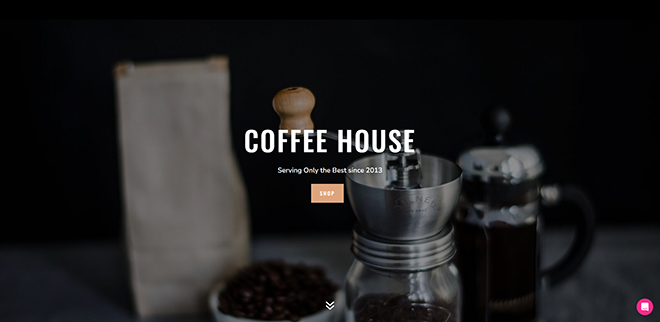 Divi includes a complete set of templates that will make you do without any other theme. With Divi, you can get all you need for a coffee shop website. It gives you an awesome professional look, especially as it is integrated with WordPress.
Divi allows you to customize each and every part of your website easily. It has an integrated page builder plugin using which you can edit and customize the pre-built content using a front-end, point-and-click interface.
You can either build everything from the scratch, or you can just import a pre-built template and start customizing it. Whether you're customizing the templates or creating your own design from the scratch, Divi gives you lots of features, ranging from various content modules to sliders, buttons, video players, etc.
Overall, Divi is one of the best coffee shop WordPress themes available on the market.
Barista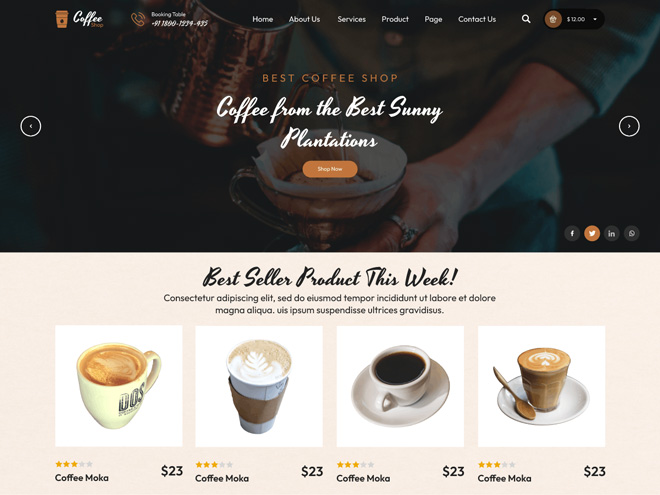 Unlike some of the themes on this list, Barista is not a multipurpose WordPress theme. It is a special WordPress theme specifically built for coffee shops.
Regardless of the type of coffee shop you own, Barista is still a great choice. As one of the best themes for coffee shop, Barista comes with 9 pre-built demos, granting you versatility on all sides.
This theme has a coming soon demo which allows you to build up the anticipation if you are planning to get your business up and running. Besides, Barista supports WooCommerce to the full. So if you sell products online too, Barista should be the perfect choice for you.
Importing the demos is nothing demanding at all. You're just a few clicks away from it, no fuss at all. For customizing, you can use the WPBakery page builder which is built-in for Barista. You've got a world of options in front of you.
Astra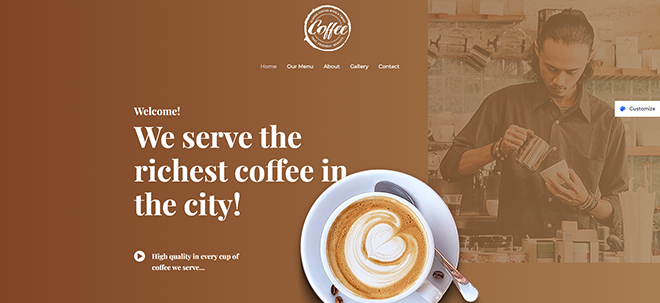 As the most popular theme on the market, Astra has more than 180 pre-built templates for any kind of specialization, including coffee shops too. The Astra coffee shop theme is ready-to-use and can be imported to your website by just a few clicks.
By getting Astra coffee shop WordPress theme, you will be granted the online ordering capability, so you customers can easily order their coffee from home. Also, you will have the online reservation ability with Astra coffee shop theme.
SEO-optimized and fully responsive, Astra is the truly right choice for you. This theme is highly customizable, allowing you to change, design and customize everything you can see on your website.
Feature-rich, translation-ready and minimal, Astra is the ultimate choice for your coffee shop definitely.
Amaya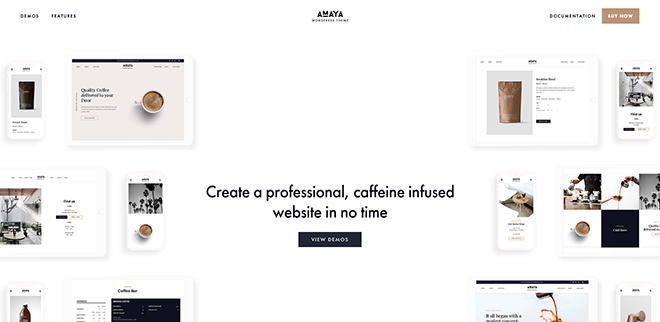 If having a website for your coffee shop is what you're looking for, Amaya can be great tool for you.
It has a professional, premium look that will give a sense of minimalism to your website. One of its good features is that it has a dark mode in each and every one of its templates.
Using Amaya you can easily add a menu, location, contact us page, etc. Each of demos included has a modern-looking homepage. Besides, they include layouts for such pages as mentioned earlier.
Alongside being fully responsive and ecommerce-ready, Amaya allows your visitors to shop your available products, such as coffee beans and stuff, online.
Above all, Amaya features a social media integration that can help you grow your community of customers using the social media online.
Kaffa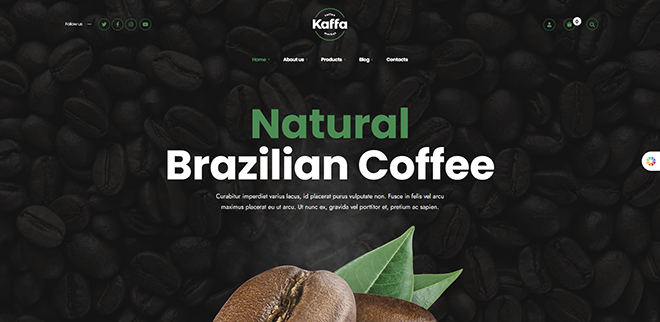 Kaffa is a WordPress theme especially designed for designing websites for coffee shops, cafés and similar realms such as barista training, and coffee production companies.
Kaffa includes six demos that makes it one of the best options for such a niche as coffee shop.
As a premium WordPress theme, Kaffa delivers you attractive professionally-designed demos and templates. In every demo you will find an eye-catching homepage layout alongside lots of page templates.
Using this theme, you can easily add your menu, location, booking form, etc. to make everything easy for you and your customers. Besides, Kaffa is fully integrated with ecommerce too. You can sell your coffee-related products, whatever they are, using your website, enhancing your relationship with your customers.
Also, you can add a blog to your website and publish anything related to coffee and stuff. Plus, as Kaffa is compatible with Elementor, your options are plenty regarding customization. You can design your website just like what you have in mind.
CoffeeKing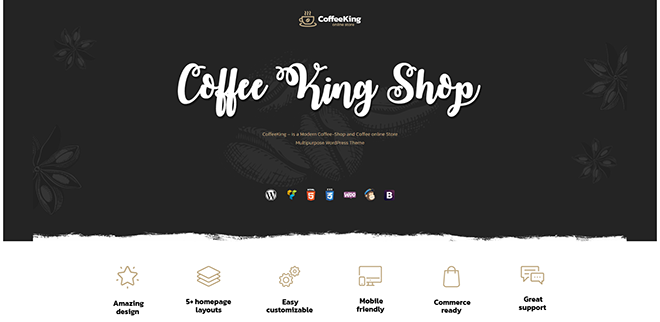 CoffeeKing can be an optimum choice for those who want to have a coffee-related website.
This theme features some homepage layouts that exactly suits a coffee shop website. If your coffee shop is not just a coffee shop, then CoffeeKing is what you're looking for. This theme brings you a modern, professional-looking website that will surely boost your experience of running a coffee shop website.
CoffeeKing will allow you to easily share your business photos, your shop's décor, your location, contact us page, etc.
You can also share information such as opening hours, menu, etc. too.
Besides, you can easily add your corporate logos, products you sell, social media you got, and many other things. Sharing feedback is also very handy in CoffeeKing.
Alongside all these, if you want to sell some products online, the good news is that CoffeeKing supports ecommerce to the full. This theme is also completely compatible with WooCommerce and features some specific templates for shopping cart, customer account, etc.
Corretto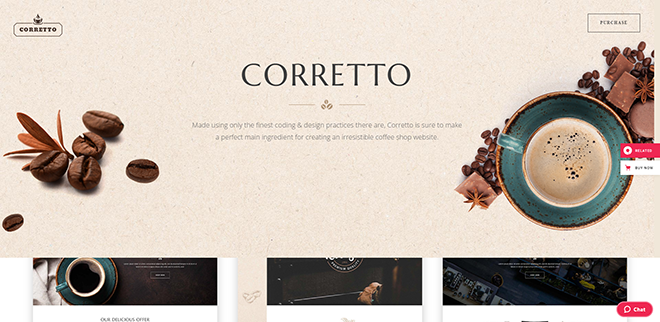 Correto has everything you need for a coffee shop website. It is a resourceful WordPress theme using which you can design and run your café business.
This theme has three different pre-built coffee shop website demos, giving you options regarding your choices. Every one of these demos has a high-quality homepage layout. Also, each demo contains some templates for the internal pages you will surely need for a coffee shop website, such as location, menu, contact us, etc.
Besides, Corretto is compatible with WPBakery page builder, so if you need to make any change in your website, there is no need for coding; just use the integrated WPBakery page builder to do so.
An amazing thing about this theme is that it features an online reservation form, so from now on your customers can reserve their table without any fuss.
Another thing to add to its awesome features is that Corretto is fully integrated with WooCommerce, so if you need to sell any kind of coffee-related merchandise, you won't face any difficulty. Besides, this theme helps your business to be displayed in search engines like Google, because it is fully SEO-optimized.
Overall, Corretto is the perfect combination of design, function and beauty, bringing you an eye-catching design that will help you grow and boost your business.
Which coffee shop theme is a great free option?
Most popular WP themes have a free and paid version. It depends what you like and what features you require. Generally Astra and Divi are the best options so you might want to start from there.
Which coffee shop theme is very customizable?
For customization we recommend Divi. It has its own builder, Divi Builder, and is very easy to work with. If for some reason you don't like that then Astra and Deep are great options as well. Both have integration with popular page builders out there and can be molded into anything you like.
I want to have a shop as well. Which theme is the best for me?
If you plan to sell products on your website, then it's not so much a matter of your theme. You need to use a third party plugin such as Shopify or WooCommerce to manage your products.
Conclusion
When you want to run a website for your coffee shop, you should keep in mind that there are a number of factors that should be considered. For example, you should have your menu on the website so that your customers can easily see what you have to offer them.
If you list all the items you need and then proceed with checking them, you can have your optimum website.
In order to do so, you should choose the right theme for what you have in mind. And choosing that theme requires some research, just like we showed you in this article.
We hope this listing of ours has been helpful for you in choosing the right theme for your coffee shop WordPress website. We would be more than happy if you share your thoughts with us and tell us about your experience with any of these mentioned themes, or even with those that have not been named here in the comments section. Thank you for being with us.
Recommended Posts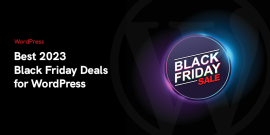 November 13, 2023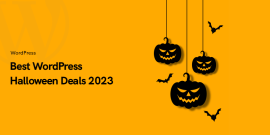 October 23, 2023