---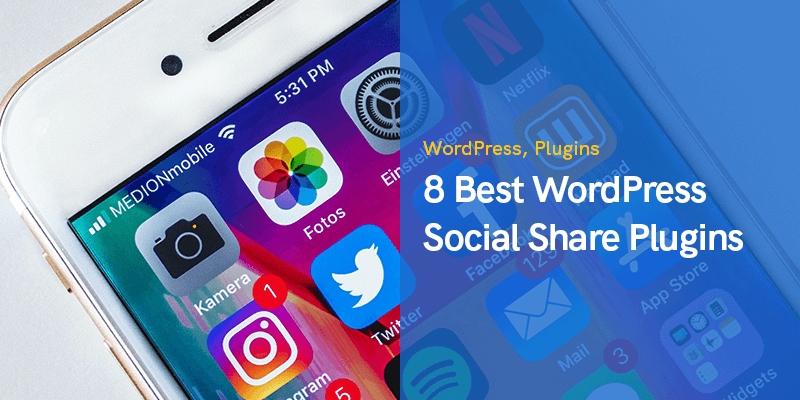 8 Best WordPress Social Share Plugins
Social media is one of the most powerful tools that can help a business grow. In fact, all intelligent businesses use social media to get free traffic, increase their brand awareness, and even benefit their SEO.
Also, keep in mind that everyone can share their own product and website content on social media but that is not enough. To properly benefit from social media you would need that a portion of your website visitors also share your content. This is where it gets hard.
To let someone share your website content you would need a social share plugin. This plugin needs to have enough design elements so that you would design it to match your site look. It also shouldn't slow your website, after all, speed is crucial to your website SEO and performance. So, how can you find one?
Worry not! We are here to help.
In this article, we are going to introduce you the best social share plugins that can boost your social media shares and also give your site a good look.
In finding what we call the best WordPress social share plugin we will need to take these points into account:
Beautiful social share icons
Fast
Customizability
Price
Agree? I bet you do.
Best WordPress Social Share Plugins
Let's not waste more time and just dive into it:
Novahsare
Novashare is a newly released social share plugin (released in 2020) that primarily focuses on speed and performance while also offering a nice look and a wide range of features.
The plugin is really fast blazing. It only adds 5 kb to your site front end while other plugins of this category easily add more than 50 kb. Novashare uses inline SVG icons instead of third-party icons which means there are no additional libraries or DNS lookups needed just for the icons.
Apart from its main social share feature, it also offers some more interesting features:
Click To Tweet feature
UTM tagging feature
Pinterest Pin images feature
Novashare plugin is beginner-friendly. In fact, it is developed in native WordPress style so that anyone can literally configure it within seconds.
One good thing about the plugin is that its share buttons are optimized for both desktop and mobile. You can set breakpoints so that when the browser's viewport is above or below the breakpoint, social share buttons hide instead of showing inappropriately.
But to be honest, the plugin does lack design elements. You could have expected this especially since it is extremely lightweight that it only adds 5 kb to your site front end.
Novashare is a premium plugin that does not offer a free version. It comes in three different pricing licenses: 1 Site – Personal ($29.95), Unlimited Sites ($149.95), 3 Sites – Business ($69.95)
Social Snap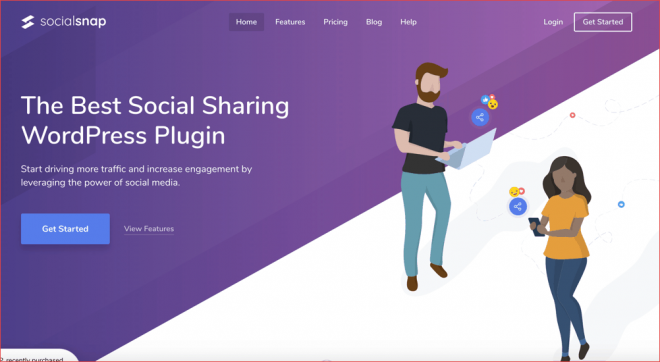 Social Snap is a well popular WordPress social share plugin. The plugin comes with a well-designed interface, beautiful share buttons, and a long list of features.
Social Snap also offers a free version that is limited in features but you can use it to get an idea of the PRO version.
Social Snap allows you to add buttons for over 30 social networks in different parts of your website. In addition to the classic layout options like inline buttons and floating sidebar, you also get unique options like sharing or a sticky bar.
The plugin has good customizability, you can choose from different shapes, sizes, and colors of buttons. However, this causes the plugin to add more than 50 kb in size to your site front end.
Let's see what are some prominent features of Social Snap:
Click to Tweet boxes
Social media auto-poster
Boost old posts
Social login
As stated, the plugin does offer a free version but upgrading to the PRO version will cost you at least $39.
Monarch
Monarch is a social share plugin by Elegant Themes. The plugin is a feature-rich one with the possibility to place the social share buttons in 5 different locations. Share buttons can appear above and below content, as a floating sidebar, as an automatic pop-up window, inline with images and videos, or in a pop-up window that slides across the page.
More than 20 social networks are supported, and there are many customization options that allow you to determine when the pop-up or fly-in sharing boxes are displayed. For example, you can display share buttons after a user has left a comment on an article or purchased an item from your store, or after they have scrolled to a specific location.
Monarch is included as part of the Elegant Themes membership. Their membership sells for $ 87 per year or as a one-time fee of $ 249.
Easy Social Share Buttons for WordPress
If you are looking for a more affordable social share plugin with good performance and enough features, then Easy Social Share Buttons by ThemeGrill is your choice.
Costing only $20, this plugin has been one of the top-selling social share plugins. The continuous updates and improvements by the company have also helped it to become better each year.
The plugin supports over 50 social networks and allows you to automatically display share buttons in over 30 positions. Many positions such as pop-ups, fly-ins, and floating bars can be triggered by events such as time spent on the page, item purchase, or page scrolling percentage.
The plugin has been approved by the WordPress WP Rocket Caching Plugin, which proves that the plugin is well optimized for speed and will not slow your website.
Social Warfare
Social Warfare is a popular WordPress social media plugin that is available in both free and premium versions. You can use this plugin to automatically or manually insert big and bold social media share buttons into your content.
Let's check some of the features that make Social Warfare stand out:
Pinterest-specific images
Minimum social proof
Share count recovery
Analytics and link shortening
If you are interested in the plugin you can give it a try by downloading its free version. However, to upgrade to the PRO version it will cost you $29 for a single website, $89 for up to five websites, $139 for up to ten websites, and $349 for an unlimited number of websites.
Social Pug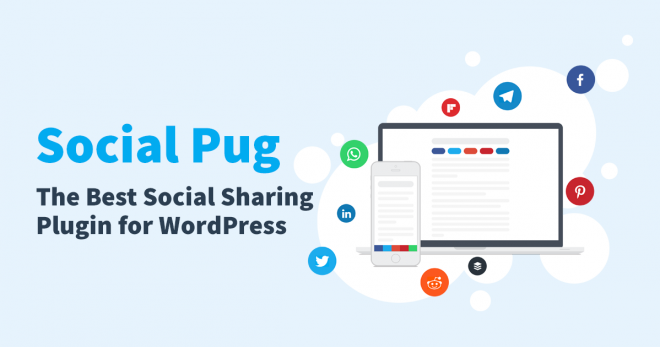 Social Pug is a freemium social share plugin that allows you to display buttons as round, rectangular, or circular.
The free version of the plugin supports five social networks: Facebook, Twitter, Google+, Pinterest, and LinkedIn. These buttons can appear above and below the content area, or as a floating sidebar on the left or right side of the page.
By upgrading to the PRO version, 11 more sharing networks, as well as options such as email and print will become available.
The Pro version also adds the ability to display share buttons in a popup window that can be triggered by a number of different events. There's also a sticky social media bar for mobile users and support for Google Analytics and Bitly.
The pro license costs $29 for one website, $59 for five websites, and $129 for unlimited websites.
Swifty Bar
Swifty Bar is a completely free social share plugin that uses a different approach, the plugin displays the social share buttons in the bottom of the page.
In fact, Swifty Bar is a sticky bottom bar that displays social share buttons, author information, estimated reading time, and a Next / Previous button in the bottom of the page.
Jetpack
Last but not least, Jetpack also offers a social share button option completely for free.
If you are not already familiar with Jetpack, then it is a toolkit that offers services that you might need to design, secure, and grow your site. But let's see how you can use its completely free social share buttons.
You can find it in the sharing module within Automattic's Jetpack plugin. The sharing module allows you to display simple sharing buttons for the most popular social networks. You can choose to display icons with text, only icons, only text, or the official share buttons.
Wrap Up
You definitely need to use a social share plugin so that your visitors will be able to share your content. But there is one problem, you would need a suitable social share plugin.
There are many options each with its own Pros and Cons. But if you are like me and care about performance more than anything else, then your choice will be Novashare. However, if you are searching for the most feature-rich one then Social Snap can be an option.
Recommended Posts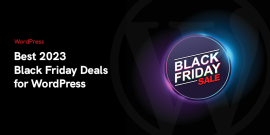 November 13, 2023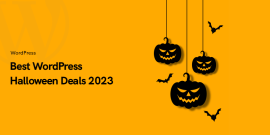 October 23, 2023