---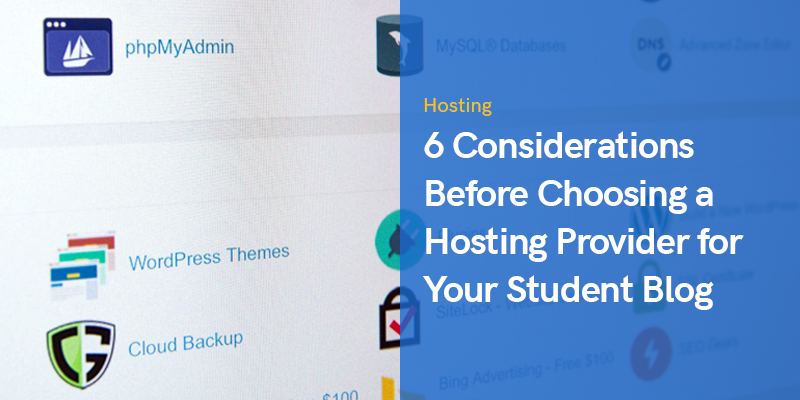 6 Considerations Before Choosing a Hosting Provider for Your Student Blog
The success of any blog depends on several factors starting from the eye appeal, relevance, and general timeliness of the info.
Yet, the creation of any website is a much more extensive process.
Besides filling the page with content, a blogger needs to find suitable hosting.
Blog articles, just like term papers, demand focus and splendid writing skills.
Regarding the matter, essay writing should rather be entrusted to professional paper writers.
The process of publishing the site and would-be issues prevention depends on the hosting service chosen for the blog.
Considerations Before Choosing a Hosting Provider for Your Student Blog
Here are the most relevant characteristics that you should consider when looking for this service.
Security
First of all, you have to find a trustworthy manage IT provider, not a sham.
The company one could trust should have extensive experience in this market and references.
Analyze the host site. A serious hosting provider will place all of its contact details on the front.
Note for how long the hosting company has been on the market and evaluate its reliability accordingly.
Look for reviews. Pay special attention to negative ones. Of course, there is a chance that those could have been written by competitors.
Besides, there are different ratings on the web.
Among them, Pickuphost and Hostdb are the frontmost. Yet, it would be naïve to take all ratings seriously.
Many sites get paid by hosters for top placement.
So, they do not always provide non-objective assessments.
Users often post information about these companies on specialized discussion boards.
Respectable companies also have their topics posted there.
One can ask for advice from the old forum members.
There is an array of such platforms.
With their help, novice bloggers can analyze how the company representatives communicate with clients, how they answer questions, and how they solve problems.
Technical Aspects
The second point to consider when choosing a hosting provider is, of course, its technical characteristics.
To do so, one should set the goals of the blog.
Define whether it will be commercial, think about its visual appeal, and decide on the content niche and post frequency.
Judging by these characteristics, the user will select technical parameters and payment rates.
If the site is filled only with text content, you can start with a small amount, for example, 1 GB, hence, a lower payment rate.
If the user wants to expand the site by adding video or photo content, they can switch to a higher rate.
As a starting point, it would be better to choose a tariff with space reserve.
But do not overestimate the amount of data; otherwise, you will have to overpay for idle resources.
It is clear that available space is an essential parameter, but other important things are also inherent in quality hosting.
For instance, consider the number of sites available within one tariff.
This data is helpful for the authors who have more than one blog or plan to develop further in the nearest future.
Content Management Functions
The availability of a file manager or cPanel, which allows managing blog files via FTP, is a must.
The best hosting is the one providing both options – FTP access and file manager/cPanel.
Among the main technical requirements, one could name MySQL 5.0.2 (or later) and PHP version 5.2.4 (or later).
Need to publish a WordPress-based page? Then you should opt for hosting with pre-installed WordPress features to make your work with it simpler and more efficient.
If you use another CMS for the site, check the hosting compatibility with the selected site management system.
These conditions usually apply to the hosting operating system, Apache web server, PHP language used to create dynamic websites, and MySQL databases.
It is better to choose a service provider specialized in a specific CMS to ensure your blog is running smoothly.
If you have not dealt with publishing a web page before, then you should pay attention to the control panel.
ISPmanager or cPanel would be the first choice for beginners.
New users should also take advantage of the test period (reputable companies provide it).
Among other important parameters, noteworthy are the price, payment methods, technical support, and up-time servers suggested by a particular company.
Payment Options
Just like struggling with student blog ideas, some novice website owners get puzzled over payment strategies.
Hosting a blog for free seems tempting for a student.
The question is whether the author has planned a long life for this online journal.
For students, it is worth looking for options in the middle price segment.
But do not rush to get cut prices and do not overpay for the same resources.
First, evaluate the company's reputation and pricing.
One of the key signs of a reputable company is the variety of suggested payment options.
Usually, decent companies accept payments by credit cards, terminals, online wallets, cheques, etc.
Tech Support
Just one thing should catch attention in tech support quality evaluation – it should be round-the-clock and fast.
It is great if the support team has many communication channels, including cell, e-mail, and social media.
Please also note that some companies do not provide free technical support at all.
Actual Performance
Many providers claim that they have 100% uptime.
This is a hoax; otherwise, such a company would not last long.
Failures occur with all services. Select companies with the 99% uptime.
Such providers could be trusted unequivocally.
There are special services for checking such data, for example, Webhostingsecretrevealed and Uptrends.
Conclusions
The options for choosing a reliable and stable hosting for a blog are rather vast.
Each of the above-listed parameters is important for the quality of the blog and the influx of readers.
Personal blogs attract the attention of many readers.
So, to succeed, it is essential to keep the blog updated and choose a reliable service provider to worry less about the non-creative aspect of this activity.
This way, you can concentrate on the blog content and promotion strategies.
Recommended Posts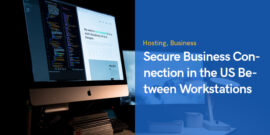 September 21, 2022