---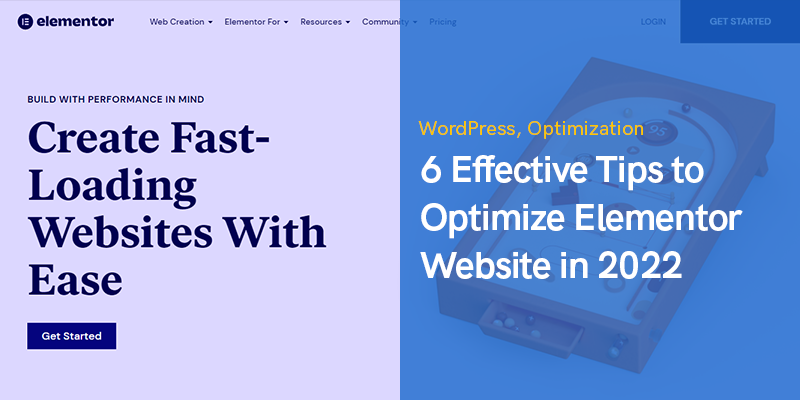 6 Effective Tips to Optimize Elementor Website in 2023
Are you not satisfied with your Elementor website performance? Wondering how to speed up your Elementor website to increase traffic and conversions? If yes, then you have come to the right place. Because here you will get the best tactics to optimize Elementor website speed.
Google changes its strategy day by day. Now website speed is not only important for better user experience but also essential for ranking high on the SERP. Search engines have started to focus on it.
That's why here in this blog 6 proven tactics have been compiled which will accelerate your Elementor website speed. Along with it, you will also know why you need to optimize Elementor website and what makes your site slow. So, without further ado let's jump to the 6 effective tips.
Why Do You Need to Optimize Elementor Website?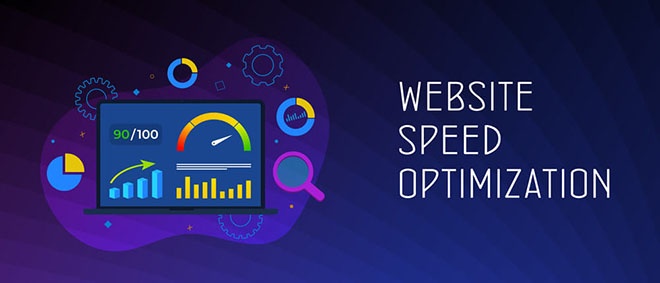 Optimizing the Elementor website means reducing the loading speed of a website which is a key factor for a better user experience. Website loading speed matters not only for the user experience but also for search engine ranking.
It is proved that, "More than half of website visitors (around 53%) leave a site if it will take more than three seconds to load".
This reveals if your website takes more than three seconds to load, then you are getting only half of your site's visitors. Also, customers or visitors don't prefer to visit websites whose loading speed is high. Besides, Google made it a ranking factor. Websites with faster loading speeds get higher priority while ranking on Google.
Moreover, due to faster loading speed, conversion can also increase. Since it offers a better user experience that ensures getting their required products or service quickly. Without a better-optimized Elementor website, you will have much less traffic and conversion.
This proves that Elementor speed optimization highly matters for your website that shouldn't be ignored at all.
What Makes the Elementor Website Slow?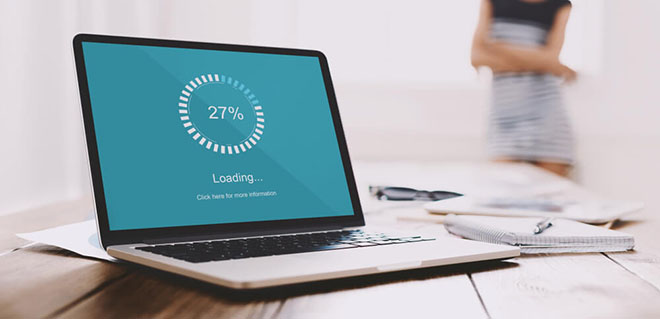 Your Elementor website speed is something that you can't ignore. Multiple things can slow down your website. For example not using a well-optimized hosting can reduce the speed of your Elementor website. Besides, your website can slow down because of your loaded database.
Moreover, the plugins and themes that you are using can increase the load time of your site if these are not well-optimized for speed. Again file and image sizes can't be ignored at all because these have a huge impact on the loading speed.
Starting from the hosting service to the database, everything can slow down your site if it is not optimized properly. So, you need to make sure that everything on your website is well-optimized.
Since you have figured out what makes your website slow now let's check out the tips that will make your Elementor website faster.
How to Make Elementor Website Faster
Here 6 effective proven tips are listed on how to speed up the Elementor website. These life-saving Elementor website optimization tips will increase the loading speed and reduce the loading time of your site:
Select a Well-Optimized Host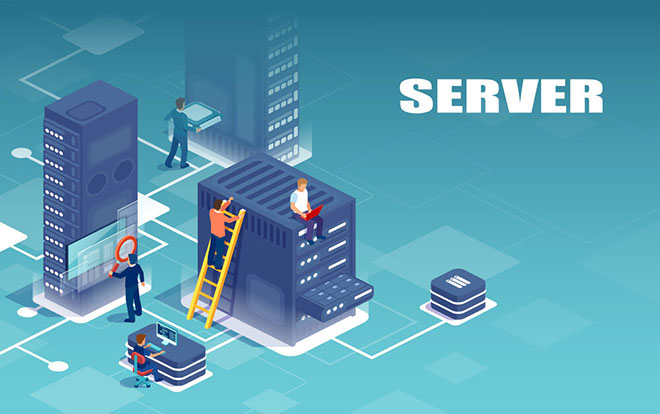 Hosting is two types: shared and dedicated hosting. A shared hosting service means multiple clients share one server. On the other hand, dedicated hosting means the entire server is allocated for only one website. Now, which one is better?
At first glance, you might feel shared hosting is better because of the low price. But, shared one comes with many limitations. These limitations will be visible in the security, control, bandwidth, space, etc. By choosing a shared hosting, you will have security issues because one client will have the authority to change the resource of another client.
Besides, you won't get full control over your resources. Along with it, bandwidth and space will also be limited. So, it is wise to choose dedicated hosting because it won't come with these shortcomings. Moreover, it won't slow down your site speed.
Before choosing your hosting, you should check its:
Speed
Reliability
Security
Features
And support.
By choosing a well-optimized and reliable hosting, you can optimize your Elementor website.
Choose a Lightweight Theme
After selecting an optimized hosting service, you need to choose a lightweight theme. There are lots of themes that will look perfect for your site but in the end, they will slow down your site. Because their file size is large and unoptimized.
So, to pick a lightweight theme, you need to ensure:
It's a modular theme which means you don't have to use all the features, you can use the features you need.
Theme size is small and optimized for speed.
Here is the name of some optimized and modular themes:
Bajaar – WooCommerce WordPress theme.
BLO – Corporate business website WordPress theme.
Medizco – Medical WordPress theme.
There are many others available on WordPress.org. So, make sure your selected theme is modular and the file size is optimized.
Pick Plugins Wisely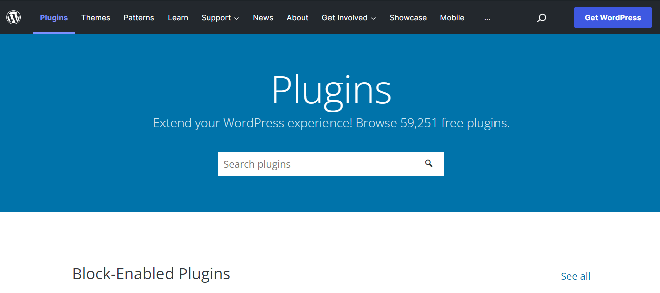 There are more than 59k+ free plugins on WordPress.org right now. They are useful for fulfilling different purposes. But because of getting free plugins, you shouldn't install lots of plugins on your site. Installing lots of plugins means making your site heavy which will reduce Elementor performance.
For this reason, you need to use the plugins that are essential for your site. Also, don't select a random plugin. Ensure your chosen plugin is optimized for speed. Besides, if you already have lots of plugins installed on your site, then delete the unnecessary and unoptimized plugins one by one.
The best method of using fewer plugins on your site is picking a multi-purpose plugin. Having one multi-purpose plugin installed on your site means replacing 10 more plugins. Now to keep your Elementor performance and speed optimized, you can go for the all-in-one Elementor addon ElementsKit that will serve you numerous purposes by providing 85+ widgets, 10+ modules, and pre-built templates. Besides, this advanced Elementor page builder facilitates Elementor users in countless ways.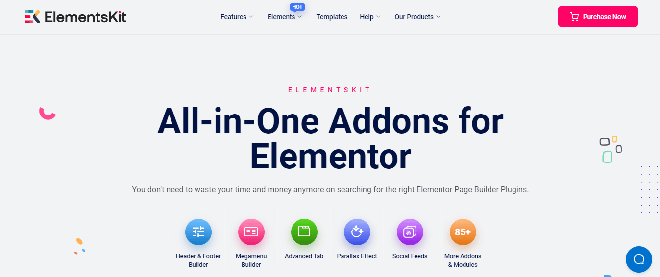 On top of that, ElementsKit is highly optimized for speed and search engines. As a result, the loading speed of your Elementor website will be faster than before.
Optimize Files and Images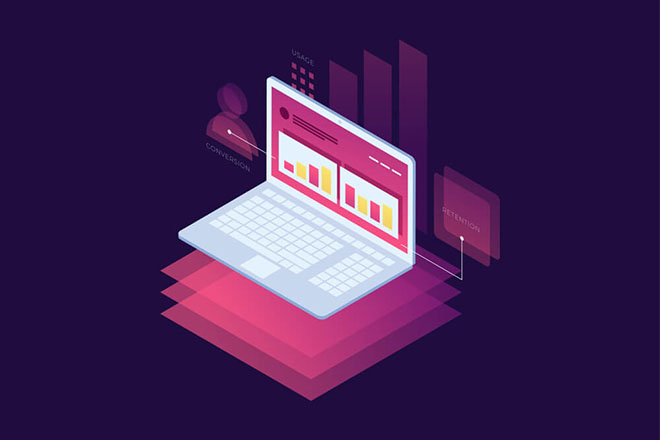 Optimizing files and images is an essential solution to speed up Elementor WordPress website. First, let's start with minifying files. You need to minify both CSS and JS files.
Now to minify CSS and JS files through:
Concatenation: It merges multiple files into one file.
Minification: This removes unnecessary spaces and line breaks from a file.
You can use the Autoptimize plugin to minify your CSS and JS files through Concatenation and Minification to optimize Elementor speed.
After minifying the files of your site, start optimizing images. Because an unoptimized image can slow down your site to a great extent that you can't imagine. That's why it is the best practice to optimize images before uploading them on the website.
But, you need to ensure one thing, your image optimization should be lossless which means reducing the image size without affecting the quality. You can use tinypng to optimize images without affecting the quality.
Moreover, you need to choose the correct format for your images. PNG and JPEG are the most used formats for images. Now to optimize the Elementor website start minifying the files and optimizing images.
Page Caching to Speed up The Elementor Website
Another important tactic for the Elementor speed optimization is doing page caching which prevents the server to generate a page from database and PHP files after a visit. Page caching stores HTML files on the user end which means the server doesn't need to send backend files.
If you are a user of managed hosting, then you don't need to think about page caching. Your hosting will do this for you. Otherwise, you need to use WordPress page caching plugins such as Hyper Cache, WP Super Cache, etc.
Database Optimization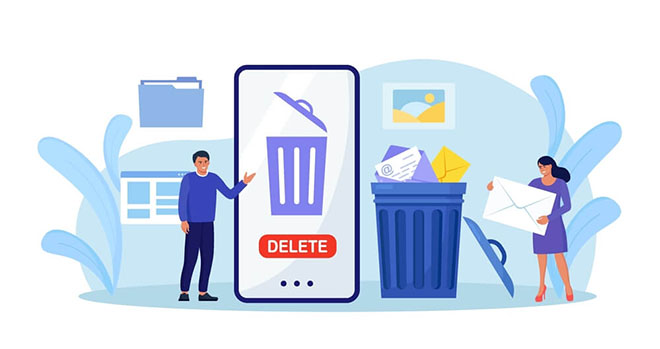 The last tip is to optimize Elementor website is sorting the database which means removing unnecessary files from your storage. These unnecessary files can be unused files and even tons of spam comments.
Most of the cases, people think that spam comments don't take up space. That's why they don't get bothered regarding deleting spam comments. This results in bad Elementor website performance.
Wrapping up
No one likes to visit a site that takes more than 3-5 seconds to load. This means day by day number of your website visitors will fall. That's why how to speed up the Elementor website should be your main concern.
Now you can just adopt the above tips to optimize Elementor website without wasting time.
Also, let us know if you have succeeded to speed up your site's speed by following the above steps. If you have other Elementor speed optimization suggestions then feel free to let us know in the comment section.
Recommended Posts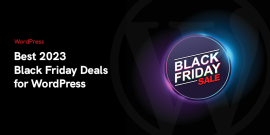 November 13, 2023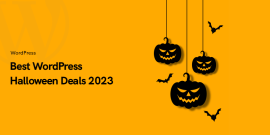 October 23, 2023