---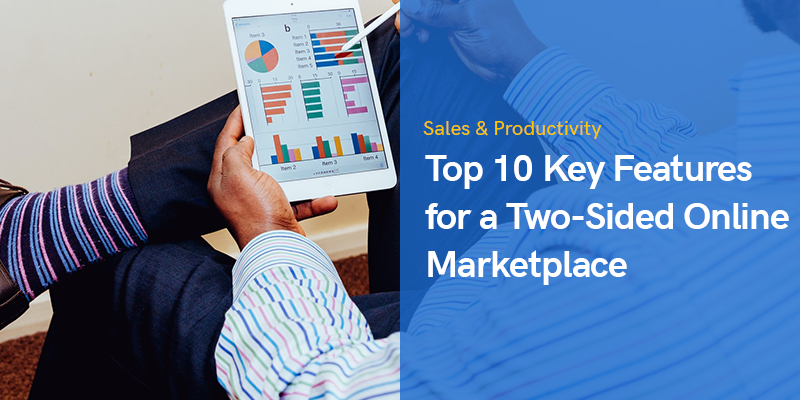 Top 10 Key Features for a Two-Sided Online Marketplace
A two-sided marketplace, as the name suggests, involves two parties. One is for demand, and the second is for supply.
When a trailer is listed on RVshare, it is a supply. And when you are planning a road trip across the country, it leads to a demand for a trailer.
To build a marketplace website that will evolve into a proficient business, you should treat the needs of buyers and sellers equally.
The Most Desirable E-Marketplace Features to Today's Buyers
In this article, I will provide five tips per each side that will absolutely make your platform far easier to use.
Easy and Intuitive Checkout Process
Are you facing an unexpected abandonment rate on your e-commerce website? Probably the checkout is way too difficult and tricky.
Here, you see tips that will help you optimize the checkout and, therefore, put an end to abandonment tendency:
Make a shopping cart visible on any page of your marketplace;
Make a guest checkout option available;
Allow sign-in via credible third-party accounts like Google and Apple;
Provide users with multiple payment gateways;
Secure your e-marketplace platform.
In addition, you really should pay huge attention to mobile app UX. Data shows that mobile e-commerce is continuously growing, which is not going to change in the future.
The chart below displays how a share of mobile shopping has been increasing from 2016 to 2021: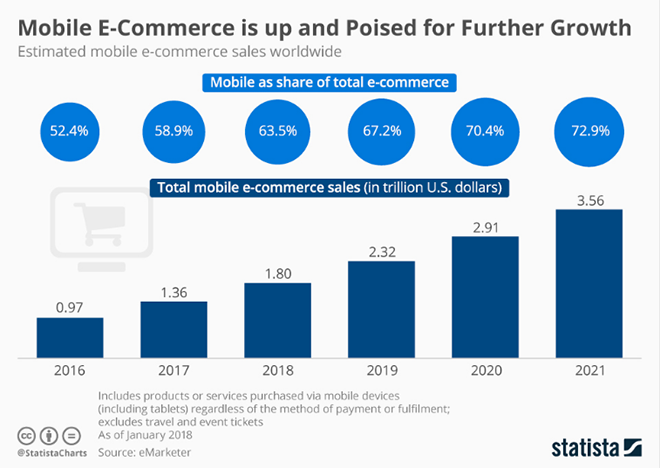 Image Source: Statista
Search and Filters
Let your website visitors be specific about what they're looking for. This can be:
Name of a product
Brand
Where an item has been made
Price range
Color
Set number
Eco-friendly
You get the idea. Create a tool that allows filtering search results by features and pricing options. Additionally, make an autocomplete so people won't need to manually type every character.
Customizable Delivery Options
There's no secret that same-to-next-day delivery has been gaining vast popularity. And the more available such an option becomes, the more demanding customers are getting to the quality of shipping services.
Here are several tips to make delivery much more convenient:
Make the "current status" info highly visible to users
Provide support service to help people avoid any trouble with their orders
Keep customers informed with push notifications and emails as for expected delivery slots
Detailed Product Description
Viewing a product page obviously takes a significant time of the website usage. And make no mistake, customers expect to find every small detail on it.
Let's stop with multimedia for a second. To get an item sold, images become extremely helpful.
According to eMarketer, 5 to 8 is the average number of images US shoppers expect to see on a product page.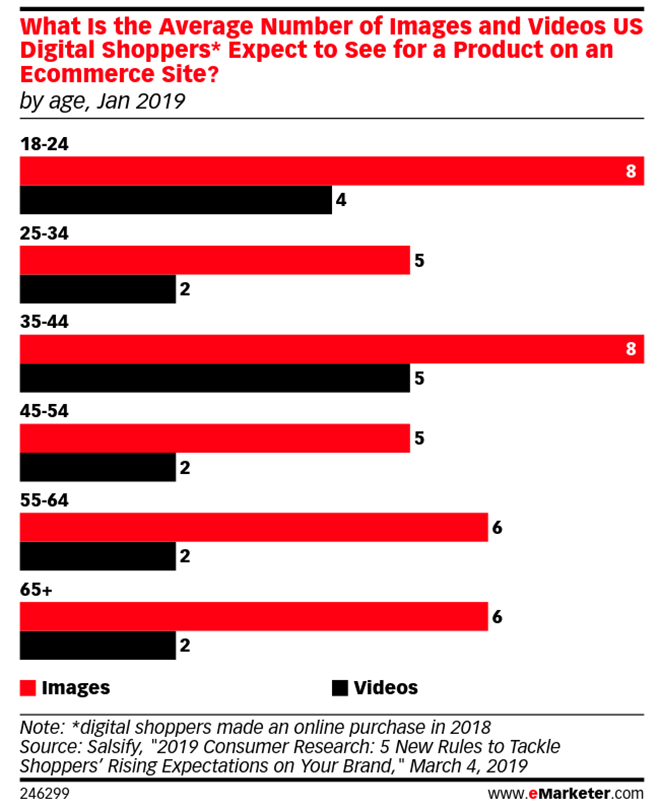 And there's more to come. You can upload pictures where the potential buyers find themselves in a realistic setting with the product. If it seems unnecessary at first glance, let me give an example.
Imagine yourself buying a sofa. You can select materials and colors. But ultimately, you invest in getting good rest. Or maybe, it is all about getting your entire TV set complete!
Feedback System
Clients might want to leave info about the product. After all, we mostly rely on online reviews. According to a BrightLocal study, 79% of customers take a review on the Internet as if it were recommendations from friends or family. And, honestly, I can't tell the practical difference between feedback being told out loud or written online.
Allow the customers to share their experience by simply clicking on the "Write a Review" button. Then, ask them to select a star rating. Once the information, including taken photos, is added, a user will be ready to submit the comment.
In sum, customers will easily understand if a particular product or service meets their expectations.
Functionality for Sellers
Pick a Profitable Niche
Before jumping straight into clickable buttons and design features, define your niche. For established businesses, creating a marketplace is an additional way to bring extra value to existing offerings.
However, it would be less risky for newcomers to go for a unique solution instead of trying to grab all domains at once. As a side note, you will get better chances of gaining a serious advantage of building network effects.
Product Listing Moderation
To keep your marketplace competitive, vendors need to sell as many products as possible. Therefore, it should be easy to list their items.
Pay attention to the quality of the listings. They are the most viewable places across the platform. Ensure that only reputable sellers operate on your online marketplace.
Don't forget there might be some restricted products like medicines. They need to become visible only after the admin's approval.
Simple Order Management
Managing orders without having a proper system is complicated and, to be honest, unnecessary. Because otherwise, it will be time-consuming to keep everything working manually.
View and process all orders across your shop with a single management tool. In some cases, it can also show visitor traffic and click-through rate (CTR). Importantly, you should be able to edit details, including logistics using the same panel.
Ultimately, with an order management system, you will be able to send automated updates across all your product pages. In addition, such an approach prevents your business from conflicting orders.
Stock Synchronization
Vendors will love your platform if they can keep an eye on the stock level for available products in real-time. With that tool, you help them highlight a problem right away instead of waiting for annual stock.
This is not to say that regular cycle counts have no place in stock synchronization. But there are other factors you might have missed, like spoilage, missing orders, or theft.
At the same time, good inventory tracking can help sellers to ease the process and keep their inventory automatically updated.
Products Promotion and Personalization
Since your platform will have multiple vendors, their ways to stand out from the crowd come into sharp focus.
In practice, they are all going to grab users' attention by using different promotion strategies. So here, you can see several ways to help them to promote their profiles and listed items:
Receiving updates via email;
Reward programs and best deals;
High-quality multimedia like imagery, and videos;
Running sponsored ads within a platform.
This can increase your vendors' chances to sell more products and, consequently, make your site more profitable.
There's one more thing I want to talk about. You can let vendors "turn on" different constraints such as quantity and time. This approach perfectly works with discounts giving the second reason to hit the "Buy" button. Amazon is a shining example of running both time constraints and discount campaigns at once:

Summing Up
There are many successful e-commerce websites out there. With customers increasingly relying on e-shopping, it is obvious why starting a marketplace is a business idea. You can also make your future platform truly shine. But only if you are not going to prioritize one type of user over another.
Therefore, you should treat both buyers and sellers equally. Meaning that success requires a deep understanding of their desires. I hope that the tips I wrote about in this article will give you a glance at how to make the usage of your marketplace website more efficient for everybody.
Recommended Posts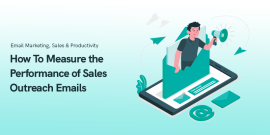 November 7, 2023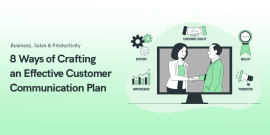 November 7, 2023