---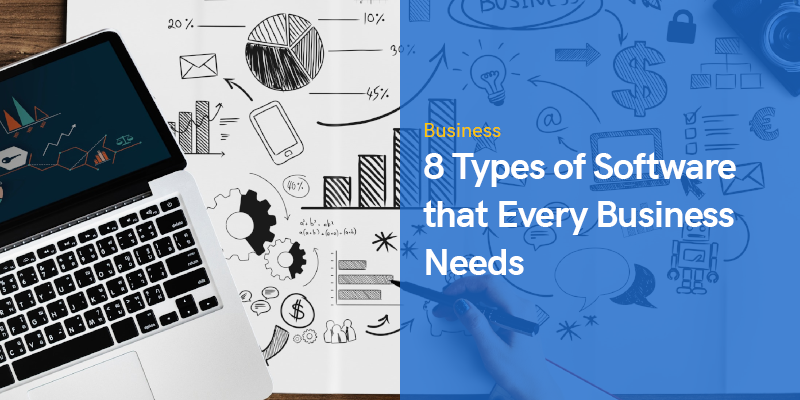 8 Types of Software that Every Business Needs
Running a business is a very challenging task that requires different tools to ensure all processes are working.
There are a number of useful tools to make the workflow more efficient and smoother while increasing the productivity of various teams.
Using technology brings many benefits for any business, as it provides many improvements to almost every important process.
There are different types of software tools that allow business owners to have better management of their assets.
These include online data room software, payment transaction software, communication software, and more.
Types of Software that Every Business Needs
Below there are 8 types of the most popular business software for well-organized workflow and increased efficiency.
Accounting Software
This type of software is usually used by financial advisors for performance monitoring.
Accounting software tracks all of the needed information, including revenue, real-time expenses, and other important data.
With relevant information, accountants track whether the business remains profitable and whether it has any financial problems.
Accounting software plays a great role in business operations, that's why it's crucial to choose the best software that will fulfill your business needs.
With correctly chosen accounting software, you will be able to save a lot of resources and facilitate constant monitoring of the cash flow, expenses, and other financial data.
There are also some cloud-based accounting software (also known as online accounting software or web-based accounting software) that you can use to let users send their data to your online webservers and access it from anywhere with an internet connection.
Document Management Software
We're using document management software daily, as it's among the most common computer programs.
Google Drive, DropBox, and Microsoft Office Suite all are the most popular programs that almost everyone has had a chance to use at some point in their career.
These tools allow you to create and store different types of documents, such as spreadsheets, presentations, word documents, and also share them with other users.
Deal Management Software
Deal management software is probably the most important and resource-saving type of tool businesses can use.
And virtual data rooms are definitely a handy instrument in this regard.
A virtual data room is an online repository that allows users to securely store and share important files.
Electronic data room provides access to documents for authorized users through a dedicated platform or secure agent applications.
Virtual data room software is considered the most popular solution for deal management.
Many professionals choose it for handling complex transactions, such as mergers and acquisitions and data room due diligence.
There are many virtual data room providers that also offer many useful document and project management features.
These features include indexing, in-document search, batch upload, etc.
All of them are designed to make all processes within  the data room run smoother and faster.
When you compare virtual data rooms, you get a better understanding of what providers are popular on the market, and which features are preferred by professionals from various industries.
Besides providing a secure space for data storage, best data room providers offer additional security features for sharing, including watermarking, user permissions, granular access, two-step authentication, and many more.
Security is the highest priority for reputable VDR providers, and that's why their services are used by professionals all over the world.
A great advantage of using deal management software is having a controlled environment for documents, where the user activity is easy to track.
For M&A, it's important that teams have certain features that will generate accurate activity reports in real-time.
Communication Software
This type of software helps to support internal and external communication within the company.
It improves collaboration and engagement between the team members.
This software allows teams to communicate no matter what location they are in the world.
Communication software also helps businesses to expand their market reach and engage with customers, partners, and investors.
Effective internal and external communication is vital for businesses of any size.
When used together with other business software, communication programs allow businesses to stay organized and highly efficient.
No matter what industry you're working in, communication remains one of the most important parts of business operations.
That's why using communication software will have a positive impact on all aspects of your business.
Schedule Management System
Scheduling software allows managers and employees to better handle their time.
It allows employees to interact and create a suitable working schedule.
This software makes it easier to confirm shift swaps and time offs, which helps to avoid absenteeism and confusion with the schedule.
Schedule management systems can also handle labor budgets and help to identify top-performing employees.
Website Building Software
Online presence plays a huge role in business success nowadays.
It's worth establishing different channels online to help promote business to the audience.
One of the best channels to do so is creating a functional website.
It helps to promote a company's brand, improve sales, and expand the market.
It may be quite complicated to create a professional feature-rich website from scratch, as it requires help from professionals, such as developers, designers, or software engineers.
There are different types of software that allow businesses to create engaging web pages showcasing the company's products or services.
The most popular website building software is WordPress, where with templates you can quickly create a unique website promoting your brand.
Payment Transaction Software
Payment transaction software helps to automate and streamline transactions to make the workflow simpler and faster.
With this software, you can make the whole billing process much easier.
You can keep track of all of the expenses, payments, and accounts.
Payments that are automated reduce the chance of customers not paying their invoices and fulfilling other financial obligations.
Sales, Marketing, and PR Software
With sales, marketing, and PR software, you can better manage your marketing efforts and analyze their results.
It helps to keep everything well-structured and organized, making the analysis much easier.
With this tool, you can work on the improvement of your company's sales and marketing strategies.
Through proper analysis of your conversion data, you will see what works best for your customers and what should be improved or changed.
Marketing software allows you to get the most value from your budget for marketing.
Also, this software allows you to make further data collection much easier, as this process can be automated to ensure data is organized.
All these tools can make business management easier.
You will be able to automate many important processes, so instead you can focus more on growing your business.