---
Updated: August 8, 2023
No Comments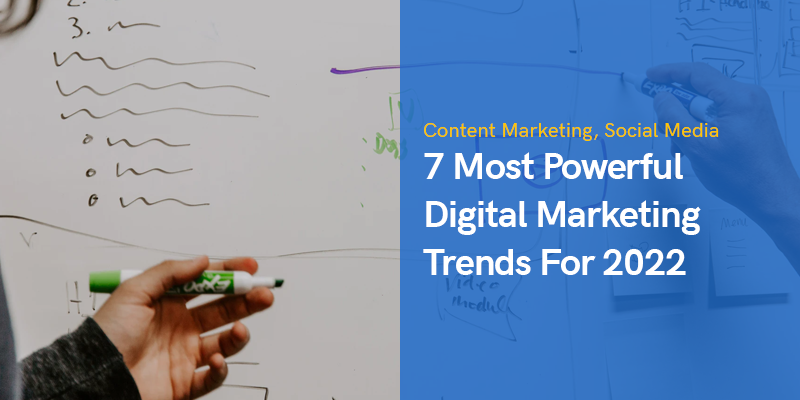 7 Most Powerful Digital Marketing Trends For 2023
The New Year has come, and we all hope for the best after the horrific 2020-2021 season. Everything was falling apart during those years, but not digital marketing!
The internet and everything that comes with it are now thriving. Digital marketing included.
This year we have got pretty interesting trends going on, and we can assure you that 2022 can become one of the most exciting years for digital marketers around the world.
Most Powerful Digital Marketing Trends For 2022
Want to know more? Then keep reading our top of the hottest digital marketing trends in 2022.
Long-Form Content Is Back to Business!
TikTok took over the world in recent years, popularizing short clips again for the first time since Vine's demise in 2017. But even though TikTok is the hottest social media platform right now, the importance of long-form content has started growing again recently.
As you may have noticed, even TikTok, the original short-form content ambassador, has recently added the option of making three-minute videos. The outstanding decision for a platform that gained popularity on 15-second clips.
It also happens on other platforms: the YouTube algorithm now really prefers podcasts, and Facebook added Live Audio Rooms. It all shows that long-form content of all types will get its spot back in 2022.
So, add to your marketing strategy creating long-form content not just for your blog or YouTube but also for other platforms as well.
…but Short-Form Is Important Too!
Even though long-form content is on the way to being back and better than ever, short-form content still will be around in 2022.
First of all, creating short clips for YouTube Shorts, TikTok, or Instagram Reels is easy, and all you need to do is put it on one of your scheduling tools to not forget to do it regularly and have something to say to your audience.
Secondly, many of us still prefer short, entertaining clips instead of long articles and videos. That's why we think that in 2022 short-form and long-form content will be forced to live in beautiful harmony.
Influencer Marketing Continue Their Spectacular Growth
What else is new? Of course, influencers are on the top in marketing right now because they have huge power in their hands, and brands finally understand all the importance of influencers in the advertising industry.
They just can sell you everything: video editing software for your YouTube channel, books, Skillshare classes, and even bath water if you know what we mean.
This multi-billion industry thrives and grows with unimaginable speed, and your goal here is to connect with influencers and make arrangements for a fruitful collaboration.
We especially recommend you take a look at micro-influencers. They have a small but loyal audience, they are trusted more, have a good reputation, and investments in micro-influencers usually have bigger ROI than in big names.
SEO Is Changing
The world of SEO is now changing, and even from the beginning of SEO marketing's existence, it has always been in a state of constant evolution. Frankly, the optimization methods have never remained static, making SEO more akin to a game of chance rather than a straightforward promoting method.
However, with the advent of innovative tools like "wp data tables," marketers now have access to powerful resources that can help them navigate and harness the dynamics of SEO more effectively. For example, wpDataTables allows you to create visually appealing and interactive tables, charts, and graphs.
This can be helpful in presenting data-driven insights, statistics, and performance metrics related to SEO campaigns, keyword research, website analytics, and more.
We still have to rely on our SEO training and tools and SEO analysis in 2022, but we should start looking more into the content we are creating.
Today's focus is not on the number of keywords in the text but whether this text is helpful and informational for a user. Now we need to step aside from using the exact keyword even if it doesn't make sense and go forward to implementing keywords organically in meaningful content.
Video Marketing Is Still Standing Strong
What can we say? There's just nothing better than good old video content in the digital marketing world. YouTube is growing, every platform tries to implement some sort of video content, and we really can't remember when was the last time when we read an article without some type of visual content in it.
Photo and video content should be used in every post on every one of your social media platforms and websites, and we even encourage you to implement it even more if you can. You can even do it by yourself! All you need is a powerful video editing software for Mac or Windows, a photo editor, photos/videos to edit, and a couple of hours.
If you don't have a clue about video editing, we suggest you take an online course on it and start making excellent videos and photos for your online profiles. Please do not ignore this important factor of digital marketing: it's the one that can make you a star in the industry.
It is also worth mentioning LinkedIn in this part of the piece because this social media platform which was traditionally a field for connecting HRs and people, has now turned its face toward a new perspective. LinkedIn now wants to focus on content, and video content, in particular, to raise the platform's popularity and attract a wider audience.
It Is Time to Make Bonds with Customers Even Stronger
We have seen this for years now: people demand companies to be more transparent and closer to them. In 2022, we are in a situation where many of us just don't have the privilege to go and shop offline, and we need to stick to eCommerce to fulfill our basic shopping needs.
And in this new world where Gen Z teenagers are involved in internet purchases as much as their parents, companies have to respond to it in a way Gen Z people expect it. This new generation wants to see not corporations but people besides their products.
It's kind of an influencer culture fault, but in our opinion, it is a great trend.
Algorithms Are One the Top of Everything
We use many marketing tools to manipulate search engines and algorithms into thinking that our content is the best of the best. And it would be best if you had as many tools for it as possible because literally, everything is algorithm-driven nowadays.
Companies use it even for email messages, so you can imagine how deep this monster sneaked into our digital lives. What's also important for marketers to know is that these algorithms are mostly driven by user experience.
That means that whenever you make content, you should consider the user's experience as your guideline in creating it. If you don't do it, you can be sure that your content will be less visible or even invisible on the internet at all!
So, as we all understand by now, the main trend in marketing in 2022 is making users' experience better, faster, stronger. And we only can applaud that!
Conclusion
What of these digital marketing trends do you find to be the most interesting for you? As for us, we are excited to see that videos are gaining more and more popularity.
We love informational content, and as for us, the shift in SEO towards well-paced professional content is more than welcomed. We are excited to see what's really waiting for the digital marketing world down the corner because everything is possible in such a fast-changing industry. We'll see! You can also checkout the best marketing books introduced by DivByZero.
Recommended Posts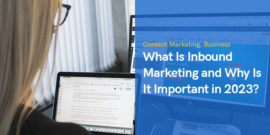 April 14, 2023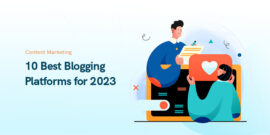 January 19, 2023