Power VC Add-on
Powerful Elements for Visual Composer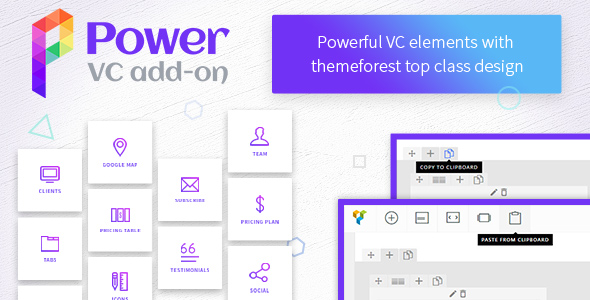 Power Addon is one most powerful extensions for Visual Composer plug-in with more than 160 shortcodes and additions which can be used easily in any theme.

While creating pages by Visual Composer, we always felt that some tools are missing that could provide copy/paste rows and sections from a specific page to other pages to avoid recreating complicated sections that we have build earlier again. Now we made it possible and added this tool to Visual Composer so users can enjoy more while they are creating pages with it and also they spend less time in this regard.
Scroll Animation
Modern websites use animation to show better their content. Scroll animation is one of most interesting ways of animation for page elements. Scroll animation, in fact, is creating animation (change position/size/opacity…) during page scroll according to position of each element.
Shortcodes:
Power Addon shortcodes has most complete shortcodes collection with more than 160 shortcodes . You can build and customize you pages with several available options such as color, border, background, Google font and etc.
Additions
---
Except shortocdes options, we have added some extra options which make working with these shortcodes really easy. One the most powerful options that we have added is Prallax which is specifically added to row setting.
Page Templates
---
We considered an option, by default, to create demo pages with all features for you. This will let you see them all and use them in your theme. These pages will be created by installing your plug-in and you need no extra setting in this regard.
Custom Fields
---
To create more professional shortcodes, we added some Custom Fields to them such as icon, border and etc to make using shortcodes easier to you and also to have a better display in UI (User Interface).
Icons & Fonts
---
Power Addon with more than 9 icon packages and over 2000 icons has most powerful icon sets and icons are retina ready. You can easily manage and use them.
Optimized for SEO & Performance
---
We worked on performance and SEO optimization of this plug-in and we load only essential files on pages. We make sure that the numbers of requests are as low as possible. We only load the necessary font families, font weights and color.
Shortcodes
---
Disclaimer
Any media – Photo, video used in preview are not included in this item and you need to contact authors to get permission in case you want to use them in your commercial or non-commercial projects.


One of the bests purchase so far and just increasing the excitement 🙂 Many Thanks


Very good plugin, usefull.
v 1.0.4 – 12 April 2017
- Added: Food Menu element
- Compatibility: Visual composer v5.1.1
- Compatibility: PHP v7.1
- Fixed: Some minor issues
v 1.0.3 – 7 March 2017
- Added: Compatibility with Webnus Themes
- Changed: Shortcodes Name
- Fixed: CSS Issues
- Fixed: Icon Fonts
- Fixed: Some minor issues
v 1.0.2 – 29 February 2017
- Improved: Demo Pages Importer
- Fixed: "Headers already sent" error
v 1.0.1 – 28 February 2017

- Added: Demo pages
- Fixed: Some minor issues
v 1.0.0 – 24 February 2017
- Initial Release
Support
We offer full support for purchased templates.
Please create a support ticket using the following link Create Ticket
This Item is not for sale
Requirements:
– PHP version: 5.6 or greater
– PHP Maximum Execution Time: 180
– PHP Maximum Input Vars: 2000
– Upload Maximum Filesize: 10M
– Maximum Post Size: 30M
– WP Memory Limit: 256M
Major Features:
Copy/Paste Sections
Scroll Animation
+160 Shortcodes
Page Templates
Custom Fields
Optimized for SEO
Performance
Created: 24 February 2017
Updated: 12 April 2017
Software Version:
WordPress 4.9, +WordPress 4.9.x, WordPress 4.8.x, WordPress 4.7.x
Files Included:
CSS, JavaScript, PHP
Documentation:
Well Documented
Layout:
Responsive
Compatible With:
WPML, WooCommerce 3.3.x, WooCommerce 3.2.x, WooCommerce 3.1.x, Visual Composer 5.1.x, Visual Composer 4.12.x
Software Version:
WPML, WooCommerce 3.3.x, WooCommerce 3.2.x, WooCommerce 3.1.x, Visual Composer 5.1.x, Visual Composer 4.12.x
Compatible Browsers:
Firefox, Chrome, Safari, Opera, iOS Safari, Opera Mini, Android Browser, Chrome for Android