---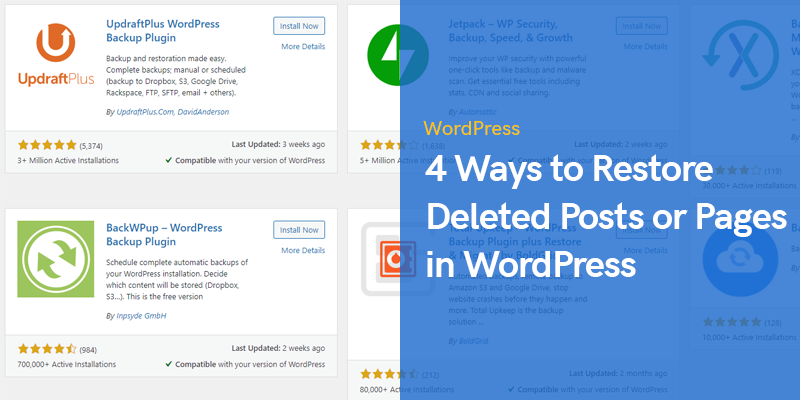 4 Ways to Restore Deleted Posts or Pages in WordPress
WordPress is a nice platform that provides reliable stability 99% of the time.
This is a content management system on the site. Roughly speaking, WordPress is a system that allows you to create a website and manage information on it.
With the help of WordPress, you can add pages, posts, change the appearance of the site, and add all possible materials (photo, video, audio, etc.).
Thanks to WordPress, the most daring ideas in the field of website creation are realized. That is, working with WordPress, you can create sites of any level of complexity. And most importantly, it is very easy to do this.
However, mistakes are inevitable and no platform can avoid them. In most cases, it is quite easy to fix them.
Restore Deleted Post or Page in WordPress
So, what if you accidentally deleted a page or some post in WordPress? What to do in this case?  Are there data recovery software solutions?
Return the Deleted Information from Trash
Well, how to recover deleted page from Trash? The WordPress Trash is a hidden place in the site directory where you can put unnecessary posts, pages, and unwanted comments.
The WordPress Trash is designed as a buffer zone. And the information can still be recovered from there.
The information placed in the Trash will be stored in it for 30 days by default. During this period, any deleted information can be restored. After 30 days, it will be automatically deleted permanently.
To restore information, you need to select "Trash" in the upper menu. A window with the materials placed in the Trash will open.
Next, mark the material to be restored and choose the "Restore" action. Then press "Apply" and the page or post is restored to where it was deleted from. By the way, media files are permanently deleted and can't be restored.
Use a Special Software
How to restore files in Windows 10 or on Mac? Use a file recovery program. Disk Drill is a free file recovery software for hard drives, flash drives, memory cards, and other storage devices.
The utility will help you recover files from a PC, including photos, documents, archives, audio, and video. The program can also recover a deleted disk partition or even recover data after formatting data storage.
If you keep copies of posts from WordPress on your computer but delete them accidentally, then you can restore them using Disk Drill.
Disk Drill has two modes for finding deleted files: fast scan and deep scan. According to the developers, deep scanning allows recognizing more than 200 types of files. The program will recover and restructure files depending on the binary structure of the lost files.
With Disk Drill, you can protect files from accidental deletion. The application will save the property data of each file and folder that has been deleted. This will allow you to restore directories and files in a few seconds in the future.
This feature in Disk Drill is called Recovery Vault. To use it, you first need to enable information protection in the program settings menu. You can pause and continue to search for lost files by launching the program at any time you want.
If the storage device is unstable, you can back up an individual partition of the storage medium. Free Disk Drill can recover up to 500 megabytes. For larger volumes, you need to purchase a Disk Drill Pro or Disk Drill Enterprise License.
Backup WordPress
One of the main site security settings is regular backups. Even on the most secure sites, force majeure sometimes happens. The server can be hacked or it can simply stop working for some reason.
The site can also be hacked or stop working, for example, after updating a plugin due to incompatibility with other software.
When this happens, knowing you have a backup will help you stay calm. A temporary down site is bad. But it is even worse if you completely lose all the work you've done.
Website backup is an important part of website development. There are several ways to backup your WordPress site. It is best to set up an automatic scheduled backup to easily recover permanently deleted files in the future. If you need to restore a site, you can take one of the latest copies of the site and restore it with the least amount of data loss.
The backup frequency can be different for different sites. For example, if you have a blog or news site where new content is frequently published and visitors leave a lot of comments, you can set up a backup once a day or more often.
In addition to automatic backup, sometimes you need to make a manual backup. Make a manual backup before major changes to the site, when there is a possibility that something might go wrong.
You can also make a backup before updating the software or changing the theme. With the made backup, you can rest assured that you can quickly return to the original version.
Cache All the Information in WordPress
The WordPress community regularly points out the importance of regularly caching websites. However, many people don't realize how critical it is until they encounter a faulty website.
When this happens, there is nothing better than knowing that you have a copy of your site. And you can use it to get your work done. As long as your database and files are in the cache, you have a way to manually restore your WordPress site.
What is cache? This is temporary storage. And caching is the process of storing data in a cache.
There are three main types of caching in WordPress:
Page caching. It saves a single copy of a page and quickly issues it to each user, making only minor changes (loading updated components).
Object caching. This type of caching means storing single objects. These include page parameters, individual posts, metadata, and more.
Pass-through caching. This means caching data from social media or dependent resources that provide important information to your WordPress blog.
Caching helps create copies of frequently requested items such as posts and pages. You can simply cache the version of the page that is displayed every time the user clicks on the link. So, having requested some data once, it can be stored somewhere in the memory of a computer and quickly issued the next time it is accessed.
So, WordPress troubles may seem daunting. But, most of the time, it's easy to cope with them and recover deleted WordPress post or pages. Once you've identified what's wrong with your WordPress site, you'll likely find dozens of guides on how to fix it.
Recommended Posts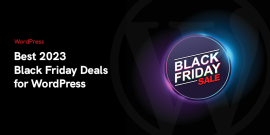 November 13, 2023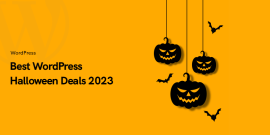 October 23, 2023