---
How to Sell Events On Website With Ticket & Invoice Addon
Planning and sell events on your website can be a very challenging task. Managing the details, handling the time difference between different zones, specific reservations based on your real capacity, and appropriate approach for publishing the event can all make things so much complicated.
Especially if you wish to sell ticket events online, you need to have an all-in-one tool for efficient management over all the details.
Modern Events Calendar (MEC) is the best WordPress event calendar and the fastest-growing plugin in 2019 that reached more than 60,000 active installations in less than a year. This tool is equipped with several practical addons by which you can benefit from a ton of features for various needs.
If you are a business owner and you want to know how to sell tickets online to hold paid events such as seminars, workshops, and classes with a limited number of participants, the MEC developer team has prepared an excellent tool for you. Ticket and Invoice Add-on is the best choice by which you can easily let others purchase your events and manage their check-ins.
If you wanna get familiar with other addons available for Modern Events Calendar you should check this out: 17+ Modern Events Calendar Addons review

In this review, we will talk about the distinguishing features of Ticket and Invoice add-on in the MEC WordPress event management system and go through a step-by-step guide for using it.
Taking these descriptions into consideration, you will notice that it is a great tool to sell events and tickets online that can efficiently cover all your other needs, too.
A Valuable Tool for Managing Payments on Your Website
Using Ticket and Invoice addon, you can sell events ticket online on your own site quickly with no need to referring to another third-party site.
You can review your attendees' check-in status and send the invoices and tickets to them in email format. Additionally, you have enough options for designing the ticket and invoice types in a way you like and manage the individuals' attendance by merely using a QR code.
Below you can find more information about some of the essential features of this tool.
Simple and Quick Check-ins
QR code, which is abbreviated from Quick Response code, carries unique information about a product, service, etc.
The functional QR code of event tickets can help you check in the attendees on your smartphone, let it be iOS or Android, with a well-designed and clean appearance.
You can also manage the invoices to sell ticket events online through your plugins' back-end as well by checking and unchecking each one.
Role Management and Attendees Control
Using your plugin's control panel, you can define various roles for your employees who are in charge of managing the tickets to sell ticket events online.
It is a good option for those who have different content writers and moderators for their website who want to give the responsibility to a specific member.
You and your team members can easily check and verify the tickets issued for a single booking all at once.
Moreover, you can uncheck a guest to check-in again, in case it is needed due to mistakes or other reasons. The current status of each participant's check-in condition is displayed in the panel using a column and also distinct colors.
Customized Templates
You are provided with enough features to have a stylish and optimized appearance for your tickets and invoices.
When you sell tickets online, the information related to your company such as logo, VAT, fees and discounts, address, and even the details of the event's organizer can be mentioned in your invoice for your user's consideration.
Additionally, you can create more customized invoices as you wish to sell ticket events online using Elementor, and set limits on the quantity of each invoice.
Mobile Application (Coming Soon)
The developer team at Webnus has set off the project to publish a particular app for both iOS and Android users. Accessing the WordPress backend is not always possible, and you might need to view and manage your events when you are not using your computer.
After you sell event tickets online, this application lets you get informed about your tickets and attendees and manage your events' invoices directly from your phone at an excellent and anywhere.
How to Book an Event Using the MEC WordPress Event Calendar?
Booking an event created in the MEC plugin can be done quickly by following the steps below. The plugin provides the users with a pleasant and modern experience for booking events.
Choosing Provided Date & The Quantity of Tickets
First, you should choose the provided date and the quantity of tickets you need for it.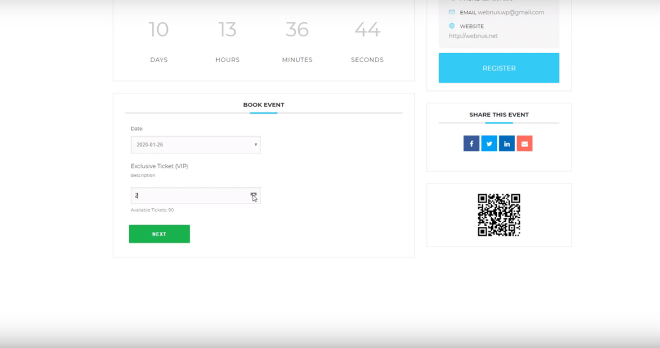 Complete Attendees Form
Next, you are required to enter your contact information, such as the email address, phone number, etc.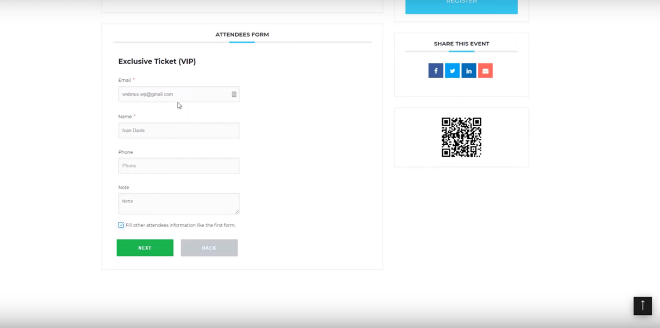 Exclusive Tickets Information
If you have chosen more than one ticket, you can check the box at the bottom of the fields to use the same information for all of them. Otherwise, you are free to enter exclusive details for each one.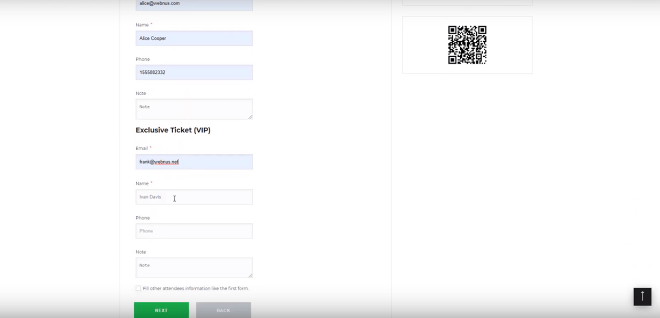 Payment & Check-Out
For check-out, you can choose the option that is provided by the website manager for that specific event. For instance, in the picture below, paying by credit card and locally are provided for this purpose.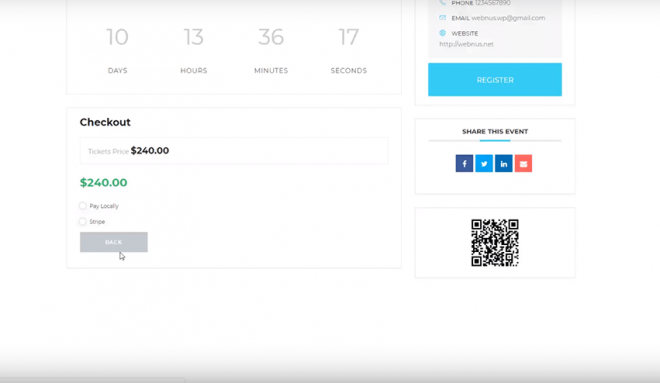 Successful Payment
After successful payment, you can see a link by which you can download your invoice.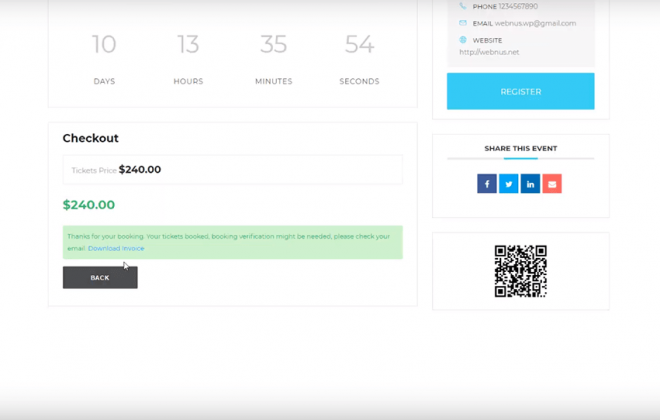 How to Sell Event Tickets Using Modern Events Calendar?
Configuring an event to be ready for booking is done by following the steps below.
Invoice Options
After installing MEC, the best WordPress event calendar ever, and purchasing the Ticket and Invoice addon, you will see a new menu named "Invoice Options" in the general options of the plugin that lets you sell event tickets online.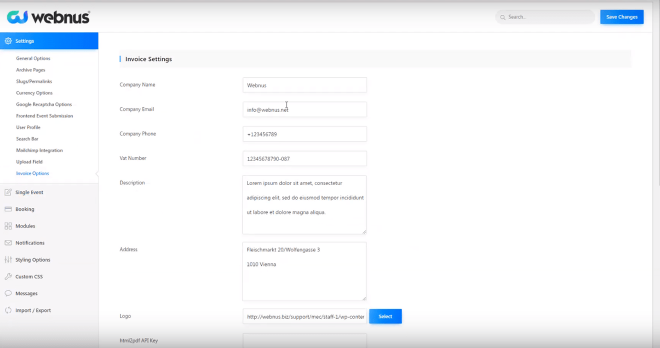 In the first step, you need to activate your add-on so that you can sell event tickets online, and your website visitors can make purchases on it. In this regard, you should click on the link related to API and activate it in your plugin.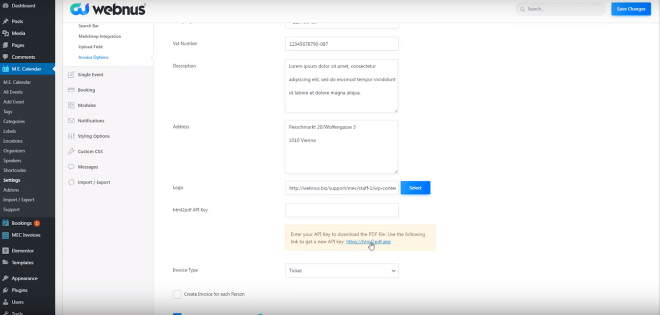 After successful activation and saving your changes, you are ready to sell ticket events online using the add-on. To sell event tickets online, you can also change other options from this menu, such as your company's name, email, logo, address, and contact information. The type of invoice and check-in roles can likewise be changed from this menu.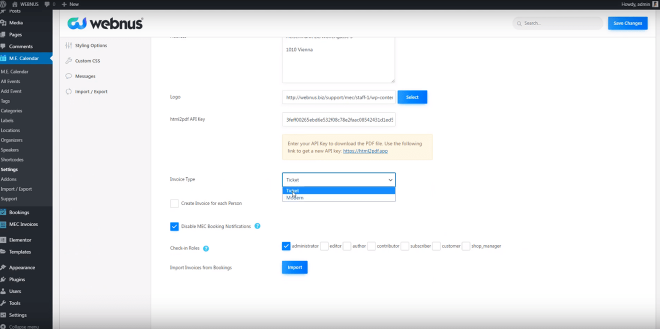 Similar to other WordPress role management features, you can assign the role for your invoice to other users such as the editors and authors as well.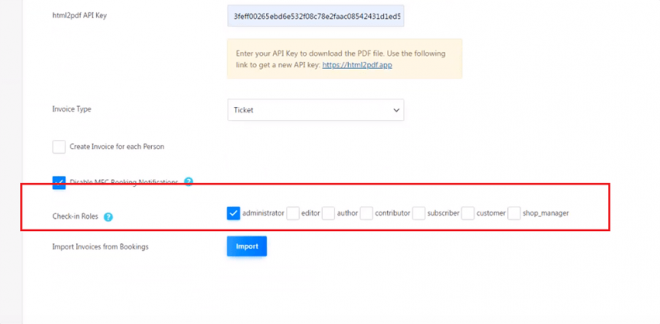 Currently, there are two options for viewing your invoices. Ticket Skin & Modern Skin. Choosing the latter one will give a fresher appearance, which is designed following the latest global trends.
Invoices List
You can always check your invoices from the dedicated menu as below to see the sold event tickets.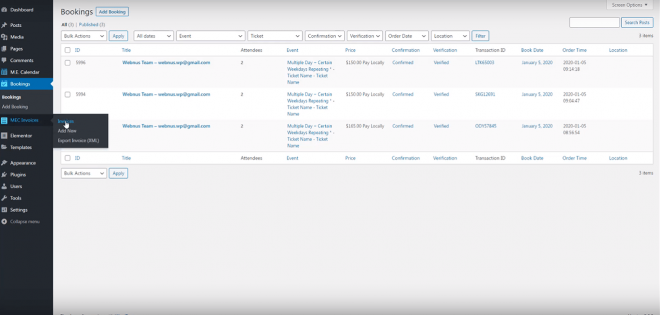 Since it is the first time you enter this menu, there will be no invoices available.
To be able to sell event ticket online, you should import user invoices from your current bookings by clicking on this option in the general settings menu we described in the previous step.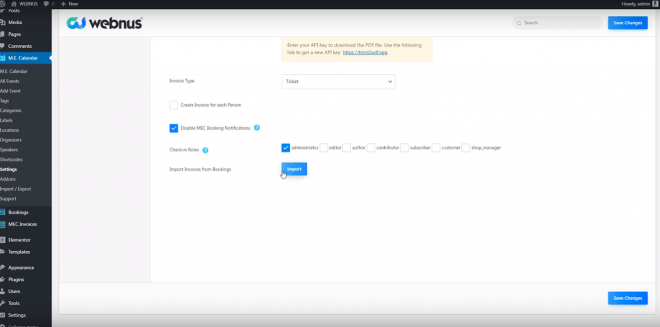 If you want to sell event ticket online and currently have some bookings on your events, a message will appear stating that the import has been successful.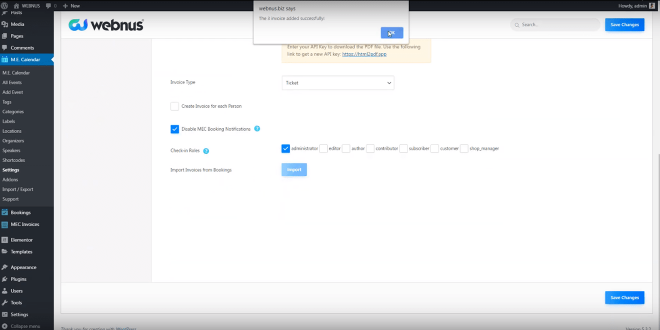 Now you can see all your invoices and can manage, delete, or view them.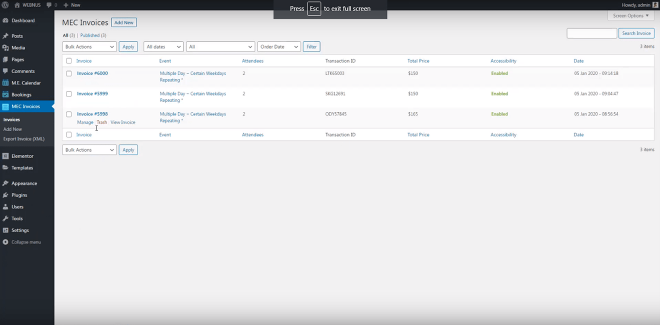 Invoice Skins
When you sell event ticket online, a sample invoice will appear as below. It includes all the related information like the date and price, other details, and also the unique QR code for sharing it with others.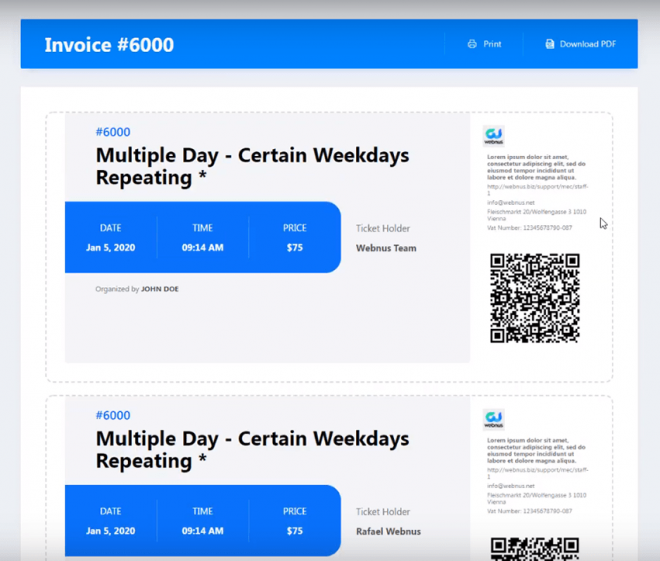 Choosing the second type of invoice view (Modern Skin), as described earlier, changes the appearance like the below picture.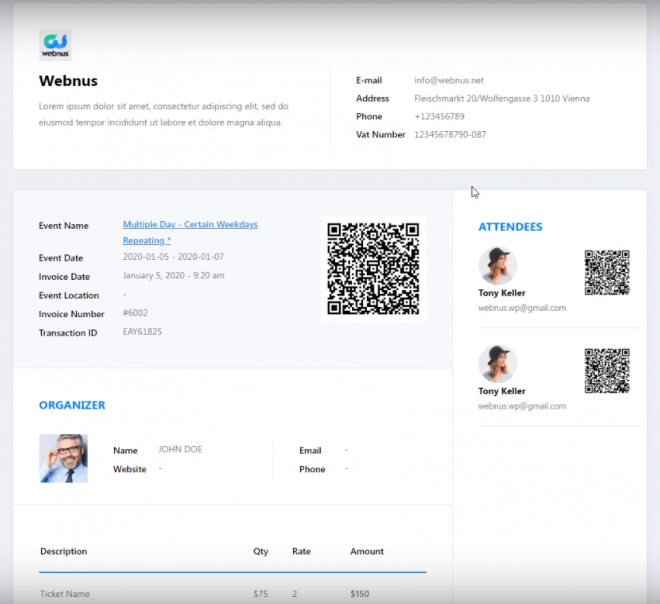 As you sell event tickets online, you can either print or save a PDF file of the invoices in your device.
Edit Invoice
By clicking on the "manage" option for each invoice, you will see details about the event and the attendees similar to what you see below.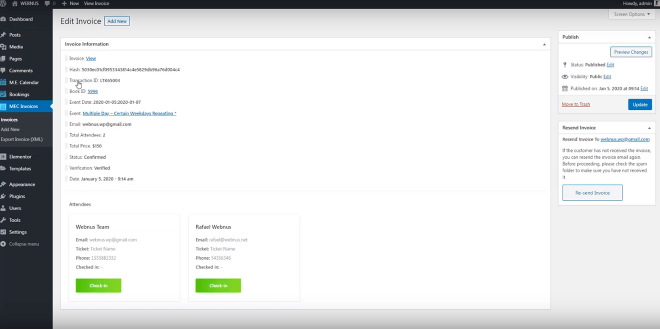 You can confirm each member's invoice by clicking on the green-colored "check-in" button.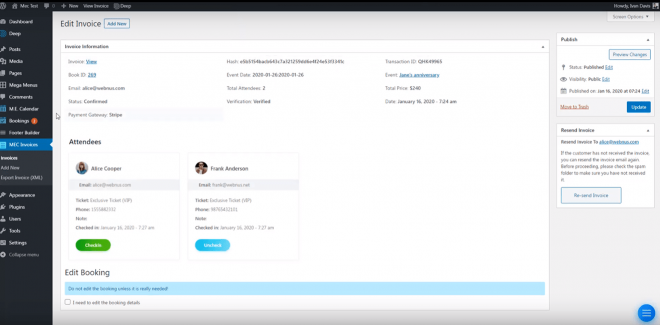 As it is shown above, the checked-in participants are defined by a blue-colored button, and you can uncheck them again if needed.
Edit Bookings
If you sell event tickets online and want to change the details of your bookings, you can do it in two ways. It is possible either by clicking on the book ID, or the box below the invoice information and view the details.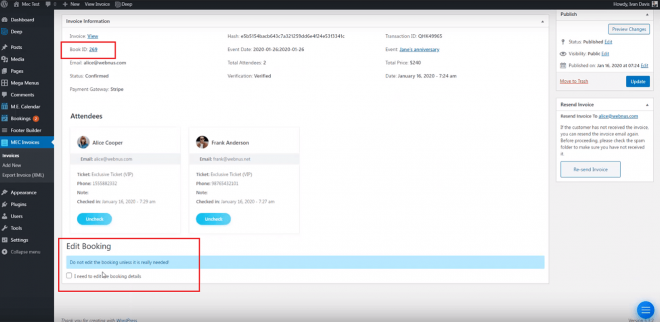 After clicking on the book ID option, you will be directed to the related item in the bookings section on the left panel of MEC.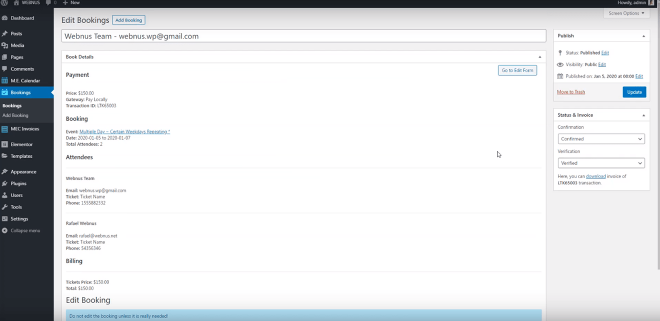 And by clicking on the box below the page, new fields will appear on the same page that lets you edit them directly.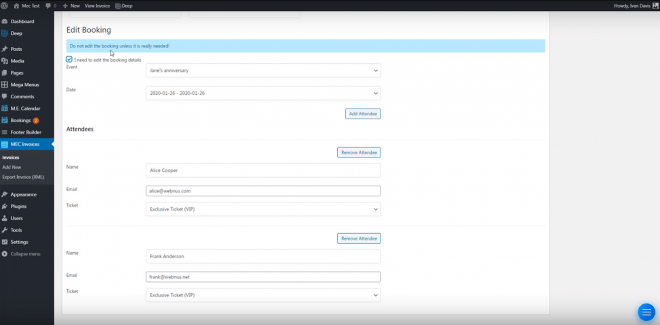 Check-in QR Code
The QR codes, as described earlier, can give you information about the invoices in a fast and straightforward approach. You can create multiple and unique QR codes using a bulk QR code generator available online.
Additionally, you are provided with the option to sell event tickets online and confirm the attendance by scanning the QR code of each participant on the Ticket and Invoice add-on.
Doing so, you will see a confirmation window as below for your successful check-in.
And the green-colored check-in button will be visible next to the participant.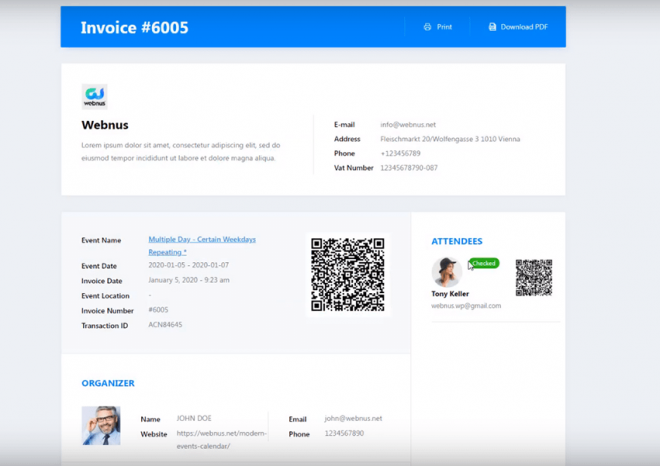 If you happen to rescan an already scanned QR code, you will get notified about the confirmation in a window, as depicted below.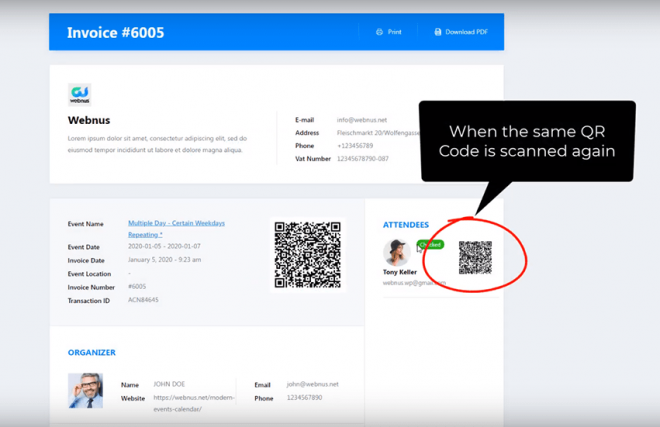 Here is the window saying attendee has already checked.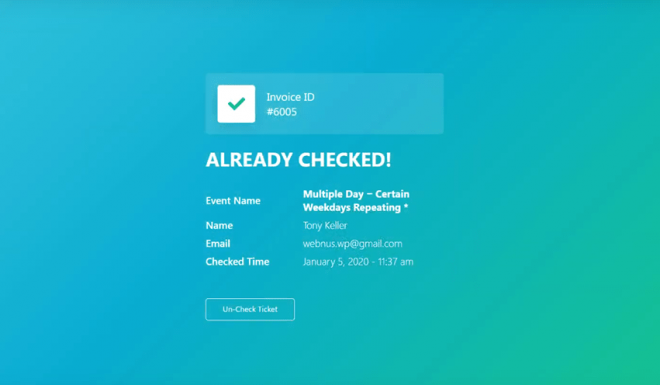 Summary
As you see, to sell event tickets online, you only need to activate the Ticket and Invoice add-on in the best WordPress event calendar and provide this option for your audience in the best way possible.
The numerous customization capabilities offered in the plugin lets you manage your events and the attendee's check-ins competently.
The passionate team of developers is working hard to make their product even better by providing new options such as mobile apps and new lists for easier management.
If you sell tickets online, you can simply purchase the add-on and enjoy the regular lifetime updates for the best experience.
Recommended Posts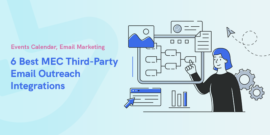 July 24, 2022