---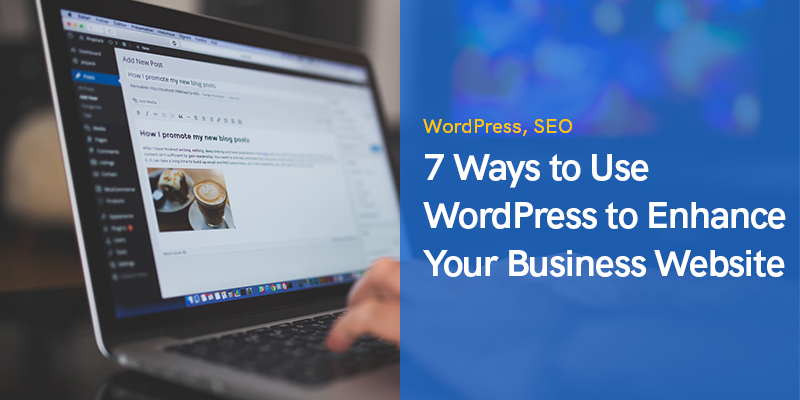 7 Ways to Use WordPress to Enhance Your Business Website
WordPress is one of the world's leading and most popular Content Management Systems. As of 2021, almost 75 million sites are hosted on this CMS. There's a reason for its popularity. It's great for all kinds of websites; including a business one.
It has a powerful template and plugin architecture using which you can customize your site however you wish.
Use WordPress to Enhance Your Business Website
In this post, we look at 7 different ways in which you can better your business website on WordPress:
Keep It Secure
Unsecure WordPress sites are prone to a ton of security issues and the possibility of being hacked. If your site access gets into the wrong hands, there's no knowing what kind of mess it could lead to.
Good thing is, there are some solid ways to secure your WP business site, such as:
Do run regular and automatic backups. You can use a ton of plugins for that. It will help you go back to the desired restore point in case the site gets hacked.
Create a new account instead of using the 'default admin' account while creating content.
Use a strong password that's a mix of letters, numbers, and special symbols.
Install a quality security plugin like Sucuri.
Get rid of any old and/or obsolete installations on your hosting account as they are often prone to hacking.
Always use quality services and perform regular security checks in a timely fashion to ensure top-notch security of your site.
Get the SEO Basics Right
TIP 1
Speaking of basics, make sure that when you're writing a blog post, keep the permalink simple and readable.
For example, instead of picking a link that reads like this:
www.abc.com/?article1
Go with something like this:
www.abc.com/10-ways-to-boost-SEO
The second one is much readable by search engine crawlers as well as visitors. One look will tell exactly what the page is all about.
You can do that by heading to the dashboard in WordPress, Settings>Permalink, and then selecting the 'Post Name'. You can also incorporate your target keywords into the title for SEO purposes.
Note – Sometimes, when you're changing an existing page title, it could have major SEO implications. So, bear that in mind before making any changes.
TIP 2
Speaking of SEO, make sure to fully utilize the Yoast SEO plugin. This is the most popular tool that webmasters all over the world use for optimization purposes.
Whenever you write a post, this plugin will tell you how good or bad your post is doing optimization-wise by giving you suggestions across multiple boxes for multiple parameters.
Following Yoast recommendations will ensure that your site ranks high for all the relevant business keywords and terms.
TIP 3
Write high-quality, well-optimized posts with ideally 1,000+ word count.
Note – It's important to stay abreast of all the changes happening in the world of SEO as the guidelines, trends, and algorithms are changing all the time and might impact the SEO strategy.
Choose the Right Theme
WordPress is a highly versatile platform with an endless array of themes and templates to pick from. Each theme comes with a unique formatting, layout, visual appeal, colors, styles, and fonts.
While WP will supply you with a default theme, it's always good to go custom (be it a paid or free theme). Especially for a business website to look appealing, a good theme is essential.
To that end, Deep Theme is a good choice. It fits all kinds of website needs. This is a fully responsive, premium theme that is also Retina-Ready.
The design is minimal so visitors don't get distracted. It carries all the elements of a professional site such as header, footer, and page with the ability to make easy edits both on the back and front-end.
Optimize Your WordPress Databases
Just in the same way as your mobile phone becomes cluttered with unnecessary junk files that are not needed; the same way your site's database can also become cluttered over time. This pile-up of files can affect the performance.
To get rid of these files, you can use a plugin. You can choose to do the whole thing manually as well. But, that might get a bit technical for you as it calls for accessing the MySQL database.
Two of the best plugins for this purpose are – WP-Optimize and WP-DBManager.
All you have to do is install either of these plugins at the backend of your site. It carries myriad options like creating a backup, running repairs, optimizing the site, etc. You can even restore your site to previous data.
Use the Power of a Caching Plugin
If yours is a high-traffic website, caching would be an effective way to up your site's performance. If you do not use a caching plugin, the browser on the user-end will have to request your site's files from the database and CSS files every single time there's an access request.
Essentially, the server generates and sends a static file on the browser end. Because of the long process involved in this communication, often such a request takes quite some time.
What a caching plugin does is that it creates a version of the HTML files. Whenever there's an access request, the browser will load the files from stored HTML rather than creating a request over the server.
W3 Total Cache plugin is one of the most popular plugins you can use for caching purposes. After installing, you will notice a major reduction in the load times of your site which is always good performance-wise and also for SEO.
Sometimes, a WordPress host might come with a built-in caching plugin. So, do check with your service provider before installing another.
Make the Website Mobile-Friendly
The world is moving from desktop to mobile. Every day billions of searches come from mobile devices. That means a business site that is not responsive on multiple screen sizes and doesn't load well on mobile is going to lose a ton of business opportunities.
To capture the people who are looking for your business day and night, you must go with a mobile-friendly and responsive site. A growing number of people will look for a business on the phone online before buying anything.
That's not all; if yours is an online store, having the option to make a mobile purchase is a major plus.
Create Useful Content
Write the kind of content that goes with your business needs. It could be product descriptions, reviews, blogs, white paper, case studies, videos, etc. According to ReferralCandy, these are the main types of content used in content marketing:
No matter the type, make sure that the content is:
Helpful and informative
Makes you sound like an authority
Is solution-oriented
Is sharable and easy-to-read
Keeps readers coming back for more
Bottom Line
WordPress is a highly versatile platform. There's no end to how much you go on exploring it. But, if you can manage to score well on these points, you'll be investing in your site long-term.