---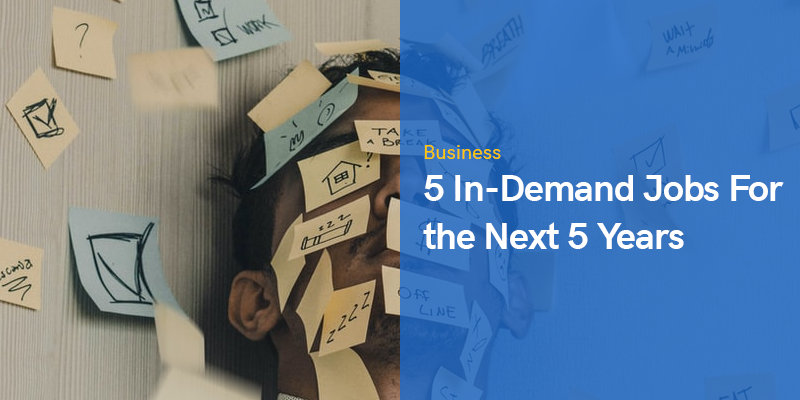 5 In-Demand Jobs For the Next 5 Years
Strategizing long-term success in the labor market requires that you think mid to long-term about the kinds of professions, industries and niches that will continue to be in demand. The global economy is changing at such a rate that it can be difficult to make sound predictions about what roles are likely to be the most sought after in five years' time.
In-Demand Jobs For the Next 5 Years
Below, however, are 5 that show promising signs of sustained and strong future demand.
Data Science
Data scientists are in charge of evaluating and applying data. These experts use extensive knowledge of mathematics, prediction, and statistical interpretation to anticipate outcomes and trends for insurance and finance companies, universities, research institutes, and healthcare services, among others. To do so, they devise tests, polls, and surveys, as well as using statistical and mathematical techniques to forecast and trace issues back to their source.
With enterprises of all kinds and types relying on data analysts to provide the raw materials that drive vital business decisions, the sector is expected to grow considerably in the years to come. The increased use of data analysis to make informed policy, healthcare, and business decisions is likely to underpin much of economic growth in the years to come.
Homecare Nurses and Aids
Home health aides are responsible for providing in-home, individualized assistance to people who require extra help completing day-to-day tasks. These people include those suffering from chronic diseases, physical disabilities, or cognitive challenges. Job duties may include aiding with tasks such as changing bandages, meal planning and preparation, and bathing or dressing.
As the baby boomer generation ages and the elderly population grows, so will the demand for home health aide services. Families are increasingly relying on home care as an alternative to hospitals or nursing homes, and many customers are looking to cut medical costs by keeping or returning to their homes. The idea of aging in place, which has become one of the ascendant philosophies in aging and senior care, means a steady demand for people with the skills to look after the elderly in their homes.
Travel nurses, similar to home health aides, play a crucial role in providing individualized care to patients in diverse locations. They also have the unique opportunity to explore new places while utilizing their medical expertise.
Physician Assistant
There is a high demand for competent assistance, particularly in the medical sciences. Physician assistants support healthcare workers, surgeons, and doctors by teaching patients on care processes, analyzing treatment progress, and collecting and reviewing patients' medical histories. Physician assistants work in various areas of medicine, including geriatric care, podiatry, surgery, emergency medicine, psychiatry, and family medicine.
The demand for physician assistants is predicted to expand over the next decade, owing to an aging and increasing population. Job opportunities are especially appealing for individuals working in rural and medically disadvantaged areas, in what are often referred to as "healthcare deserts," where good quality care is in high demand but often hard to come by.
InfoSec Analysts
Almost every area of civilization is dependent on how well sophisticated information systems work. As a result, information security analysts play an important role in ensuring the security and safety of our data. These specialists must be well-versed in preventive measures, data security threats, software, hardware, and information systems. This occupation is expected to rise during the next ten years, owing primarily to the rising frequency of cyberattacks.
To prepare for expanding cybersecurity risks and protect personal data and privacy, financial institutions and banks, as well as other industries such as healthcare, will need to improve their information security capabilities.
Software and App Development
Regardless of their specific focus, whether that be creating learning apps for children or productivity apps for busy professionals, all software developers who focus on applications are responsible for analyzing, designing, and testing applications as well as troubleshooting issues and recommending upgrades for employers and clients.
Applications software developers may find work in software publishing, application design firms, corporations, manufacturing companies, and insurance or financial companies. Due to the development of cloud-based computing, tablets, smartphones, and more accessible computer technologies, the demand for software developers with a specialization in applications will grow considerably over the coming years.
Conclusion
Trying to plan for the future economy can be quite frustrating, given the rate of change and the seemingly unprecedented level of uncertainty we are living with. The education and career track you choose today is often geared towards today's economic demands and realities.
The smart thing to do is to try to determine where the economy is going, or where the demand for certain professions is likely to stay, and then make moves accordingly. Hopefully the above list has provided some insight into where labour demand is likely to lie over the next five years and, at the very least, got you thinking about labour market strategizing.