---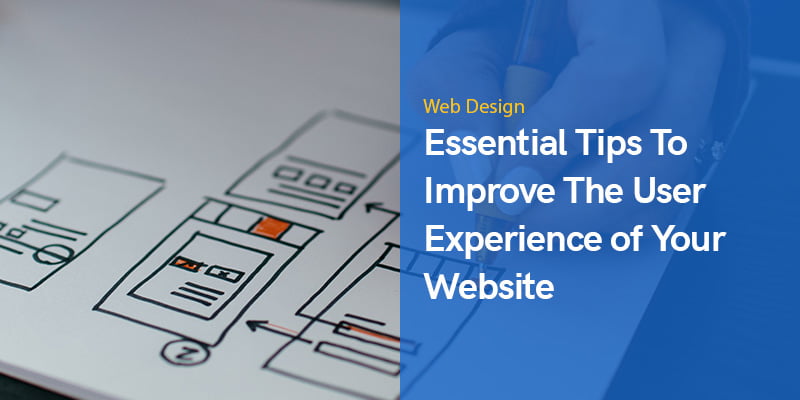 5 Essential Tips To Improve The User Experience of Your Website
88% of online shoppers won't return to a site after even a single bad user experience. And 75% of consumers will judge a site's credibility based on its looks.
That means that even if your business provides excellent service to its customers, you will have a tough time making sales consistently if your website doesn't inspire confidence and is challenging to use.
The good news is that whether you're a one-person business or a larger company, you can take easy-to-implement steps to boost your user experience and get your best customers to come back for more.
Improve The User Experience of Your Website
Let's explore some of the most effective strategies you can use to make your website easy to use, convenient, and appealing to your target audience.
Provide Answers to Common Questions
One of the biggest hurdles many site visitors face is finding answers to questions about your products, delivery, support, brand, or a variety of other essential topics. And unfortunately, many of those visitors won't be willing to dig through multiple pages to find the answers they need. Instead, they'll most likely give up and go to another site with better access to information.
To avoid this scenario, you should consider the types of questions your audience typically has and compile them into a single page. Using effective FAQ design, you can turn a simple page on your site into one of the most important assets your business has, which will not only boost conversions but will also free up time for your support team.
With FAQ design tools, you can create an entire portal to address the common questions and problems your target audience might face. You can also provide helpful resources, guides, and links to where they need to go, expediting the sales process and dramatically reducing the number of live support requests you have to deal with.
As an added bonus, a support page will also serve as a powerful SEO booster for your entire website, helping you climb in the SERP rankings and get more people to visit your site.
Find Different Ways to Showcase Your Products
Your products are the most important thing you must highlight on your website. And that's why it's always a good idea to consider multiple ways to showcase those products to your target audience.
For example, you could use a catalog maker online to create a beautifully-designed product catalog that showcases the different selections you offer. When you use a powerful online tool, you don't need to worry about hiring an expensive designer, as you can rely on beautiful templates and robust customization options to highlight your products, brand assets, and more.
Another way to ensure your products are at the forefront of your website is to display them in multiple formats. In addition to compelling copy, you should add professional images that show your products from different angles and make them more appealing. You could even leverage content to introduce audiences to your products, creating product reviews and performance tests that you could share on social media as well as on your site.
Make Sure Your Website is Fast
It won't matter how beautiful or useful your website is if you frustrate your visitors with slow load times. Most people won't wait around for a site to load even for a couple of seconds, so if your site or its elements take too long, you can be almost certain people will leave and go somewhere else.
To avoid this, you can take a few effective steps to make your website load faster and more consistently.
The best place to begin is to look at your hosting, as it will have a deciding impact on how fast your website can ultimately be. If you try to save a few bucks with cheap hosting, there's little you can do to boost your speed beyond a certain threshold. Instead, look for reputable service providers, like WPX which is a well-known WordPress hosting provider, that guarantee a certain level of performance and will give you the flexibility to scale your hosting needs as you grow.
Another easy fix for boosting website speed is ensuring that larger website elements are optimized to load quickly. That usually means compressing and optimizing your images and other visual design elements so that they don't require a lot of data to load. It's important to remember that when it comes to speed, your visitor's internet connection also plays a role, so you need to make your website load with as little data as possible.
Prioritize Readability
The primary goal of the content on your website pages is to convey the information in a way that's easy to understand and persuasive. But for that to happen, you need to make the information easy to scan so that even complex topics can be broken down into bite-sized ideas that people can quickly comprehend.
That's why in addition to the various design elements you can use, it's important to also consider how to break down the text so that your visitors don't have to sort through endless walls of text.
One of the most effective ways of achieving that is by varying sentence and paragraph length. Instead of having a list of similar paragraphs, mix up longer and shorter, one-sentence sections throughout your text. Including bullet points and timely subheads is also a great way to highlight important points throughout the page.
You can also use multiple images and other visuals throughout your pages, providing more context for the information you want to present while also making it easier to remember, even if a person doesn't read through the entire page.
Have an Intuitive Website Structure
As a website owner, you need to ensure that each visitor who stumbles onto your site can find the information they're looking for. And while you can use FAQ pages to make that easier, you also need to help your readers find specific pages no matter where they might land on your site.
To achieve that, you need a website structure that prioritizes the most critical pages while also being organized into silos of information that the users will expect and understand.
For eCommerce stores, that might mean having clear product categories that people can sort through. For product-centered pages, that could mean a hierarchical navigation structure that explores different features of the product, use cases, pricing plans, and more.
Finally, when rethinking how your website should be structured, consider your goals and where you want the visitor to end up. Whether it's making a purchase or subscribing to your list, you want to guide them toward a page that will encourage them to do so when they're ready.
There is also a substantial benefit to using a link building strategy early in the process of search engine optimization.
Bottom Line
Excelling with your website's user experience is one of the most impactful ways to gain an advantage over the competition.
By following the strategies listed above, you can ensure that people find the information they are looking for, have an easier time understanding your messages, and are directed to take the actions you want them to take.
Recommended Posts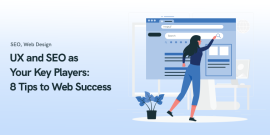 October 24, 2023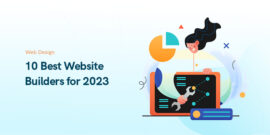 January 19, 2023