---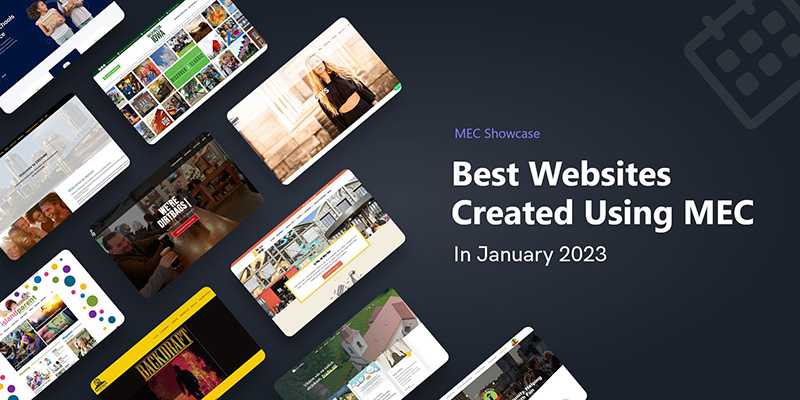 Best Websites Created Using MEC in January 2023
In this post we are going to showcase 10 of the top websites using Modern Events Calendar Pro. These will include a wide range of businesses and communities, each with their own unique look and function.
Here at Webnus, we have always strived for making our products multifunctional and flexible.
We want you to be able to use MEC in whatever way you want, and tailor it to your specific needs; we don't want you to get stuck during your creative process because of the limits of the tool you are working with.
Modern Events Calendar Pro is not only the most feature-rich, premium event management plugin out there, it is also the most flexible and multi-functional, thanks to its various addons. Take a quick look at MEC introduction:
List of Best Websites Created Using MEC in January 2023
Paramount
Paramount Schools enables students to achieve academic success and helps them to make a change in their academic pursuit if they need to since moving to a new school can be quite challenging for students and parents.
They get use of a professional staff and currently offer courses in 6 different schools. They present their calendars using MEC skins with a downloadable pdf file to showcase all the necessary details for each course and the exact date of each class.
They have chosen to make all the courses accessible to their audience which is necessary for the customers to know exactly what school/schools fit their time.
Sušská
Sušská is an open community of different generations and nationalities, united mainly to live the life of God's people through the worship and celebration of their faith.
They hold lots of events like ceremonies, meetings and Choir rehearsals for different age groups and they have chosen Modern Events Calendar to promote their events to their audience.
You can find their events displayed in slider view and monthly view which is a very good display of how you can use multiple shortcodes on one page to categorize your events in more detail.
islandparent
Island Parent Magazine has been a trusted resource for parents for over 30 years to help them with issues ranging from temper tantrums, health and wellness to parenthood and tweens and teens. Each issue features a calendar of events and resource guides to local service providers and businesses.
You can find their events in a monthly view that leads you to its dedicated single event page. Since some of their events are online you can find a link to their courses under the event description.
Islandparent has used MEC features and customization capabilities to match their business perfectly and make the user experience as smooth as possible.
Thomas Adorff
Thomas Adorff is a professional online photo gallery that offers photography tours in gorgeous locations where you can learn how to capture perfect landscapes.
This website is one of the more successful examples of the customization capabilities of Modern Events Calendar and its beautiful design. Thomas has proven that with a decent taste in design you will be able to match MEC elements with the other elements of your website without the need to do much customization.
The events are displayed in multiple views like masonry, slider view and carousel view where you will be redirected to the single events and gain access to the locations of each tour and its details.
Washingtoniowa
Washingtoniowa calendar of events shows you what's happening in Washington, Iowa, and surrounding communities! They also update their community on the new events that are being held all the time. You can find all of their events in their home page that range from photo exhibits and art galleries to church events and so on.
Although Washingtoniowa is a pretty busy website with lots of events, you can easily find your events with the search bar option to speed up the process.
As you can see here, Modern Events Calendar can adapt itself to every website and business from news websites to colleges and restaurants.
Le Wip
Le Wip is a french website that promotes numerous events like conferences, workshops, seminars for various communities. They have done a pretty good job of creating their own design and incorporating MEC and its elements into their theme.
You can find their events in a couple of separate sections of their website in 2 different views. In the first section you can find a monthly view under Agenda in their heading and the other one is located at the bottom of their home page in a list view.
Le Wip definitely runs lots of diverse events on their website to a point that you might get a bit confused with what the theme of their business is, but this diversity can show how flexible Modern Events Calendar can be to cover just about any business or event.
Travel with Bar
TravelWithBar is an Israeli tour guide with a passion to share the love he has for traveling all over the world. He currently offers tours to Paris, London, Berlin etc. and has his own style of running tours.
You can find his events on his home page in a grid view style and with beautiful images of each city. You can also find locations, extensive descriptions and recommendations for each tour on their single event page which makes it super easy to follow his programme.
We would consider this website one of the other successful businesses that has chosen the right tool to promote his business.
DREEMM
DREEMM helps Christians rebuild and maintain their relationship with Christ and keep themselves away from the temptations. Their community believes in constant awareness of their religious values and not only on Sundays when they go to church, and that's why they hold numerous events regularly to empower their beliefs.
They have various events from Sunday services to religious educational events and their users can alternate between list view and calendar view to find the events on their event page which is quite a smart technique when applying shortcodes.
One of the other design elements that stands out on their website is the relaxing atmosphere and great combination of colors which makes their website very pleasant to work with.
Soper Reese Theatre
The Mission of Soper Reese theater is to provide a professional venue for the events in Lake County, California. Their events range from movies and plays to concerts and special events
They showcase their events in slider view on the home page where you can see big posters of their movies and click for more info and purchase your tickets.
Even though they have not modified the default look of Modern Events Calendar that much it works for them and it has not compromised their website. This shows that even with minimal modification you can make Modern Events Calendar look good on your website.
Dirtbag Ales
Stop by for a Beer, Stay for the Entertainment is their motto and they definitely can entertain! There are events like live music, yoga classes, farmers market, food trucks and that's why they claim to be a source for everything in Cumberland County.
Dirtbag Ales displays all their events in a simple monthly view layout and has placed a countdown in each of their single events pages to tell their audience how much they should wait until the event starts.
They don't have online booking on their website which is an advantage for them since they can use the lite version of Modern events calendar and promote their business for free!
BlinkOut
BlinkOut offers space for inspiration, creativity and ambition and they also hold lots of workshops to practice meditation.
You can find their events in two main layouts. The first one is cover view on their homepage and the other is monthly view on their event page which is interesting because they have color-coded their events and have mentioned what each event color and category means in their heading.
I would consider this website the most simple one in terms of design and flashiness but as long as functionality is concerned it works like any other website. You can click on your favorite event, go to the single event page, have a look at the description and book a ticket.
Recommended Posts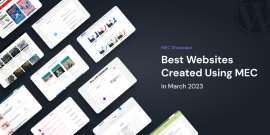 April 8, 2023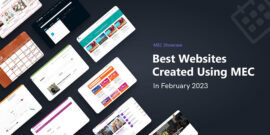 March 7, 2023