---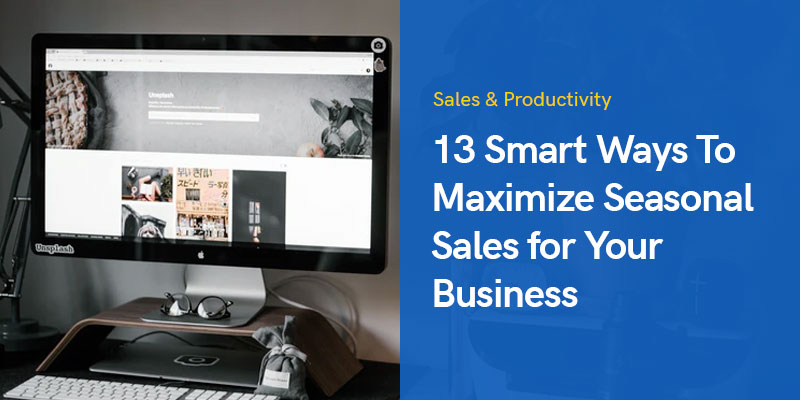 13 Smart Ways To Maximize Seasonal Sales for Your Business
Valentine's day, Easter, Elections, Halloween, Black Friday, Christmas… These are all seasonal events that generate a lot of traffic to your website.
As a savvy marketer, it's a wise decision to plan your seasonal marketing strategies quarterly or yearly for increased sales and customers. Seasonal campaigns help you plan your promotional calendar, delight your customers with original promotions, overcome your competitors, and be the first to reach your potential customers.
The best thing about seasonal marketing is that customers want to expect and enjoy seasonal promotions. They want to buy different Valentine's Day gifts, wear cozy Christmas sweaters, and drink pumpkin latte.
Maximize Seasonal Sales for Your Business
By following the strategies mentioned in this article, you would boost your seasonal sales and make your customers happy:
Select the Right Marketing Channels
When you decide to use multiple channels in promoting your seasonal offer, selecting the right channel is very important. With so many different channels available, spending your time and money on the least impactful ones can get a little frustrating.
You must be wondering what channels will be most effective in targeting and communicating with the right audience. Some of them include:
Social Media
If you have a community on Facebook, Instagram, or Twitter, it is an extra channel to attract users organically. Prepare special posts in advance to inform users about your seasonal promotions and run ads when necessary.
With the right social media engagement tools, you can build powerful communities with your followers and make your customers happier.
Offline Marketing
You can share handbills, create flyers, use posters, word of mouth, TV, radio, and so on
Pay-Per-Click (PPC)
If you know how to deal with Google AdWords, PPC can also be a good avenue for sales promotion.
Email Marketing
With an ROI of 4,200%, email marketing is one of the most effective traffic and sales sources to your brand.
SEO
Take advantage of search engines like Google and Bing for organic visibility. You can also publish optimized blog posts on your blog for this season.
Once you've selected the right channels to promote your business, make sure your message is consistent across all platforms. For good marketing, use many channels to keep your message at the top of the mind of your target audience.
Personalize Emails to Your Customers
Do you want your customers to feel more interested in your products? Try personalizing your email with their names and segment new signups by seasonal interest. I mean that your emails should be relevant to the season in order to retarget the leads you collect with offers and content.
Humans like to be acknowledged personally. Once you approach them with a personalized mail, it makes them feel recognized and reminds them that you appreciate their loyalty. This will trigger their emotions and make them want to take action.
Offering early access to your seasonal promotion is a great way to attract attention for your event and generate more traffic to your site. Using the right email marketing tools, you can build a seasonal email list you want to target and get more sales on this event.
Create Unique and Seasonal Landing Pages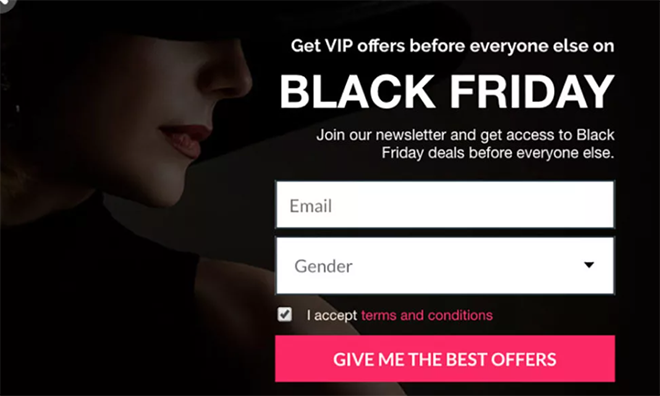 Many businesses often neglect to create seasonal landing pages for their products, and this effectively boosts search visibility. When creating the page, ensure to give your page a seasonal look – use the right colors and images to make it clear that you are promoting a special offer. Try to display the overall discount on the main landing page and write a compelling CTA to prompt customers to take action.
Providing a clear path to relevant information will give them a better chance to find targeted offers or content and convert. Make sure to create mobile-optimized landing pages as today a lot of customers use mobile phones to make a purchasing decision.
Creating a landing page for each product every season will help to attract website visitors and enhance conversion easily. Although doing this for every season can be a little tasking, they are surely worth it in the end.
Run Popup Online Sales
Nothing can stir up more sales than a perfect discount offer that pops up at the right time. Even the most beautiful piece of clothing needs to be advertised to get more popularity.
Using popups, you can place countdown timers to alert users about your limited-time sales. So, if you want to present your most beautiful piece to the public and have many sales on it, think of running a popup sale.
Run Time-limited Sales
Creating a sense of urgency by putting a time-limited sale on your product will intrigue your prospects and motivate them to act, so they don't miss out. Customers are more likely to make a purchase when they know you're running a limited-time sale.
Why? It's simply because of the Fear Of Missing Out (FOMO).
To spice it up, you can include a countdown timer on your landing page that defines both the start and end date of the sale so that your customers know how urgent they need to get the product.
Create Gift Guides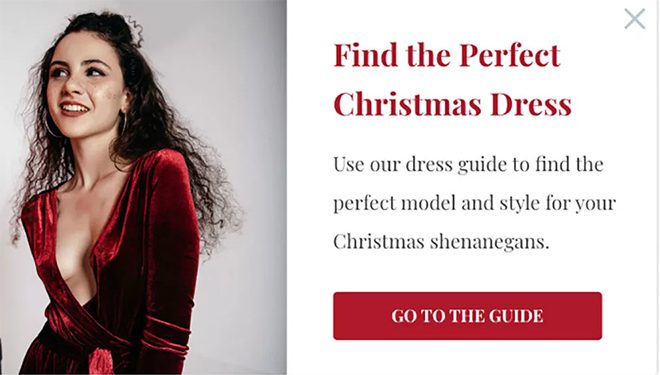 The popularity of gift guides is increasing rapidly each passing year. People are now constantly opting for gift guides before making their seasonal purchases.
A gift guide helps to give your audience details about affordable products and suggestions that stay at the top of the mind of customers throughout the season. Some examples of gift guide topics include:
Top 10 Christmas Gifts Ideas for Your Dad in 2021
7 Black Friday Phone Deals that are worth looking at
15 Luxury New Year Gifts You do not Want to Miss
A gift guide is one of the most powerful tools you can have during the seasonal promotion. Having one is to make a personal guide about the best items in the industry, and at the same time encourages people to purchase products from your store at amazing prices.
Try Out Virtual Reality
Virtual Reality worlds are gaining popularity and will continue to do so. If you've not started using this means to boost sales in your business, you may want to adopt it.
Customers want their purchasing process to be seamless, and applying virtual reality will enable them to view your products as if they were in an offline store all from the comfort of their homes.
Most importantly, using virtual reality makes your brand unique And helps give your potential clients that extra confidence they need to complete their purchase.
Optimize for Mobile
We live in a world where people are more engaged on their mobiles than any other electronic gadgets. People love to surf online for the products they want to buy, and having a mobile-optimized website will help you catch lots of potential customers.
According to research by GSMA Intelligence, there are about 5.29 billion users of mobile phones in the world today. This simply means properly putting your store into your customer's pocket can help you rank higher on SERPs, create better user engagement, reduce bounce rate, and bring you a significant boost in sales.
So, ensure that you test the website's features, look, and performance for mobile, as this will help you retain customers and achieve higher conversion rates for a long time.
Offer Special Discounts and Gift Certificates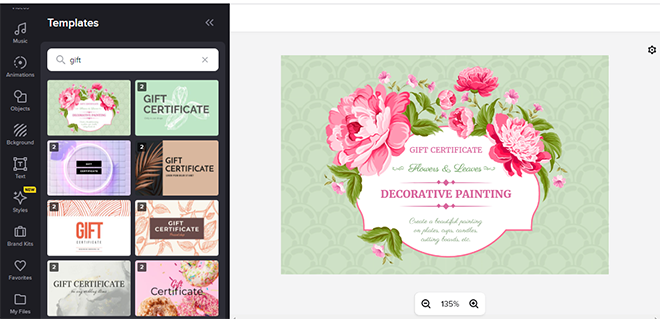 Retaining old customers is one of the hardest things to do than bringing new customers; and offering discounts on their most purchased item is something they would find hard to resist.
Discount sales have always attracted people to shopping. They have helped brands survive in bad days and boost revenue in good days. To even attract more audience, providing gift certificates while giving discounts on purchase is a good idea.
While discounts and gift certificates can be great ways to drum up your business and get the word out, it is essential to let your customers know that the discount is a one-off. This means letting your customers understand through your marketing messages that this is a one-time event just for the seasonal promotion.
To create impressive designs for certificates and discounts, you can use VistaCreate (ex-Crello) to save your time, money, and get a consistent look for your business. The tool comes with a wide range of gift certificates and discount templates for any purpose. You just need to pick a template, edit text, and download or share.
Run Google Shopping Campaigns
A lot of people are active online these days, and many of them can't wait to shop for Halloween or Valentines' day. Running Google shopping campaigns for seasonal events is a way to discover and gain new customers.
Before getting your ads up and running, think about the likely keywords consumers in your niche would be searching for this season when they visit Google. For example, terms like:
"Best valentines gifts for her"
"Mothers day gifts from daughter"
"Black Friday clothing deals".
Using keyword research tools like WebCEO to identify seasonal keywords if you want to create a consistent content strategy and gain a competitive advantage. The tool shows the most important keyword metrics to help you better understand whether it's worthwhile to select this keyword or keyword phrase.
Ensure to include all product details and use the compelling copy in your campaign to convey why it would make a great gift.
Create Ads on Facebook
Expanding your market beyond your local community by getting across to potential clients all over the world can be easily achieved using Facebook. Facebook is one of the most affordable channels to advertise your business and get new customers during the seasonal promotion.
With Facebook, you can target your advertising very tightly on age, sex, location, interest, etc. This means that instead of running ads to just anyone, they are shown to a highly targeted audience interested in the advertised subject.
To achieve greater conversions and ROI from your Facebook Ads, you need to install Replug, a retargeting pixel on your website, so you can retarget your website visitors during rush hour. Using Replug, you can:
Automatically create custom audiences on various advertising platforms and social media sites.
Shorten your URL and optimize them with catchy call-to-action (CTA).
Convert anyone who interacts with your content through targeted retargeting campaigns.
Optimize your advertising spend.
Create a unique pixel set for any social media channel of your choice.
Also, keep in mind that Facebook takes longer to review and approve ads during the festive season. So make sure you get all your advertising content ready and learn how to schedule a post on Facebook in time before the holiday season.
Use Instagram Posts and Ads
More than half of Instagram users (over 50%) follow at least one business account. This makes Instagram a great channel for conveying your brand's message.
Using Instagram for marketing should be more than just taking pictures and posting them on your news feed. You can still take several steps to ensure your content stands out and you attract more attention. Some include:
Include a Caption
While a picture already speaks a thousand words, adding a well-written caption can attract more attention from Instagram users. Think of a caption that best fits the season.
Use Influencers
Find influencers in your niche to collaborate with. They will help you to get more exposure and sales during the holidays.
Include a Call to Action
Including a call to action in your post helps encourage your followers and potential customers to take action.
Run Instagram ads
You can run ads to make more sales from Facebook for both Instagram and Facebook or create separate ads for each platform.
Add Hashtags
Hashtags are vital in Instagram; hence, include some of them in each post you share. It could be location-based hashtags, trending hashtags, or custom hashtags. Adding relevant and popular hashtags helps your posts easily be found by other users.
Testimonials
Share customer success stories and reviews. This makes potential customers trust you and your brand.
With Instagram, you can also create carousel ads, reels, story ads, IGTV, Insta stories, and so on. This helps your audience engage more with your content and drive more sales to your business.
Create Seasonal Content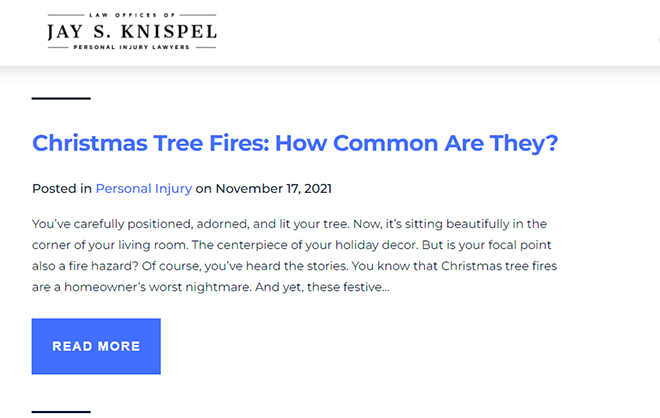 Seasonal content is one of the best ways for your business to sell services and products as many industries rely on the changing seasons, holidays, and other variations.
Seasonal events generate a lot of website traffic, that's why it is important to stay on top of customers' problems that you can fix by providing seasonal content. For example, during the holiday season, this law firm creates a series of blog posts about Christmas tree fires and damages in holiday claims.
Make sure to plan ahead, fully research and create a unique content that will stand out from the crowd. Think about what and when to post. Use tools like Google Trends to find seasonal trends.
Conclusion
Seasonal marketing is not about creating special offers and decorating shop windows, it is about creating unique seasonal content, perfect timing, campaign planning and execution that results in user engagement and sales.
Seasonal promotions can be a great sales goldmine for your brand. Whether you're trying to craft out a new marketing strategy or you're looking to increase your customer base this season, take advantage of these marketing tips to generate massive revenue for your business.
Don't forget to plan, prepare, test, and track your every move.