---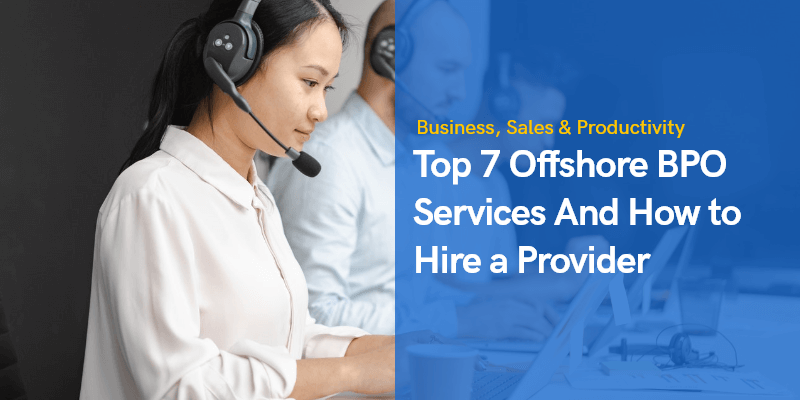 Top 7 Great Offshore BPO Services And How to Hire a Provider
Offshoring is a practice in which a business outsources a range of operational and service-related functions to vendors in other countries. Often, companies choose this route to improve efficiency, optimize production capabilities and save money.
There are different types of tasks that are outsourced by businesses. For instance, some companies look for administrative assistant services to outsource a wide range of admin tasks. Others might be looking for third parties to deal with to content writing, data entry, and digital marketing, among other tasks.
One of the services that are most often outsourced to offshore vendors is business process outsourcing (BPO) solutions. Offshore BPO services involve contracting work processes to an external service provider.
These services are designed for businesses that lack certain resources to complete specific functions and to help businesses grow fast without large capital expenditures.
Top 7 Offshore BPO Services
With many benefits ranging from lower costs to access to more talent, offshore BPOs can help businesses grow quickly. Some of the industries that benefit from BPOs include: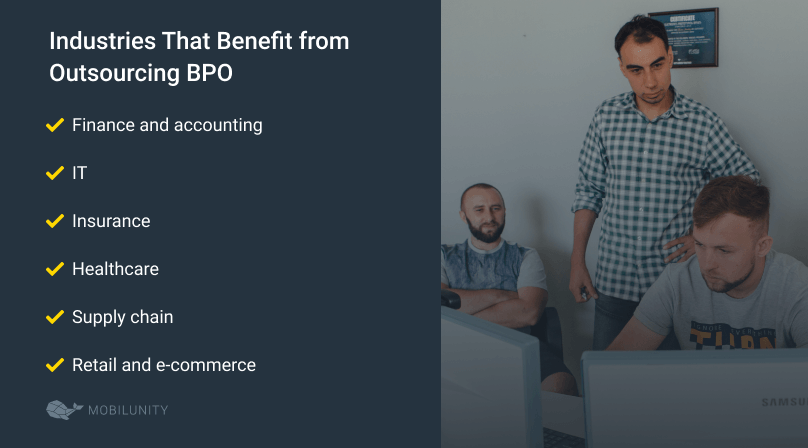 Over the last few years, offshore BPO services expanded from offering mostly manufacturing services to providing almost all types of business operations. Let's look at seven of the most popular offshore BPO services hired by modern businesses:
Human resources
Outsourcing HR departments have become increasingly popular. BPO agencies can assist businesses with the entire process, from sourcing candidates and conducting interviews to shortlisting applicants and managing and resolving payroll issues.
They can help with streamlining the entire hiring process. In addition, BPO agencies can also train new hires to help them integrate faster.
Finance and accounting
These services involve all the financial functions of a business, including managing payable and receivable accounts, bank reconciliation, tax planning, bookkeeping, returns, and more.
Offshore companies specializing in these services can automate business functions by adopting technological processes like cloud-based finance solutions. With the help of these accounts payable automation solutions accounting operations becomes more agile and efficient.
Sales
Sales are at the core of every business. But often, businesses don't have sufficient resources to enhance their sales functions. BPO agencies can offer businesses a new perspective on how to transform their sales operations to deliver sustainable breakthrough growth.
Sales solutions can include contact and order management, data and promotion management, and configuring, as well as pricing and quoting.
Customer support
Ensuring strong customer relationships is important for the success of any business. To enhance customer support, many businesses turn to outsource BPO solutions.
Outsourced customer support includes managing inbound and outbound calls, replying to emails, managing queries, upgrading customers to a new product or service, managing customer accounts and more.
Software development and management
Software development is an intriguing yet often complex process. Many businesses require custom software to enhance their business functions but do not have the resources to manage software and IT development service functions successfully.
BPO agencies specializing in outstaffing development service solutions have access to offshore developers that offer the following processes: Analyzing and planning, designing and prototyping, development and implementation, testing and deployment.
Outsourcing vs outstaffing is a never-ending debate. Every time a business needs to develop a project or adopt a new feature, they are compelled to make that decision.
First of all, businesses understand that a software project requires a few engineers or perhaps an entire team. Then they consider the cost of hiring skilled in-house developers, which is probably not the greatest option.
They finally decide to work with an offshore software development company, but they quickly become perplexed by a variety of words, like "software outsourcing," "outstaffing," "dedicated team," and others.
Data management
Today, data plays a big role in modern business. Data is used to inform and improve decision-making, as well as for revamping and refining operations. BPO agencies can help businesses to source, sort, manage and use data in ways that are most beneficial for them.
Good data management can assist businesses to better understand their customers and enhance their products.
Marketing
Marketing is another popular process to outsource for businesses. Whether it is market research and strategizing or content and search engine optimization, offshore BPO vendors can help businesses create effective marketing solutions to help them convert more customers.
Because these vendors are experts in their field, they can analyze the landscape for every business better and formulate an effective strategy for every brand. Most of these vendors provide a skilled content marketing specialist to businesses to manage all the marketing functions.
How to Find an Offshore BPO Services Provider
Finding the right offshore BPO specialists provider is crucial to ensure objectives are met and desired outcomes are achieved. The BPO model works in the following way: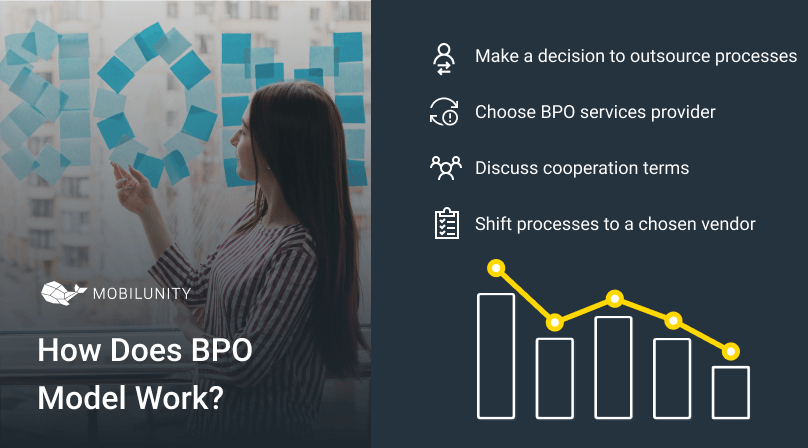 Here are some tips for how to find the ideal offshore BPO services provider:
Identify the area of specialization
It is important to evaluate the service offering of a BPO vendor before hiring one. They have to specialize in the service required and have access to specialists in the specific field. For example, a business looking to outsource marketing services will look for a marketing BPO services provider with access to skilled content marketing specialists.
Consider their unique approach
A successful partnership between a business and a BPO services provider depends largely on the approach offered by the provider. Before hiring a provider, it is important to evaluate how they go about identifying specific business needs and how they meet these requirements.
The unique approach of a services provider must be aligned with the business.
Look for reviews from previous clients
Reviews from current and previous clients can give a good indication of the reputation of a BPO services provider. Reviews can also provide insights into these providers' unique approaches and the type of industries they work with.
The Bottom Line
Offshore BPO services can help any business scale sustainably without spending too much. However, it is important to weigh the options carefully before choosing an offshore partner.
When done right, an offshore BPO provider can undeniably assist to expand a business through skilled expertise, cost-effective processes, and improved performance.
Recommended Posts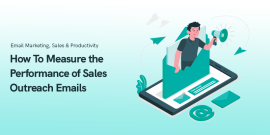 November 7, 2023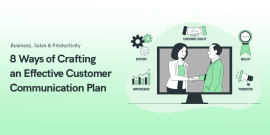 November 7, 2023