---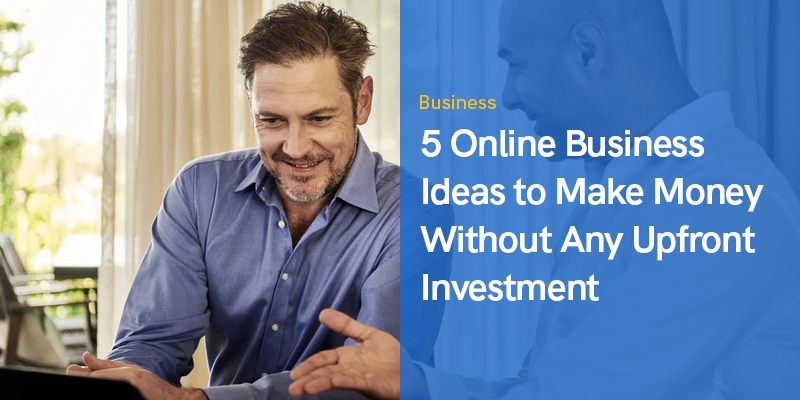 5 Online Business Ideas to Make Money Without Any Upfront Investment
The old saying is that 'you need money to make money.' However, whoever said that did before the internet as the internet is the great equalizer. It has democratized many things that we previously had to pay for, expensively in some cases.
With enough financial education, you know that you do not need money to make money. The internet has made it easy to make money without having to make a sizable investment.
Online Business Ideas to Make Money
The following are online business ideas to make without any upfront investment:
Freelance Writing
As a freelancer, you are a sole proprietor or a one-person business. There has never been a higher demand for content creators such as writers online as there is today, making it an excellent business idea.
You do not need money to start a career as a freelance writer. You can sign up on various online platforms like Freelancer or Upwork and offer your services to whoever needs them.
To open an account on these platforms, you may have to present some writing material to qualify. A website that showcases your writing prowess is also an excellent idea. You may not need money, but you have got to have the writing skills to succeed.
Drop-Shipping
An online drop shipping business essentially involves ensuring that products get from the manufacturer to the consumer. You do not need to handle any inventory, and you do not need any storage space to be a drop shipper hence the lack of any financial requirement.
Since you do not have to manufacture or store any products, all you have to do is market and advertise the product, which only requires a laptop and internet connection.
Once the sale is complete, you receive your cut or pay the relevant parties and retain the rest.
Dropshipping is a business that is highly dependent on the shipper so ensure you choose a good one.
Starting a Consulting Business
Are you knowledgeable in a particular subject and maybe even consider yourself an expert?
If so, you can start a consulting business and offer your expertise to any relevant parties. A consulting company has proved a lucrative income-generating opportunity for many people in many industries.
It is a serious business that could lead to owning a consulting firm so use Inc File's free Business Resources & Tools to learn what you need.
It will take time to grow your reputation and business, so be patient. If management consultants are anything to go by, you will be wealthy if you are successful.
Website Designer
Every business today requires a website, and some would argue that so do individuals, especially professionals. Therefore, you could make a tremendous amount of money if you start an online business as a website designer.
You may have started designing websites when you were young and got very good at it. Even if you did not study website design in school, it would matter little as your portfolio is more critical in the web design business. Sites like WordPress can make you an excellent website designer who makes great websites to become an online entrepreneur.
App Developer
You cannot understate the prevalence of mobile device usage. Applications are currently more popular than the mobile web, so being an app developer can be a highly lucrative business. You do not necessarily need any money to become an app developer.
You will need programming or coding skills and a computer to develop an application. You can then sell your applications in an app store and make a lot of money if consumers find value in your apps.
There are countless opportunities to make money online even without an investment upfront other than an internet connection and a computer. An app developer, web designer, freelance writer, consultant, or drop shipper is a fraction of the available business ideas. Evaluate your skills and find out how you can turn them into a business online.