---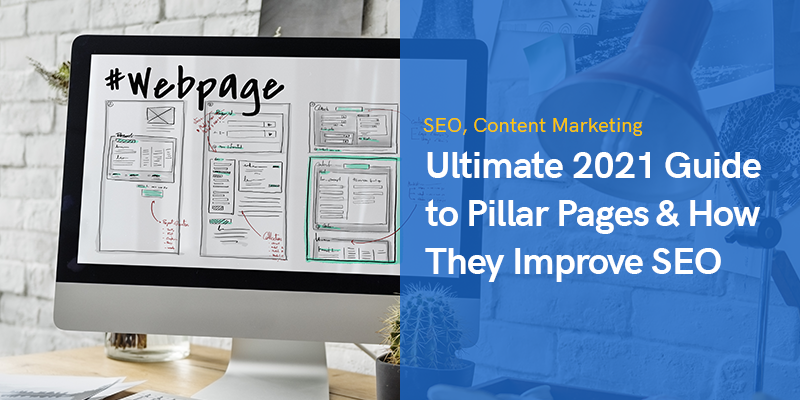 Ultimate 2022 Guide to Pillar Pages & How They Improve SEO
Earning higher placement on search engine result pages (SERPs) by making your website content useful for your audience is the ultimate goal for every website owner.
Over the years, the SEO best practices have gone through significant evolutions.
It seems that the search engine algorithms are constantly changing at a rapid pace and it's sometimes too challenging to keep up with the changes.
As the users' behaviors change on the internet, so do the technologies involved in delivering them what they seek.
Pillar pages are among the terms we hear now and then, and they've truly turned into highly effective elements to boost SEO.
So the chances are high that you've heard about pillar pages and wondered what on earth it means.
But, there's nothing to worry about.
Here we're going to have an in-depth review of this term, discuss the advantages it brings to your online business, and help you with creating one.
By the time we wrap this article, you'll know exactly what a pillar page is and how it fits into your content marketing strategies.
Let's begin by discussing the concept of pillar pages on websites.
What is a Pillar Page?
Google released an update in 2013 for their search engine called Hummingbird that was used to parse phrases rather than certain queries.
Contrary to the previous updates such as Panda that were released as add-ons, Hummingbird was considered a complete overhaul of the way Google robots functioned.
Two years later, the artificial intelligence (AI) of Google began to interpret the users' intent with the Rankbrain update.
The algorithms use various users' activities on the web (such as past searches) to display better results.
This improvement was achieved with the help of machine learning.
In 2017, the conversations around pillar content and pillar pages gained an increase as HubSpot began to publish articles about this concept and topic clusters.
They uncovered a shift from the focus on keywords to putting relevant topics in groups.
Simply put, a pillar page is what unites various topics and categories that are in some way related to an all-including general topic.
For example, you could talk about social media marketing on your website and have multiple posts about Instagram marketing, Facebook Marketing, LinkedIn marketing, and so on.
Your pillar page includes the core topic alongside the navigations to each of those sections.
To get more specific about this concept, you should first know about topic clusters.
Defining Topic Clusters
The behavior of people on search engines has changed significantly compared to a decade ago.
The search queries are now longer, more specific, and also conversational.
Think of using Google to find a café around.
More than 60% of users would definitely type something like "Cafés around me" or "Cafés nearby".
People now use long-from queries or questions to find what they want without wasting any time.
Meanwhile, the increasing popularity of voice search tools like Google Assistant, Siri, and voice command devices such as Amazon Echo has as well given more rise to these queries.
The overall result is that Google tries to return the most accurate results based on what the users need, even if they haven't typed in the exact phrase.
So it's of high importance for website owners and digital marketers to create content that covers all the gaps and prevents users from going to another website for their needs.
No one likes to see a website visitor who clicks on the "back" button and goes to the next item on Google results.
The topic cluster model says that you should organize your website in a way that you have quality content for all the main topics related to your business, products, or services, and hyperlink them to each other.
In other words, you should choose the general topics you aim to rank for, publish content for all the relevant keywords, and then link them to one another.
Topic clusters are the subtopics you include in your pillar page related to your main topic.
Each of these subtopics can be published as blog posts or other content types, and all of them are linked back to your pillar page.
Topic clusters help you rank on Google and make it easier for people to find information on your website.
By following this approach, Google notices the main intent faster and builds authority around it for you.
With all the three components in place, here's how the pillar content, hyperlinks, and cluster content will look like:
Therefore, a pillar page consists of different aspects of the topic on one page and has hyperlinks to other blog posts and pages.
It covers a particular topic broadly, whereas a cluster content is focused on one of the keywords related to that topic.
For example, you might have a pillar page about website hosting, and multiple pieces of cluster content about WordPress hosting, shared hosting, and VPS hosting.
A pillar page is undoubtedly longer than an average blog post since it includes all the different aspects of your general topic.
The in-depth details are revealed in cluster content pages where there's more room for sharing ideas and information.
What Are The Advantages of Having a Pillar Page?
We can consider the advantages of pillar pages in two ways:
First, you make your content organized and easier to access for the website visitors.
Your audience can browse your posts and multimedia content much easier than when you publish content in the traditional approach.
Second, the search engine crawlers will scan your content better, giving your better rankings on SERPs.
The better Google can find out what your online presence is about, the higher the ranks it gives to you.
When you publish multiple pieces of content about marketing on Instagram, Facebook, and LinkedIn, and link them all back to one pillar page focused on social media marketing, Google knows exactly what you've written about.
Hubspot describes the difference between the traditional approach and having a pillar page in this way: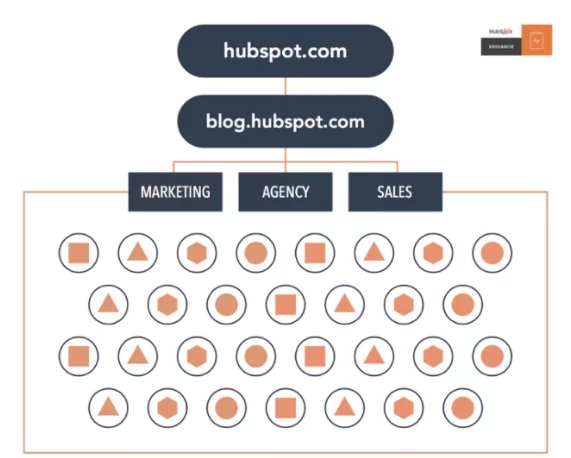 The picture depicts how your content pieces look like when you use the old playbook.
As you see, you cover various topics related to your activities but they're not put into sections.
In this case, no matter how engaging your pieces of content are, you haven't perfectly organized them.
Unlike the graphic above, your content appears as follows with a pillar page strategy: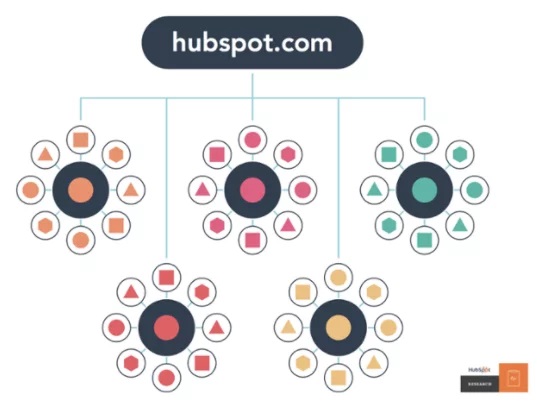 As you see, everything is more organized in this scenario.
The relevant posts are linked to each other, helping you to achieve higher Google ranks for more pages.
Plus, your blog readers and customers will also find the information they need quickly and can relate to what you share better.
On the other hand, choosing this approach will automatically improve the quality of the content you publish, too.
When you decide to cover a topic comprehensively, you perform in-depth research and find the shortcomings and gaps.
The result is a remarkable improvement in content quality that might not be achieved in other ways.
Better collaboration between your team members is the other advantage of going after this content marketing method.
When you look for related topics for content pieces, you'll probably come up with new ideas you hadn't thought about in the first place.
This provides your content team with a roadmap to know what's best to do at the moment and what can be postponed to some other time in the future.
Working with topic clusters allows you to create content faster because you break out the topics into smaller content pieces and can arrange more effective schedules.
It means you'll benefit from a faster process of content creation.
Furthermore, publishing a series of content that covers relevant topics lets your audience find whatever they need on your website instead of visiting multiple ones.
Let's consider the social media marketing example again.
If someone's interested to know how to succeed on social media, they tend to read as much content in this field as possible.
They want to know about the best practices on Instagram, the essentials of LinkedIn marketing, or maybe how they can leverage Facebook ads.
A comprehensive pillar page will deliver them all the information they're seeking without searching for them on Google and opening another website.
Overall, either you want to make your website optimized for people or machines, having pillar pages will give you the best of both worlds.
Now that you know the basics of these concepts, let's see how you can create a pillar page on your own.
How to Create the Best Pillar Page for Your Site?
There are multiple strategies to use to build a pillar page.
Here's a list of the most important steps to follow:
Decide on Your Core Topic
The foremost important step is to define the topic area you want to cover on your pillar page.
The core topic you choose needs to be specific to your industry while covering the educational aspects of your products or services.
Choose a broad topic you can easily break down into smaller subtopics.
The following four questions are useful to think up excellent topics:
What are the main services you provide?
What products do you sell?
What problems do you solve for your audience?
What new opportunities can you make for people?
What's your specific industry and niche?
What additional values do you offer from your competitors?
What new changes are happening in your industry?
What are the emerging trends that can change the market?
What new information can you offer based on the industry changes that bring in leads?
To find more topics, get help from your team members.
For example, ask the sales team about the most common questions they answer every day.
It's also a good idea to ask your top clients why they keep working with you.
This question will give you a clearer idea for sharing content in which you want to discuss how you differentiate yourself from other companies.
For the social media marketing example, compile a list of all the questions your readers might have when they search on the internet for their needs.
When choosing your topics, make sure they're neither too broad nor too narrow.
Don't forget that a pillar page is not something in which you aim to rank for long-tail keywords or provide in-depth descriptions of a specific topic.
Instead, it's a page that discusses different aspects of a more general topic.
Define Your Subtopics
Once you know what your pillar page is going to be created about, it's time to identify the topics of cluster content.
For this purpose, you can use online tools such as Ubersuggest to find relevant keywords with a high search volume.
Then, try to find as many potential subtopics as you can surrounding your topic and the keywords.
You should try to concentrate your blog posts on the keywords that best fit your marketing goals and user requirements.
Another good resource is the Google search bar.
Type in your keywords and see what it suggests.
Also, check out the questions that appear near the bottom of the page and do your best to provide answers to them since they show exactly what your potential customers look for on the internet.
The buyer personas are great assets to find both core topics and subtopics.
Focus on the challenges or difficulties your audiences face and the information they need as solutions to them.
Your pillar page can be much more effective if you offer the best relevant information to those pain points.
As a rule of thumb, make sure your subtopics are specific and highly relevant to your main topic that answers different questions about it.
They can be presented either as blog posts, infographics, videos, podcasts, or ebooks.
Examples of Subtopics for Social Media Marketing
Tips to successful Instagram marketing
How to use Facebook ads to attract local customers?
What is the best social media platform for your business?
How to write engaging Instagram captions?
What do you need to prepare the best social media content calendar?
Influencer marketing and its advantages
Include all the strong and relevant content you currently have on your website on your pillar page and develop new practical pieces you currently miss.
Write Your Pillar Page and Edit the Text
After brainstorming the topics and subtopics you want to cover, you should start writing the first draft of your pillar page.
Since this page is way longer than regular blog posts, it's vital to organize it in a way that makes it easy for your audience to scan and find what they need without any hassle.
You can start with an introduction to give an overview of what you're going to offer to your visitors.
Then, write your subtopics one by one, focusing on the users' questions and needs.
Make the descriptions as useful as possible.
You should have at least 20 links on the pillar page, each of which with a link back to this page.
Plus, you can include external links to important resources like industry leaders for additional credibility.
Write your pillar page with high-quality content and make it long enough to cover all the topics comprehensively.
Ideally, the total number of words on this page should fall somewhere between 2000 and 5000.
Once you're done writing the first draft, revise and edit the text to make it flawless.
Asking a professional content editor will help a lot to make the page educational and exciting for all of your website visitors.
Design the Page and Publish
With the content ready, the next step is to build the page.
Experts suggest matching this page with the logical framework of the buyer's journey.
It consists of awareness, consideration, and decision stages that come one after another.
In the awareness stage, you should address all the questions your prospects might have in mind.
Subtopics will come in the consideration stage where your visitors should find out about the benefits they can achieve.
Finally, you should put your products and services front as the solutions to their problems.
In all the steps you take, focus on providing value to people.
You don't want to appear as a salesperson to them rather than someone who has a valuable solution to offer.
Make your pillar page accessible for everyone without making them purchase anything or fill out a form for gaining access.
If there are any necessary contact forms or calls to action, such as downloading a file, implement them in a user-friendly approach.
To make it scannable and easy to follow, your page should have the following elements for sure:
A table of content with anchor links that allow users to jump to the section they need.
Logical use of headings and title tags (H1, H2, H3).
Links to important pages on your site or other credible external resources.
Buttons for returning to the top of the page. It saves people time since they won't have to scroll back all the way up.
Appealing visual elements and images that support your ideas and engage people.
The necessary contact forms and calls to action.
When you're done designing your pillar page, publish it on your site and increase user awareness about it by sharing the page on social media platforms, email campaigns, newsletters, etc.
Then, monitor the traffic to your site and make any necessary adjustments your pages require.
The Final Takeaway
You now know the ins and outs of an appropriate pillar page and why it's important for a website.
In simple words, a pillar page is a long content used as the pillar of other content pieces with multiple links to them.
These pages are great assets to increase visibility on the internet and bring more eyeballs to your products and services.
However, always keep in mind to avoid sacrificing users' experience when trying to reinforce your SEO best practices.
After all, you're trying to satisfy human beings, not robots.
Invest some time into preparing these pages and enjoy the great improvements in your Google rankings and lead generations.
That's when you realize the true value of a well-organized pillar page!
Recommended Posts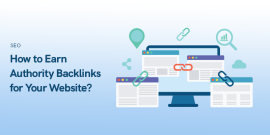 November 29, 2023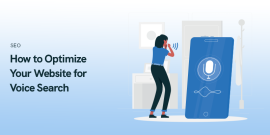 November 14, 2023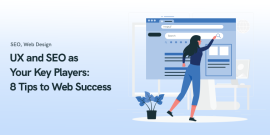 October 24, 2023