---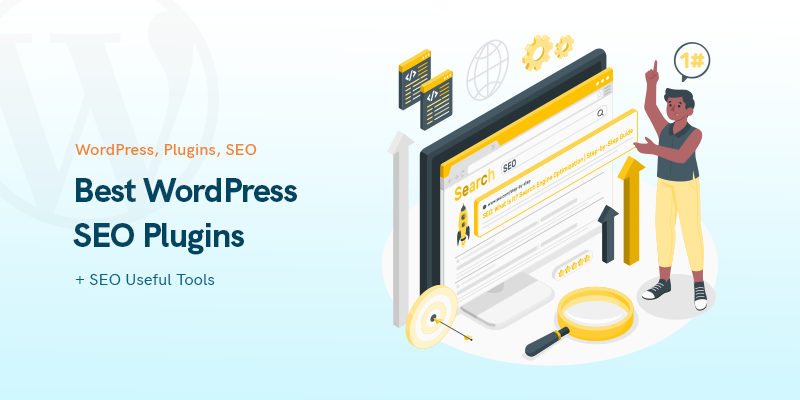 13 Best WordPress SEO Plugins in 2023 + SEO Useful Tools
No digital marketing strategy is complete without SEO.
Optimizing your presence on the web is now a necessity for every website owner.
Search engines, especially Google, are the most prominent source of website traffic for online businesses.
Therefore, optimizing your content and pages leaves a significant impact on your business growth.
Depending on the main keywords, the number and size of the images you choose, the overall readability of your content, and even your hosting plan, your Google rankings can differ radically.
Although it seems to be a headache to optimize all website pages and content pieces to rank on Google, it's not that difficult.
Luckily, thanks to the WordPress SEO plugins, you can improve where your website ends up in search results without much technical knowledge.
You can find some of the best tools in the market from the list below and take a significant step towards better visibility on the internet.
Take a look at the following article if you are looking for the best WordPress plugins: Best WordPress Plugins You Must Have on Your Website
So if you've been asking yourself what to choose from so many WordPress SEO plugins around, here's the hand-picked list of the top ones to consider.
Quick Look at WordPress Best SEO Plugins
| Plugin | Price | Rating | Free Version |
| --- | --- | --- | --- |
| Yoast SEO | $89/year | 4.8/5 | Available |
| All-in-One SEO | $99/year | 4.5/5 | Available |
| Rank Math | $59/year | 4.9/5 | Available |
| MonsterInsights | $99.5/year | 4.6/5 | Available |
| SEMrush SEO | $119.95/month | 3.1/5 | Available |
| Ahrefs | $99/month | 3.6/5 | Available |
| SEO 2021 by Squirrly | $29.99/month | 4.6/5 | Available |
| SEOPress | $39/year | 4.9/5 | Available |
| Premium SEO Pack | $44/lifetime | 4.6/5 | Available |
| WP Rocket | $49/year | Paid Only | Not Available |
| Accuranker | $109/month | Paid Only | Not Available |
| Schema Pro | $79/year | Paid Only | Not Available |
| Redirection | Free | 4.3/5 | Available |
Why Should You Use WordPress SEO Plugins?
Before diving into the list of plugins, let's get more detailed about how these tools benefit you.
First of all, you can't improve your Google rankings well if you don't have high-quality and valuable content on your site.
No matter what tools you use and how much time you spend to get people to your pages, they won't stay long if they don't see the information they're looking for.
So before taking any important steps in this regard, make sure you've put enough focus on providing content that adds value.
With helpful content and solutions on your site, you need to get organic traffic to your site.
Statistics show that around 75% of online users don't go past the first page of Google when they search for something.
So it's imperative to appear on the first page of SERPs if you don't want to lose this incredible potential of driving conversions.
Using a reliable plugin provides details about the backlinks you use, your current rankings, and the valuable tactics you can apply on your site to boost visibility on SERPs.
You can also perform various audits and fix whatever broken link you may have on your site that negatively impacts your SEO.
WordPress SEO plugins relieve you of some of the tasks you should take upon yourself by automation.
These tools will offer the chance to shift focus from repetitive tasks to more important ones such as team collaborations, marketing plans, and business success.
Therefore, you can implement more effective strategies and increase productivity to produce the desired results.
Lastly, don't get caught up in all the tools and products you see on this list.
You can easily reach the point of overwhelming, given that you get excessively involved in what option to use.
We have tried to give you a general overview of these WordPress SEO plugins and help you understand what advantages you gain by using them.
Just pick the one you find more effective for your website and start optimizations right away.
Successful implementation of proven SEO software tools will help any business. Netpeak Software is created to help a company engaged in absolutely any business sphere to find shortcomings on their website and improve problem areas.
Said toolkit has received many awards, which indicate its effectiveness in the field of search marketing. Hundreds of thousands of users from all around the world prove that Netpeak's toolkit is worth using. Any site needs constant effort to become better, and your competitors won't just stop improving their services and marketing strategies.
Best WordPress SEO Plugins
With that in mind, let's go through our list of the 14 WordPress SEO plugins and tools that come in pretty handy to increase traffic.
Yoast SEO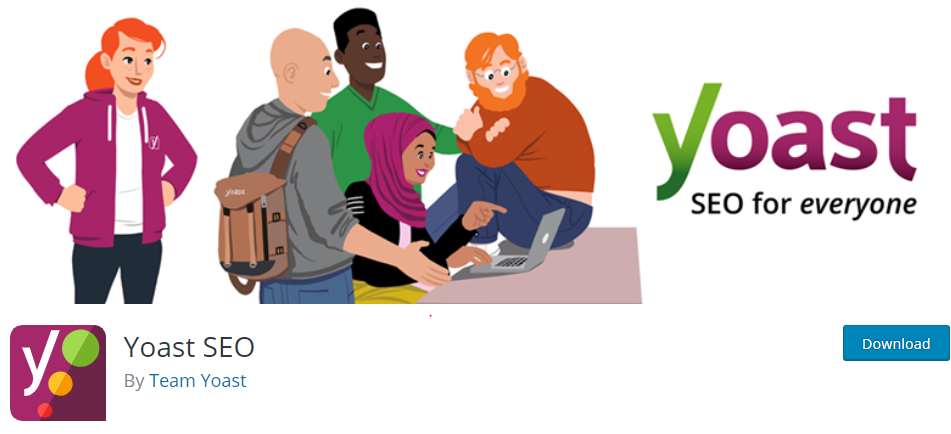 Yoast SEO is the most downloaded WordPress SEO plugin that has helped thousands of people overcome the hurdles of website optimizations for search engines.
The free version has more than five million active installations with above 25,000 5-star ratings.
The easy-to-use interface, impressive features, regular updates, and user-friendly options have made this plugin the go-to solution for many WordPress website owners across the globe.
Yoast stands out in the competition between both free and paid SEO solutions.
Even if you use the free versions, you can easily tackle breadcrumbs, titles, meta descriptions, readability issues, XML sitemaps, and page previews on Google.
The premium version of this industry favorite allows you to take further steps with your optimizations, such as using more than one keyword and synonyms, internal linking suggestions, and content insights.
Above all, if you need more in-depth features, you can take advantage of various extensions like WooCommerce SEO and News SEO offered separately on the developer's website.
The fee-based plans start from $89.
Each subscription is limited to one website and comes with a year of full support and free updates.
All-in-One SEO (AIOSEO)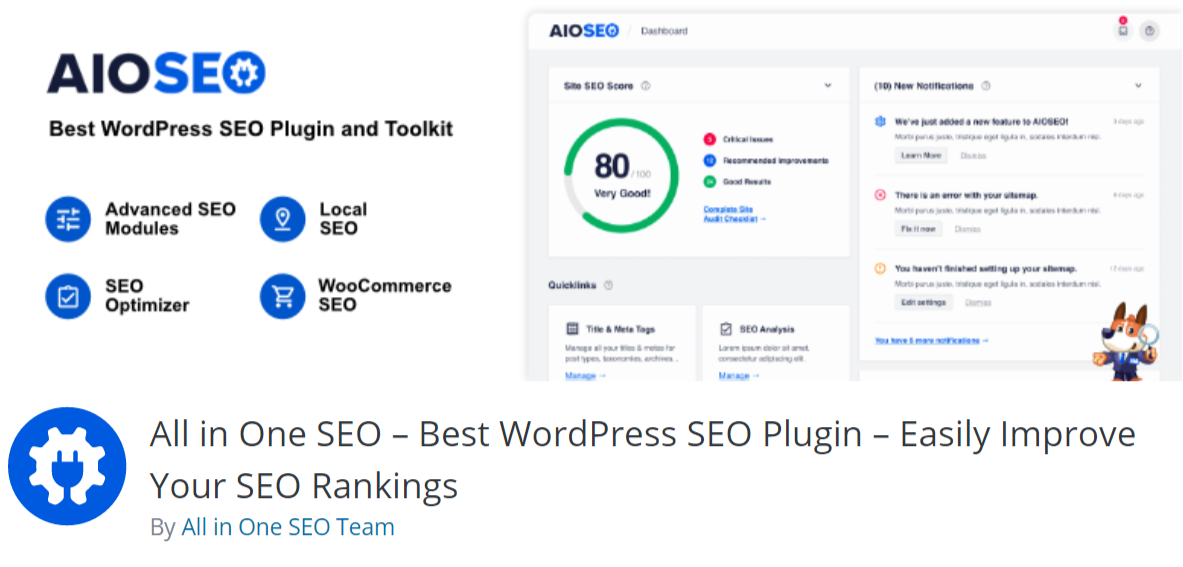 The All-in-One SEO plugin is a smart choice if you're looking for a powerful and beginner-friendly plugin.
Millions of people with no SEO experience use this tool worldwide to see their pages rank on Google.
One of the main perks of All-in-One SEO is its remarkable ease of use for those who don't know how to optimize their content.
All it takes to start optimizations is to download the plugin and proceed with the setup wizard.
The plugin will then monitor your website constantly to show recommendations for fine-tuning your posts and pages.
It categorizes the results of analysis into critical issues, recommended improvements, and good results.
You'll quickly maximize your chances of online visibility by following the outlined checklist.
The free version of this plugin has over two million active installations.
It comes loaded with plenty of useful features, including basic schema markups, bad bot blocker, XML sitemaps, and basic WooCommerce SEO.
Purchasing a premium license will unlock many features such as local SEO, on-page SEO, integrations with social media, video SEO, and Google AMP SEO.
The packages start from $49.50 a year for one website with advanced selective options.
However, the complete package of advanced options is available in their Pro plan, which costs $199.50 a year.
Rank Math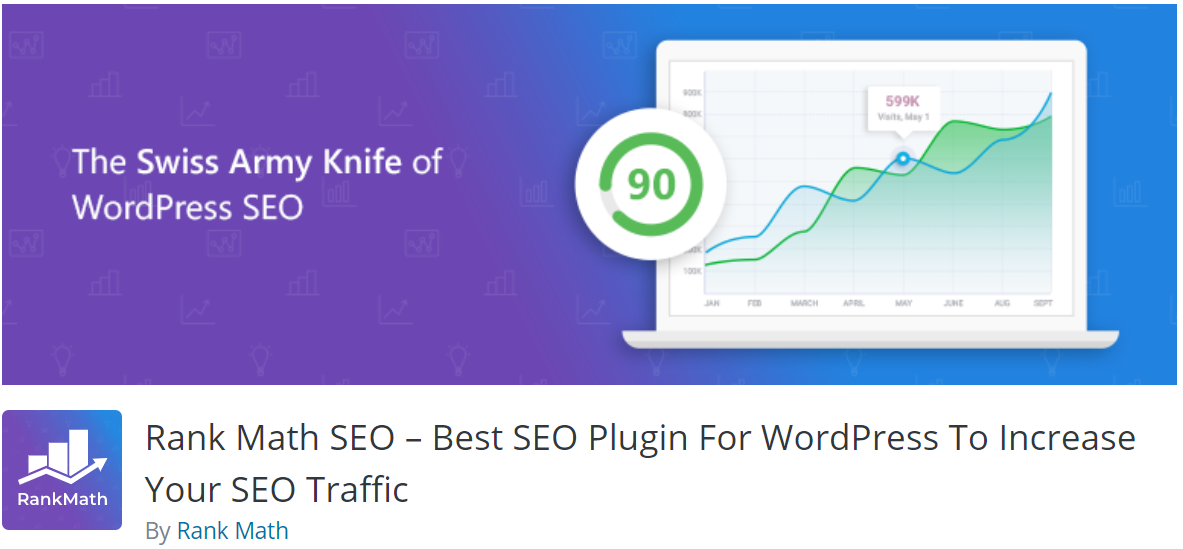 If you work on content as a one-person team, look no further than Rank Math.
It's one of the fastest WordPress SEO plugins that provides you with real-time insights about the content you publish within the WordPress interface.
Using Rank Math, you'll get complete control of on-page SEO practices through an easy-to-manage WordPress plugin.
It integrates very well with Google Search Console and displays all the information you need inside your admin panel.
You can use it to quickly find out about your total search impressions, keywords, and potential errors.
It comes equipped with a 404 monitor and lets you redirect them to other useful pages on your site.
Support of rich snippets, XML sitemaps, recommendations for internal link building, and automated image SEO are some of the other advantages of this practical tool.
Compared to other WordPress SEO plugins such as Yoast, Rank Math is a relatively new product in the market.
But it has gained great success over the past years.
The free version now has more than 800,000 active installations with 300+ 5-star ratings.
Its premium plans also come with more generous options than some other products.
Starting from $59 per year, you can use your purchased license on any personal websites you need.
MonsterInsights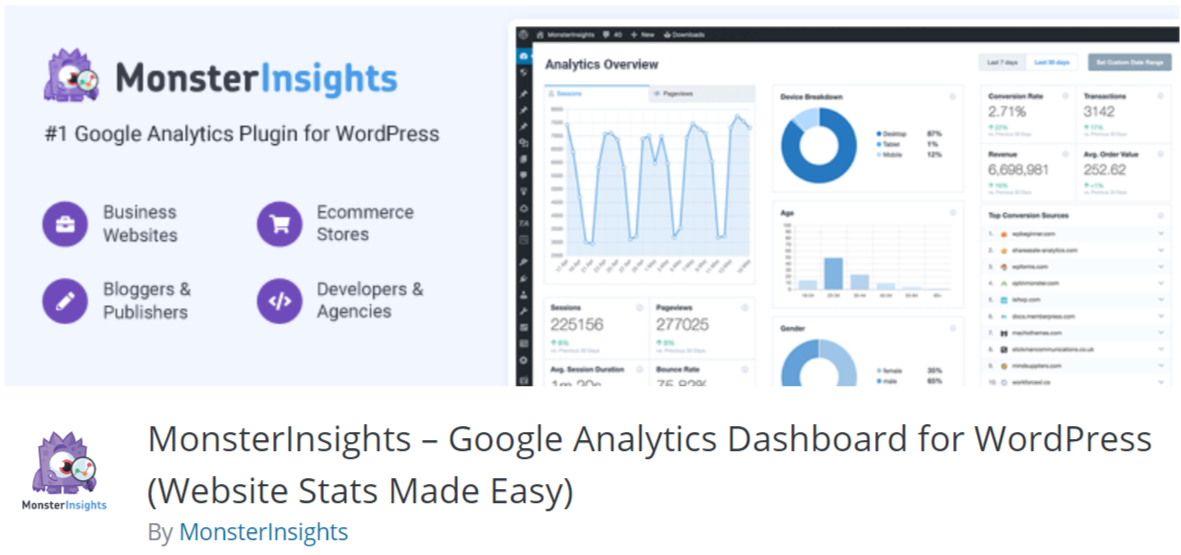 No SEO is effective without tracking your performance.
MonsterInsights is the best tool if you want to enjoy the full potential of Google Analytics on your WordPress website.
The plugin provides you with in-depth insights without adding the tracking script of Google Analytics to your website manually.
The plugin generates detailed reports that show your best-performing content, the location of your website visitors, what people do when they enter your website, and so on.
Given that you have an online store, you can easily track your products' SEO to find your popular products and improve what dissatisfies your customers.
So if you've ever found the Google Analytics interface complicated, MonsterInsights provides you with a streamlined approach to track your data and find the shortcomings.
Practical reports of mobile traffic, tracking your top outbound links on your pages, and analyzing the top keywords on your website are some of the other valuable features available in this product.
The free version of MonsterInsights, with more than three million active installations, is an excellent way of seeing website stats easily.
However, you can unlock tons of additional professional features in the premium plan, starting from $99.50 a year for one site.
SEMrush SEO Writing Assistant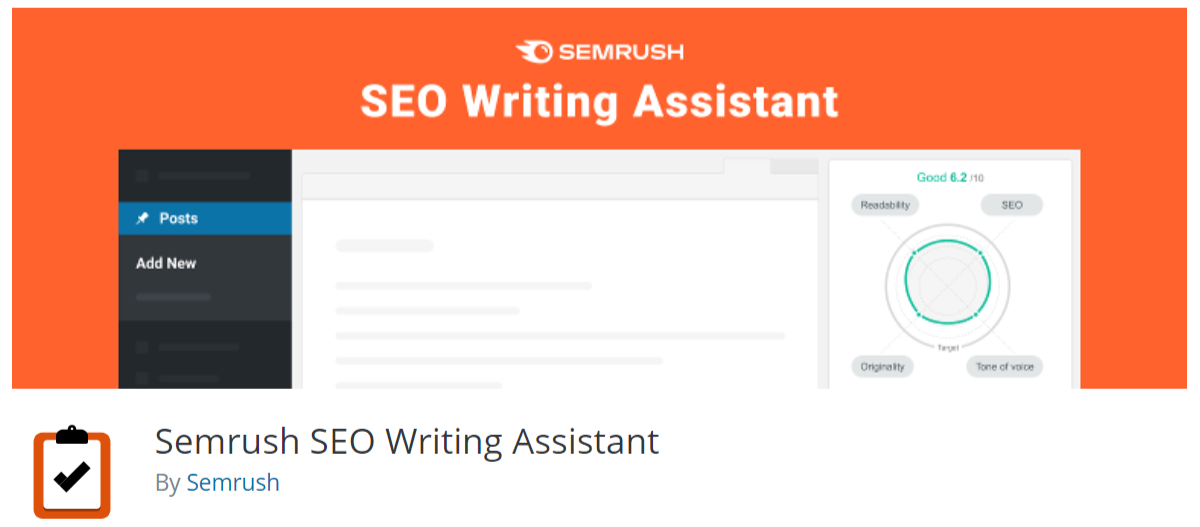 SEMrush SEO Writing Assistant is not only a writing assistant for WordPress but also a practical SEO tool that gives clues about your competitors' advantages over you and the areas in which you need improvements.
Many professional digital marketers and bloggers around the world use this Semrush plugin to grow traffic.
It allows you to find which keywords your rivals are ranking for and focus on achieving better positions on SERPs.
You can benefit from the Writing Assistant tool to check your content for your main keywords in real-time and produce better content.
Therefore, if SEO writing matters to you, it's the best online assistant for high-quality articles.
The analytic section is one of the most powerful sections of this plugin that does you a great job comparing organic and paid traffic.
Furthermore, you can strategically use Google Ads and push more people to your website with the ad strategy analysis.
For basic functionalities, you can start using this plugin for free.
Otherwise, you can go for fee-based plans with a lot more features starting from $119.95 a month.
Ahrefs SEO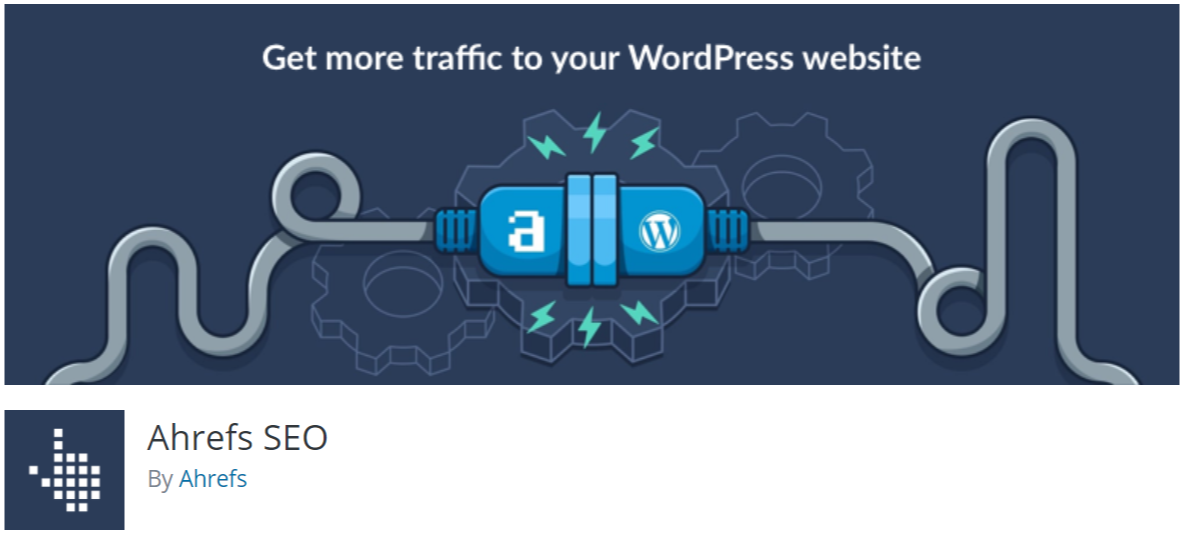 Ahrefs is one of the most popular names in the SEO world.
Ahrefs SEO plugin is the all-including solution of this team for WordPress website owners who need a lightweight plugin to improve their Google rankings.
This tool gives you complete insights into how your pages and content perform on the web.
For example, you can see the total traffic of your product pages, the percentage of organic traffic, and the total number of backlinks.
If you require improvements in any areas, you can head over to the recommended actions by the plugin and apply them wherever necessary.
Once you install the Ahrefs plugin, you see several charts, tickers, and graphs that help you stay informed about all the details in a user-friendly approach.
Moreover, you can find out how many people interact with your content on social media and improve your activities.
If you're a beginner user, the free version is really useful since you can use it for auditing your content at no cost.
Otherwise, professional users can pay for a premium license and take advantage of advanced features to picture what your competitors do to achieve ranks.
As you may know, Ahrefs has the most extensive online index of backlinks, and the paid plans allow you to benefit from the best backlink analysis to produce the best content.
Paid Ahrefs subscriptions are available from $99 for a single user.
SEO Plugin by Squirrly SEO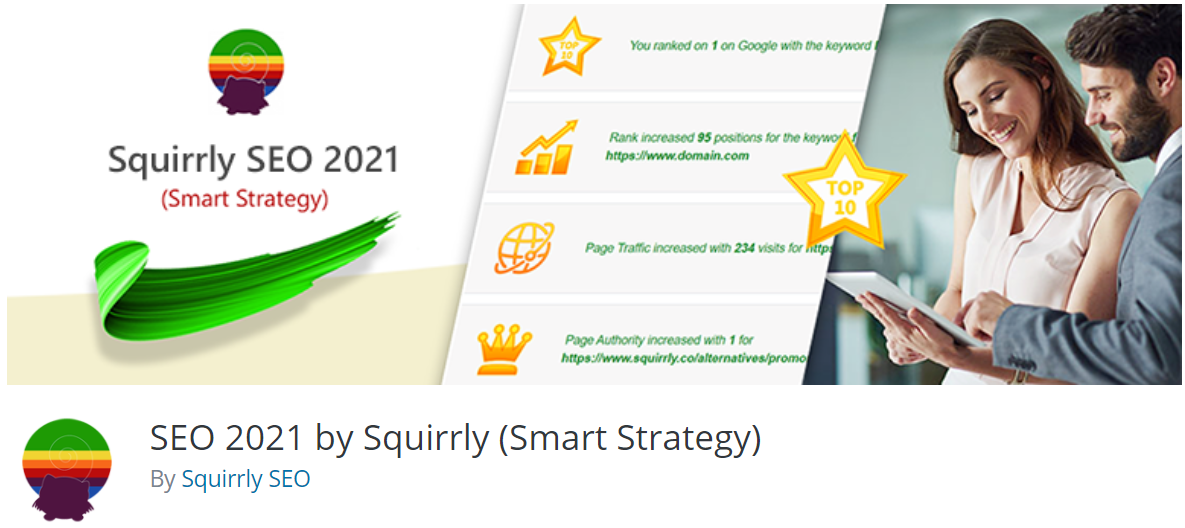 Squirrly SEO helps you optimize your content with more than 200 useful features.
It offers all you expect from an SEO suite without any complications.
It checks your writing in real-time and activates a green light for every improvement you make.
The plugin functions based on the data it has collected from machine learning over the years.
It audits your website in various ways, including the web authority, total number of backlinks, and keyword utilization.
The main idea behind the functionality of this plugin is to achieve substantial positive results while doing fewer activities for SEO practices.
If you currently use another SEO plugin and want to replace it with Squirrly, you won't lose any personalization or settings you've made thus far.
Plus, you can use this tool to send detailed reports about your content pieces to other people in your team or organization.
For example, you might need to let your writer know more about SEO to write more SEO-friendly articles.
Similar to the previous products, you can either use the free version for basic functionalities or buy a premium license for the whole package of features.
Premium plans are available from $20.99 a month, and you can use the cheapest plan on up to seven websites.
SEOPress – On-site SEO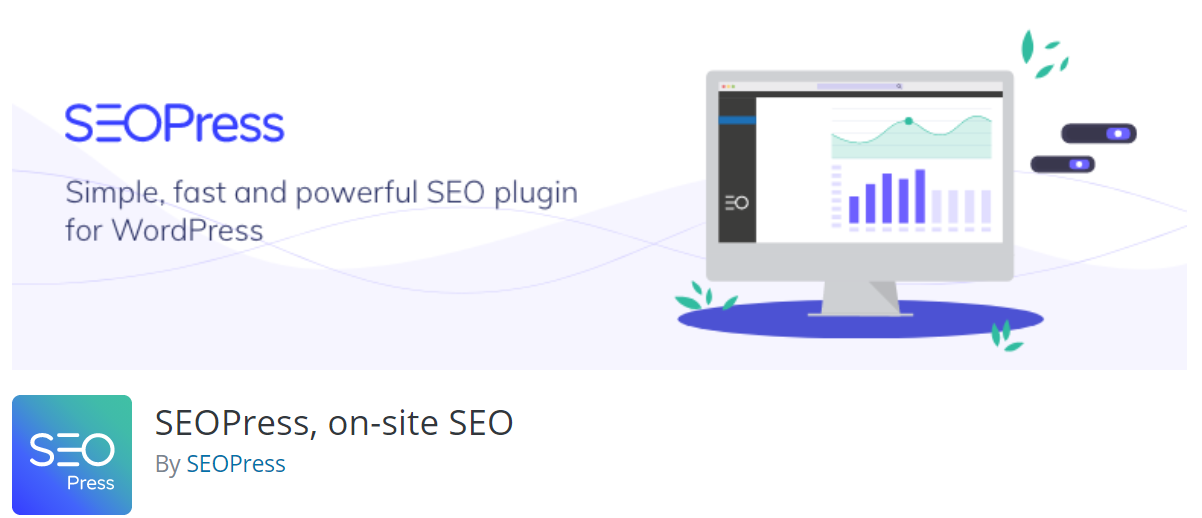 SEOPress is among the WordPress SEO plugins that combine simplicity with power.
This freemium product is completely white-labeled, whether you use the free version or the paid plans.
It comes in 17 languages with plenty of in-depth features for the best outcomes.
Using SEOPress, you can manage your titles, breadcrumbs, XML sitemaps, meta descriptions, redirects, and align them for the best possible results.
The simplified setup process is very handy, especially for beginner users.
Plus, you can write better articles for SEO using the content analysis feature of the free version.
If you own a large website and want to keep it at its peak performance, SEOPress would probably be a perfect choice.
You can improve your online presence with various useful options using the free version of SEOPress.
However, upgrading to the PRO plan will unlock a fuller scope of items.
To mention a few, you can benefit from video SEO, professional WooCommerce integration, 404 monitoring, schemas, local SEO, and broken link checker features.
At fair pricing of $39, you can grab a premium license of this plugin and make further improvements on your site without asking for help from web development experts.
Premium SEO Pack
Premium SEO Pack, as the name suggests, is a premium solution for website optimizations that offers several advanced features you can't find in any other product.
Aside from the standard SEO features such as sitemaps and Google Analytics monitoring, it unlocks additional unique options for better results.
It allows you to monitor page speed, link buildings, 404 errors, and rich snippets that take your optimizations one step higher.
Analysis and recommendations of your pages, analysis of primary keywords, video sitemap, custom permalinks, and mass optimizations are some of the other features you can find in this tool.
It makes visual elements and CSS codes a priority for optimizations, helping creatives with online portfolios improve their appearance and performance at the same time.
You can start using the free version of this plugin today and boost your rankings at no cost.
Else, you can buy a premium license at $44 for further options.
The Premium SEO Pack's price tag is higher than some other products, but the customizability options are worth the price.
WP Rocket (Premium Only)
Another crucial factor for success in search rankings is the site's performance speed.
Nobody likes slow sites, neither people nor Google crawlers.
You can quickly lose your potential customers if you keep them waiting for a few seconds before your content appears.
So it's vital to constantly monitor your loading speed to avoid negative effects on your rankings.
Caching has long been the best solution for improving website speed, and WP Rocket is the most professional caching tool for WordPress.
Once you activate this tool, it automatically checks media, databases, and files to make the necessary adjustments wherever needed.
So whether you have already installed other WordPress SEO plugins or not, make sure to have this tool on your website, too.
It runs in full compatibility with other plugins without any conflicts.
WP Rocket doesn't have any free plans, and you need to purchase a premium license to avoid leaving your audience in the lurch.
Plans start from $49 for one website, and all of them have the same feature set.
So the only thing that matters is the number of websites you own.
There's no risk in using WP Rocket since you can ask for refunds within 14 days if you feel unsatisfied with your purchase.
Accuranker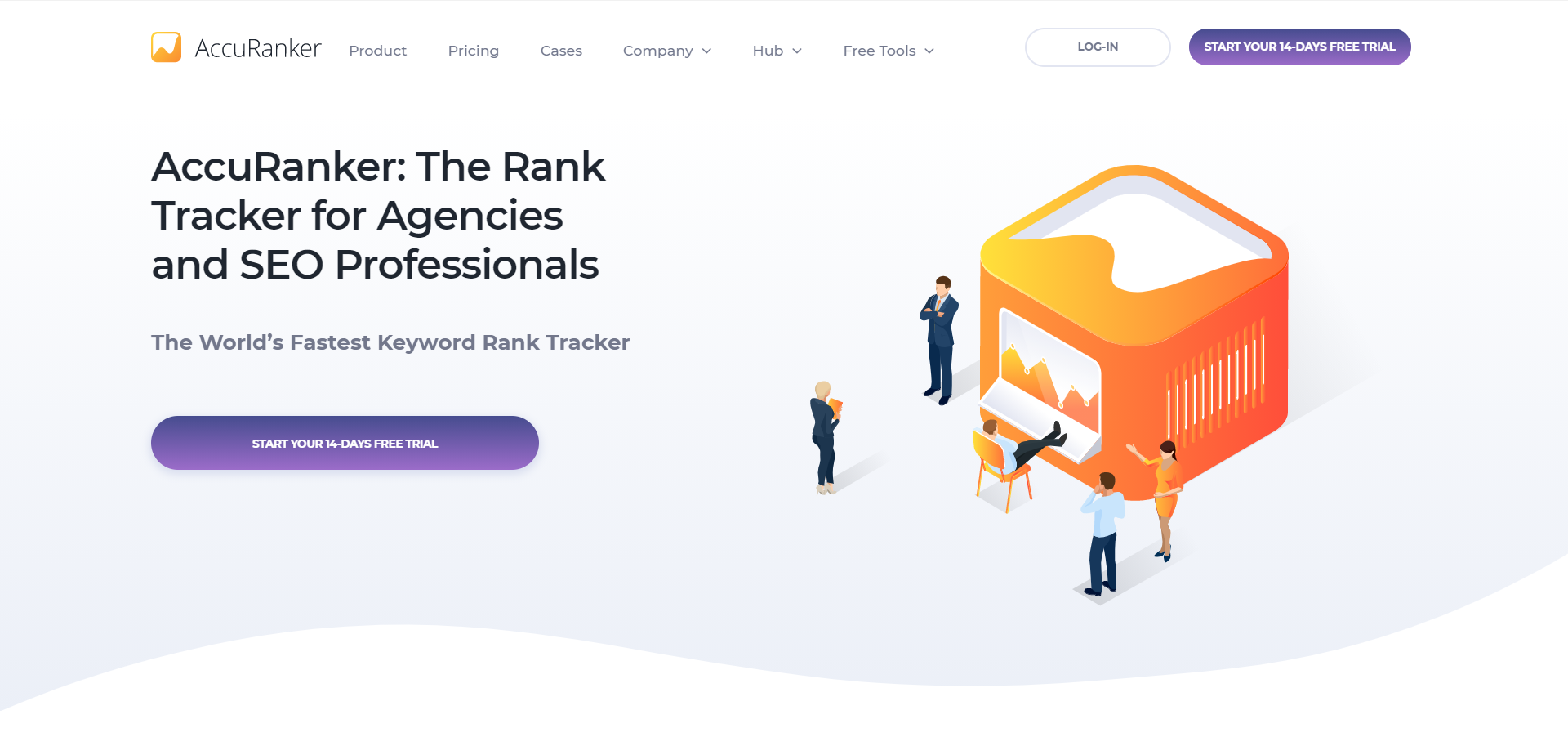 Keyword research, link building, and content writing are all essential to secure top rankings on SERPs, but you can't stay there if you don't track your data.
If you're looking for WordPress SEO plugins that deliver valuable data to you for your SEO decisions, Accuranker will help you with this goal in the best way.
It provides you with all the insights you need to modify pages and track focus keywords without the need for other tools.
Analyzing your positions with Accuranker allows you to find your best content pieces, successful keywords, and the opportunities you can use for improvements.
The plugin's dashboard views rankings of your keywords on Google at a glance and generates reports about your performance on SERPs to share with other team members who may not have access to your WordPress admin panel.
By default, the plugin tracks keywords every day, but you can also manually refresh the reports whenever you need them.
If you focus on local businesses in a specific area, you can easily track them with Accuranker based on their zip code, state, and city.
Furthermore, you can analyze how you perform on desktop and mobile devices individually and get rankings for them.
Accuranker is a premium product and doesn't offer any free version.
Prices vary based on the number of keywords you need.
The plan with 1,000 keywords is available at $109 per month.
Schema Pro
One of the best ways to attract users from SERPs and boost the click-through rate is by optimizing your rich snippets.
These visual search elements display price, star ratings, and other useful details to people, helping you win more website traffic.
They're primarily used for product pages and blog post reviews to reveal more information to people who see your pages on Google results.
Schema Pro is a product of Brainstorm Force, the developer team behind the well-known Astra theme.
It's a workable tool that lets you implement various schema codes like Events, Articles, Products, People, Services, Books, Courses, and Reviews on your pages without any web development knowledge.
For example, if you have a food recipe website, this plugin will display the food photos, the number of reviews it has, cook times, and the star ratings prior to opening your page.
This is a great advantage to entice people to click on your post rather than opening a competitor's website.
On the other hand, you can share your content on social media platforms such as Facebook much more manageable because each of your posts has already compiled the proper details.
If you currently use another SEO plugin and want to take full advantage of schema snippets, there's no need to migrate to this plugin.
It integrates with other tools seamlessly, and you map the relevant data to the fields on Schema Pro.
Schema Pro is a premium product, and you can use its complete set of advanced features by paying $63.
It's 100% ACF compatible and offers advanced types of schema, article guidelines, and live schema testing.
Yet, if you're on the budget, the company has got your back.
They have another free version of their tool called the All in One Schema Rich Snippets plugin.
It has more than 80,000 active installations and gets the job done for basic features every website owner might need for their pages.
Redirection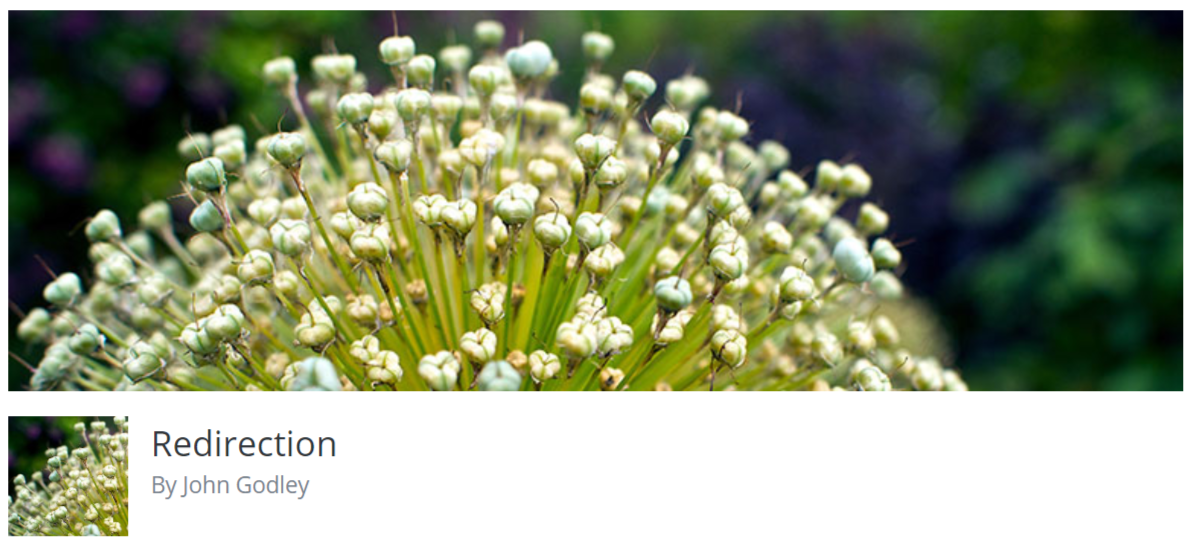 There are times when you delete a page on your site because you don't need it anymore.
Consider that you've gained good Google rankings for your page, there are plenty of valuable backlinks to it, and your content appears on the first page of SERPs.
In this scenario, you're required to implement a 301 redirect to inform Google that it should look at another page.
The 301 redirects are essential elements for any website, so does the Redirection plugin.
This free tool has more than 2 million active installations and has helped millions of WordPress website owners manage their redirects in the most straightforward approach.
Activating this plugin on your site will let you fix 404 errors and avoid losing ranks for broken links.
This tool is exceptionally practical for teams who decide to go through a website redesign process without ruining the site's reputation on the web.
What Are the Most Useful SEO Tools?
Some of the most popular and useful SEO tools:
SEOquake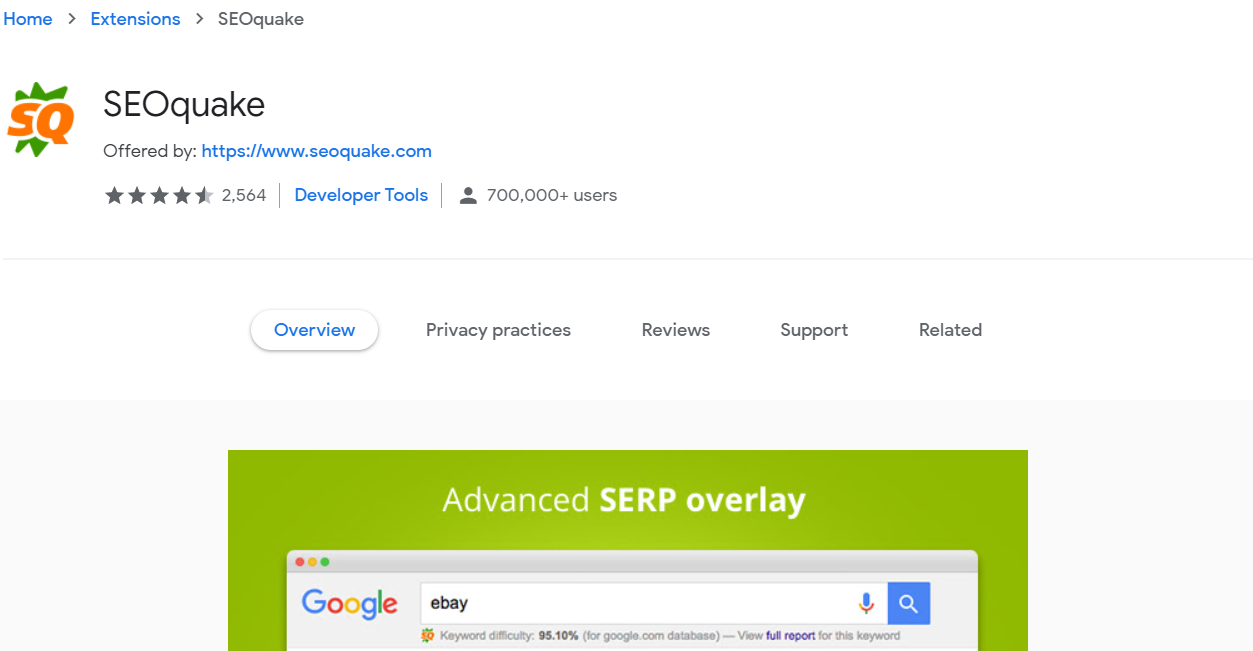 SEOquake is different from the other products since it does most of the work through a Google Chrome extension.
The browse extension is also available for Mozilla Firefox, Safari, and Opera.
Therefore, you can always conduct on-page SEO audits for your pages and check out links without opening the dashboard.
From Alexa rank and page health to the update dates and age, SEOquake provides you with all the crucial parameters and details you need to achieve higher positions.
Additionally, it allows you to export whatever valuable information you gather into a single file to send to other colleagues or use in another program.
Even though it might not appear to be a competent tool for SEO because of being a simple browser extension, it contains impressive information to help your business grow on the web.
You can watch this video to learn about everything this extension offers.
Use SEOquake for free today and enjoy the SEO improvements through a lightweight tool.
Moz Explorer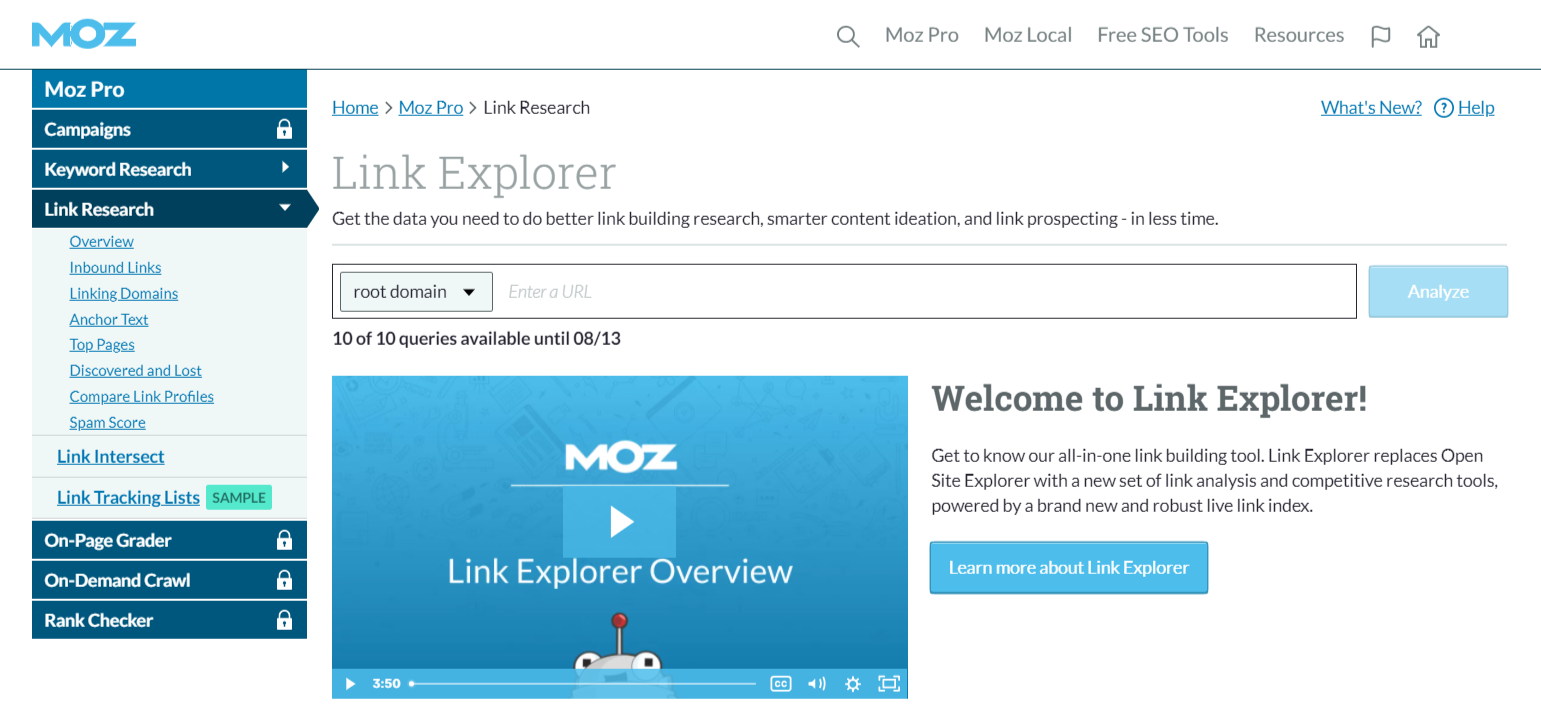 Moz is another famous name on the internet for those who are in any way involved in SEO.
Many experts now use this website to measure domain authority and find out about the power of a website.
Moz link explorer is a free tool by which you can see valuable data of your links.
Although the full details are available in the premium plan, the free version covers your essential needs at an acceptable level.
Analysis of inbound links, linking domains to the page, and top pages are some of the information you can gain when entering an address in this tool.
Starting at the monthly price of $99, you can unlock the advanced features of Moz that are highly impressive for web developers and experienced website owners.
Upgrading to a fee-based plan will also give you premium access to other Moz tools such as keyword explorer.
Moreover, they have a free Google Chrome extension to give you instant metrics of pages while viewing them on the internet.
Overall, the package of Moz SEO tools is more than you what you see in many other tools.
From offsite SEO and competitor analysis to keywords planning, there's never anything wrong with this fantastic tool.
Google Search Console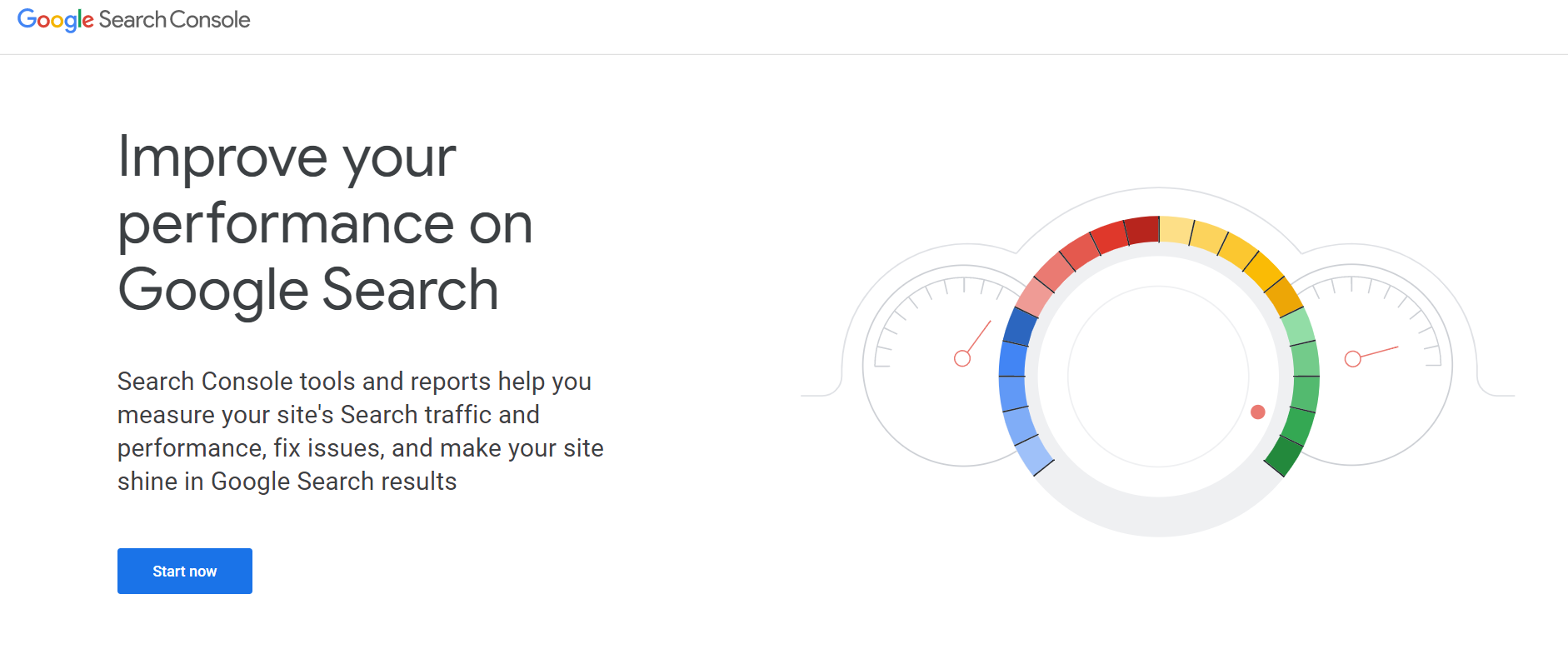 Google by far is the largest database of what people search for on the internet.
Google Search Console is the free solution of Google for website owners who want to monitor and improve their website's presence on the web.
It alerts you whenever the crawlers can't index your pages successfully and recommends possible solutions to fix the error.
You can use this tool to learn important insights about your rankings and get outstanding data about your content across the web.
To get the best possible outcomes, you can use it with MonsterInsights together and enjoy a massive increase in your placements on SERPs.
Google Search Console also displays your impressions, anchor texts, positions, and the keywords you're ranking for.
This data is beneficial to optimize your existing content and also find new ideas for engaging blog posts.
In addition, it lets you see how mobile-friendly your pages are and fix any spam issues you might have on your site.
Google Keyword Planner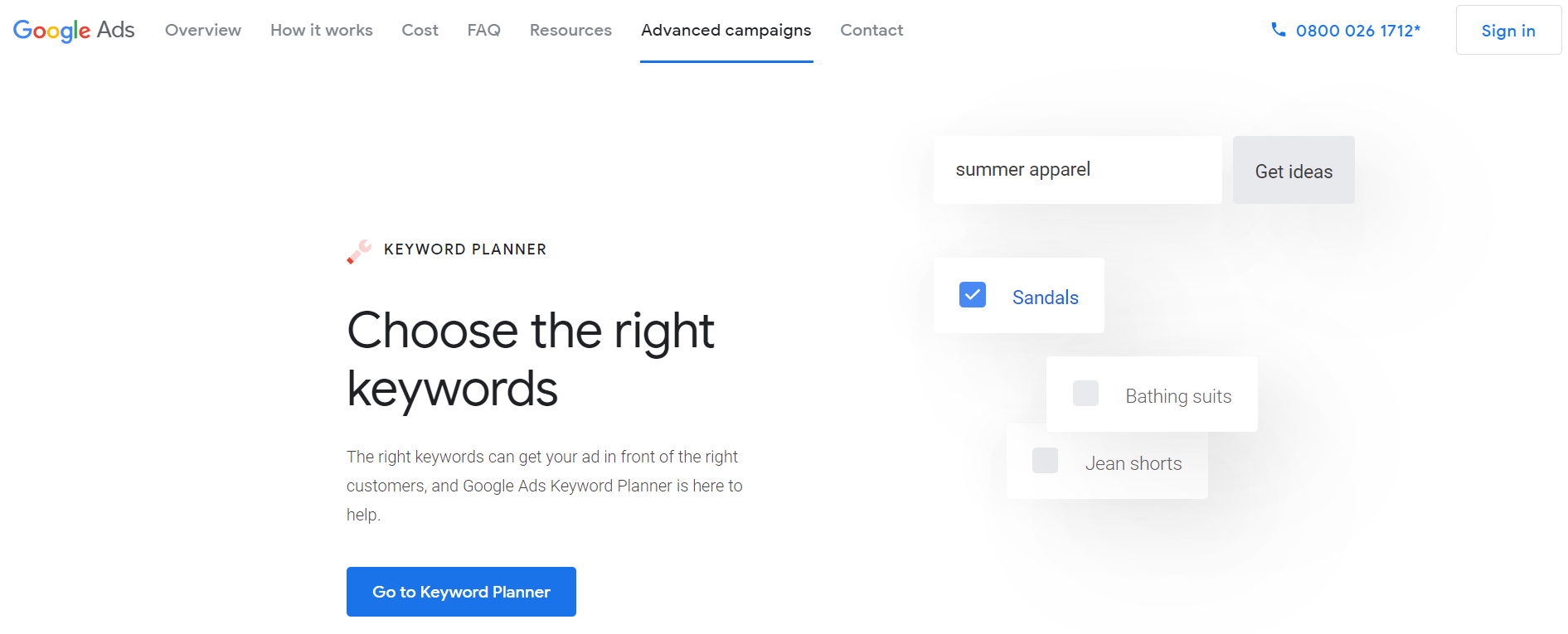 If you have no intention of paying for WordPress SEO plugins but need some useful ideas for your content marketing strategies, look at the free Google Keyword Planner tool.
Especially if you're running a small or local business, you'll find the hyper-local search volume tool extremely beneficial.
Having it in your arsenal will also allow you to target audiences based on their demographics.
The tool shows you an estimate of the search volumes, difficulty levels, and the number of results you can expect for your focus keywords.
To find the trending and most appropriate keywords for your business, you can pair them with Google Trends.
It's one of the best standalone products you can use since there's no need to integrate with other tools, and you're always sure that you receive data from the most prevalent search engine on the internet.
Sitechecker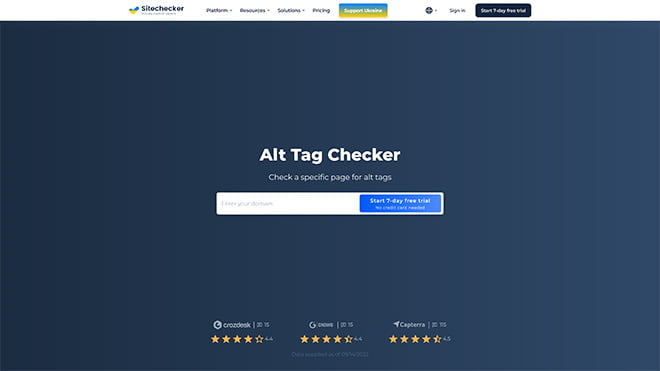 A multifunctional SEO platform that specializes in SEO analysis and site monitoring. The analysis tool will help you qualitatively analyze your site and find critical errors. To fix these errors, you'll get a step-by-step list of SEO tasks for your resource.
Website monitoring tool will allow you to see all the changes on your site 24/7. This tool is also great for monitoring your competitors' sites. You can find out more about the On-page SEO and content marketing tactics your competitors are using.
On the Sitechecker platform, you can find tools to fix any SEO problem. For example, one of the new tools of this platform is the Alt tag checker. This tool will allow you to check the alt and title tags for all images on a particular page.
Wrapping It Up
SEO might seem complicated if you don't have the right tools.
But thanks to the multitude of WordPress SEO plugins on the internet, you can improve rankings conveniently after spending some time to know the ropes.
Out list entailed 13 of the plugins and tools many people use at the moment for their websites.
To cut a long story short, here are our final recommendations for you:
Ahrefs: The best option to use as an all-in-one tool.
Yoast SEO: The best tool to optimize posts and pages individually.
Google Keyword Planner and Search Console: The most reliable services for budget-conscious website owners.
Rank Math: The most reliable all-in-one WordPress SEO plugin.
SEOPress: The best item for those looking for white-labeled plugins without ads.
Don't forget that WordPress SEO plugins are now.
Website optimizations take time.
But with the right tool at hand, you'll get one step closer to your marketing goals.
Pick the item that suits your needs the best from above and make your SEO efforts more effective today.
Recommended Posts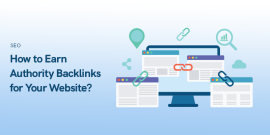 November 29, 2023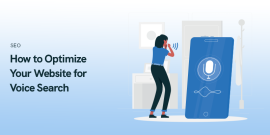 November 14, 2023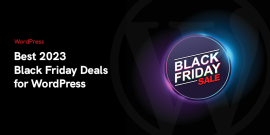 November 13, 2023