---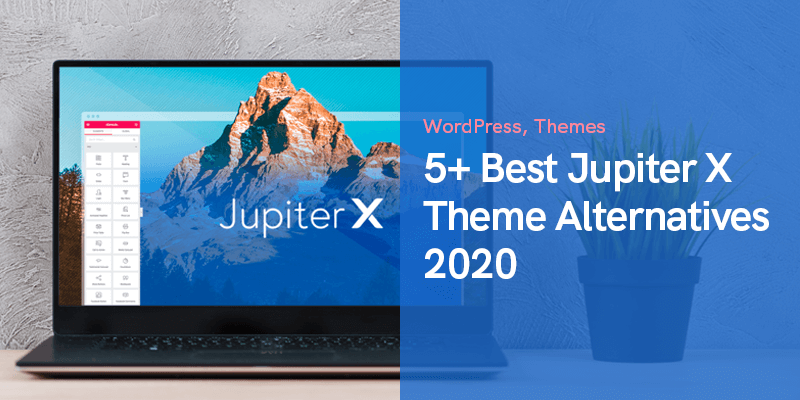 5+ Best Jupiter X Theme Alternatives 2023
In this article we're going to introduce 5 best Jupiter X theme alternatives and replacements that you can use to design and build your websites with.
Jupiter X is your all-in-one platform to create perfect pixel websites, fast & easy. It comes with Elementor page builder, the world's leading WordPress page builder.
You can customize Jupiter X globally using WordPress customizer. The brand new shop customizer helps you customize every aspect of your online shop, including checkout and cart page. Moreover, you can now build your own headers and footers easily with visual editors.
Jupiter X also makes it possible to customize your blog and portfolio list and single pages. It doesn't stop there, though! You can easily customize your custom posts archive and single pages, which allows creating any listing/directory websites such as hotels, car rentals, real estate, library, recipe, job boards, and much more.
If you're a Jupiter X theme user or you're in the market for a theme builder, you might be wondering if there are any alternatives. Perhaps Jupiter X isn't right for you or you just want to see how your other options measure up.
Best Jupiter X Theme Alternatives List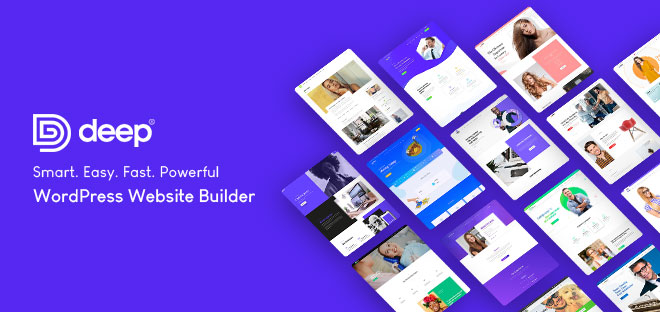 Deep is a multipurpose theme which is designed with the best modern methods and provides great performance for any user and can be a reasonable alternative for Jupiter X theme. The reason that Deep is our first choice in best Jupiter X theme alternatives list is that this responsive theme uses Elementor as the main page builder, so you won't need any coding skills for building a website and has a full customized package of elements for it.
On the other hand, SEO-friendly design and great page speed and other factors like these, made Deep one of the best premium WordPress themes on the market. This premium modern theme contains more than 70 demos, so you can use it as your theme for any business you have and import them easily.
Webnus has provided a unique header builder for Deep so you can customize the header of your website with drag and drop. Also, there are more than 20 premium plugins included in the Deep for free, so you won't need to buy any other plugins.
This theme is completely compatible with WooCommerce so you can create a fully functional online shop using WooCommerce and Elementor. All these features together have made Deep one of the best premium themes on the market.
Aftih
Using Deep Premium WordPress Theme
I think new best seller here, I really like admin panel settings dashboard, demo importer, plugins, performance option, theme setting but tutorials is the best. (please add more videos for theme option and desinging) Deep realy user friendly. Theme design is perfect, has many of best plugins, footer and header builder... The best theme I've ever bought. Thank Youuuuu
mattie1983
Using Deep Premium WordPress Theme
This theme is second to none, by far the best. I don't anything about coding etc and i'm new to wordpress but the layout of this themes options and documentation make it easy to follow and is explained clearly making building a perfect website you visioned easy. Don't waste your time looking at others. Job well done to the developer.
Sterlingwilliam
Using Deep Premium WordPress Theme
This theme is in$ane! A ton of very high quality modern demos that can be imported in a matter of minutes, comes w all images. Beautiful style in the editing backend, everythings so clean, quick and easy to edit and equally amazing on mobile view! An absolute #winWIN w Deep!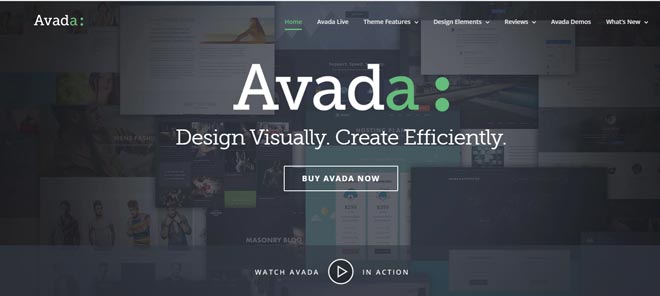 Avada is a responsive multi-purpose theme designed by ThemeFusion with 1-6 column support and definitely one of the important Jupiter X theme alternatives.
It is the number one selling WordPress premium theme of all time, with 5-star customer satisfaction rating, which is trusted by 400,000+ customers.
Easy to use, highly customizable and affordable. With 6 precious premium plugins and pre-made web-page designs, Avada is one of the best.
Avada is suitable for both beginners and professionals. It has the most advanced options system ever seen in WordPress themes and that's what made it one of our choices on best Jupiter X theme alternatives list.
resscu
Using Avada Premium WordPress Theme
This is the best template out there. I can do so many things to make my personal website look super professional. I also used Avada to update my architecture firm's website and people look at me like I'm a genius. It was so easy and we keep getting compliments from all our clients and consultants.
mlustig
Using Avada Premium WordPress Theme
I am impressed by the customer support of the Avada and Theme Fusion guys. Markus rocks! I am however more impressed by the revolutionary Theme Fusion Builder, which allows designers to focus on UX vs trying to figure out cryptic WP interfaces. I wouldn't by another product, because it's not just a template collection (which I never use…) but a robust WordPress development tool. Every site an original.
Eusic
Using Avada Premium WordPress Theme
Truth is, Avada ticks all the above boxes and then more. It is a full featured theme, or a theme with full options as car lovers might describe. Easy to use and find your way around if you atually take the trouble to read through the documentation. Support is great as well. On the way to hit 1,000,000 users on Envato! Congratulations are due.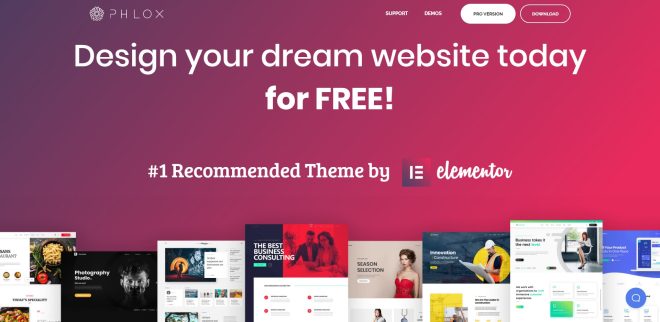 Phlox is a modern and fully-customizable WordPress theme that can be used for every website you can imagine and definitely one of our choices when it comes to best Jupiter X theme alternatives.
It includes 30 exclusive widgets that you will be happy to get. It has options for custom colors and menu & professional portfolio. It's also WooCommerce ready and has more than almost 90 pre-designed demos that you can take advantage of.
In general, you can build an excellent blog or portfolio using this variant. It is also perfect for presenting such topics as news and magazine, food, photography, and business.
Phlox got a pro version which is much better than the free version with better features. Both of the Premium and free version are compatible with Elementor.
shyunki
Using Phlox MultiPurpose WordPress Theme
The theme itself is beautiful but HORRIBLE customer support. It takes DAYS to receive ONE simple response for a ticket. To solve one ticket, it takes over one week. I've never faced this kind of poor support with other themes. Professional theme but unprofessional customer support. NOT recommended.
xivmm
Using Phlox MultiPurpose WordPress Theme
I had some concerns at first about the speed at which I received responses from the support. But this has been re mediated and I had my support extended due to the issues I've experienced. However I would still have some reservations to recommend this theme to people that don't have too much experience with wordpress
Staceyrae
Using Phlox MultiPurpose WordPress Theme
Ive worked with a ton of themes and this is simply the easiest and most user friendly. The customer experience is outstanding, tutorials are easy to come by, and the it integrates nicely with most website needs. I recommend 100%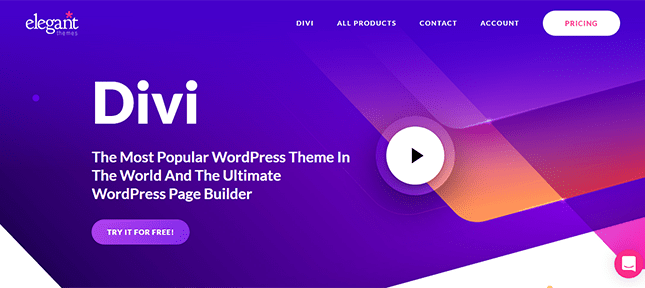 Elegant Themes presents premium WordPress themes that are responsive and super customizable for a wide range of web publishers.
Verity Pro and Otzi are two of Elegant Themes' best themes that you should try.
Theme Options is the most powerful feature of Divi, which allows you to build great web pages without knowing any designing or programming.
These themes include some of the useful webmaster tools as well as custom fonts and widgets. One of the best features of Elegant themes is the "Hero Content" feature that helps you display your strengths easily.
It means you can highlight your essential and important content on your first page or any other pages of your website with this great feature.
Zamir Gomeh
Using Divi Premium WordPress Theme
Elegant Themes is Without a doubt the best service and support I've ever met. The level of willingness to crack and solve problems that arise is above and beyond all expectations. They do this professionally until the customer is fully satisfied. highly recommend.
christian thorne
Using Divi Premium WordPress Theme
The best support I have ever had. Very quick to respond, usually in a couple of hours and always get a fix within a few attempts. Would recommend them highly.
Cameron Simons
Using Divi Premium WordPress Theme
You guys really are helpful. You saved me so much time with the issue i was experiencing. I love the friendly support team & clear communication you guys have. I would recommend Divi to anyone! Thank you so much!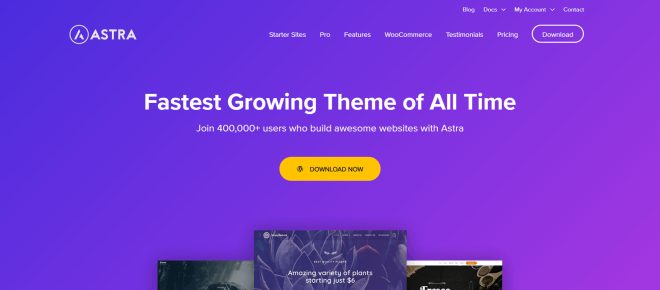 Astra is another theme which works well with Elementor. Astra is not an exclusive Elementor wordpress theme and uses many different page builders. An interesting point about Astra is that, it is developed in Github and the free version is completely open-source.
There are many options for controlling colors and backgrounds in Astra which are available in all Elementor themes. Also, there are many pre-built header designs that you can choose.
Astra is well coded and you can experience a great speed using it. Astra uses Vanilla JavaScript to prevent render blocking jQuery to come in the way and affect performance.
Ben Pines
Using Astra LightWeight WordPress Theme
Astra is a simple, fully customizable & fast theme that I can wholeheartedly recommend to all Elementor users. I love the fact that it comes with dozens of pre-built sites that were built using Elementor and that can be used to create a full website with one click.
Davinder Singh Kainth
Using Astra LightWeight WordPress Theme
I am super impressed with Astra! It is a lightweight theme that gives a solid foundation for building WordPress websites. This theme is a radical addition to the WordPress Themes ecosystem with its smart and very practical features.
James Revillini
Using Astra LightWeight WordPress Theme
I develop a few websites each month and I'm always looking for that next great plugin or theme. I was becoming frustrated with the "premium" themes I was using because of their bloat. I needed one built for performance and responsiveness and finally found them in Astra. I've discovered that anything I needed to add was a breeze, and the code (CSS, JS, HTML) is great so it's easy to customize both through the UI and with your own code.
Recommended Posts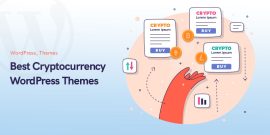 May 29, 2023