---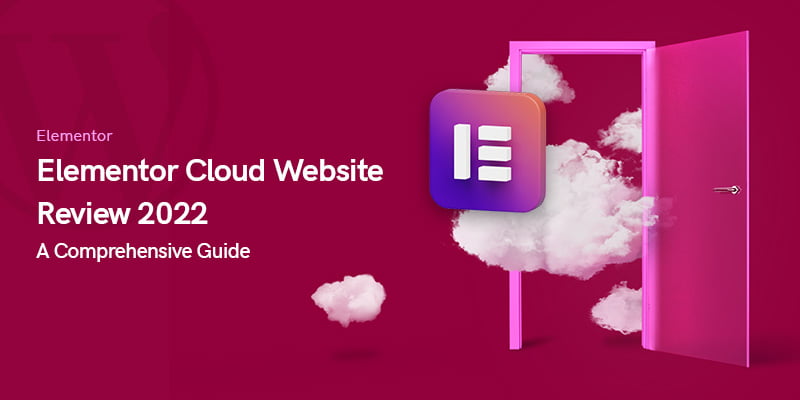 Elementor Cloud Website Review 2023: A Comprehensive Guide
Cloud websites are a popular solution for small and medium sized businesses. You get a platform ready to be made into a website without too much effort and customization, you get hosting and security features, and you get everything you need from one place.
There are a number of popular options out there, such as Squarespace, SiteGround cloud website and Elementor cloud website. Today we are going to have a thorough look at the Elementor cloud website. We will explain all the good and bad things about it and who will benefit from using it. Hopefully by the end of this article you can decide whether this is a good option for you or not.
What is The Elementor Cloud Website?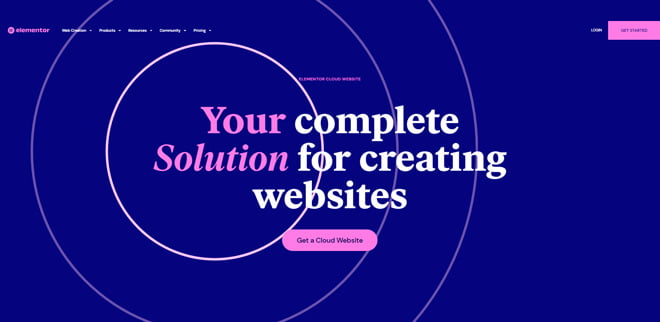 Elementor Cloud Website is a one-stop solution for people that wish to get a website up and running in no time.
Elementor is the famed WordPress page builder that is arguably one of the best in the market. So now the authors behind it have moved to offer their own full-package solution that is intended to make things more streamlined and easier. With the Elementor cloud website, for 99 USD, you get a license for Elementor Pro, Hello theme, free SSL and CDN by Cloudflare, and a website based on Google Cloud Platform which comes with its own layered security features. This website will have the option to link a custom domain to, plus 100 GB of bandwidth, 100k monthly visit limit, and 20 GB of storage for the content you will put on it. Additional features include daily automatic and manual backups and a site lock feature to keep your website off search engines while you are working on it. Elementor also claims to provide 24 hour premium support.
It should be noted that the price is billed annually and is only for one website.
Once you have purchased your account, you will be directed to a dashboard where you can see all of your websites. You will have WordPress and Elementor Pro pre-installed. They also are offering the Hello theme but you can install any theme that you like, including our Deep Multipurpose WordPress theme.
In terms of plugins, there are some limitations. Obviously, you cannot install any other page builder and have to use Elementor Pro. But it shouldn't be an issue as Elementor is one of the best page builders for WordPress. There is a list of all the plugins you cannot install on your Elementor cloud website that you can check here. If you wish to have an event platform, you are able to get our popular Modern Events Calendar plugin for your Elementor cloud website.
Who is the Elementor Cloud Website for?
Normally, this type of solution is best suited for people that are not very tech savvy or people that don't have much time to manage a website. It enables you to focus on improving and expanding your business while getting the best possible results on your website with minimal effort. So, if you are looking to have a website that doesn't need constant monitoring and too much hassle for setting it up, this is the option for you.
If, however, you are interested in having total freedom and controlling everything yourself, you might want to look for other solutions.
Pros of Elementor Cloud Website
The first thing we would have to talk about here is the price. At 99 USD per year, for web hosting, premium support, Elementor pro, and a decent amount of traffic and storage. If we break it down, a single Elementor pro license is 49 USD, so you are basically paying 50 dollars for web hosting, 100 GB and 100K users per month, and 20 GB of storage. In terms of the value proposition, this is actually pretty good. However, you are getting only a single website. Which means if you want to have more, you will have to buy another 99 USD license. If you are someone that creates and sells websites, it would make more sense to go with the SiteGround cloud website. As you will get more website for your buck if you go above the 3 or 4 number of websites.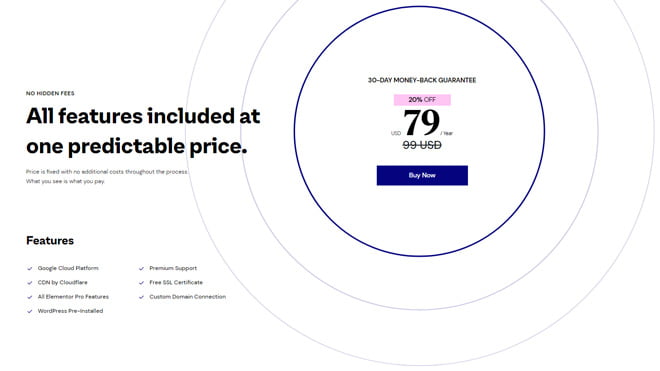 But for businesses that simply wish to have one website, Elementor is a good value. Most important is that the 99 USD annual price is set. There are no hidden fees and charges. You will always have to pay the same amount when renewing.
Another benefit of this platform is its simplicity and security features. Because they are using Google Cloud Services, you already have a decent set of security features, but on top of that, you will get SSL and CDN for free. As for extra security measures, while Elementor has stated on their website that they constantly monitor websites and will stop them if there is a suspicion of hacking, they recommend you take additional steps to improve and ensure the security of your website.
A third benefit would be the daily automatic backups. While you also have the option of manual backups, auto backups every 24 hours will ensure that you always have a fail-safe point to return to. This will eliminate the need to use third party backup plugins and keeps your setup lighter.
Similarly, Elementor has said that you do not need optimization plugins that have to do with caching. Because they handle that for you. But if you are planning to have a content heavy website with images and videos, you can consider using plugins that optimize loadings.
Finally, needless to mention, Elementor is fully compatible with the most popular WordPress plugins such as WooCommerce, Yoast, Wordfence, LearnDash, etc.
Cons of Elementor Cloud Website
Perhaps one of the major issues with Elementor cloud builder is its speed. Compared to the competition, especially from SiteGround, Elementor is the worse option. It didn't get a good score on GTMetrix, and it was the base site. Now when you add more content to it and install other plugins, the loading speed might get worse. While it is not a big of a problem (the difference between 1 second to load and 4 seconds to load is not that much), in the modern era, with the fierce competition, it might be of concern to some people.
In terms of ease of access, it begins really well but then some issues occur. After purchasing a license, you get an email with a link that takes you to your dashboard. There you can see your websites. You choose the one you want, and you'll find that WordPress and Elementor Pro have been pre-installed for you. The first thing you might want to do is to change the domain name. While the goal of having such platforms is to streamline everything and make it easy for non-techies, changing the domain name is rather complicated. Furthermore, while Elementor advertises "premium support", people on social media have said that they have not had a quick and thorough experience when working with their support.
Another potential issue is that you don't get an email service with Elementor cloud website. Therefore, you will have to use third party email hosting services. And there is a limit of 100 emails that you can send per day from your website. Therefore, you need to add the cost of an email provider to your total costs. Otherwise, you can use your personal email. Therefore, if you decide to get an email server, then you will have to do configurations for linking your email account to your domain and website. But this is something that might get better with updates and changes in the future.
Yet another con is that currently Elementor cloud website doesn't offer subdomains and staging environments. This is not something that most people will care about but if your business requires you to have that then this is an issue.
Conclusion
In general, while Elementor Cloud Website is a good value proposition for one website, and it has some decent features, it cannot outperform the competition at this stage. We are sure that Elementor will keep working on this and improve it, but at this point in time, there are better options out there, such as SiteGround.
However, if you can look past those issues or they are something that don't affect you specifically, then you might find it a nice experience to have a cloud platform.
The limitation on the plugins you can install is understandable, because they might cause conflicts with Elementor, and the list of them is not that long.
So all in all, we believe Elementor still needs to work on this and improve it further before they can really compete with similar services.
Recommended Posts
March 30, 2021