---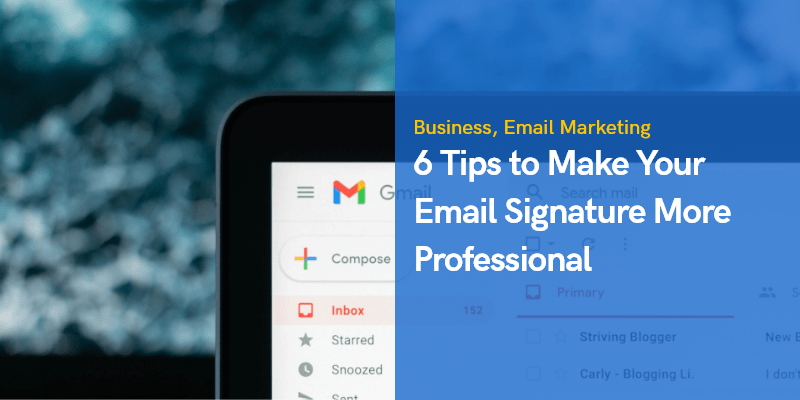 6 Tips to Make Your Email Signature More Professional
Email marketing using email marketing tools or WordPress email marketing plugins remains a popular communication method nowadays. According to Statista, 319 billion emails were sent in 2021. Even though we now have social media and chat apps, email is still undefeatable.
Customers, clients, and partners receive countless messages. If you want them to notice your email, you need to step up your game. This means having everything on point and personalized, from your subject line all the way to the email signature.
With 82% of email marketers using it to increase brand awareness, an email signature can be a powerful tool. It's paramount you make it look as professional as possible.
Check out our comprehensive article on the best email marketing platforms: 20+ Best Email Marketing Services .
How to make your email signature more professional
First impressions matter. Internet users take little time to form an opinion about you, so you need to leave a good impression on them.
One way you can do that is through a professional-looking email signature. Below are some tips that can help you create an appropriate signature.
Keep it simple
An email signature should be as simple and concise as possible. Adding too many links and quotes to your autobiography will make your signature look tacky and crowded.
You should include only relevant information about you and your position. This includes:
Your full name
Job position and company name
Your phone number
The company's website
Links to social media accounts
The above shows that your recipients need to know how to reach you, where you work and which department you are in. Your email signature should reveal that to them. They don't need to read a mini resume to strike a conversation with you.
Remember, your signature will appear cumbersome because of excessive details. People won't even look at it or click the links in it. Try to make your signature look like this:
Here's an example of a professional email signature that includes all relevant information: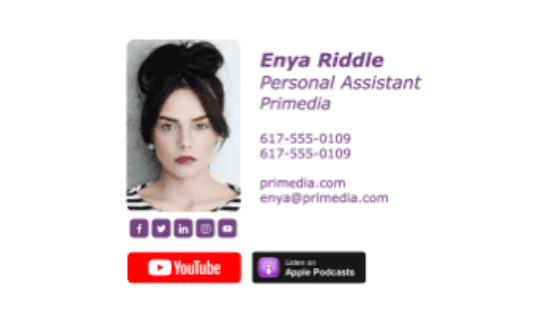 Image Source: Newoldstamp
Try to create something similar on your own or with the help of an email signature generator.
Stick to one design and font
Some professionals believe that their signature will be more eye-catching if it features various designs. The truth is that people want simplicity. Choose one format and stick with it throughout your signature.
Although it may be tempting, don't use too many colors—two or three should be enough. A good idea would be to go with a color palette that matches your brand identity. This is how the recipients will differentiate you from dozens of other emails they receive every day.
The same advice applies to fonts. If you use three different fonts, your signature will look tasteless. Keep this in mind before you choose which font to include in your signature:
Readability. The font should be easy to read. The recipients shouldn't squint their eyes while going over your email signature.
Consistency. Select a font and use it throughout your signature. Don't have a different font for each section of the signature.
Style. Although default fonts seem like the best solution, they aren't. You should go with a new option to look unique.
Add your image to the signature
Including your image in the email and signature is a great way to attract attention. Some of the recipients have never met you, and they should know who they are communicating with. Later on, they will be able to put a name to the face.
Your image is a personal touch that makes the signature stand out. Humans are known to be visual beings. They are more likely to remember a visual than plain text.
Alternatively, you can add the company's logo to increase brand awareness. You shouldn't, however, add both your image and the logo. Too many visuals might distract the recipients from the text and relevant information.
Let's take a look at one example that uses a photo of the sender:


Image Source: Yesware
Even if you haven't met the above person, you know how she looks and her name and job title.
As you can see if you want to elevate your professional image and streamline contact information, professional email signatures and digital business cards are two powerful tools for it.
While digital business cards enable easy sharing of contact information, professional email signatures enhance the visual appeal and consistency of your communication card.
Include links to social media
Building a social media presence is crucial nowadays. Almost 4 billion people use social media, which means you can get your brand in front of a vast audience. You should use these platforms to show people what your company cares about.
If you want to increase your following, add links to your social media accounts in the signature. This can strengthen your branding while also reminding people they can connect and interact with your brand elsewhere.
Another benefit of including social media links is that they can shed light on the company's content. When you share a blog post on LinkedIn or Twitter, the email's recipient will see it. They will click on it, driving more traffic to the website.
Make sure to be active on social media if you link to it in your email signature. If you haven't posted anything on Instagram for a year, there is no point linking to it.
Another piece of advice is to add social media icons instead of text links. These platforms are popular and people easily recognize their logos. Aside from that, icons can save you a lot of space in the signature.
If you are active on many social media networks, don't include all of them. Add those accounts to help you grow your business or increase brand awareness.
Add a call-to-action
According to the research, emails with one call-to-action (CTA) can increase clicks by 371%. Although you aren't sending a newsletter to your recipients, you should still include a CTA. It can encourage them to take action and interact with your brand.
The CTA in the email signature should:
Be simple
Feature command words like "read", "book" or "download"
Be Up-to-date
Be Short and to the point
Not be too pushy
By reading the CTA, the recipient should know what you want from them. For example, your email signature's CTA might encourage a client to read an article or download an ebook. It might also tell them to book a demo or schedule a meeting with you.
Here's an example of an email signature asking the recipients to book a demo: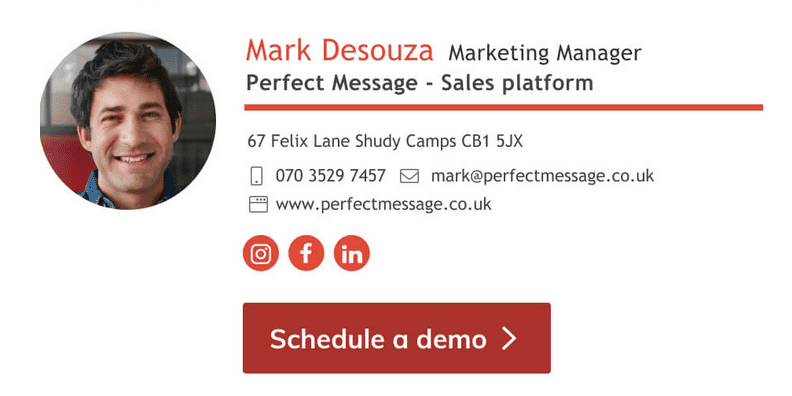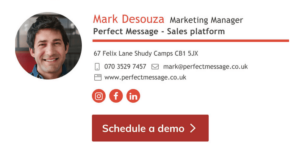 Image Source: Criminally Prolific
The above CTA is eye-catching as the design is easy to notice. It stands out from the rest of the text, drawing the recipient's attention. They know that, by clicking on the CTA, they will be able to try out your product or service.
Optimize the signature for mobile
Email marketers and sales reps shouldn't ignore smartphone users. More than 300 million people use smartphones to chat, talk, and search for things on the internet in the U.S. alone.
Mobile users also like interacting with brands on their smartphones. According to the research, over 50% of email campaigns are read on mobile. You need to keep this in mind when designing your email signature.
The signature must be optimized for mobile devices. The text should be large enough so that the recipients can read it easily. They shouldn't need to zoom in to make sense of what you wrote.
You must think about links and buttons as well. The social media icons and CTA should be large if you want the recipients to click on them. If they are too small, the recipients might not even notice them!
Our point is—to keep mobile devices in mind. If you don't, your recipients will decide not to read your email.
Before you send the email, you can test it to see how it appears on smartphones.
Conclusion
Follow these tips to create a professional email signature. Remember that the signature is your online business card. It represents you and your company. Make sure to keep everyone proud by including a unique signature.
Recommended Posts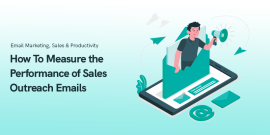 November 7, 2023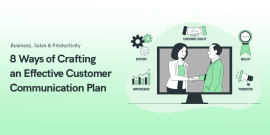 November 7, 2023