---
How to Work with Modern Events Calendar Plugin for WordPress: A Step by Step Guide for Beginners
Modern Events Calendar plugin has been a leading plugin within the WordPress events calendar plugin scene for a few years now and there are good reasons for it.
The simplicity and elegance of the plugin combined with tremendous amounts of customization available either as stand-alone or through addons and a respectable business model have made it the plugin of choice for many entrepreneurs and event organizers.
While other WordPress events calendar plugins might nickel and dime you over every tiny feature, Modern Events Calendar plugin has opted to let the product speak for itself and only restrict certain features to the premium version of the plugin such as Booking.
There is also the added benefit of a one-time payment in contrast to a subscription model which seems to be taking over the digital sphere. I imagine in the not so distant future we won't own anything and everything will have a rent-based system of ownership.
Initially, our content creation team created online documentation and a treasure-trove of articles on general knowledge and common troubleshoots and Frequently Asked Questions with the help of our developers.
While this was sufficient for some of the more technologically-adept users, some of our users required additional help when getting started with Modern Events Calendar plugin as it has a moderate learning curve so they resorted to our technical support platform called Freshdesk.
Recently, we've moved on to a new support management platform, and as such many folks lost access to their previous tickets and therefore we decided to gradually turn the most important ones into blogposts.
So we're going to start off 2020 with a step by step guide for Modern Events Calendar plugin. We'll begin with MEC Lite and its feature go on to MEC Pro and finish on the extent of its customization.
Modern Events Calendar Plugin – Lite

Installation of Modern Events Calendar plugin: Go to your WP dashboard's Plugins section and click on Add New. Search for "Modern Events Calendar". Install and activate Modern Events Calendar Lite. You'll be greeted with a nifty new, blue icon with M.E Calendar written next to it.
M.E. Calendar: You can check out our Getting started the video in the home area of the plugin to get a hold of the basics but since the video is a tad bit outdated and rather short we encourage you to keep up with this post or explore on your own (don't forget your trusty online documentation)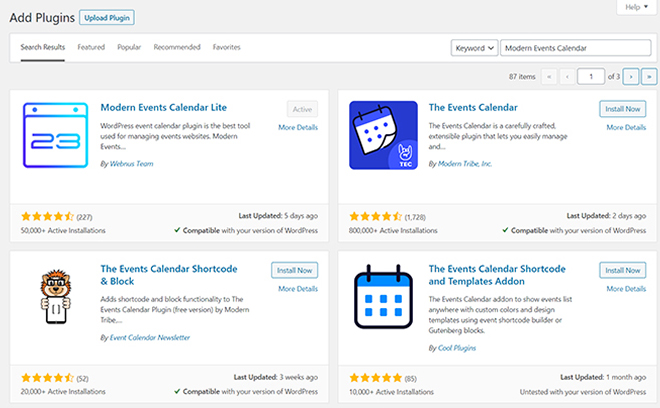 All Events:
Here you can keep track of all your created events and find them faster using the handy filter option up top in Modern Events Calendar plugin. Let's click on Add Event to get started.
Now you are in the event creation environment which allows you to set up all the necessary information for your event from one place.
I personally prefer using the Classic Editor but I know many of our users opt for using Elementor since it allows for more customization in terms of where to place the widgets and you can see changes happening in real-time.
To disable the Gutenberg editor go to M.E Calendar > Settings > Single Event > Single Event page and click on Disable Block Editor.
However, if you want to use Elementor, you'll have to go in the Elementor menu from the WordPress dashboard sidebar and enable Events as Post Types that can be edited using Elementor.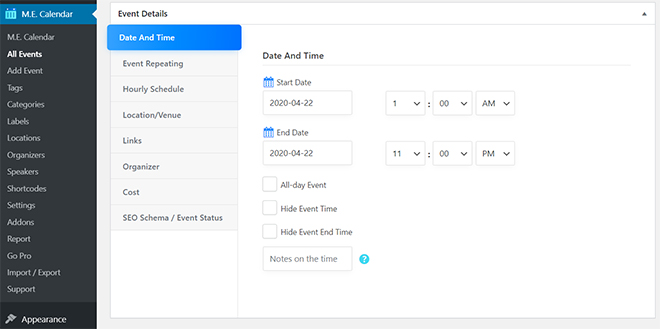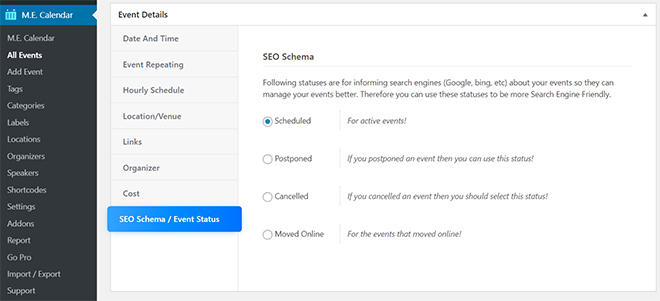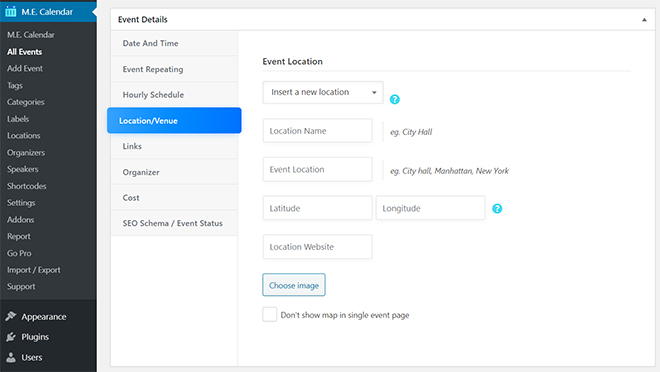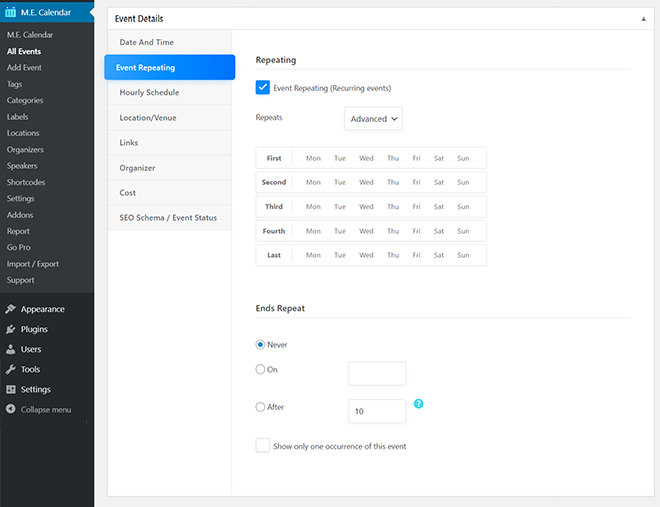 All the information we could possibly need to add for an event is readily available in the Event Details section. I'll go over each one fairly quickly since they're quite self-explanatory.
Date and Time: You've got the Start and End time/date plus options to hide event time or run an all day long event whilst having access to a field to specify the timezone.
Event Repeating: Frankly, one our most valuable features for people who have events or classes that run throughout the year and don't want to manually create new events.Just enable the option and select the type of repetition and whether or not it should end at some point.
Exceptional Days: Say an emergency has come up or an upcoming holiday, instead of removing the existing repeating event you just add a few exceptions to the schedule and you're good.
Hourly Schedule: Creates a simple schedule table for what each hour of the event is going to showcase or include.
Location/Venue: Though only available in text form for MEC Lite, it does get the job done.
Links: Customize and shorten the event link and add your preferred description to it.
Organizer:
Cost: While there is no booking available in MEC Lite maybe you do cash payments and you should have the ability to disclose this kind of information without having to create a makeshift box in the description area.
Miscellaneous: These include tags, categories, labels, event color, Featured Image, and whether or not to allow Discussion.
Just by doing the above steps, you'll have an event page that might look something like this though I'm sure yours will look more professional.
Now let's put the calendar in Modern Events Calendar plugin. First off, go check out the detailed list of our Demo section and see which shortcode view best suits your needs. Next, create a new page from your WordPress sidebar and simply paste the shortcode or use the handy toolbar option.
Make sure to explore the shortcodes even more by navigating to M.E Calendar > Shortcodes and Edit whichever shortcode you want to use or create a new one from scratch by clicking on Add Shortcode located at the top of the page.
The shortcode editing environment gives allows you to filter certain events so that only those are displayed which in turn can be used to have multiple calendars. You can also limit the number of events that are shown and choose from the different styles available. I went with the Monthly View with the Novel style without any filters.
Now let's explore the various settings available in this wonderful WordPress Events Calendar plugin. Navigate to M.E. Calendar > Settings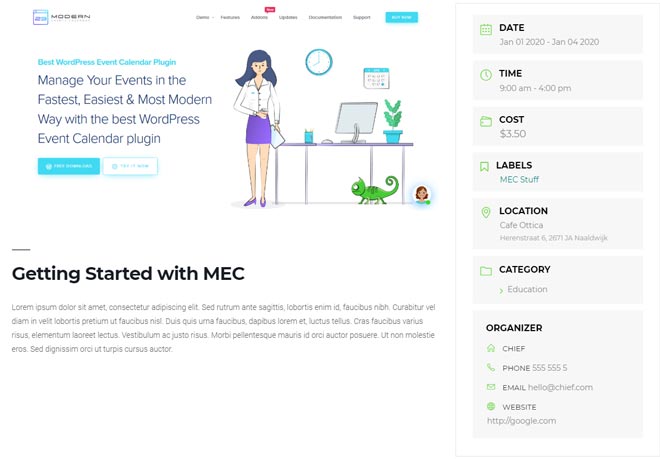 Wizard:
A feature that allows quick submission of event and shortcode and you can disable it at any time. It's working process is guiding you step by step to create an event or shortcode.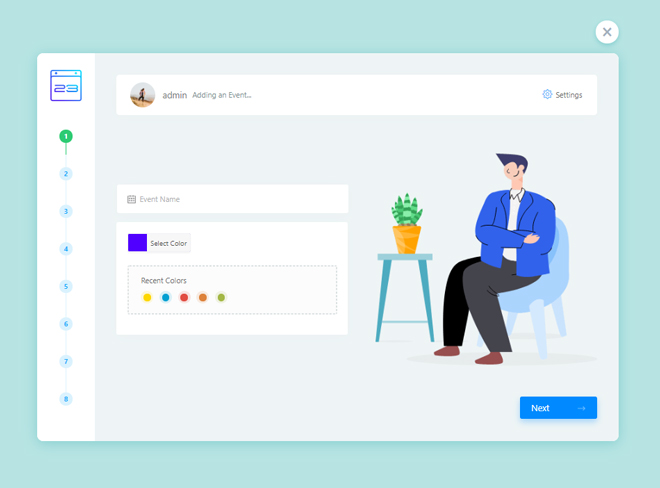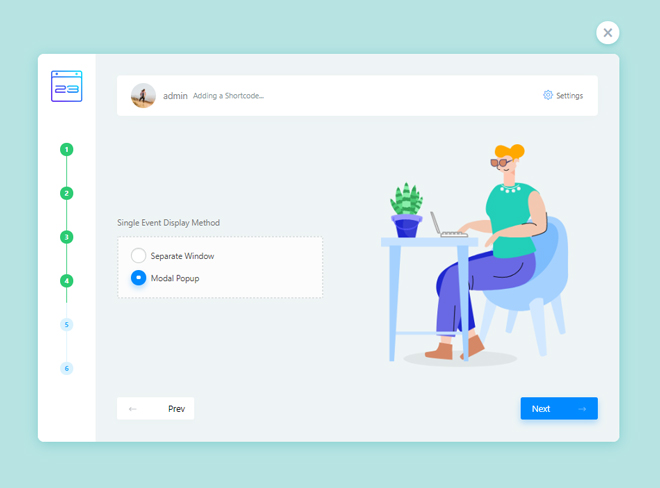 Shortcodes:
Create shortcodes with no limit – MEC has more than 12 skins and dozens of types for these skins that allow me to create the event page similar to the design of the main website. The responsive design, and the option to search and adjust date s great that can, in my opinion, serve any website with any design. 

After the search option, the most important one is filtering events. I can filter events based on category, tag, organizer, and location – as I am writing this, I'm thinking about an event management website that makes everything possible like Meetup.

Using shortcodes anywhere on the website like the footer, mega menu, sidebar, inside portfolio posts is another bonus that is just great.

Categorizing events based on ongoing and upcoming and expired events in the shortcode page is just out of this world and provides every scenario you may want.

Settings:
In Modern Events Calendar plugin, in the General Options panel, you can choose when the events are hidden from your frontend whether that be at the start, end or just a couple of hours after the starts.
Archive Pages creates a neat space for all your expired events though you can change your shortcode's settings to include expired events if you wish we recommend using the Archive Page.
Choose your preferred currency from the Currency Option. The Google Recaptcha is most useful for booking which is exclusive to MEC Pro but it can also be useful for Frontend Event Submissions. To learn more about Frontend Event Submission, please read this post about it.
Adding the User Profile shortcode lets your logged-in users keep track of their purchases which is only useful for MEC Pro users. The search bar is where it's at; simply add the shortcode for it in the calendar page or enable the Search Form from the shortcode's editing environment.
MEC allows you to have Add Event and Add Shortcode as wizards, plus many other options such as search form, file upload settings and a profile for logged in users that have submitted events.
Single Event:
In Modern Events Calendar plugin, the Single Event Page section, you get to change the date format based on your country's standard (Adjustable in general setting WordPress). Choose the Style of your event page or purchase the Elementor Single Builder addon and create your own Single Event Page template.
I will not comment on whether you should Disable Block Editor or not but let's just say there's a reason that option is there. Enable Breadcrumbs to allow for better navigation on your event page. The rest of the options in this section are self-explanatory so I'll leave the exploration up to you.

Modules:
In Modern Events Calendar plugin, first up is our Speakers module which allows you to add speakers to your events if you're running a class or conference. No worries though, the textual value for Speakers can be changed if you want to call it something else, I will get into that later.
The export module is a necessity for your users so they're able to add your event to their own calendar management app. Local Time module is extremely helpful if you're running an online event or workshop. Social Networks module to help spread the word.
Notifications:
In Modern Events Calendar plugin,  MEC Lite's notification panel is less crowded than MEC Pro primarily due to the fact that you won't be needing it other than for Frontend Event Submission. The Pro version allows you to determine who receives what message from booking confirmation to cancelation and reminders.
Styling Options:
In Modern Events Calendar plugin, you can choose the color scheme that will be implemented for all your events and their typography. You can even change the width of the event page so that it fits based on your theme and different monitor sizes.
Dark Mode can be found here so you can make the front and back end of MEC black.
Messages:
We've left some of the most contentious segments accessible so you can change them with ease in Modern Events Calendar plugin.
Though if you want to overhaul a significant portion of the textual elements or spot a translation error in your respective language we urge you to use Loco Translate and follow our guide for translation.
Don't forget MEC doesn't have a language selection panel so if you want to change the plugin's language, you need to navigate to your WordPress's settings and change the Site Language. The same applies to the Date Format, Time Format, and which day the Week Starts i.e. calendar shows as first.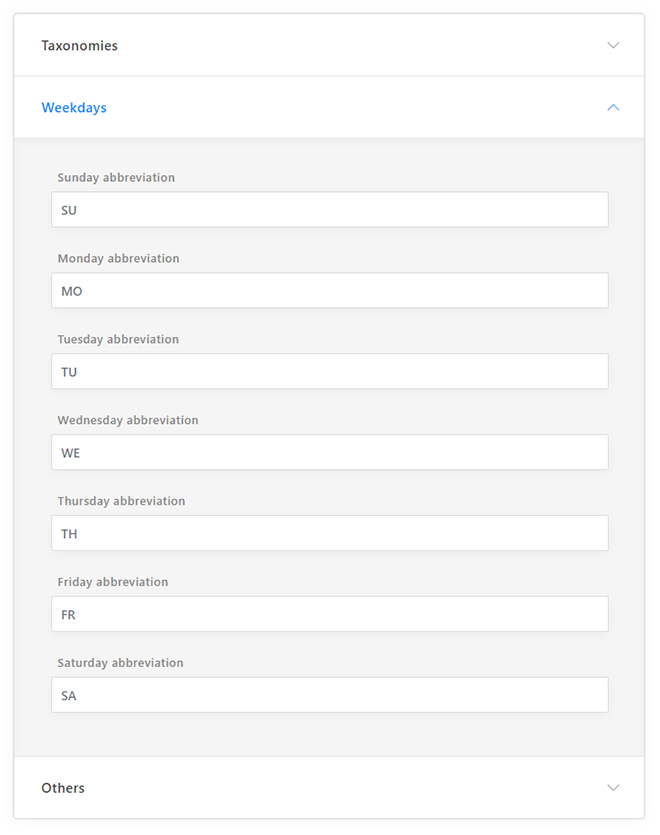 Import/Export:
Do you plan to use In Modern Events Calendar plugin on another website but don't want the hassle of reconfiguring the settings? Just download an Export of your current settings and import them whenever needed.
There is also another Import/Export menu located under M.E. Calendar. This one is for you to create backups of your existing events or import ones from other calendars.
In addition to giving you export options for iCal, CSV, Excel, XML, JSON you can also import events from Google, Facebook, EventOn, The Events Calendar, Calendarize it.
To read more about our import and export function and the newly added synchronization read this post.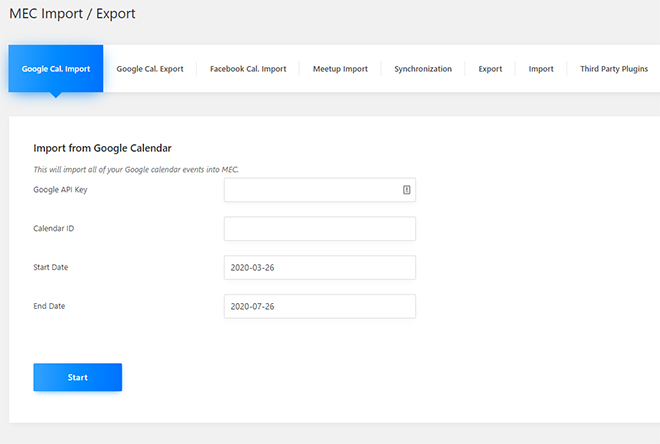 Modern Events Calendar Plugin – Pro
Now that we've covered the basics, it's time to point out the exclusive features of Modern Events Calendar Pro. By upgrading to In Modern Events Calendar plugin Pro you get access to the highly sought after booking features, Google Maps, Google Synchronization, MailChimp integration and etc.
Check out the whole list here. We've also gone through the trouble of comparing Modern Events Calendar to other popular WordPress Events Calendars in terms of features and cost.
You also get access to certain shortcode views that are restricted to MEC Pro. Make sure to check them all out in our Demos section on our website. It is also worth noting that both MEC Lite and MEC Pro are fully responsive so your events can be viewed and booked from whatever device.
In terms of getting the most out of a product, I'd argue MEC Pro is enough to meet anyone's needs but if you'd like to have more customization options we suggest getting our Elementor Addon Bundle. Form Builder lets you create highly customized booking forms.
The Elementor Single Builder lets you customize the single event page. Using the shortcode builder you can change the placing of different elements within a view.
So Which One Should I Choose?
It's honestly up to you. Most of our MEC Lite users are content with the array of features available in the free version of Modern Events Calendar plugin so I'd say the major reason most decide to upgrade is the gain access to the booking and maps feature.
In terms of updates, we regularly update both MEC Pro and MEC Lite so the Lite version is just for show, it's actually functional. You could also simply decide to upgrade to further support us in maintain Modern Events Calendar.
As always, all your feedback is valuable to us so make sure to contact the support should you have any suggestions or questions regarding a feature.
Also, if you're still on the fence about MEC as your WordPress Events Calendar, please try out our 30-minute online demo of MEC Pro or watch these two videos.
Recommended Posts
May 17, 2020
May 17, 2020