---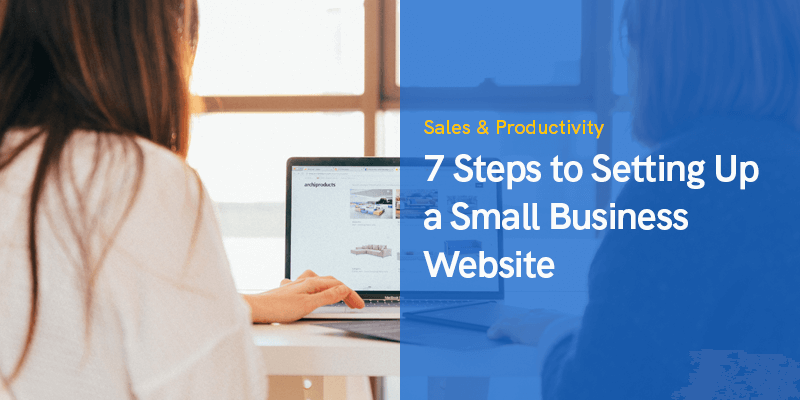 7 Steps to Setting Up a Small Business Website
Creating a website for your business can be a daunting task. A plan to build and promote a future-proof site will avoid many potential issues and ensure a successful launch, attracting visitors and long-term customers.
Setting Up a Small Business Website
These 7 steps will help you create a small business website that gets results:
Don't Stick to the Template
The template pages offered by website builders and apps, such as WordPress or Shopify themes, can be a great place to start, especially if you haven't designed a website before.
WordPress plugin for Shopify can help you get started.
It is important to remember these are intended as the inspiration or foundation of your website, however, not just a shell for you to slot your content into.
Websites built entirely from standard templates will struggle to stand out, so if you do use them, always modify them to represent your brand identity and showcase the services you provide.
Websites built entirely from standard templates will struggle to stand out, so if you do use them, always modify them. Amarillo web design company can help you to represent your brand identity and showcase the services you provide.
Get Feedback
When you have worked on something like a website for a long time, it is easy to lose touch with how it will appear to first-time visitors who weren't involved in the design process. Because of this, unbiased feedback is vital for getting an outsider's perspective on your site.
Anonymous user testing services help you get unbiased feedback from your target demographic before you are ready to show your website to the world. These allow you to define the audiences you want testing from and get their impressions as they browse your site and perform specific actions.
It is even more important to keep getting feedback post-launch, as real users may respond differently when they are thinking about spending their own money compared to users paid to test your site.
A single-question survey popup can improve your chances of getting feedback from site visitors by letting them respond with a single click without entering any information, such as this example used by Zen Mountain Gear: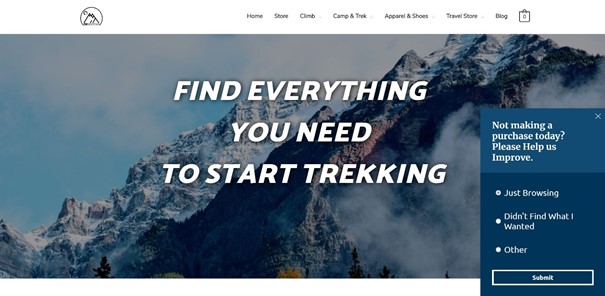 At first, you might only be comfortable sharing your work with friends, family, and a few trusted business contacts or colleagues.
While they can provide useful feedback about the design, website usability, and visual appeal of your site, remember that they may not be your target audience.
Additionally, people who don't want to hurt your feelings might avoid giving too much negative feedback.
Research Web Hosting Options
When it comes to finding a web hosting provider for your website, don't just pick the cheapest option. Your choice of hosting provider can have a major impact on the performance, security, and reliability of your site.
These are the most important factors to consider:
Location
The physical location of your server will affect loading speeds, so avoid hosting providers using distant servers. Furthermore, the location will also determine which rules and regulations the hosting provider must follow. Some providers will also comply with the regulations of other regions as well, but not all.
Security
In addition to ensuring a hosting provider follows the rules that apply to your region and industry, you should also find out how they keep your data secure and private. If your customers' data is stolen through your choice of web host, you could be liable for their loss and will lose their trust.
Think your business is too small to be a cybercrime target? Think again, 30,000 websites get hacked every day, and most of them are small businesses like yours.
Customer Support
Even the most reliable hosting provider will have the occasional outage and other problems. Investigate their response speed to issues, and how much technical support they offer. Some will only do basic maintenance and updates on your server, while others may provide help integrating your software and apps.
Buy Domain Names
You need a domain name that is easy to remember. Domain names are being bought every day, so it is a good idea to buy them at the earliest opportunity while they are still available.
Even if you end up buying some domain names you don't use because you settled on a different name for your website, this is a better option than coming up with the perfect name only to discover someone else has taken it.
In addition to getting the name you want to use, you should try to acquire as many similar or related domain names, as well as misspellings of your website. This will allow you to redirect more traffic and searches from people looking for your business or the services you offer.
Promote Your Website
Give your website the best chance of success by promoting it to ensure you are getting visitors right from day one.
There are many ways to do this depending on your business and audience; these are some of the most effective tactics:
Social Media
An active social media presence lets audiences build a connection with your brand before your site launches. Your interactions with social media users can start to establish your brand personality and business approach, while also answering questions about your upcoming website.
You can also use social media to advertise launch promotions and offer discounts for sharing your page, building awareness among your followers' friends. Early pre-order discounts can also be used to get customers invested in your customer loyalty program, increasing the chances of repeat business before your site even launches.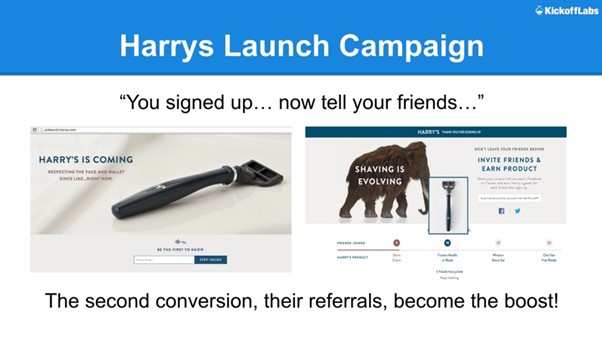 In addition to your social media pages, paid social media promotions like Facebook Ads to let you get really specific about the type of person you want to reach, and are ideal for local or niche businesses. For example, razor brand Harry's used Facebook Ads to generate more than 100,000 subscribers to their service before their website fully launched.
With the advent of Generative AI tools, you can now manage your social media more effectively.
SMS Marketing
Convincing users to join your text subscriber list helps you identify your most interested leads.
By tracking how you acquired each subscriber, you can use more effective customer segmentation to send each lead more relevant offers and information via online text messages.
This will ensure your promotions efforts don't go to waste by attracting leads that forget about you or lose interest before your site launches.
SMS marketing also gives you the opportunity to start conversations with customers and answer their questions directly. Providing a click-to-text form (like TextMagic) lets visitors ask a detailed question in their browser and get a response back via text, initiating a dialogue between you and your leads.
Content Marketing
Content marketing convinces potential customers to learn more about your business by engaging them with entertainment or useful information. This can take many forms, including video marketing, blogs, and free eBooks.
Besides engaging your audience, content marketing is also great for driving search traffic to your site. Potential buyers aren't searching for your business name if they don't know it exists yet. Instead, they are searching for the questions and information they want to know about your industry.
Targeting these terms with content that answers their questions brings them onto your site and builds their trust in your brand. 81% of consumers trust the information and advice they read in business blogs.
Content marketing is also a great way to show your brand's unique personality. For example, MoveHub frequently focuses on answering more tongue-in-cheek questions to entertain readers and convince them to check out more articles: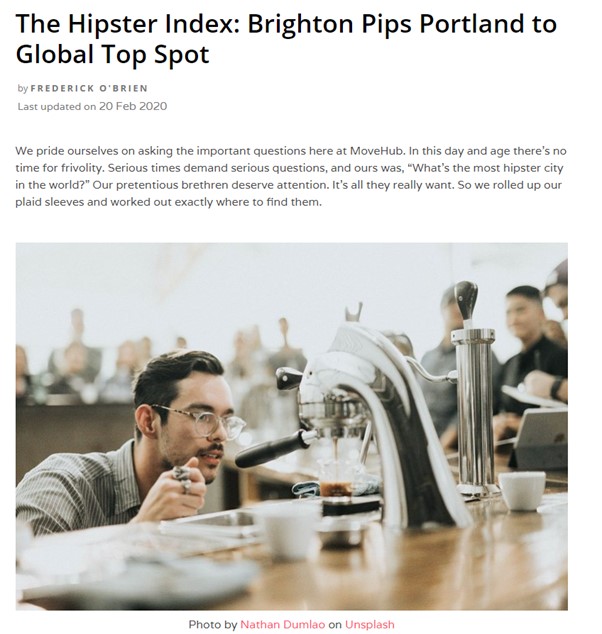 Think About SEO On Every Page
Search Engine Optimization (SEO) should be a consideration on every page of your site, not just your landing pages and blogs.
It is all too common to see small business sites that lack the basic SEO details such as a meta description and a company name in the page title.
Focus on keywords and search terms that reflect your target audience's needs, such as identifying a problem you can help them with.
Use a Search Engine Results Page (SERP) simulator to check how your site pages appear in Google and edit their SERP details.
To display correctly on mobile without anything cut off, limit page titles to 80 characters and descriptions to 157 characters. These limits are slightly more lenient on desktop browsers.
Make It Future Proof
However cutting-edge your website is at launch, sooner or later it will need an upgrade. Accordingly, to avoid disruption your website needs to be ready for additional features and updates to be added without lengthy downtime.
As a result, you should always use apps and plugins with a wide range of integrations and compatibilities with other software and services. If you rely on apps with a narrow range of integrations, when you come to replace systems with newer alternatives this could come back to bite you.
To keep your website updated and enable easy future expansion, you need to be able to replace or upgrade one part at a time without breaking the functionality of other plugins that depend on integration with the feature you are replacing.
Conclusion
Following these steps will help you design a small business website that raises awareness of your brand and convinces visitors to stick around.
While attracting customers is the goal of any business website, it is equally important to build on robust foundations.
Unreliable or insecure plugins and software can hinder your growth and damage your reputation.