---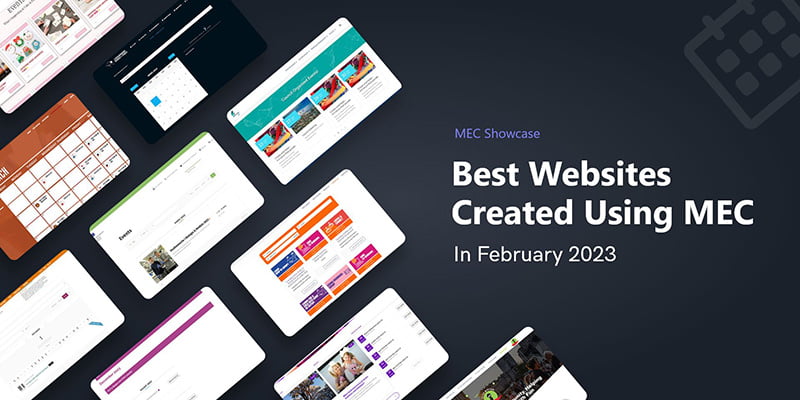 Best Event Websites Created Using MEC in February 2023
Let's take a look at this month's top 9 websites who have used MEC to promote their online business. Here we have tried to cover a pretty wide variety of businesses to showcase the versatility of Modern Events Calendar and its features.
With the features mentioned in this article you will be able to see that MEC is not just a calendar plugin but a complete marketing tool that offers everything you need to be able to display and sell your events online.
We have also tried to mention the addons used in this article to help you identify what extra features can get you closer to the perfect tool needed for your business, so without further ado let's get right into it:
List of Best Websites Created Using MEC in February 2023
Jamiuk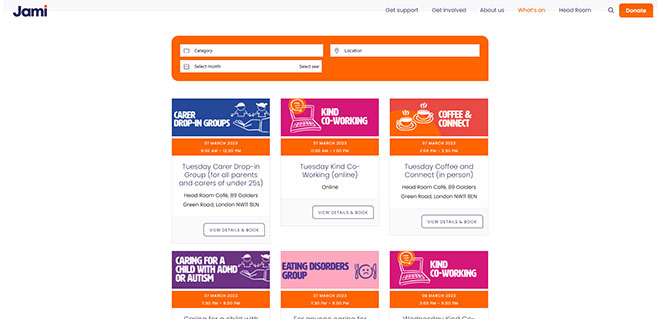 Jamiuk guides people through the challenging journey of life, providing professional, person-centered treatment and support for young people and adults to equip them with the necessary skills to deal with mental illness and distress and build mutually supporting relationships across the community.
They get use of a professional staff and currently offer courses in a tile view with a beautiful design that suits their website really well.
They also offer a Zoom link in their event description to help attendees participate in their online classes and benefit from MEC booking form to get the information needed from the users before booking.
NOVO Coffee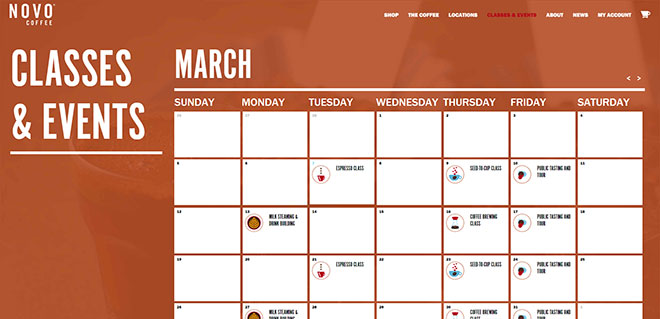 NOVO Coffee was founded in 2002 by Jake, Joe, and Herb Brodsky with the mission to connect great coffee producers with coffee consumers. Novo Coffee is relationship-focused. They seek to build ongoing and meaningful partnerships with producers and coffee farmers to improve farmers' pricing and enhance the coffee quality.
They hold lots of events like espresso classes, milk steaming courses and public tasting events using a beautiful monthly view which goes to show what you can achieve with the designing platform presented by MEC.
Once you click on the events you will get directed to the single event page where you can choose which event you want to participate in with a date picker and pay for your course/event.
Champagne Tennis de Table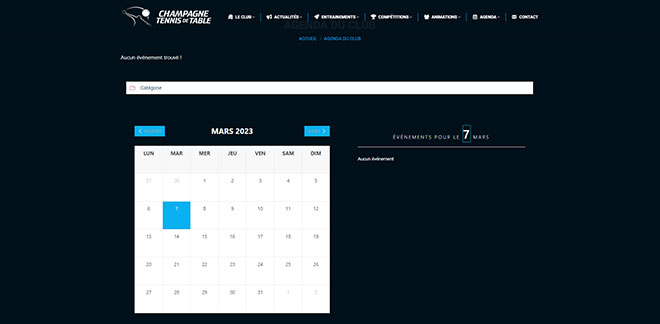 Champagne Tennis de Table is an amazing website with a big audience and lots of table tennis competitions. They present their events with a black layout that is consistent throughout their whole website. They have several trainers, events and competitions that you can easily find from the header of their website
You can find their events in a carousel view that goes well with the beautiful video presentation at the top of their homepage that slows their website a bit, but is worth the waiting time.
They have used MEC features and customization capabilities to match their business perfectly, but if they were to use another feature that would add a lot to their arsenal, the Seat addon would be a great choice and would allow their audience to pick their own seats.
Cake and Plate
As the name suggests Cake and Plate is a professional online dessert bar that offers lots of tasty treats through its website along with amazing classes for baking cakes and cupcakes with beautiful designs.
This website is one of the more professional looking websites with a gorgeous pink theme that promotes their events with two calendar skins. They display their events with a carousel view on their homepage and a grid view on their event page.
One of the interesting MEC features you might miss when first looking through their website is that they have chosen to display expired events on their website which is a useful feature if you want to inform your audience of your full schedule and the event possibilities in the future.
Swiss youth research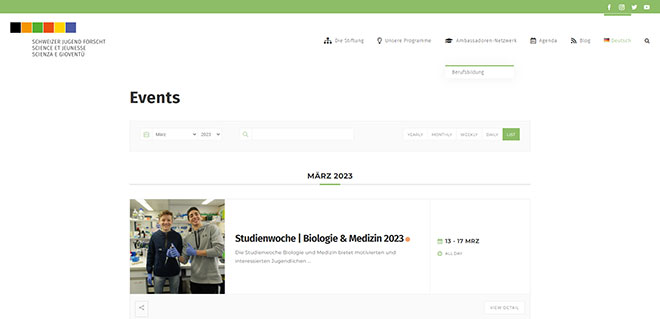 Swiss youth research is a small but fine group that controls the large network of partners and experts from the heart of Bern. They help young people to gain experience in the world of research by the help of well-known representatives from science, politics and business.
They hold all kinds of events from kids courses to national competitions. You can find their future events in a slider view with an image attached to each slide to give of a quick preview of what the event looks like
Once you click on the events you will be able to see a brief description about the event and a countdown to when the event starts.
Galveston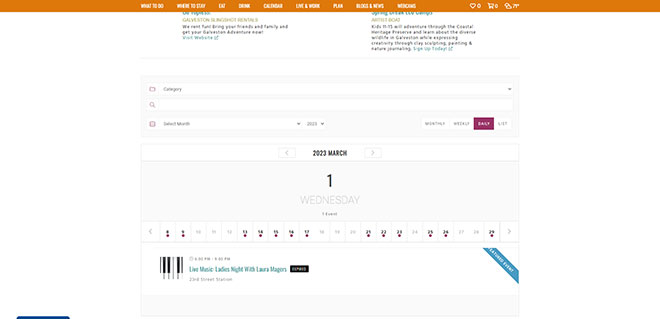 Galveston hosts the largest Mardi Gras celebration parades where you can see headliner performances, family events, feasting and other festivities.
This beautiful website plays an important role in the introduction of the culture and tourist destinations of Galveston island. You can find all the festivals, concerts and nightlife events and get introduced to a large community of fun people and make new friends.
Galveston uses multiple calendar views on their website including the carousel view and the full calendar view. The second view mentioned is their main calendar page where you can choose to pick daily, weekly, monthly or list views.
Devonport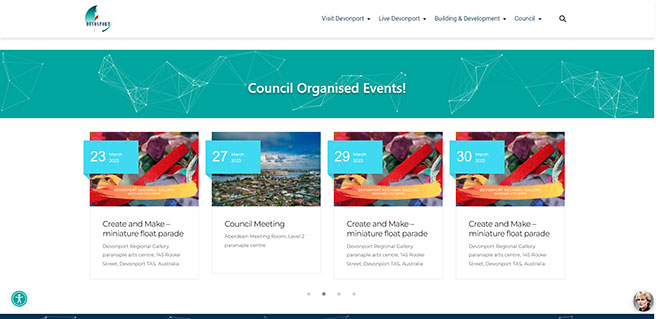 Devonport City Council is a great website to get informed about all the events and tours held in Devonport. There are art exhibitions, yoga classes, nightlife events, tours and so on. You can even get to know like-minded people from all over the city to make friends or join for group activities.
It is interesting that a lot of our customers go for the carousel view because of how compact and user-friendly it is for a busy homepage with lots of information.
However, what is worth mentioning here is the single sidebar options. You might already be familiar with the organizer section or location, but you can also find the next events on the sidebar menu with a load more button to quickly check out what other options you have which is quite a nice feature.
Vantaantanssiopisto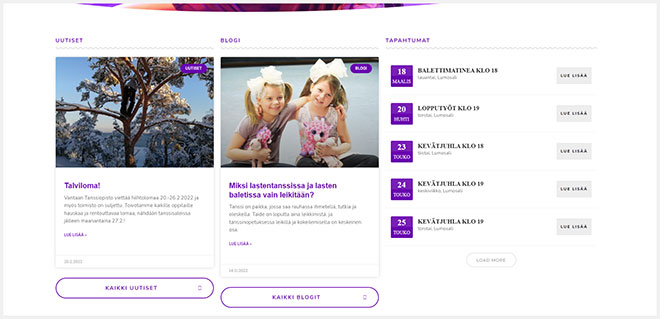 Vantaantanssiopisto offers high-quality dance education for children, young people and adults. All their teachers are dance professionals who provide a respectful and positive learning atmosphere for the students.
They offer a variety of events from dance courses to yoga and body-care classes in a list view on their homepage where you can find what you are looking for and proceed with the payment from the single event page with a ton of payment options.
They have a pretty busy homepage which can make a list view style a bit tricky, but our list views come with a load more button to control the length of the list displayed on the website to keep the website clean and match the size of the adjacent elements.
Tessa Trainingen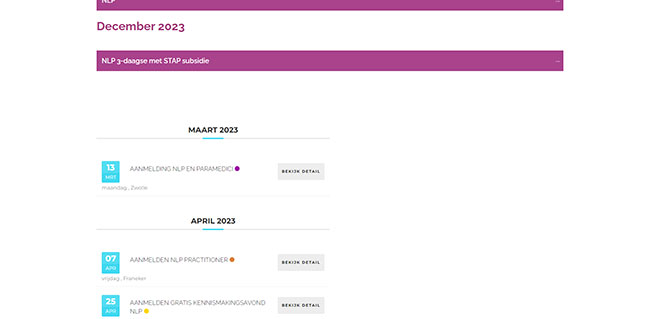 Tessa is an interesting self-help institute where everyone gets to tell their own story and get the necessary guidance to leave the problems behind using NLP which is a great method in order to get to know yourself and use communication efficiently.
Tessa displays their events in a list view style where the events get categorized on a monthly basis.
Tessa is a pretty beautiful website with lots of great courses but a simple color customization can help Modern Events Calendar blend in with the other design elements of their website perfectly well. They could easily change the color of this shortcode into a purple shade to match the purple theme of their website.
Recommended Posts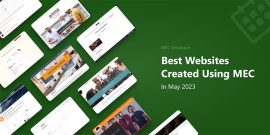 July 18, 2023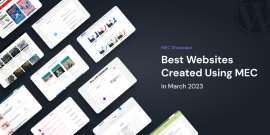 April 8, 2023