---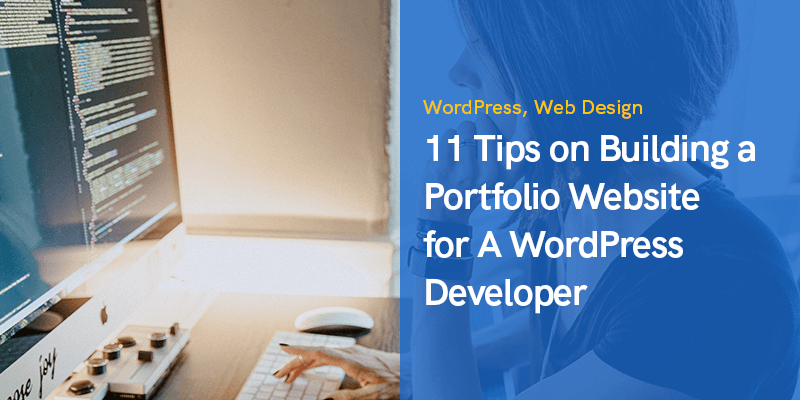 11 Tips on Building a Portfolio Website for A WordPress Developer
Having a good portfolio website is mandatory for businesses offering website development and designing services to customers and clients.
The need is more for freelance web developers and designers.
When a client chooses to hire a developer or a designer for their services, it is obvious that he has checked the portfolio of the company or the individual.
Therefore, having a good portfolio website is absolutely necessary.
With proper creation of the portfolio website, chances of getting hired for jobs to become higher.
Not only this, a proper portfolio website for a WordPress developer also acts as his marketing and sales tool.
The Importance of Having a Good Portfolio Website for A WordPress Developer
Industry experts have opined that people looking to excel in their professional lives should definitely work on building a good portfolio website.
This is highly applicable for creative individuals who can actually display and present their work online.
The web development and designing industry is a highly competitive one where each one is trying to outdo the other.
In such a cut-throat competition arena, having a perfect portfolio website helps in giving you a better edge over your competitors.
The majority of people now do some online research before getting any product or service from a company.
This stands true for hiring services of web developers and designers too.
Statistics show that almost 94% of people research online before coming to a purchasing or hiring decision of a product or service respectively.
With the creation of portfolio websites, freelancers or businesses can represent themselves online in a much better manner.
With a properly designed and developed portfolio website, the business can drive traffic to a great extent.
Leads can also be generated successfully with blogging and content marketing via the portfolio website.
In fact, if you decide to start blogging regularly on your portfolio website, there are a number of ways to make money outside of lead generation for your business.
Many successful freelancers have used this tactic for the rapid growth of their business and gained positive results as well.
Certain Characteristics That a Perfect Portfolio Website for a WordPress Developer Should Have
Now that you have made up your mind for creating a portfolio website for a WordPress developer, here are certain points that you must remember to inculcate in your site:
Showcasing the Work in Style
Your past work is evidence of the skills that you have.
Therefore, the WP portfolio site must have the best instances from your past work.
When the potential customer or client will see the past works, he will develop an idea about the skills of the WordPress developer.
Make sure that the portfolio contains works that you did for big companies so that the client gets to know your real worth.
If you have handled many projects successfully, try providing 6-8 good case studies as that would be sufficient for the client to understand your skills.
Dedicate a separate page to the website for showcasing your work; don't stash them up on the home page.
Lucid but Interesting Copy
While presenting yourself online, it is important that you have decent conduct.
And this will be reflected through the content present on the portfolio website.
Generally, portfolio websites are places where one projects oneself in the best manner as much as possible.
But overdoing the same might prove to be a disaster.
The content will vary depending on the different landing pages on the website. Refrain from using complicated and long sentences.
Make the language simple and lucid but captivating and interesting at the same time.
The content on the website should be readable. For better illustration of points, use images, icons, or other kinds of graphical representations.
These reach people quickly when compared to plain text.
Clear and Direct Call to Action
The main aim of creating a portfolio website is to get hired for new work by customers and clients.
The customer should be able to contact the developer via the website and this is the main action that is desired by businesses.
For this, it is important to have a clear and direct call to action on the portfolio website, which should be repeated smartly all throughout the website.
There should be a unique call to action button (contact us, let's talk, etc.) on the website.
On clicking the button, the customer will be redirected to a form, which needs to be filled up citing details about the future project.
The form will contain general heads like name, email id, contact number, project description, budget, etc.
Adding that Personal Touch
A customer visiting a WordPress developer's portfolio website might be highly impressed with the work.
But the customer might be looking for something which will help in establishing that trust in the developer or the business as a whole.
Adding small personal touches on the portfolio website helps greatly in this matter.
For instance, adding a professional image on the website can do wonders as the customer knows that he has to deal with this person.
Photographs help in creating a personal connection.
Therefore, the portfolio website should have a perfect balance of personal and professional touches.
Conversion rates are always high when a personal touch is added to the website.
You may even add a small section narrating the beginning of your journey in the realm of WordPress and summarize how you have grown along the way as a WP developer.
However, it would be a prudent thing to evade overdoing the personal element in the site! If you have a hobby that is rather offbeat such as cannabis farming you may evade mentioning that in the portfolio site.
After all, your motto is attracting target customers and not showcasing your personal life!
Sharing the Work Process
All WordPress developers who are freelancers or associated with a company have a particular work process that brings positive results consistently.
In fact, this is what helps one freelancer web developer stand apart from the other.
However, in the majority of the cases, it has been seen that developers are not very keen on showing their work process on the portfolio website.
But sharing the work process helps in attracting more numbers of clients to the business as clients know how the developer works.
There are clients who are interested only in the end results and are least bothered regarding the technologies that have been used or the years of experience that the developer has.
Understanding the working process makes working for the developer and the client easie
Understanding Client Requirements Is Vital
As a WP developer, you have to understand client requirements well.
As it is, different clients will have different requirements. It will vary from one developer to another as well.
You may cater to clients with e-commerce site development needs while other WP developers may focus on making celebrity websites or websites for financial entities.
So, your portfolio website should look reassuring to the target clients and they should be able to relate to its content and layout.
If you cater to clients with varying site development needs, design your WP portfolio web site in a neutral manner.
Being Authentic About What You Offer Matters
Any WordPress developer can create a site using the CMS platform for the client.
So, make it clear to the prospective clients what you can offer as a WP developer.
Using generic language is not going to create a solid impression on prospective clients. Neither bragging about your capabilities in tech jargon is going to work.
You have to highlight the salient features of your web development service.
For example, you can focus on aspects like flexibility, mobile-friendly design, solid site security, and integration with third-party apps and cloud services, etc.
The clients should be able to understand the USP of your WP site development service.
Testimonials Speak Louder than Your Own Words
The prospective clients visiting your WP portfolio site may still have some amount of doubt in their minds.
What can be used to dissolve those traces of skepticism? The best option is using customer testimonials! Use the testimonials that look and feel authentic.
When the prospective clients go through the feedback of existing clients- they get a sense of reassurance about the quality of your work.
The nice thing is that WordPress plug-ins are there using which you can fetch reviews from other online social media platforms into your WP site.
Ease of Navigation and Responsiveness
Your WP portfolio website should give the visitors a feel of what the sites developed by you feel and look like.
Naturally, the clients would want their websites to look stunning but they want the sites to be easy to navigate too. They want their sites to be mobile optimized as well.
These traits should be there in your WP portfolio site too. The site should be simple to navigate and it should load fast on all devices and browsers.
The site usage experience will seem more reassuring to the clients than whatever words you use in your portfolio site to convince them!
Contact Information Should Be Easy to Locate
So, you have designed your WP portfolio site using your skills and put in captivating content in it too.
That is fine but do not forget to use the contact details in the right ways.
The prospective clients should not have to search through menus and submenus to find out your email or phone number, for that matter.
Your ultimate aim is wooing those visitors and so making it easy for them to contact you is logical. So, ensure the contact information is located in a way so that the visitors can find them fast.
Use legible fonts and choose a color that contrasts well with the background color. Use contact form, email along with social media links in your WP portfolio site.
Not every prospective client would like to use the same channel for contacting you.
Refrain from Using Ambiguity
You must use clear terms when developing the content of your WP Portfolio site.
The site visitors should get a clear idea about the services that you offer and they should be able to figure out the nuances of your services too.
For example, the term ''affordably priced packages'' is quite clichéd.
What you deem as affordable may not seem so to a section of clients! Even if you do not mention the exact rate for the packages, you may use a range so that the clients get a better idea.
It is also important to be specific about the nuances of your WP development services.
When you talk about developing secure sites, mention what security protocols are deployed or standards that are maintained in the sites created by you.
Summing It Up
Developing a killer WP portfolio website will not be tedious if you know what elements to use and things to evade.
Focusing on client requirements and highlighting your strengths in the WP development arena matter the most in this regard.
Recommended Posts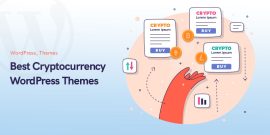 May 29, 2023