WPML (the WordPress Multilingual Plugin) is one of the most popular translation plugins for WordPress. With WPML, you can translate all pages, posts, custom types and taxonomy, and more.
How to Translate MEC for Multilingual Websites with WPML?
We work directly with the WPML team to guarantee 100% compatibility between MEC and the WPML, so to start translating, follow the steps below:
Step 1: Getting Started
First, you should make sure that some items are activated along with your MEC:
Our suggestion is WPML Advanced Translation Editor. To activate it, just navigate to WPML > Settings under the How to Translate Posts and Pages section.
Step 2: WPML Translation Tools
WPML gives you two options regarding translation editors:
WPML Classic Translation Editor (CTE).
WPML Advanced Translation Editor (ATE). This one comes with automatic translation, spell checker, glossary, etc!
In addition to translating your site's content on your own, the followings are also possible:
You can send your content for translation to a professional translation service.
You can create your own local translators team. This is done through the Translation Roles tab in Translation Management.
Step 3: Translate Taxonomies in MEC
First, make sure the WPML String Translation is correctly installed and activated.
If your website is a complex one, it should contain many strings for translation.
Using the display filter at the top of the String Translation page, you can determine which strings should be displayed.
By default, many strings have already been loaded into the String Translation table.
You should bear in mind that WPML does not support automatic load for every single string.
There may be times when you can't find a particular string for translation. For that, you can follow the instructions provided in this article by the WPML team.
Click here for more information about translating the taxonomies in WordPress by the WPML team. Follow the Steps Below to Translate All Taxonomies In MEC:
Go to WordPress Dashboard > User > Profile.
Enable Editing Language.
Save profile changes.
Go to WordPress Dashboard > WPML > Theme and plugin localization.
Set your desired language from the admin bar.

Find Modern Events Calendar (MEC) in the list below and mark the checkbox:

Keep scrolling down and click on the Scan selected plugins for strings button.
Now head over to WPML > String translation menu.
Type your desired taxonomy and click on the search button
Now do the translation; after closing the popup box, your changes will be saved:

Do the same for the rest of the taxonomies.
In order to enable the WPML String Translation module, you need to go to the Downloads section and download and install it from your WPML.org account.
Then, navigate to WPML > String Translation.
Step 4:
Method 1. Translating Your Events
WPML Advanced Translation Editor (ATE) main function is to allow your translators do their work faster and easier.
This editor has some main features like machine translation, translation memory, glossary, spell checker, HTML-less editing, etc.
WPML Advanced Translation Editor is basically a computer-assisted translation (CAT) tool.
It is completely integrated with browsers, so you or your local translators can easily translate posts, pages, and strings. If you want to use the Advanced Translation Editor, make sure you have the following WPML plugins, they should be installed and activated on your site:
WP

ML Multilingual CMS

WPML Translation Management

WPML String Translation

The Advanced Translation Editor is selected by default in the Translation Management setup wizard.
However, if it is not selected for you, you can enable it by going to the WPML > Settings page.
As you are translating a website, your content usually includes HTML tags. Advanced Translation Editor enables you to translate visually without having to edit any HTML.
The advantage of such an option is that you or your translators will never break the page structure or produce bad HTML. To translate MEC using WPML in the Gutenberg Block Editor plugin, follow the steps below:
Go to the page editing screen. In the sidebar of the Gutenberg editor, open the Language section and click the plus icon next to the language you want to translate your page into.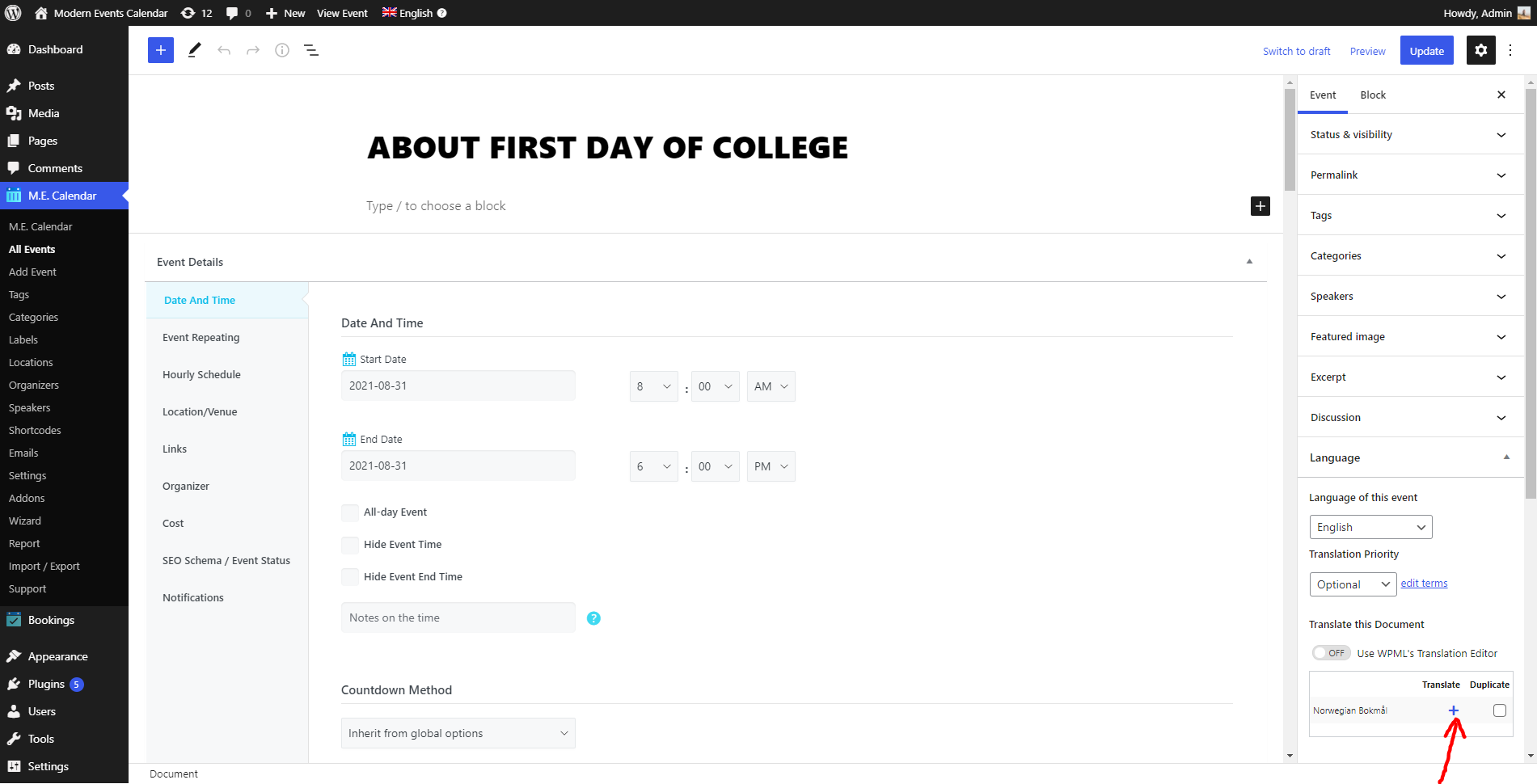 Step 4:
Method 2. Smart Translation
The fastest way to translate MEC strings and taxonomies is by using WPML with the WPML Translation Management add-on. In order to translate, proceed as follows:
After installation and activation, go to WPML > Settings.
Then in How to translate posts and pages, activate the Use WPML's Advanced Translation Editor option and save the changes.
Then, from the WPML menu, go to the Translation Management directory.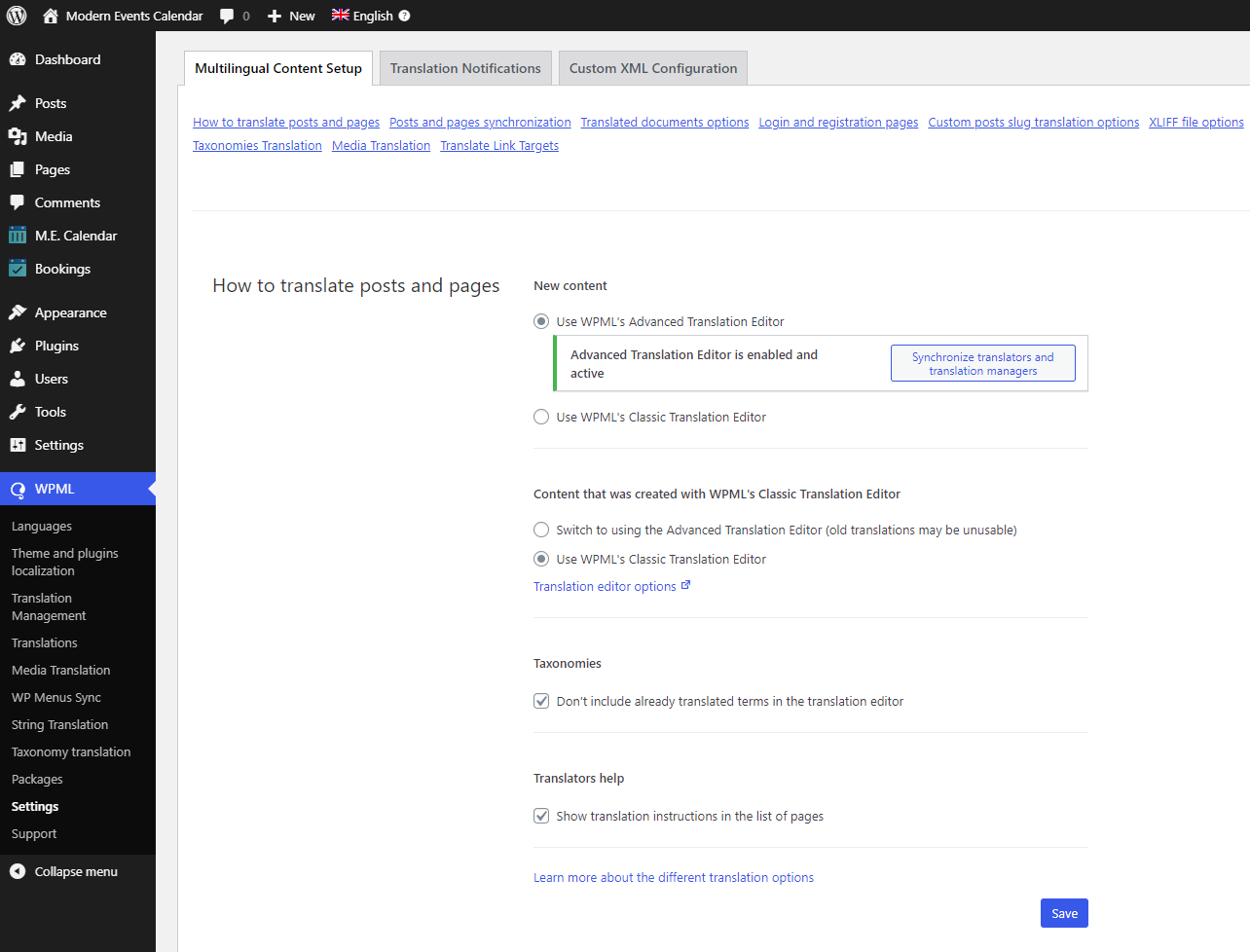 Here you should prepare the content you want to translate. Watch this video for a step-by-step guide:
After setting the Translation Management section, go back to the events page. Create an event, choose content for it, and publish it. Or you can edit an existing event.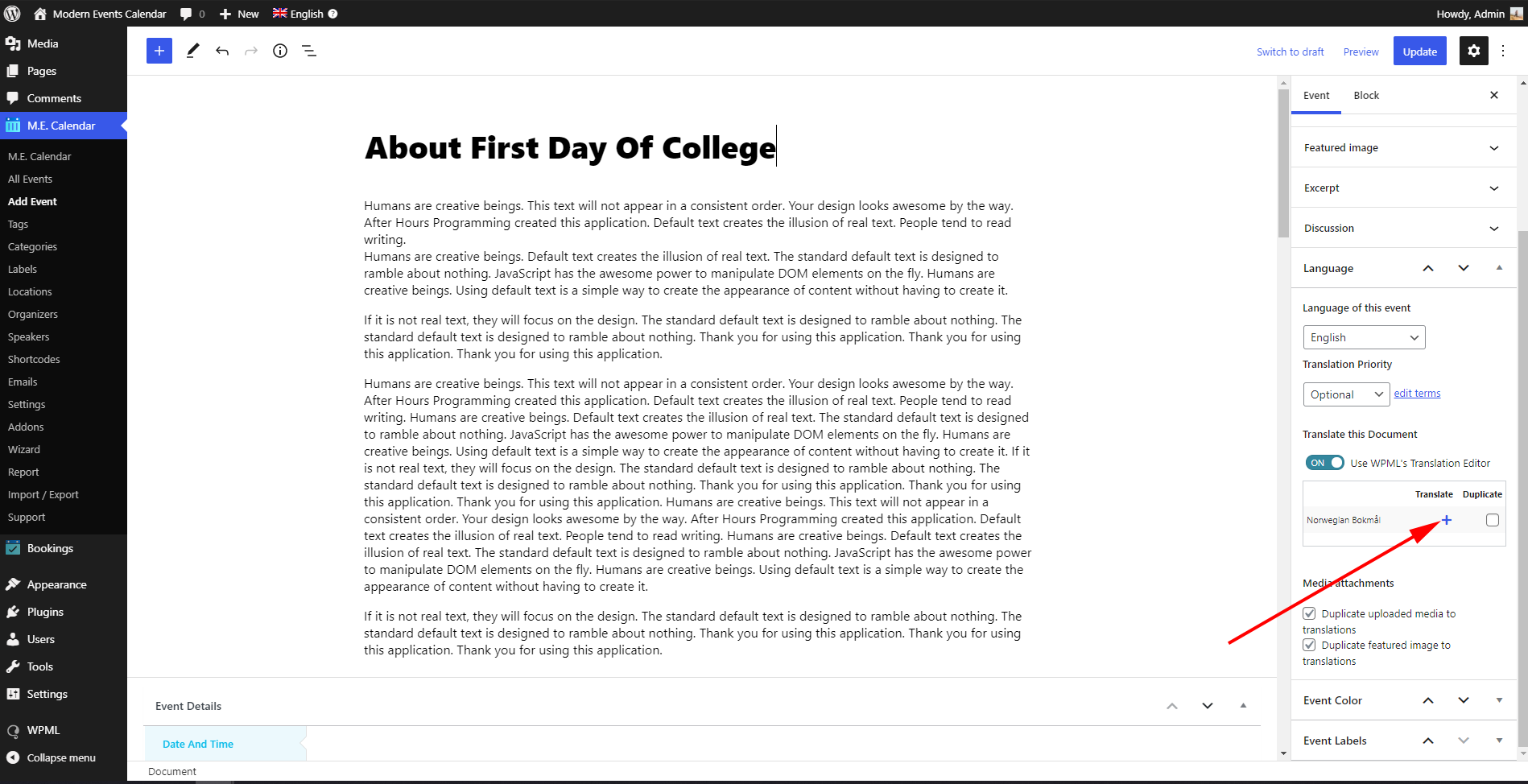 Click on the plus button in the sidebar (as shown in the above image). You will be redirected to the Advanced Translation section.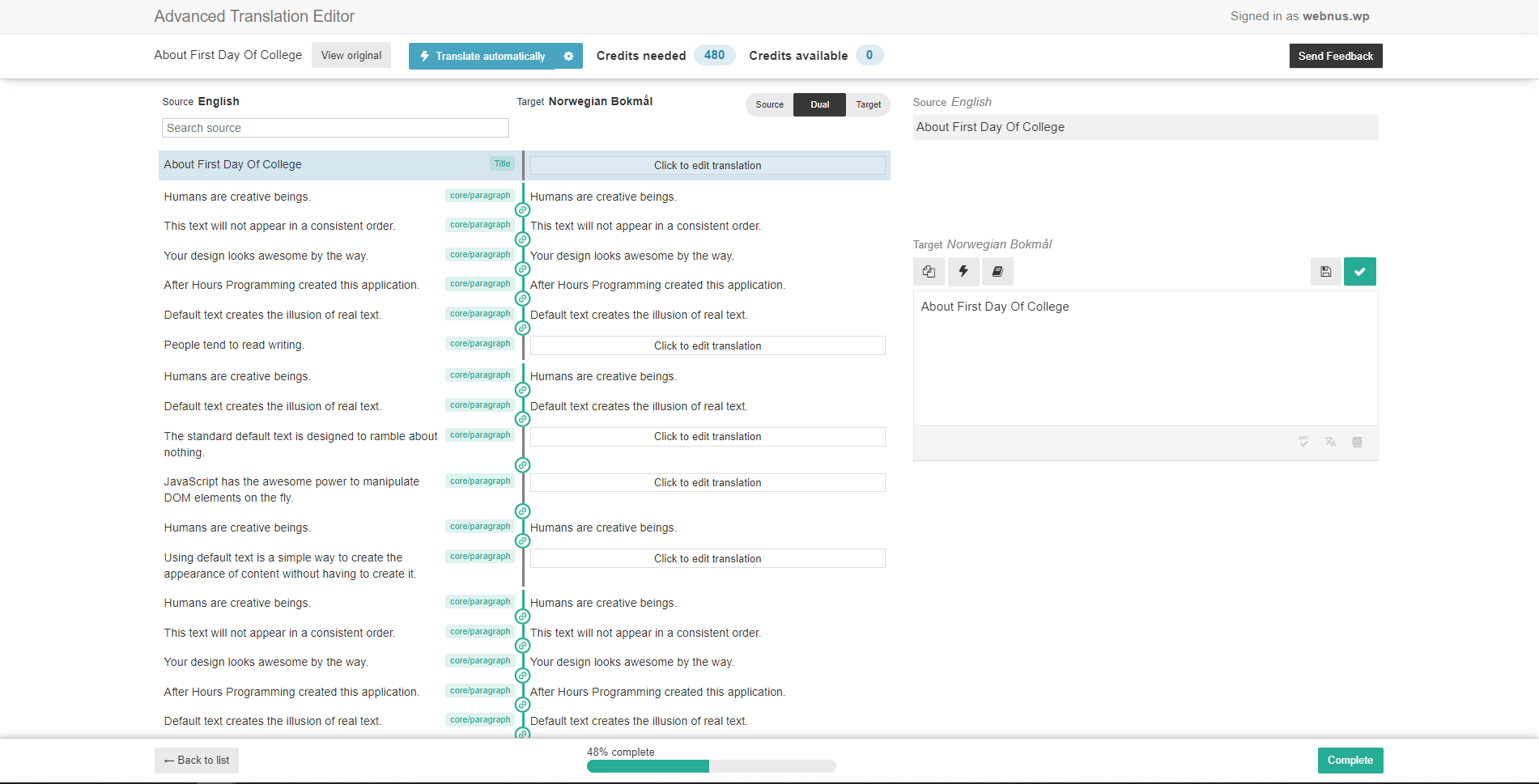 Now you can translate all the imported contents one by one. Or you can use Translate Automatically button. In this section, everything is simple, like a wizard.

After you're done, click on Complete to save your translations.
Now you should have an event with a secondary language. You can follow the same process for other languages as well.

Final Step: Webnus & WPML Support Teams Are There for You

Note:
Translation of dates, months, etc., is done using the WordPress date_i18n function. This is the same way with which your post's date and time translations would be done.
This means that to achieve date localization (translation), you should install the base WordPress translation files for each of the languages you wish to use.
The monthly translations are supplied using the native WordPress internationalization. So you should be able to get those translations using a completed translation file.
WordPress already includes localized date formats. Please make sure that the WP .mo file is correctly installed in /wp-content/languages.
You can check this in WPML > Themes and Plugins localization:
Go to WPML > Themes and Plugins localization.
Enable the Translate by WPML option.
Enable the WPML will automatically download WordPress translations option.
Click here for more information about WPML Localization.