---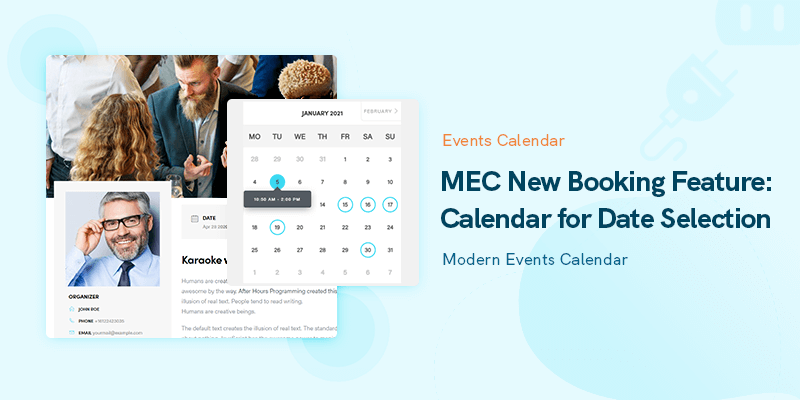 MEC New Booking Feature: Calendar for Date Selection
In this article, we're going to introduce Modern Events Calendar new booking feature called Calendar for date selection.
The Modern Events Calendar plugin is a robust tool that has drilled down into the expectations and requirements of WordPress users for online event management. The Lite version of this plugin now has above 70,000 active installations, proving the comprehensiveness and multi-functional capability of this tool compared to others.
As you may know, you can use the booking module of MEC to allow users to make reservations for your paid events directly on the website.
Activating this Pro feature of MEC enables your users to choose the number of tickets they need, select the available dates, and finalize their booking most easily. Depending on the option you choose from the plugin's control panel, you can provide users with two date selection methods:
A Dropdown List
A Calendar
In this review, we'll shed light on each of these two options with an emphasis on the newly-launched 'Calendar' feature published as an update for MEC.
Before that, let's have an overview of this fantastic tool for online events:
Modern Events Calendar: Powerful and Stylish

The ever-increasing popularity of MEC resides in its particular focus on all aspects of online event management.
No matter if you run a local business or an international one, MEC comes packed with plenty of robust features to manage the events competently.
Compared to other WordPress event management plugins, MEC offers plenty of advantages, even in the free version.
From single-day meetings to recurring events throughout the year, the plugin lets you arrange all event types most conveniently.
Considering the importance of views on different website sections, the Modern Events Calendar has the most versatile set of layouts for all needs.
For instance, the full calendar view is a perfect choice if you want to show your event schedules on a separate page. The intuitive interface of this view option lets your audiences search through the events and find what they need in the simplest way.
If you are interested on choosing the best WordPress event management software, you should read this: Best WordPress Event Calendar Plugins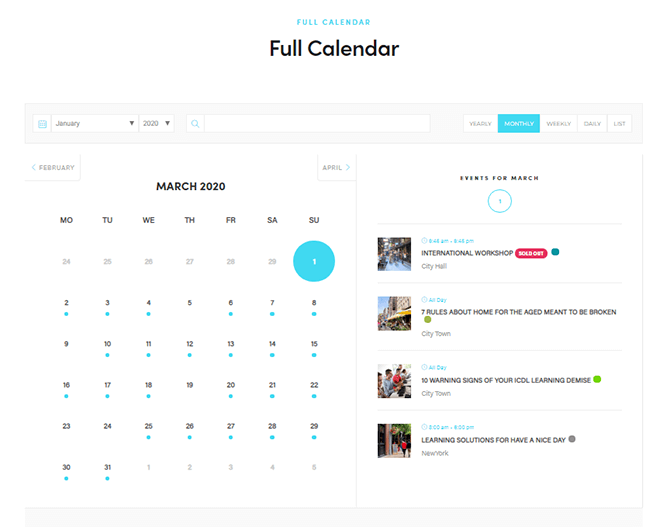 Map view is another smart solution for businesses that hold events in different cities or countries. It helps business owners display where they gather at specific times of the year and show that they're not focused on one specific area.
Integration with different payment systems and other marketing assets such as Mailchimp adds to its versatility for better results. Besides, MEC is an Elementor-based plugin that benefits from the great features of this robust page builder for more pleasing aesthetics.
These capabilities are not limited to what you see by default in Elementor since you can find plenty of addons on the website designed specifically for it.
To put it in perspective, the Elementor Single Builder tool unlocks several options for designing more appealing event pages. Elementor Form Builder will also bring you additional options to design more engaging ticket forms for different occasions you hold events in.
With this brief introduction, now it's time to take a look at the booking features of MEC:
MEC Booking Feature
Once you install the Modern Events Calendar plugin, the 'Booking' tab appears in its control panel.
You can easily activate the feature by clicking on the 'Enable booking module' option.
Next, the plugin reveals all the available options divided into multiple parts, including Date Options, Interval Options, User Registration, Booking Elements, and Booking Confirmation.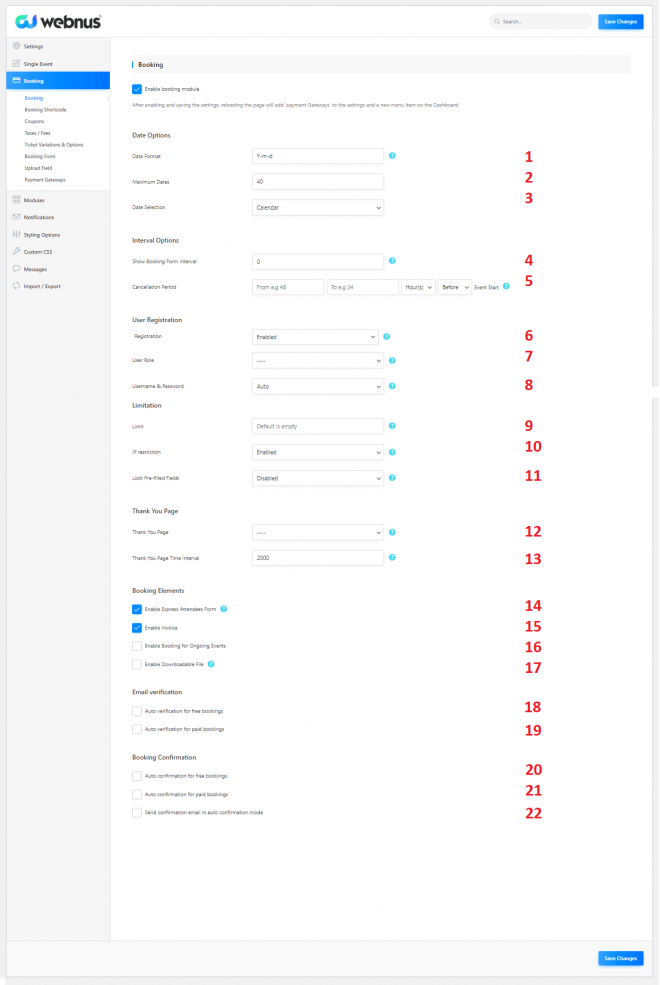 Date options, as the name suggests, is where you can modify the date selection options.
Clicking on the 'Date Selection' item allows you to modify how your users can see the available dates when booking an event.
If you choose Dropdown, you'll see the date selection feature as below: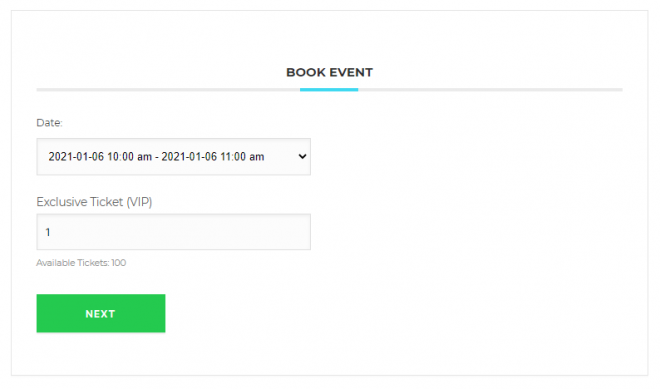 Going for the newly added 'Calendar' option will allow you to display a stylish calendar to your audience instead of the dropdown menu.
The available dates for the events are marked with a different color on the calendar.
Plus, if you have more than one event on a single day, your participants can see them all and click on the date that best suits them.
To make things more precise and avoid any mistakes, the plugin shows a dialogue confirming the selected date.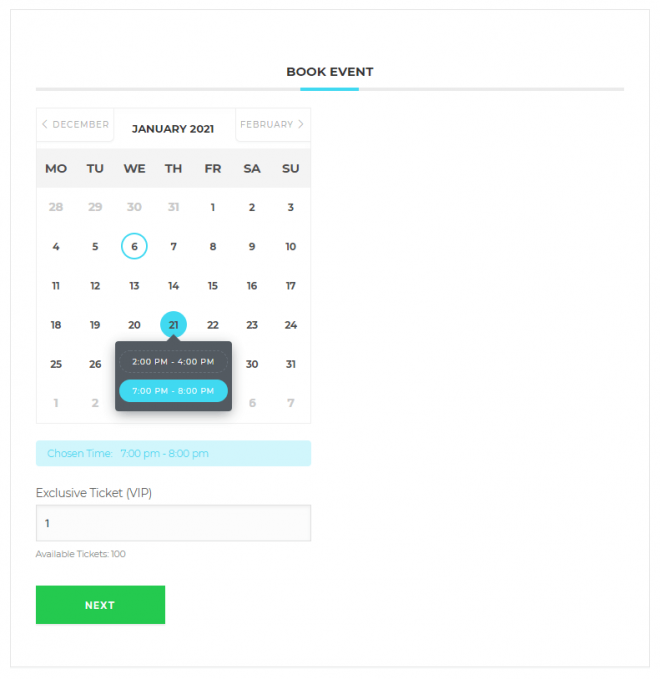 Your website visitors won't be able to proceed to the next steps unless they choose at least one date from the calendar.
If they click on the 'NEXT' button, they will see a notification telling them to select a date first.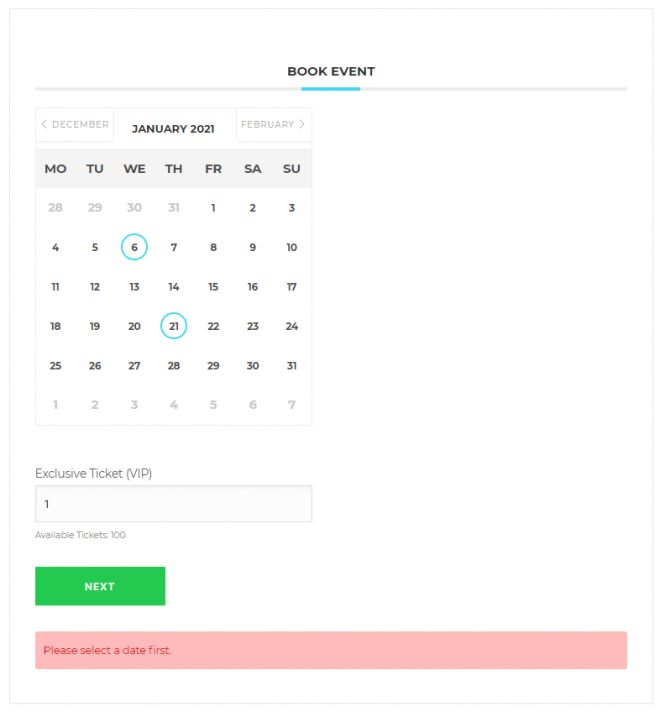 If you like to make a unique user experience, you can change the calendar's color and align it with your brand and website designs.
To do so, head over to MEC Settings > Styling Options and select the set of colors you prefer.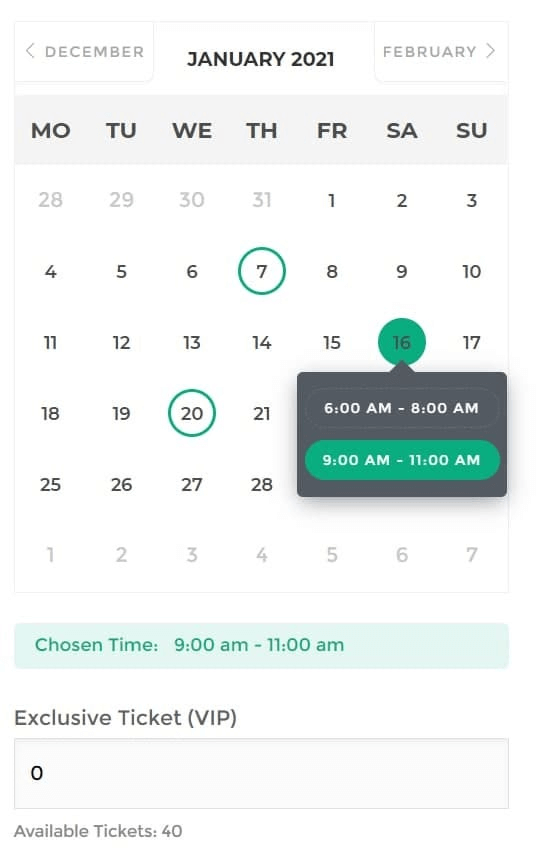 Booking Shortcode on MEC
WordPress shortcodes make it easier for website owners to use their designs and features on other parts of the site by simply copying a line of code or ID.
The booking shortcodes come in [mec-booking event-id="?″] format where you replace your event's ID with the question mark.
Sometimes you may prefer only to show one of the prepared tickets in your booking module.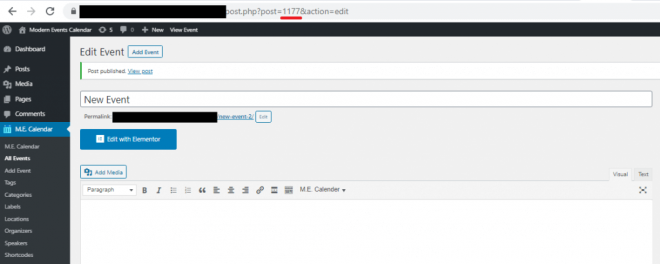 You can do it by adding the [ticket-id=" 1″] to the end of your shortcode. The following pictures can help you with finding the IDs of events and tickets.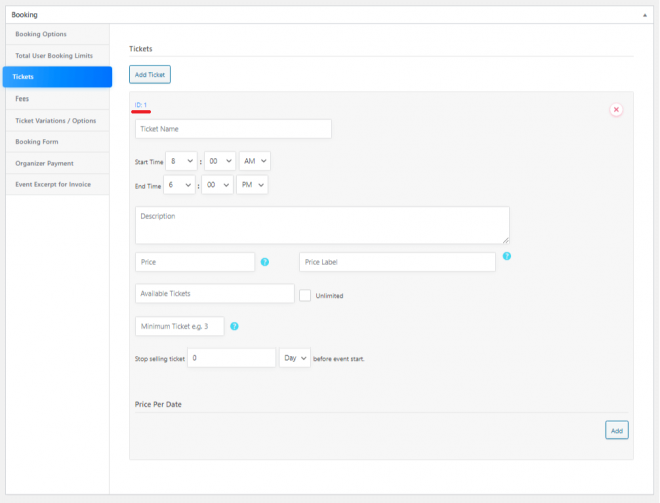 The developer team behind MEC has already provided an option for the shortcodes by which your users can book events directly from the website sections running on your shortcodes.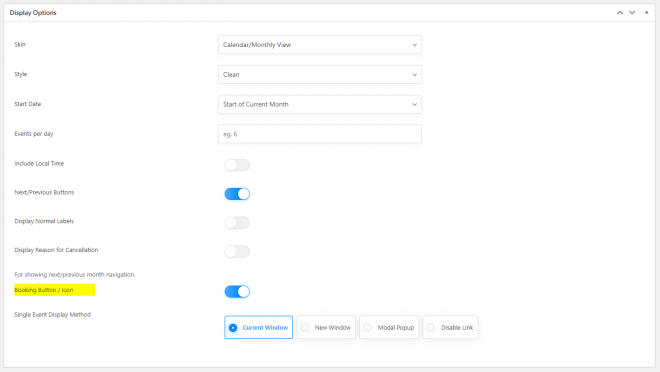 This feature works if you use the 'Dropdown' option from the plugin's control panel as described earlier.
You should be careful not to use the new 'Calendar' option if you want to activate this feature on your shortcode.
The reason is that those direct booking buttons are already placed next to a calendar, and it's not possible to open up another calendar upon pressing these buttons.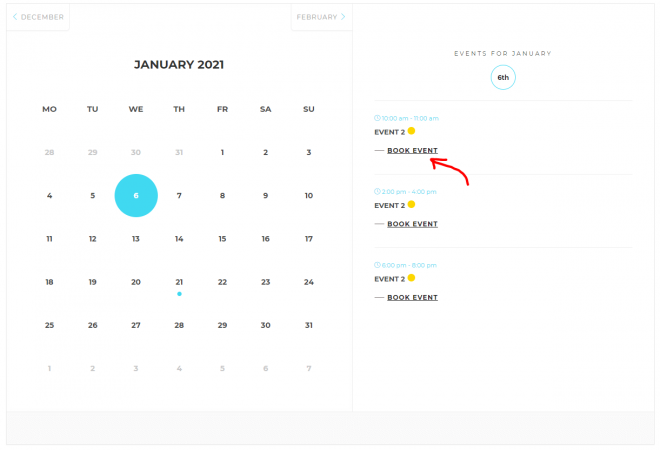 How to Book an Event on MEC?
Booking an event online with MEC is a straightforward approach. First, you should scroll down the event details to see the 'BOOK EVENT' section.
Depending on the option you set in the plugin's settings, you will see either a dropdown list or a calendar.
Below that, you select the number of tickets and press the 'NEXT' button.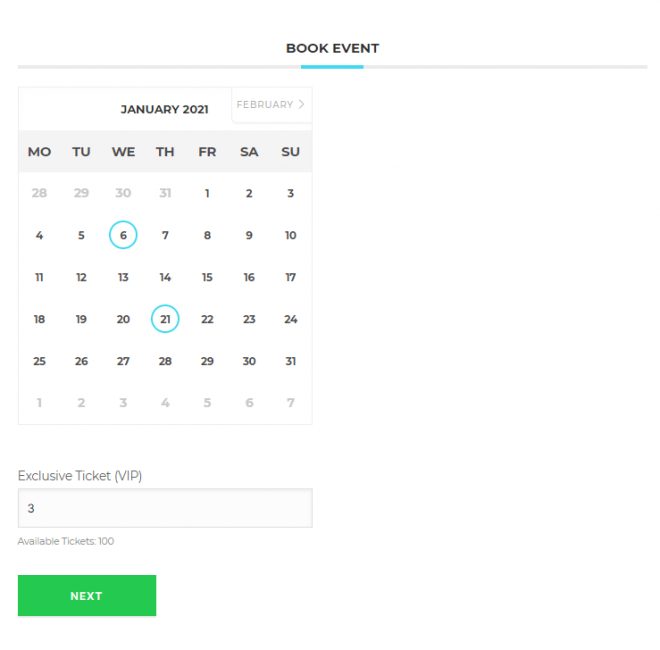 The next window is 'ATTENDEE'S FORM,' where you're asked to enter the email address and name.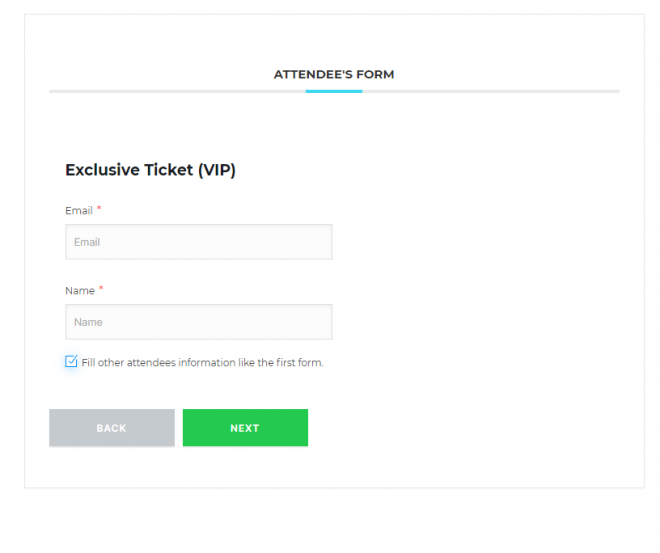 In the checkout section, you can either choose to pay locally on the day of the event or use the online payment systems already added to the plugin.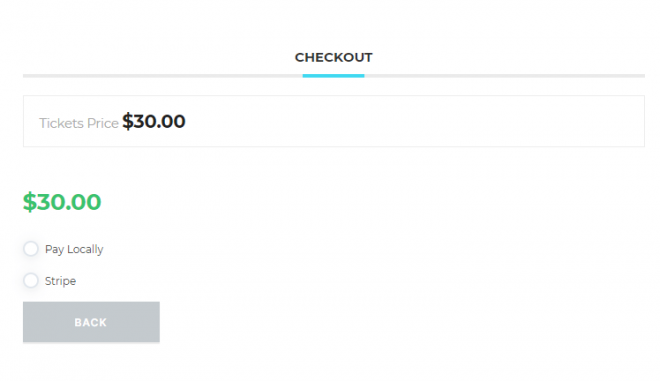 Once done, you'll receive a confirmation email including the details of your reservation. As you can see, the booking procedure on this plugin is simple and user-friendly for all individuals, whether they're beginners or advanced internet users.
Wrapping It Up
MEC is a feature-rich and modern WordPress plugin that unlocks various practical features for the best online event management experience.
The new date selection feature of this plugin allows people to choose the booking dates easier through an intuitive calendar.
The overall result is a smoother user experience that takes less time, especially when running multiple events during the month.
Recommended Posts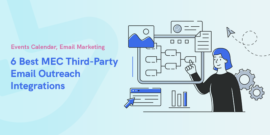 July 24, 2022