---
12 Software Features You Need for an Efficient Event Management
Event Organizing can be simultaneously challenging and fulfilling. Creating a successful event entails considering many aspects. An event planner is responsible for finding and coordinating with the venue manager, caterer, sounds and lights technicians, logistics, marketing, and promotional materials, advertisements, tokens, and many more.
Therefore, event management needs a systematic process to get everything in order on the big day.
Why Choose the Event Management Industry? 
Events management can be a rewarding business if you are passionate about creating smooth and seamless meetings, conferences, trade shows, social events, etc. If you get sheer satisfaction in carrying out a well-managed event, you have the characteristics of a good event planner.
With various businesses, communities, organizations, families, and individuals who need an event management organizer to arrange their special events, there is a constant demand for event management teams.
To be one of the top 10 event management companies in your city or country, you have to be resourceful and smart in event management, taking advantage of the best event planning tools available.
Finding the best event management software to help you with your event management business will be a significant advantage.
You can simplify appointment scheduling, booking processes, and email reminders. 
What Is Event Management Software Technology?
With the advancement of software development technology, there is a software solution for almost every business enterprise, including event management software. Using reliable event management software will be beneficial for every event organizer. 
In a nutshell, onsite event management software helps the events team to synchronize, control, and manage events operations from event preparations to post-event evaluation. It often comes with a handy smartphone app that allows attendees to access the events' details and booking process.
In this article, we'll look at event management software in detail, outline the characteristics of a good event planner, find the best all-in-one event management software in the market and its features.
Have you tried setting up a WordPress event business website?
Our Modern Events Calendar has over 50+ layouts, is designed according to the latest trends in the web design world and has all the features an event business needs. Webnus will design and launch your desired event website from start to finish.
Find Out More
5 Reasons to Get Started with The Best Event Management Software
Humans are always leaning towards innovation to make life easier continually. Ancient inventions started from wheels carved out of woods for easy transportation. As time passed by, humans evolved and invented more machines that solve human problems. Modern innovation proved helpful in people's daily lives.
Software technology has helped people in many ways.  Busy people who have no time to go to the grocery or cook meals can now easily purchase online and have them delivered to their doorstep. Gone are the days of long lines at the bank; now, banking activities are accessible through online bank mobile apps. You can make payments, transfer funds, pay your bills, and check your bank balance through the app. These are just some of the essential to-do's that became easy and quick with technology's help.
The Events Industry is no exemption. With all the hassle from increasing events and short planning periods, these five best reasons will convince you to implement an event planning system software in your business.
Your Events Are in Your Hands
When using an event management platform, you will have access to all aspects of the event. You can decide what information you can display on your event website if you have one or on the digital display on the venue.
Through event planning software, you can oversee and monitor the event under your direct supervision. You can make the call and make the entire event according to your preference or what is best for the event.
Event Booking Software Allows for Customization
As an event planner, you always want your event to stand out and create an impression on people. And one of the things you can do is to make your event different from others. The way to successful and unique events is customization.
One of the advantages of event management software is it allows you to customize your event materials in many ways. You can design your email marketing or electronic invitations according to relevant color schemes that relate to your guests, a unique design for the entire event, or even a unique setting and venue management.
Efficient Event Planning and Management Software Saves Time and Money
Event management software integrates all event planning tasks in one single platform. You can compile all your event suppliers and contacts, make reservations, and accept inquiries about your services. Thus, it saves you time and money. You will have everything in one software interface, from registrations and ticketing up to the post-event assessments.
With a reliable and integrated platform, you will save a considerable amount of money and time. You will no longer need to purchase and adopt separate apps for different tasks or do them manually.
Most Event Management Systems Have User-Friendly Interface
The best event management platforms serve their purpose: to make the entire planning fast and convenient. And to make this possible, an easy-to-use interface is the key. Users only need one orientation, and then they can easily take it over from there.
Instead of manually booking the event venue, you can do this in the app dashboard with a few clicks. Other features also include guest management, including their arrival and departure. Overall, it helps you have a good event without everyone in the organizing team getting tired and burnt out afterward.
Event Planner Management Software Generates Reports Helpful for Future Events
The best event planning apps contain features that collect, store, and analyze data to generate valuable reports.
These reports and analytics features can be monthly reports for event venue usage, the number of confirmed attendees, sales and return on investment, and total activities in a particular month. You can track your progress and discover what works for most people and what needs improvement through it. Then you can maximize your overall event return on investment.
The Right Questions to Ask When Choosing the Best All in One Event Planning Platform
The top 10 event management companies surely made critical decisions as to why choose event management technology, tools, software, and equipment to acquire in their daily operations. Of course, you want to be successful, too. 
Here are some questions you need to ask and consider when choosing the right business event management software to help you begin.
Does it Meet My Event Requirements?
One of the basics in choosing the right event planning app is to assess first your event requirements. 
What are your struggles in planning an event?

What types of software features can help you solve your event management struggles?

How should the software app simplify your business processes?
These are just some of the questions you need to ask before deciding to purchase event management software.
Is it Suitable to Promote the Event?
Online event management software plays a significant role in promoting your event.
However, it does not come in free size. If you plan to manage large conferences or conventions, you will need the best conference planning software to cater to many participants. On the contrary, if you work on small events, an essential promotion feature could suffice your business.
It is ideal to have online event booking software that can reach a larger audience when necessary. 
Is it Worth the Price?
No matter how cheap or expensive your event scheduling software is, if it meets your requirements and functions according to expectations, that should be worth the amount you pay. 
Is it Cloud-Based?
Cloud-based systems are very advantageous in terms of data security and backup. With the events business, you will deal with countless essential data and ensure they are safe and secure. Having cloud-based venue planning software will help you with it. 
It Must Comply with Data Privacy Regulations!
Event venue management software efficiently stores all essential data for your event, speakers, guests, and participants. It also collects information regarding money transactions such as online payments, total sales, and return on investments. Thus, it needs to adhere to the data privacy rules. 
Is it Reliable?
Necessary software and systems need to be reliable at all times. Subscribing to software companies that offer free trials will significantly help you decide whether to continue purchasing. This free trial period is one way to test their features, post-update systems, and overall support team. 
Does It Have All the Features I Need in My Business?
Having a software system that misses one of the necessary features and functions you need is close to no use. Thus, in deciding the best event booking software for your business, be sure to have everything you need.
12 Must-Have Event Management Software Features
Event management software is a versatile platform that provides a range of benefits of event management software covering all areas of the event planning, execution, and evaluation process. From the planning stages to the post-event stages, convention management software is an end-to-end solution. 
Below are the 12 must-have event management system features that your event management technology should have.
Upfront Event Registration and Ticketing Options
The event management solution must allow participants to register for events and buy tickets conveniently online. Often, ticket rates and other fees should be straightforward and accessible to attendees in the app. In the case of a multi-session scenario, the app should also enable users to book specific sessions.
Additionally, the digital event management app can make it simple for event organizers to list their tickets from the backend.
Paperless Check-in
Attendees will need to check-in when they arrive at the venue. As a result, a quick, paperless method is ideal. Integrating your check-in process with your conference planning tools is the perfect way to guarantee a painless check-in experience for your attendees. As a result, you can sync all of the attendees' information quickly.
Audio/Video Calling and Text Messaging
Both the visitors and the event organizing team need one-to-one communications, community messaging, and audio/video calling capabilities. When they arrive at the site on event days, they may need to communicate with the event organizers or owners.
When it comes to the event planning crew, they must arrange many mini-events while still connecting with their coworkers regularly. As a result, text messaging and calling capabilities are essential features in party management software.
Flexible Payment Methods 
In event management software, providing a range of payment methods is essential for event organization tools. Integrating stable, dependable, and well-known money transfer options is a wise choice.
Social Media Integration
The app to organize events should have social media integration features. It is one of the most necessary tools for event planning and management. Any business firm will use social media to invite guests and customers to vote on, like, and retweet their content, increasing traffic to their accounts.
The company will advertise itself online, promote upcoming activities, draw more customers, interact with supporters, and so much more.
Safety and Security Assurance
Hacking and cyber attacks are imminent. Finding the best party planning app can ensure protection for all data relevant to activities and conferences using various methods.
The program should have good data encryption facilities. Safety and security through event management software breed the importance of technology in event management.
Additionally, such tools as password managers can become an additional security layer. If you use numerous tools for event planning, it can help to keep the necessary data in one place.
Real-Time Event Analytics
The software must have a real-time event analytics feature as it aids in making well-informed strategic decisions and taking steps that benefit the company. Event planning tools must collect real-time analytics and produce intelligent reports.
Automated Emailing and Messaging
Having such as part of the event app features would help event planners to save time, promote efficiency, and reduce their workload. They'll be able to send contact notifications, event updates, and other messages without much difficulty.
Real-time Polling and Surveys
These software features serve as event-goers' engagement activities. It is also possible to consider their attitude, beliefs, and other variables by using these functions and then bringing them into effect to boost businesses.
Budget Management
It's yet another valuable tool that will help you keep track of your accounts, re-estimate costs, and measure savings. This feature tracks all of the event transactions and guarantees that budget data, from high-level forecasts to granular line objects, are correct, resulting in accurate ROI.
Database Administration
Event management software relies heavily on databases. It combines online access, onsite visitor lists, email lists, and analytics into one system. Search for import/export features, various sorting options to extract different metrics and CRM, software support, process control, and cloud connectivity integration.
Event Scalability
Excellent event management solutions help you adjust the scalability of an event depending on the event's and organization's needs and specifications. It is a valuable tool for managing workers at big gatherings or small meetings.
Conclusion
A fully functioning all in one event management software is non-negotiable if you want to be competitive in the event management industry.
Smooth event operations with the right venue management system features will make event planning and teamwork coordination efficient, hassle-free and guarantee deeper attendee participation. Furthermore, it will assist you in achieving a strategic edge over your industry rivals.
Recommended Posts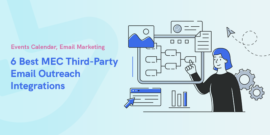 July 24, 2022