---
How to Easily Upload and Embed a PDF Using WordPress
PDFs can be effective tools for generating leads and providing valuable content to your readers.
If you'd like to embed a PDF to your WordPress site, so you can offer it as a download to your readers, this tutorial will explain how. We'll cover how to offer a PDF through your website as gated and ungated content.
And if you don't know what gated content is, don't worry: We'll cover that too.
Why Offer PDFs to Readers – Embed a PDF to WordPress
PDF files have a lot of advantages when they are used the right way, but the two most important are that they're universally compatible with many apps and devices, and they're easy to share.
PDFs are portable
You may have seen some websites that have offered tl;dr (too long; didn't read) options for impatient readers.
These sites invite you to download a PDF version of their content, which you can take with you in a more portable format and read later. Adobe created PDFs back in the 1990s as a way to use files across multiple devices. 
(By the way, that's the whole point of the PDF, which stands for "portable document format."
It's intended to be a universally accessible file format that you can share and consume across any device — Mac, Windows, smartphone, tablet, or whatever you use.)
PDFs are sharable
The PDF sort of evens the playing ground among document formats.
The universal format allows you to share ebooks, brochures, e-publications, presentations, and all kinds of multi-page documents, regardless of what program they were created in and regardless of what version.
For example, if you have a multi-page presentation that you created in Microsoft Word or PowerPoint, and you want to share it with your audience, you'd run into formatting issues.
Unless your audience has the exact versions of Word and PowerPoint, when they open your .doc or .ppt file, they may lose formatting. 
Uploading PDFs to WordPress
For this tutorial, we are using WordPress 6.1.1 and the block editor. 
If you haven't already done so, convert your file into a PDF. Save it on your desktop or in a folder on your device that is easy to access. Open WordPress and select Media >> Add New.


Using the media uploader, you can either click the Select Files button or drag and drop the PDF from your desktop onto the dialog box in WordPress.

Once WordPress completes the upload, you should see something like this, which confirms that the PDF has been added to your media library.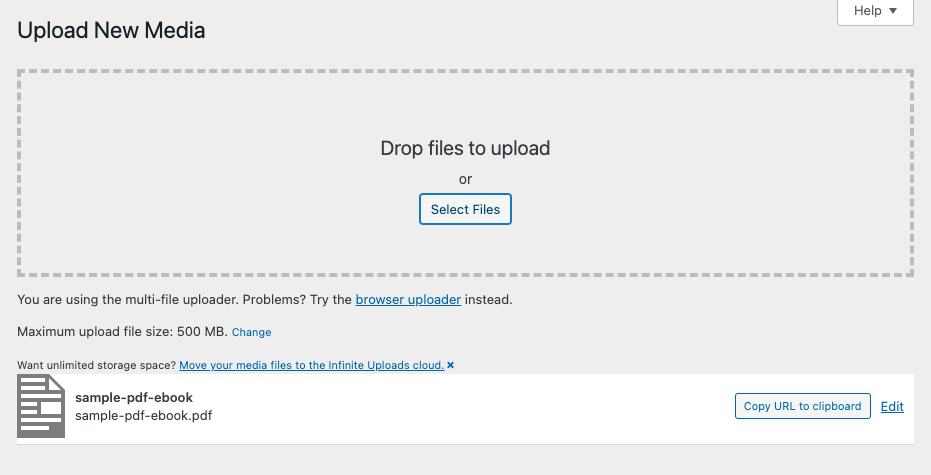 Now you are ready to add it to a page or post, which you'll do using the same steps that you use when you add photos. Within the post or page in WordPress, click the + and select File.
If the file is not visible, you might need to select "Browse all" to find it. WordPress's media editor keeps the most recent six types of elements visible. 
From this point, you could have actually uploaded the PDF; however, since we already uploaded it, we're going to select the Media Library tab.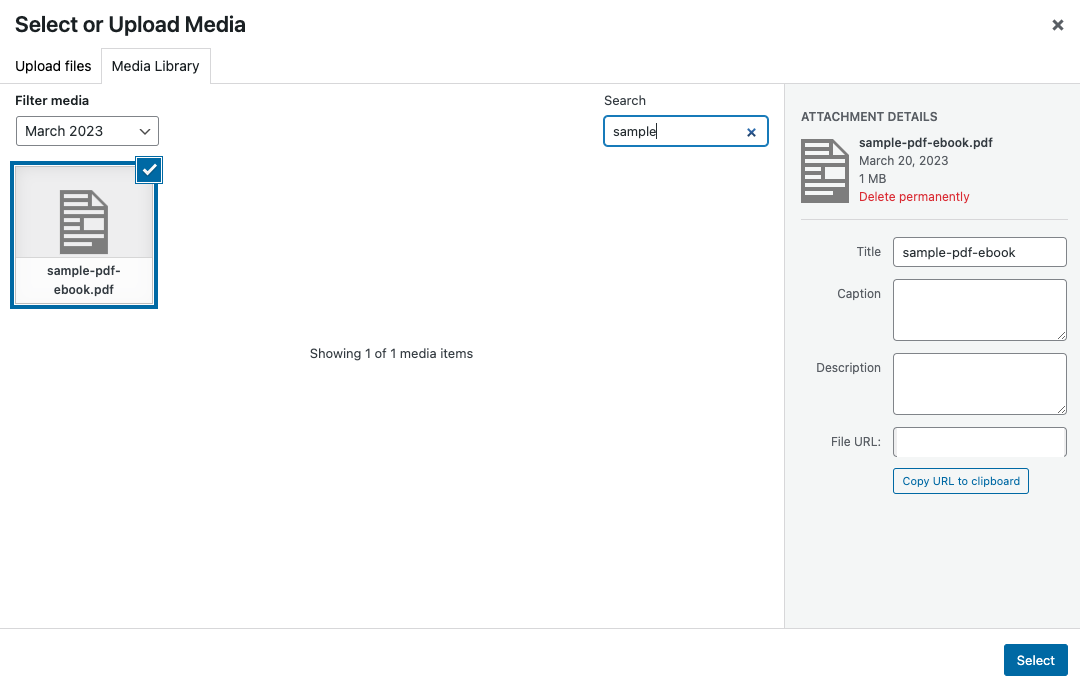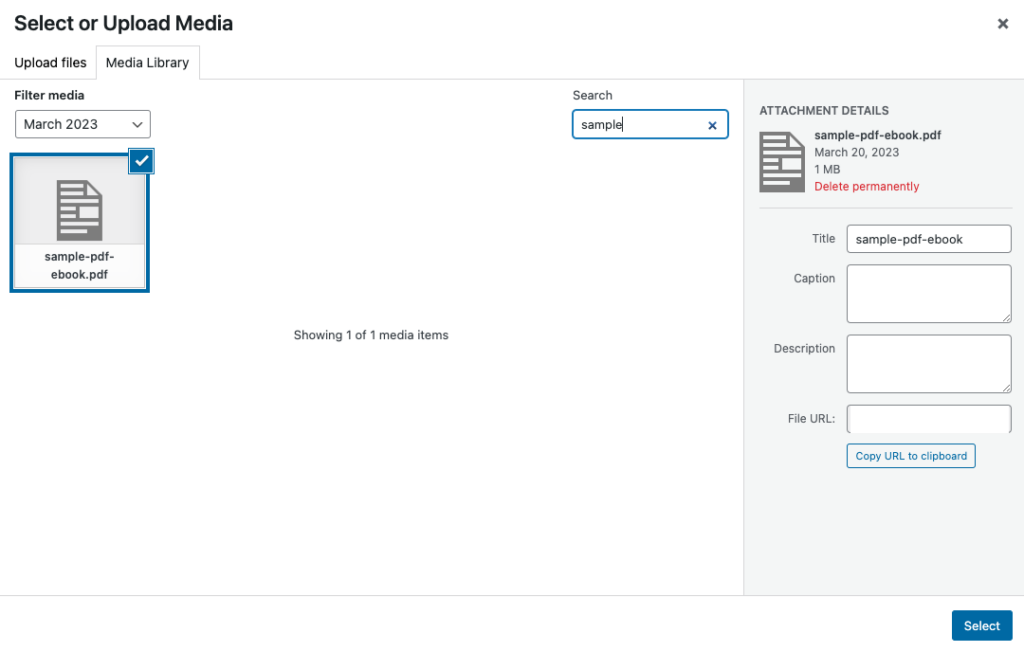 Select the PDF by clicking the box and then confirm by clicking the Select button. Your PDF should be embedded in your post now. Your viewers can either read it in their browser, or they can click the Download button and read it later. 
Generate Leads by Publishing Gated PDFs
A gated PDF is one that is locked behind a form. To access the PDF, your website's visitors will have to fill out a form. In other words, they'll "pay for it" by providing personal information in exchange for content.
You can use all kinds of PDFs for gated content, but the more desirable it is, the better it will work for you. Some examples include:
Templates
White papers
Research papers
Guides and tutorials
You'll need a form builder on your WordPress site, which will allow you to create fill forms on your site, and feed the data into your lead nurturing platform (Salesforce, Marketo, or Hubspot, for example). We cover this extensively in a separate post, "How to Choose Form Builders."
Here's how gated content works to generate leads for you:
You create a piece of content; for example, let's say you sell bee-keeping equipment, and you publish an ebook called Complete Guide to Starting Your Own Bee Farm.
You publish it on your website, but in order to download it, you ask visitors to provide their name, ZIP code and email address. 
Visitors complete the form, and once they confirm their email address, they can download the ebook.
Their name, location and email address go into your CRM platform (customer relationship management).
Your CRM automates email and text message workflows, offering more content and links to your bee-keeping products and supplies. 
Your marketing team uses parts of the ebook to promote it via social media and your blog, generating leads there, too.
Wrapping It Up
There are third-party sites that you can use to host your PDFs. But, the advantage of hosting your own PDF on your website, is that you truly own the content. While PDFs are not the optimal formats for SEO, they are great for generating leads and providing evergreen content to your site's visitors.
That's why we suggest hosting your PDFs through your WordPress account and creating a landing page, resource page, or blog post on which to present the PDF.
You can optimize the page or post content, which will benefit your SEO. Be sure to include a good headline, executive-type summary and a call to action to let readers know what the benefits will be for them to download your PDF! 
Recommended Posts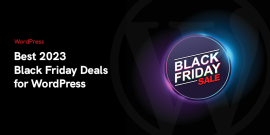 November 13, 2023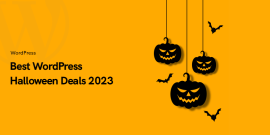 October 23, 2023