---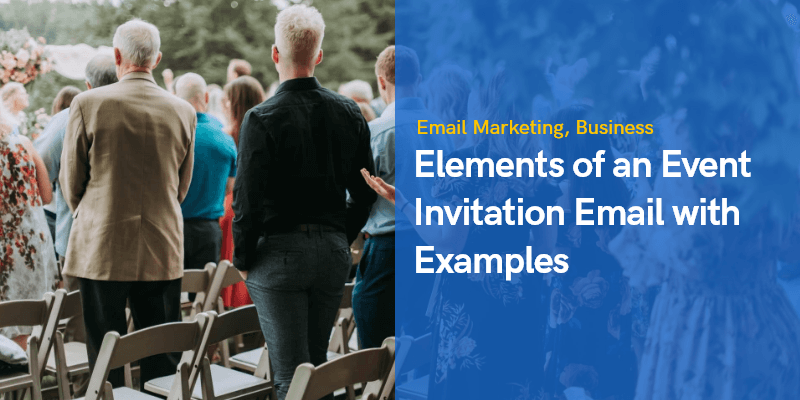 6 Important Elements of An Event Invitation Email With Examples
You're planning an event and need as many people as possible to attend? But how can you gather a large audience to sit in for your meeting?
Which aspects of an email invitation entice recipients to respond?
Take a look at the six main parts of a good event invitation email to see how you can use email marketing and tools like WordPress email marketing plugins to attract people to your next event.
Try using these six different aspects in your event invitation email campaign to acquire the most amount of exposure and attendees.
Check out our article on the best email marketing services: 20+ Best Email Marketing Services .
6 Major Elements of an Event Invitation Email
When it comes to creating an email newsletter, let it be for an event, for product sales, or for a launch, you must keep in mind some great strategies to create a compelling email to hook your readers.
Below we have mentioned 6 major elements your event invitation email must possess:
Targeted List
Use capabilities like geographical segmentation to segment your lists and only deliver the campaign to individuals who will be able to attend. As a result, you'll get smaller unsubscriptions and better open, click-through, and response rates.
Value Proposition
Try including a value proposition that explains what the event is and how attending will benefit you. People will be more motivated to click and buy a ticket or RSVP as a result of this.
Detailed Description About Event
Includes a thorough account of the occurrence. You should try to answer queries like, "What will happen at the event?"

What will they discover?

Who they'll see or hear from, and so on.

Time, Location, & Other Details
Include any pertinent event information that people might have to know.

For example, in case of a physical meeting the venue, any dress code, transportation, time, parking, etc.

Or in case of the virtual event, URLs, access codes, Dial-in numbers, timing, etc.

Social Proofs
Include social proof, such as testimonials from prior attendees, expert reviews, or even participant figures from your last event, to alleviate worry and encourage readers that their time and money will be well spent.
Prominent CTA Button
Include a big call to action button that takes you to a registrar or ticketing page. Many email marketing tools make this simple, and even if the registration and ticketing procedure is haphazard, it will help raise the number of individuals ending up attending your event.
7 Best Event Invitation Email Examples
Various events feature different selling points and requirements, and the emails you send out about them should reflect that.
We've event invitation email examples to make things a bit easier for your events staff. With these pointers and samples of event invitation emails, you can be confident that you're sending the greatest event invitation possible for any occasion.
Conferences are typically held over several days, with multiple workshops or breakout sessions scheduled throughout the event. As a result, make absolutely sure your conference invitation email explicitly mentions the dates, time, and timeframe of your conference (for example, "A free, week-long conference from Oct. 12-16,") as well as a summary of the themes or sessions that will be covered.
Take a look at the example of a conference invitation email below.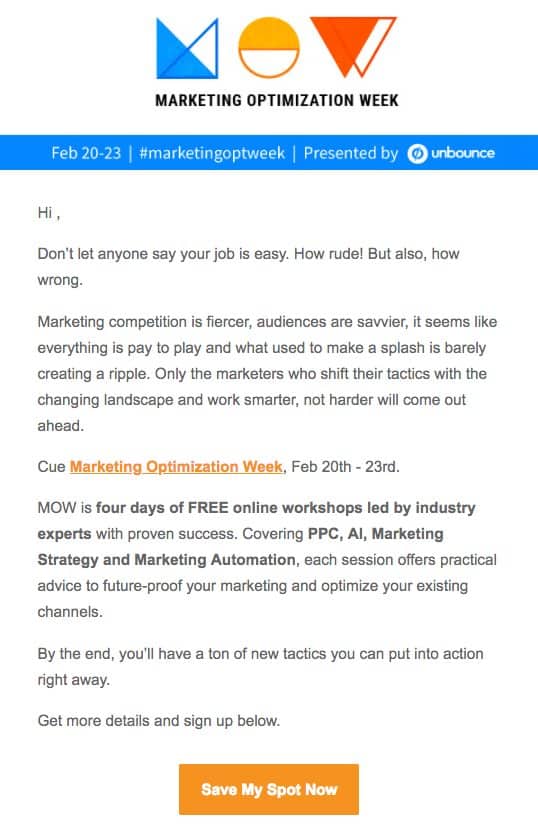 You can use this conference event invitation template for your own conference as well. This sample of a conference notice does several things correctly: It draws the reader in with interesting language and imagery, explains why a participant might just want to attend an event early in the email body, and provides all relevant information before concluding with a powerful CTA and a prominent link of registration to secure their spot.
Exclusive sales, whether conducted online or in person, allow you to generate a feeling of urgency while providing a VIP experience to your most loyal clients. However, sales invitation emails must appear to be much more than a marketing ploy. Focus on the event's exclusivity, as well as the benefits and savings.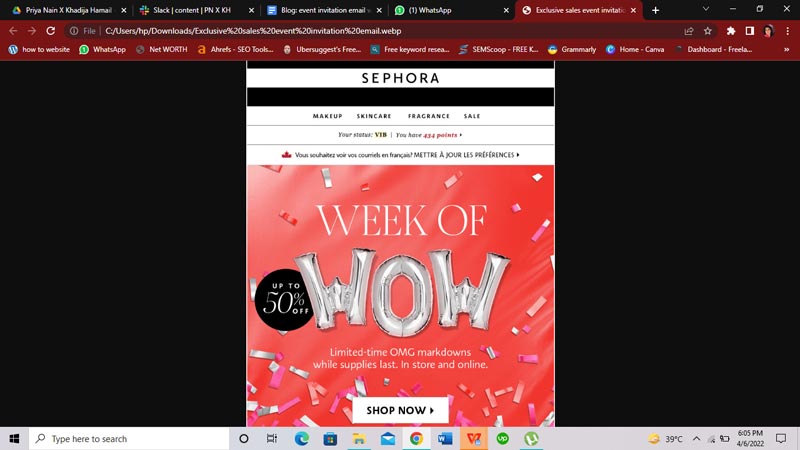 If you're giving a free gift with the sale or a 50% discount, highlighting those elements in your event invitation email can ensure that more people show up. Keep in mind that buyers prefer to know specifics and exemptions before they shop, so don't skimp on the tiny print.
Webinars are online, collaborative seminars that provide office workers with a quick method to keep tabs on industry-relevant material. When inviting your guests to the webinar event, make sure they understand why it's worthwhile for them to attend.
Make sure to explain what guests will gain from your webinar in your invitation email. Focus on the most important takeaways from your webinar, highlighting exactly what the registrants will receive in exchange for spending an hour or two with your team.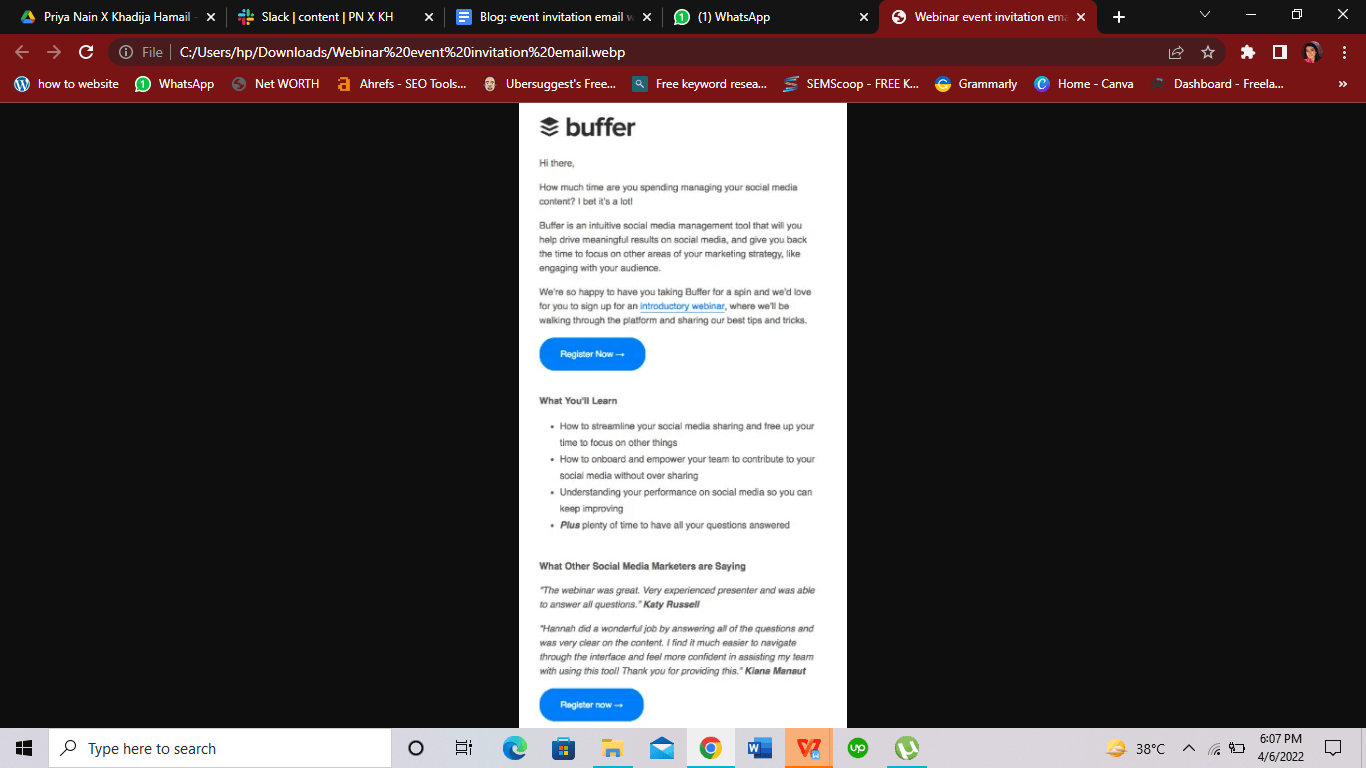 Three fantastic aspects may be found in this casual event invitation email sample: 1) relevant material, 2) a compelling call to action, and 3) social proof Business communication is the finest use case for such event invitations.
While Buffer targeted those who were interested in their product, it was a good idea to provide a clear value proposition as well as a client testimonial in the "What you'll learn" section.
Team Outing Event Invitation Email Example
Team trips, unlike other team building activities, require employees to leave the office. This is an excellent opportunity to highlight the unique offsite location you've picked for the event. Much of this may be done with the graphic style of your email template, but the content in the email body should convey your enthusiasm for the venue and endeavors you have arranged for the event.
You'll want to strike a distinct tone with your invitation, just like you would with a team development event. The email sample below displays a superb blend of layout and content that would make any workgroup excited for the impending event: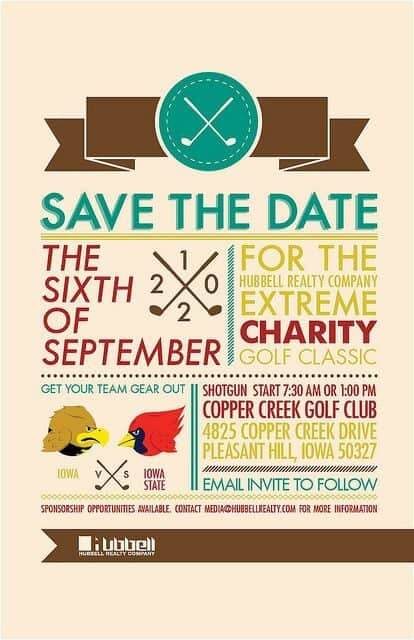 For any firm, presenting a new product to the world can be both exciting and worrisome. A product release can be a difficult task when there is an audience involved. Whether you're inviting folks to attend physically or via a live stream, you'll want to build anticipation in your invitation emails without giving too much away.
While seminars and exclusive sales demand you to explain why attendees should come, product releases require a bit of suspense. Keep in mind that the purpose of the release is to make a huge, splashy announcement. Have a look at this email invite template: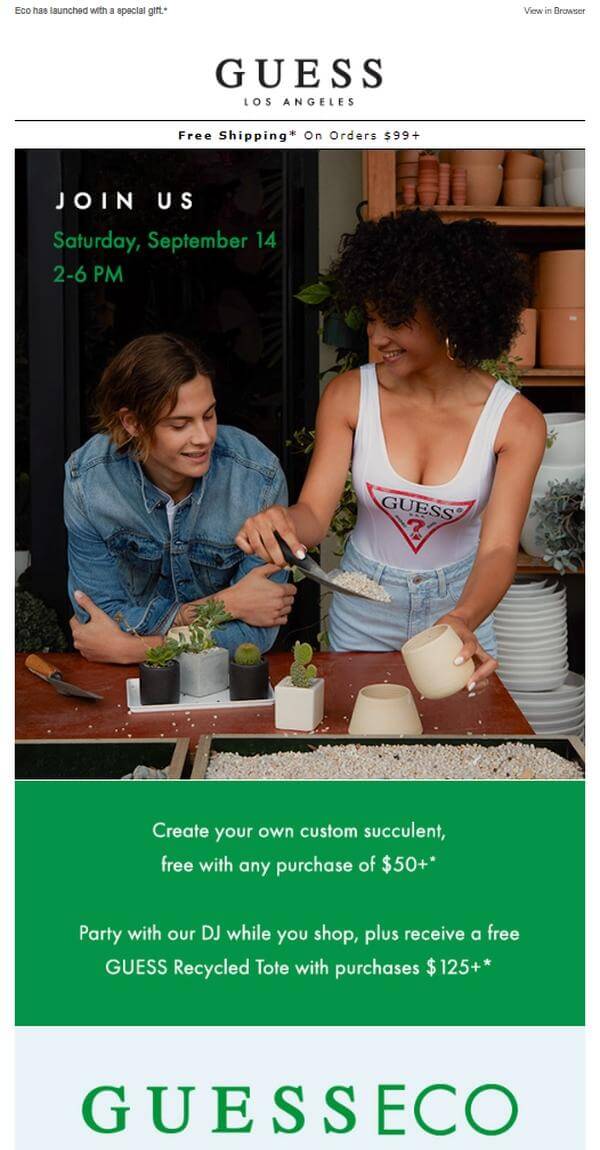 The email's innovative use of color promotes the event's goal: to increase sales of Guess Eco items, which are Guess products created from eco-friendly materials. Although red is the hue of the Guess emblem (as seen on the model's tank top), the email is dominated by green.
The advertising event is targeting a specific audience, as evidenced by the tote bags, succulent plants, in-store DJ, and eco-friendly clothing range.
Online Event Invitation Email
Online events are more popular than ever. As a result, there's a lot more competition for your prospective guests' attention than you can think of. To ensure your web event invitation email shines out all, sell the topic or theme of your event in an intriguing, engaging way, and make RSVPing as easy as possible.
You should always include an integrated RSVP link in your invitation email, but you should also consider incorporating a mechanism that immediately adds the event to your participants' Google Calendar or comparable service. This keeps your online event fresh in your attendees' minds even after they've deleted your email invitation.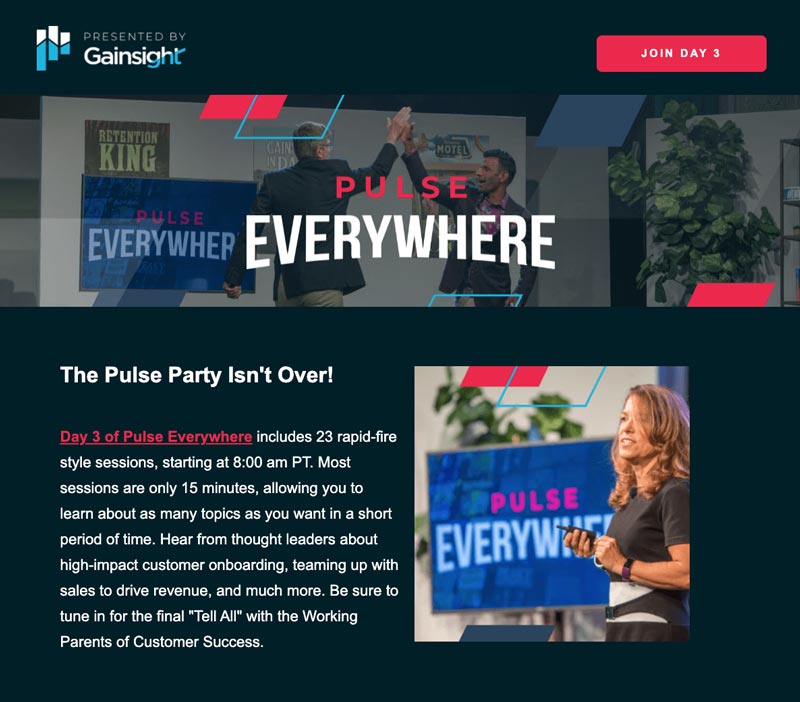 Gainsight advertised its online event in a Netflix-like manner, with a simple look and plenty of photos. Even the headline and CTA button seem more like a streaming session than an event from tech business, and the email wording makes it obvious that there is a lot of information to pick from.
When it comes to design, take your time. You don't have to be fancy all of the time, but a simple aesthetic arrangement will make your event invite email stand out in the inbox.
Welcome Party or Parties Invitation Email
All business and no fun can make both your workers and your customers unhappy. Make sure your invitation emails are properly exciting when you're celebrating a holiday, anniversary, or milestone.
Feel free to be more inventive with these invitation emails. For example, what could be more fun than a welcome party? Have a look at the invitation email example below. You can see the firm has sent the email to their new subscriber to get him/her in action and start using their service.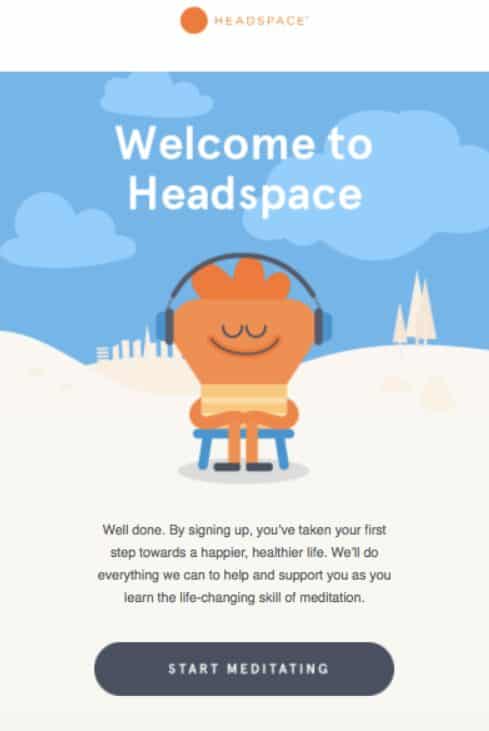 A party invitation email should communicate your company's excitement for the impending event, whether you're new to the area and want to pique local interest in your business or you're bringing new hires into the fold. Have a look at another party email invite type reminding their subscribers that only a few days left in the big party they shouldn't miss.
Bottom Line
A well-designed invitation can elicit a sense of anticipation and delight, and it can frequently be the determining factor in whether or not someone confirms their participation. Your first step should be to figure out who your target audience is, or, better yet, what your "ideal visitor" looks like. Then you should craft your event invitation email catering to the demands and needs of your potential audience and clients.
An email invitation is a part of a very big picture known as email marketing, an ultimate strategy to not just increase subscribers but also to convert them into leads. You can find multiple email marketing tools like SendX which can help you in creating the newsletter templates along with multiple other important features like email automation, email segmenting, etc.
So, there is it for now. These are some of the best event invitation email examples you can also use to increase the audience and guests in your event.
Recommended Posts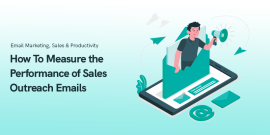 November 7, 2023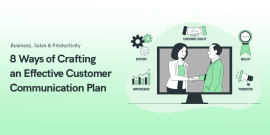 November 7, 2023