---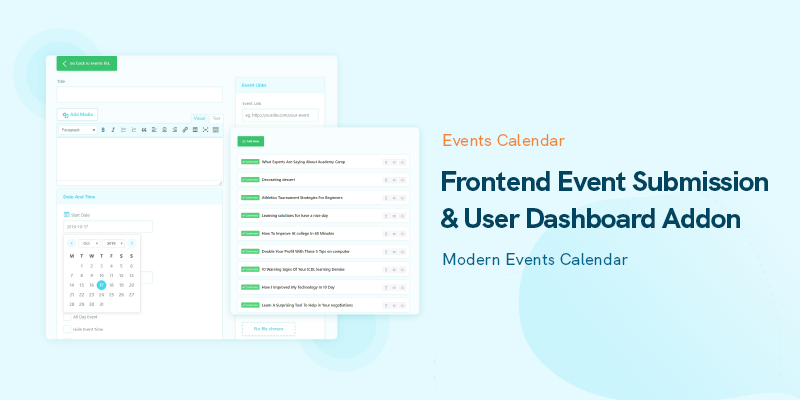 MEC Frontend Event Submission & User Dashboard Addon
Ticket & Invoice Addon: Sell Events
In this article we are going to explain how you can benefit from Frontend event submission feature and User Dashboard addon in Modern Events Calendar.
Creating, publishing, and managing an event can be a very frustrating task, and you will have your work cut out for you to achieve the desired results. The efficient management of an event on your website likewise requires appropriate tools to track your attendees correctly and have exact information about those who have registered.
The situation can turn into a whole new ball game if you host participants from different countries with various time zones, currencies, and languages.
Modern Events Calendar is the best WordPress event calendar that can simplify the event management experience for you to a great extent.
It comes with a handful of excellent features designed for the whole range of event management capabilities.
If you wanna get familiar with other addons available for Modern Events Calendar you should check this out: 17+ Modern Events Calendar Addons review 2020

While the free version can cover most of the average users' needs, upgrading to the Pro version unlocks more specific features, each designed elaborately for a particular purpose.
Frontend submission and user dashboard addon are among these useful features that help you accept events online and even earn money by selling tickets for the organizers.
Read on to get more detailed information about the vast capabilities of the MEC WordPress event calendar and the way it can benefit you with your online events.
What is the Frontend Event Submission?
The Front-end Event Submission feature is a means of reducing activities that must be done on the admin area. This way, you can let guest users submit an event easily without having to sign up on your website.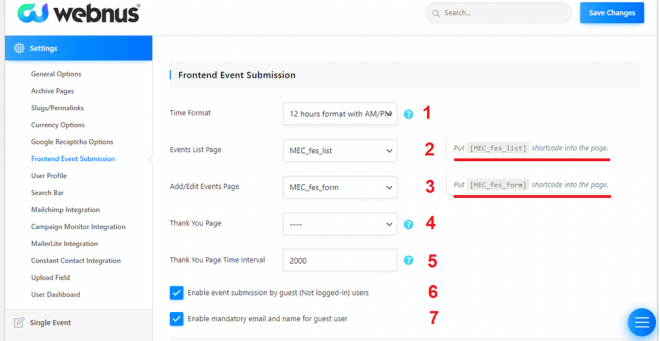 It functions similarly to the WordPress general settings, and you can accept events online and use it on whatever page you like since it is equipped with shortcodes.
In simple words, it allows your users to submit events, and you are the one who controls them.
Frontend Event Submission Documentations
Frontend event submission adds to the versatility of modern event calendar as you cut unnecessary backend processes. This means that every single user doesn't need to create an account to book.
In order to start putting it into use and accept events online, you should use the drop-down menus provided in the plugin's settings to copy two different shortcodes on your static pages.
The first one is dedicated to letting users add or edit the events they want, and the second one shows the information about the activities created by them.
This WordPress Event Calendar add-on also comes with different customization options to apply them to your website in the best way that suits you.
To mention a few, you can change the time format that is displayed to your users and specify a listing page for all the available events with the help of a shortcode.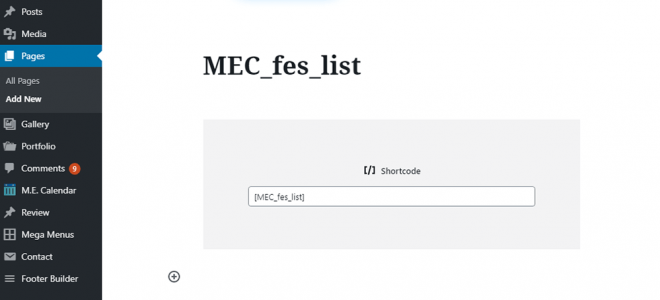 Similarly, you can prepare a "thank you" page to be shown to your users after submitting their event and specify a time interval for it.
The users don't have to be necessarily registered on your website, yet you will be able to ask them for their email address and name prior to creating an event.
Each user will then see a page with the list of the submitted events and their status that is defined by you or the organizer (confirmed or declined).
They can view them, make any modifications required, download the invoice to their device, or even delete them wholly.

Letting users be able to manage their events requires privileges from the WordPress role settings. MEC, by default, performs as per the capabilities and roles provided by WordPress.
Defining custom roles requires other plugins and tools that should be activated on your website separately.
In an attempt to provide a better experience for your users, you can choose what they see on their submission forms from a list of various options.
Apart from the necessary information, they can see the costs, links, and featured pictures related to that event. Events are generally customized by colors, categories, tags, labels, and organizers.
You have the option to show whatever details you intend and also display booking options or the hourly arranged plans for that event. The more information you provide, the more engagement you receive from your attendees.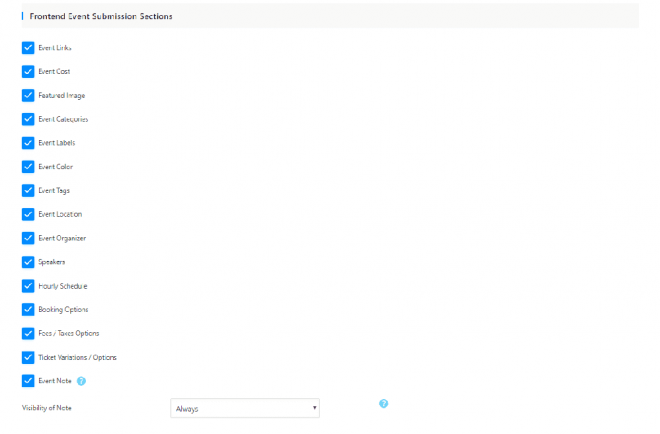 This critical factor has not been underestimated in any part of the plugin and addons. The front-end submission form can be completed either by asking for some basic information or a wide range of details.
You can adjust these fields and requirements from the menu, such as the event links and location, organizers, and booking options. Below you can find a complete list of details users can enter for creating events.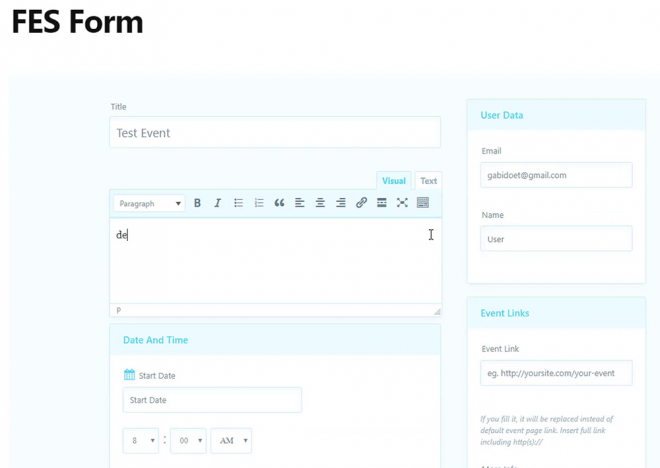 How to Use the Frontend Event Submission Feature?
After activating the Modern Events Calendar plugin, you should head over to Settings -> Front-end Event Submission. Copy the shortcodes for Events List Page and Add/Edit Events Page, and paste them on static pages as per your preferences.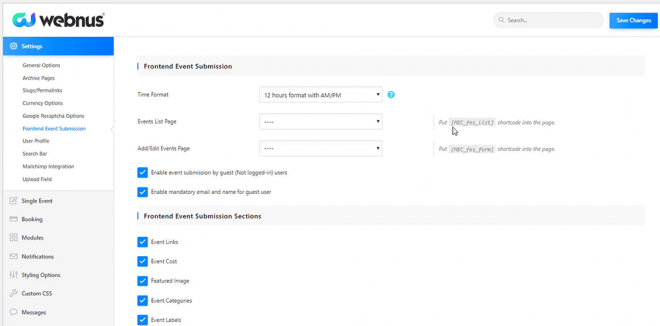 After publishing the pages, your users will be able to submit their event by entering the required information you have chosen from your menu settings.
Then, you should head over to the All Events section of the plugin's settings to see the recently entered events by your users.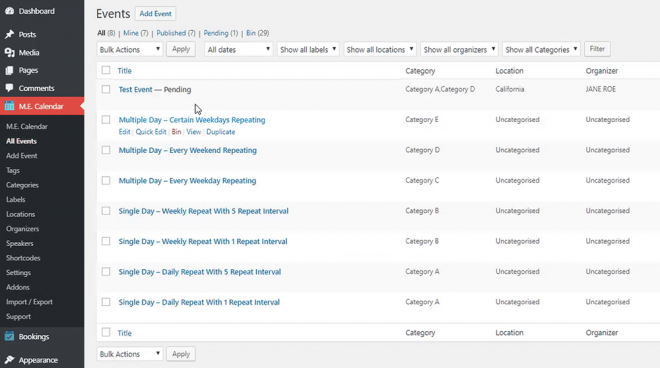 You can click on the event to see the detail, make the necessary changes, and change its status from "pending" to "published." Now, the event is active and has been successfully published on your website.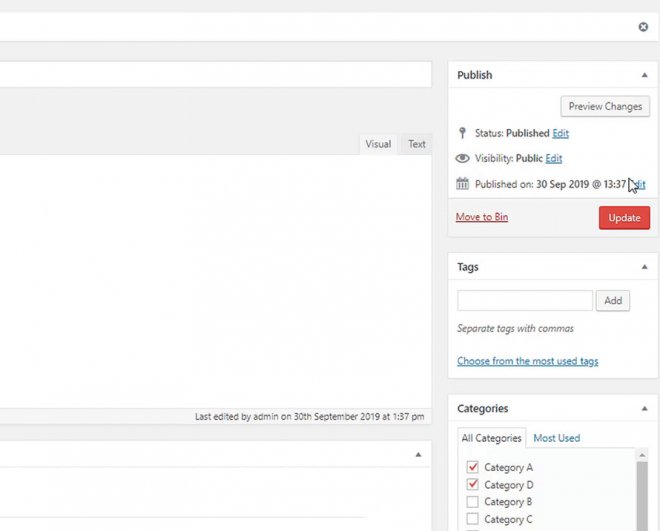 The video above, will take you through a quick tutorial on how to use this tool of the best WordPress event calendar on your site with real event samples.
What is the User Dashboard Addon?
The User Dashboard Addon is presented to let you create customized organizer dashboards for your website users. These pages consist of information about the registered events, purchased tickets, and many more.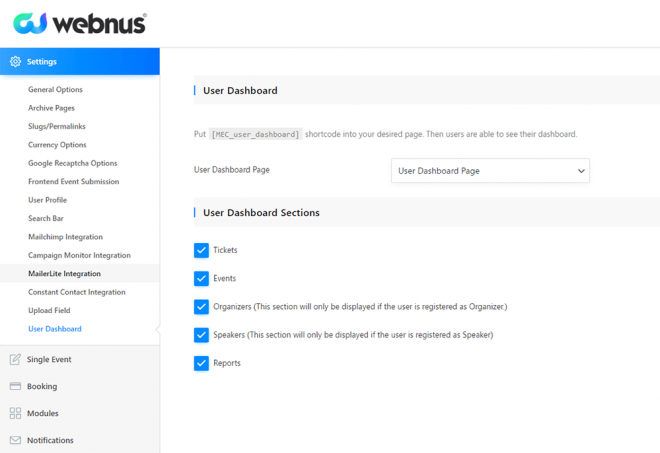 It is an excellent option for event organizers to make changes to events by having full control over them and managing them most appropriately.
User Dashboard Addon
Create exclusive pages for users. These pages can contain ticket purchase information, information about registered events. Users can now log in to purchase tickets.
Addon Documentations
By using the modern event calendar user dashboard addon, you can create a specific page for each user. It contains information about purchased tickets, registered events and much more.
After installing this add-on, the user data will be manageable through the Settings of MEC.
Users to whom you have assigned an organizer role can edit the organizer dashboards. Similarly, speakers will also have permission to make the necessary changes to your website.
You can also add Google Maps to your events and instantly cancel the activities you don't want. Moreover, the list of attendees can be viewed or exported in CSV format.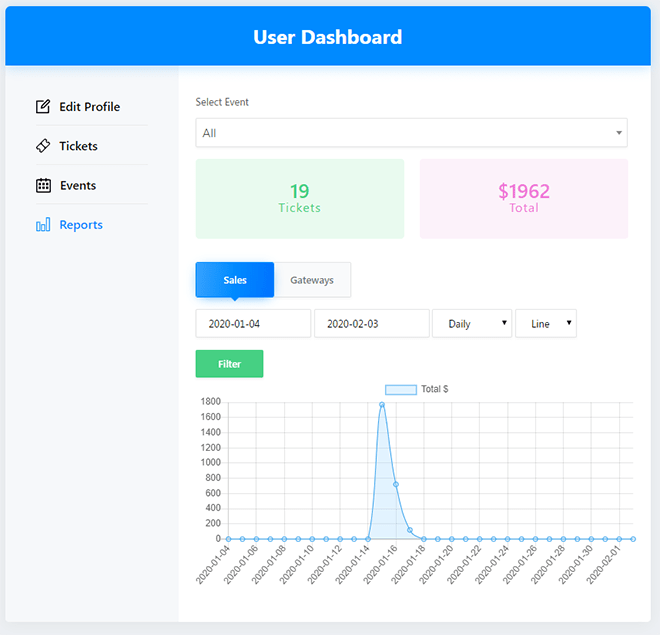 How to Use the User Dashboard Addon?
Similar to other MEC addons, you should first install the User Dashboard Addon as a plugin on your website and activate it.
You can download it from the your Webnus dashboard after purchasing the license. All the licenses that can be purchased on the website come with a year of premium support and lifetime updates.
So no matter if you purchase a premium license or one of the practical addons, these services will be included in your package. You can check out the reasonable prices of this product from the MEC purchase page.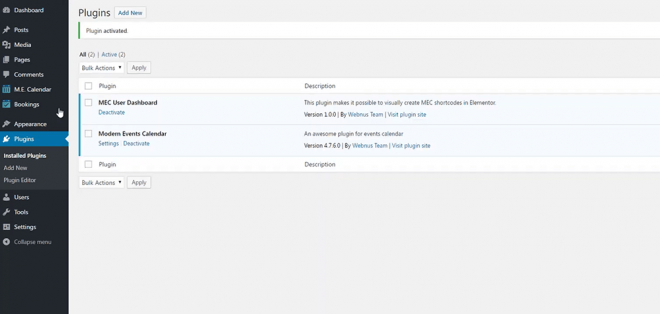 Now head over to Settings->User Dashboard to view the settings related to organizer dashboards. Copy the shortcode and paste it on a new page with an optional title of your own.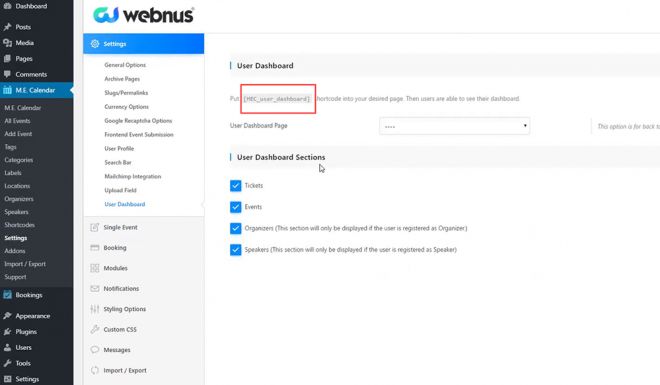 After publishing the page, you can see its name on the list of User Dashboard Page and select it. The user dashboard will appear similar to what you can see below.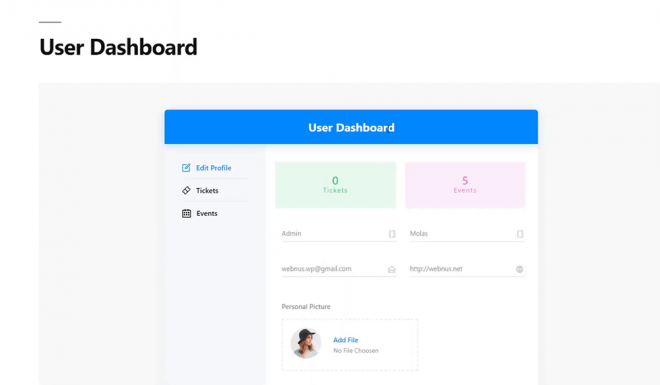 By heading over to M.E. Calendar -> Organizers, you can add new organizers for your events by entering their name, email, thumbnail, etc. and edit the existing ones to make the required changes.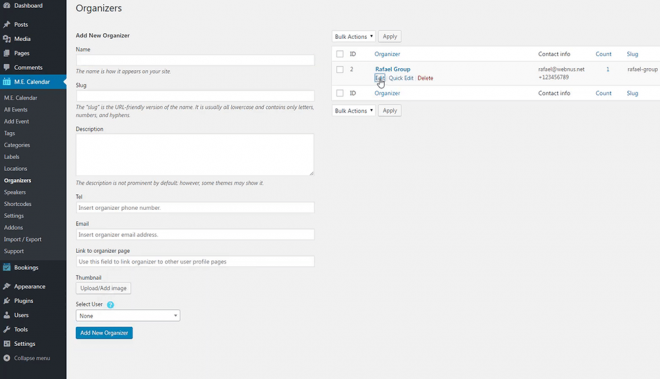 The same procedure can be followed for event speakers by heading over to M.E. Calendar -> Speakers and modifying the current and new users' data.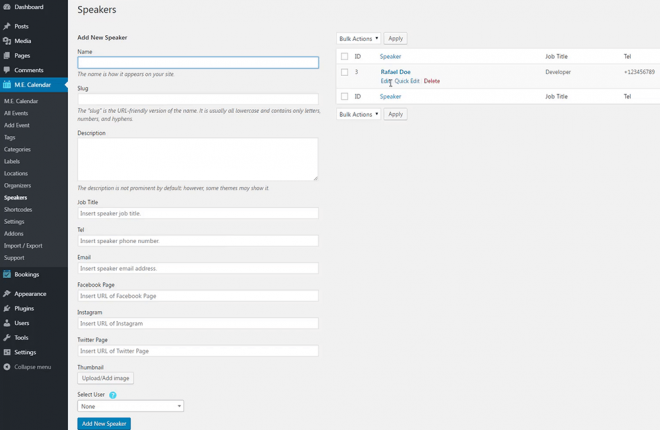 You can specify the user who can enter the dashboard as organizers and speakers so that they will be asked for account information upon logging in.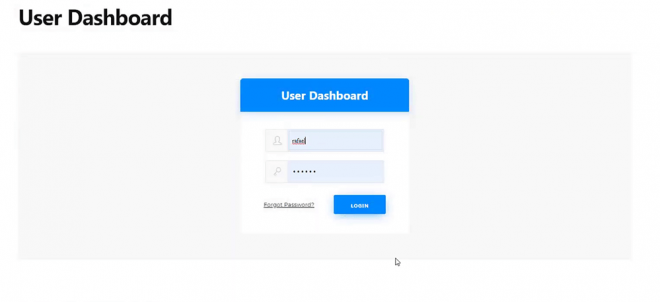 Now each event organizer has access to all the information related to them. They can make changes to their organizer dashboards, see the details of their events and tickets, and also check the speaker's information on those events. From the tickets menu, they can view the exact information about attendees like their name and email address. Organizers are also allowed to export this information and make use of them as CSV files.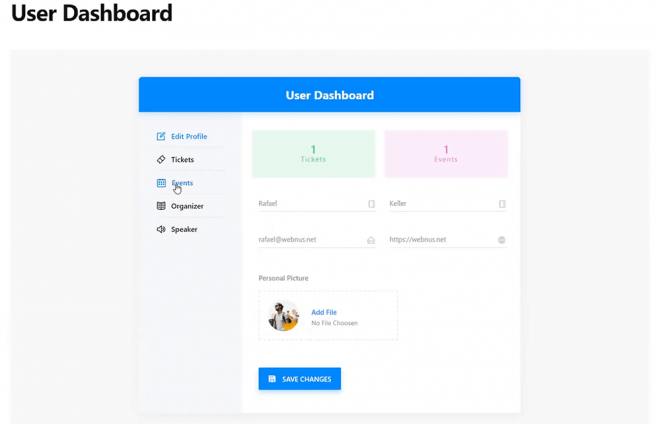 You can also use other shortcodes and change what organizers can observe on the best WordPress event calendar in a different appearance, such as a full calendar, timer layout, or the monthly view.
How to Earn Money Using MEC Addons?
Modern Events Calendar is the best of both worlds, and the combination of these two add-ons can be an asset to you for making profits. You can accept events from different users, either they are registered on your website or not, and assign them to organizers who will be in charge of them. The organizer will then be able to control the events using the User Dashboard Add-on and make any changes required.
As a result, if you have a website with high daily visits and intend to use it to earn commission as an event management platform, the all-in-one MEC plugin is the best available option for you. To make everything more straightforward, you can provide the necessary privileges to the role of your organizers so that they can directly create new events from their dashboard and manage the attendees on their own.
You might need this: How to Sell your event tickets online with Ticket & Invoice addon?
Thanks to the booking feature provided in the plugin, you can sell a ticket and earn a commission for paid events. When you activate the booking feature from your plugin's settings, you can set limits and privileges for payments and tickets in every event created on your site. These settings can be personalized in a way that you earn commission directly and pay the rest of the money to the organizer of that event. You can define fees or percentages for the tickets' price and instantly earn commission every time a user makes purchases.
Final Thoughts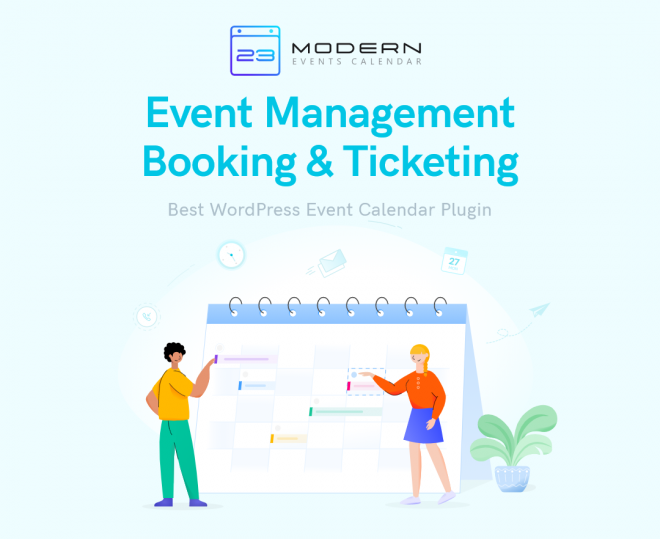 Modern Events Calendar is an ace up the sleeve of website owners who want to hold online events for themselves or make money by managing events for other organizers. Using the Frontend Event Submission addon, you can accept events online by letting your website visitors create tailor-made occasions to the last details even without having to register.
On the other hand, the User Dashboard addon will allow you to define various organizers for events and let them manage these occasions on your own. So, you can quickly sell the ticket and earn a commission without any concerns. To make the long story short, MEC is the best WordPress event calendar that fulfills all your needs in a modern and stylish design.
Recommended Posts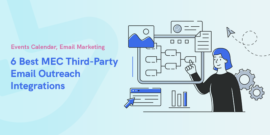 July 24, 2022