---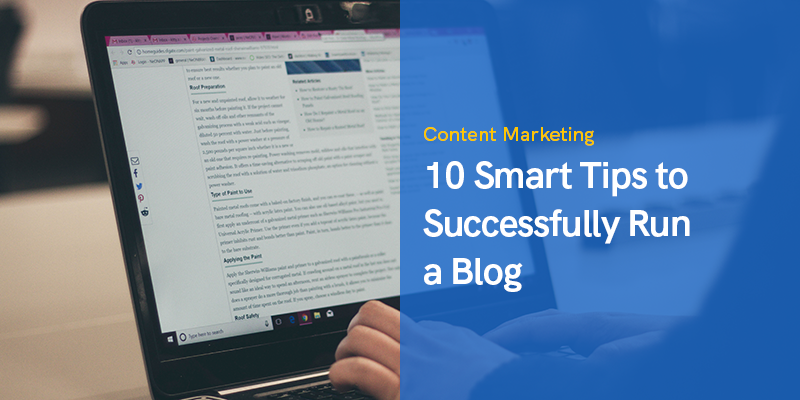 10 Smart Tips to Successfully Run a Blog
Do you know that each word you write can generate thousands of dollars for you? Yes, that is correct.
A successful blog with engaging content can fetch you a pretty decent revenue stream.
And that too with very little capital investment.
However, most people don't even manage to go beyond the mere thought of starting a blog.
There is this feeling of intimidation and self-doubt that prevails.
Will people read the blog? Will they leave positive comments?  Will the content be good enough?
These are all reasonable questions to ponder before you actually embark on the journey of creating and running a successful blog.
Of course, knowing how to go about it helps, and getting your hands on the correct tips and tricks helps even more.
Do you want to know more about these tips and tricks to help create a stellar blog and how to run it successfully? We are right here for that!
Kick-Ass Tips To Successfully Run A Blog
First things first, what your objective? You have the experience but can't generate the results you desire.
You want traffic and ROI, right? Or are you're a beginner? Either way, keep the quality of your content top-notch.
Let's begin:
Choose A Blogging Platform
Once you decide to start a blog, begin by searching for the right platform to build it.
It can be challenging as there are many free options like WordPress, Blogger, Medium, Tumblr, and many more.
But all of them come with certain unique features and limitations.
For instance, Instagram and Tumblr work better for visual content and creating more social media buzz around your blog.
On the other hand, a web-based blog would be better for generating leads and business via search engines.
Suppose you want to generate significant business through your blogs and want to buy a domain.
In that case, it would be best to understand the ins and outs of how search engines work and get your hands on some SEO tips for beginners for better results.
Your platform's final selection depends on your long-term goals.
You can also choose to use an integrated approach and work with multiple platforms for increased sharability and reach.
Brainstorm The Name Of Your Blog
Your blog's domain name reflects your identity and your niche.
Can you run a blog successfully without an appealing brand name? Probably no because people will not be enticed to click on it.
We suggest you brainstorm at least ten to fifteen ideas and shortlist the best three.
But do not do that once! It is better to repeat this process multiple times and with multiple people to narrow it down to the best title for your blog.
Why would you want to vet multiple ideas? Because if you have a long-term goal, you cannot randomly decide to change the name in the future without it having consequences n your blog's brand value.
You don't change a baby's name as it grows older, do you? Same reason!
Finalize The Niche
Wait, don't you already know your niche? Well, you probably do.
But it would be best if you had certain boundaries to have a firm grip on a specific topic and provide relevant content to your target audience.
If you're thinking foo, then maybe focusing on particular types or flavors will help narrow your options down.
The niche you choose can make or breaks your blog's success.
Always pick an area you know you have expertise in and think you can go deep into to provide top-quality content.
Your blog's niche is your USP.
People on the internet are looking for in-depth information, and that's what you need to deliver.
How To Maintain The Blog?
Create Posts That Offer Value
The topics you choose decides the bounce rate of your blog.
If it offers value, information, relevancy, and is interactive throughout, you should know that you have successfully hit the right spot.
Make sure to write about the things you love and channel your passion through your words.
Be Consistent And Relevant
Regular posting and relevancy to the niche are what create an engaging experience for your readers in the long-run.
When online users start reading your blog and find it attractive, they browse the website and look for more information.
You cannot just rely on a single post that is outstanding while other posts contain subpar information.
Remember, it's always quality over quantity and not the other way around.
Implement The Right Marketing Strategy
There is no point in writing endless walls of text or posting aesthetically pleasing pictures if no one is reading! Right? You have to market your blog on social platforms using the right strategies.
And this is why we started that an integrated platform approach is a good idea earlier.
You can start with guest blogging and invite other experts in your chosen niche to contribute.
This is an excellent way of building your domain authority and getting relevant traffic in vast numbers.
Also, be active on social media.
Participate in writing and blogging related groups, interact with people, and share your blog posts on your personal social media profiles.
And if you have a decent budget, consider investing in PPC and working with social media influencers for more reach.
Brand Your Blog With Uniqueness
Branding is all about creating an identity that differs from others.
When you write content around the topics you are passionate about, there are more chances to succeed.
Once people start knowing the blog, you can start designing your brand's jargons and stand out from the competition.
Use Visuals To Interact
No matter how articulate you are with words, reading endless walls of text can become tedious even for the most avid readers.
Hence, incorporate images, videos, infographics, and other AV content forms to add more life to your blog.
This will also help you diversify how you dish out information to your target audience, making it more readable and engaging.
In fact, renowned bloggers use more than 80% of visual content in their blogs, which is why they are thriving today.
Why should you stay behind?!
Be Interactive And Stay True To Your Self
Readers love to interact with the writer.
Always encourage people to comment.
Ask them questions, write as if you are talking to them, and persuade them to answer.
Not just this, actively reply to each comment and make them feel valued.
It will help to create a more engaging experience for both your visitors and you.
It is essential to never lose your identity in the process of running a blog.
If you are funny, make sure to reflect that in your writing.
It helps build empathy and a stronger connection with your readers.
Keep A Check And Track Your Blogs
It's all about the analytics at the end of the day.
It is imperative to identify what type of content gets more engagement and which doesn't.
Keep a check on your blogs and monitor the traffic regularly.
Once you identify the secret to success, all you need to do is fine-tune your content and repeat the process.
Similarly, do not get disheartened if some posts underperform.
Learn from the mistakes you make, update the content and move on.
This will eventually help you craft a more thorough marketing strategy for your blog.
Conclusion
Blogging can be pretty fascinating if you write about what you love.
We would never recommend experimenting with topics you are unfamiliar with because you may not be able to provide your readers with the information they seek.
With the tips mentioned above, you should be on the right track to generate quality traffic and conversions via a successful blog.
Always use a mix of organic and paid marketing tactics to maximize your blogging objectives.
Recommended Posts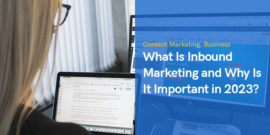 April 14, 2023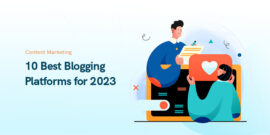 January 19, 2023