---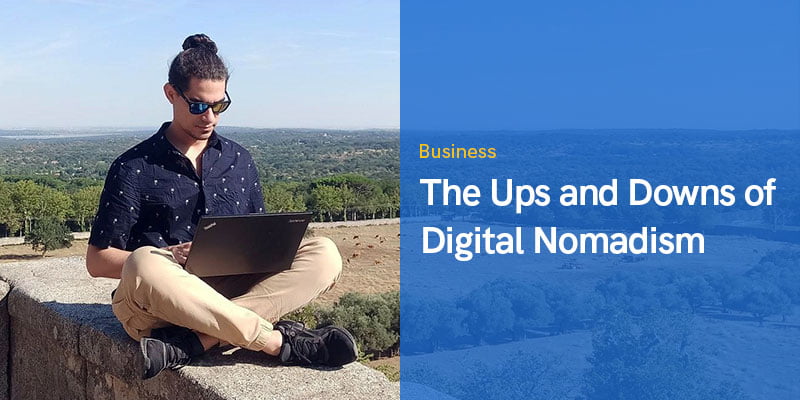 The Ups and Downs of Digital Nomadism in 2023
It's the dream for many professionals: quitting your job, packing up your belongings, and hitting the road to explore new corners of the globe. But the trick is, you don't have to drop everything. You can do all of the above while working from your laptop.
This is the digital nomad life, and it has been growing in popularity in recent years as technology has made it easier than ever to be location-independent. But what does it really take to be a digital nomad? And what are the benefits and drawbacks of digital nomadism?
In this blog post, we give you a better understanding of digital nomadism. So whether you're considering making the switch to this lifestyle or you're just curious about what it's all about, read on!
Digital Nomadism Trends
There are a few key trends that have contributed to the rise of digital nomadism in recent years.
The Growth of Remote Work
With technology allowing us to stay connected no matter where we are, more and more employers are starting to see the benefits of letting their employees work literally from anywhere. And because of the rise of cloud computing and Wi-Fi, it's no longer necessary to be even in the same room as your computer to get your work done.
Employees get the flexibility they need to balance their work and personal lives, and employers get access to a larger pool of talent. This flexibility is especially appealing to millennials, who value work-life balance and often place a high importance on travel.
There are also countless websites and online marketplaces that allow you to find freelance gigs and remote jobs. This means that you no longer have to live in a big city in order to find work. You can live anywhere you want and still be able to find a job that fits your skill set.
With technologies like Starlink, a satellite internet service provided by SpaceX, even remote and underdeveloped areas now have access to high-speed internet, making it easier than ever to work and travel from anywhere in the world.
The Rise of Coworking Spaces
In the past, digital nomads were typically lone wolves, working from home or coffee shops. But now there are more and more coworking spaces popping up, providing a community and support system for nomads.
The past decade has seen a dramatic rise in the number of coworking spaces around the world. According to the Global Coworking Survey by Deskmag, there were over 13,800 coworking spaces globally in 2017, and by 2022 that number has grown to over 19,400.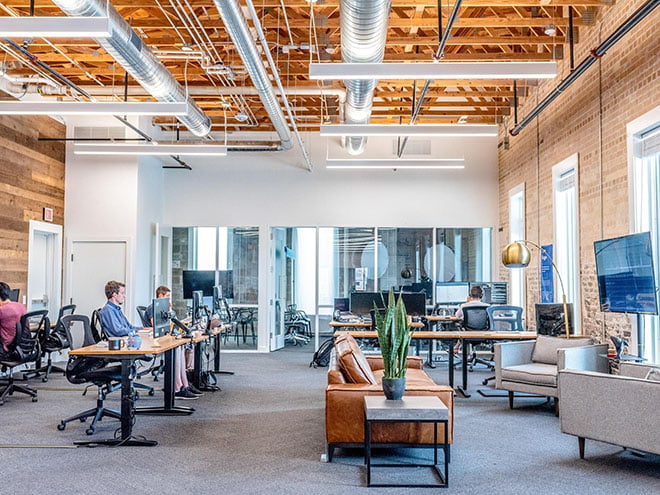 For many freelancers and remote workers, these shared workspaces provide an alternative to working from home. Coworking spaces offer a sense of community and collaboration that can be beneficial for those who work alone most of the time.
In addition, they offer amenities like high-speed internet, meeting rooms, and event spaces that can be appealing for professionals who otherwise might not have access to these resources.
A rising coworking trend is providing a working environment that is rooted in community-based working that enhances productivity and supports focused work.
More Sustainable Travel
Digital nomads often seek out sustainable ways to travel, both in terms of their impact on the environment and the local economy. One way to do this is by using public transportation, renting bicycles, or walking instead of taking taxis or renting cars. Another way is to eat locally sourced food and patronize businesses that are environmentally friendly.
Sustainable travel is not only good for the planet; it can also be more rewarding than traditional tourism experiences. It allows digital nomads to connect with local communities and learn about new cultures in a deeper way. It also often leads to less crowded places, which can make for a more relaxing and enjoyable trip.
Benefits of Digital Nomadism
There are many digital nomadism benefits, including the ability to work from anywhere in the world, set your own schedule and take on as much or as little work as you want.
Freedom of Travel
If you get antsy sitting in one place for too long, this lifestyle can be a great way to see new places and experience different cultures. And since you're not tied down to a traditional job, it's easier to take advantage of last-minute travel deals and spontaneous adventures.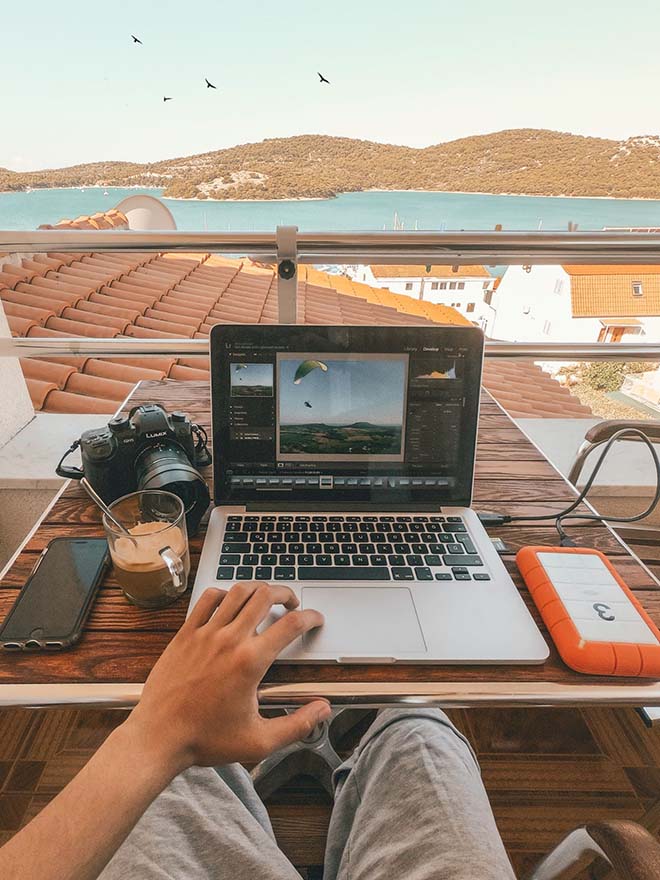 You can live in any country with an internet connection and a laptop, which gives you a lot of freedom when it comes to choosing your next destination.
Flexible Hours
Another great benefit of digital nomadism is that you can set your own schedule. Whether you want to work four hours a day or fourteen, it's up to you. This flexibility can be really helpful if you have other commitments or simply want to enjoy some more down-time while working on your business.
You can often work whenever you want and take breaks when you need them. This can be a great way to manage your time and get more done in a day.
Multiplied Connections
As you travel around the globe, you pretty soon get a bunch of useful contacts from different countries and industries. You also get a much better understanding of the world, different cultures, and how business is done in other parts of the planet. This can be very helpful when you want to enter new markets or start doing business with people from different countries.
Of course, networking isn't the only way to make friends as a digital nomad. You can also get involved in the local community, whether that means volunteering, taking classes, or simply getting to know your neighbors. Getting out and interacting with people in person can help you feel more connected, even if you're not working on a specific project together.
Low Cost of Living
The cost of living is one of the main reasons people choose to become digital nomads. By living in countries with a low cost of living, you can save a lot of money.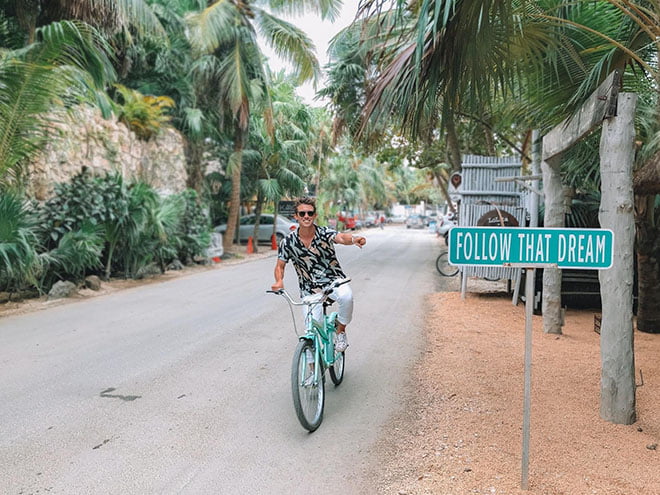 For example, in Chiang Mai, Thailand, you can rent a furnished apartment for as little as $300 per month. And in Bali, Indonesia, you can find apartments for as little as $200 per month.
As a remote worker, you may need to invest in powerful hardware, but you don't necessarily need to go all out on the software. You will do with a free video recorder, access to a no-charge conference platform, a team messaging app, and a task planner.
Drawbacks of Digital Nomadism
You may enjoy the freedom and flexibility to work from anywhere in the world. But there are some drawbacks to this lifestyle that you should be aware of before making the switch.
Uncertainty
One of the biggest digital nomadism drawbacks is the lack of stability that comes with it. Because you don't have a permanent home or job, it can be difficult to plan for the future or feel like you're part of a community.
The nomadic lifestyle can be unpredictable, and you never quite know what's going to happen next. This can be both exhilarating and stressful at the same time.
Loneliness and Isolation
Another downside of digital nomadism is that it can be easy to feel isolated when you're constantly on the move.
It can be difficult to find other people who understand your lifestyle, and it can be hard to stay connected with friends and family back home. You might find yourself feeling lonely and isolated, especially if you're traveling solo.
Make sure you have a solid support system – whether that's online or offline. This could mean having a few close friends who you can rely on, or it could mean being part of a digital nomad community online.
Burnout
The digital nomad lifestyle can be very taxing, both mentally and physically. Burnout is a very real risk for those who spend extended periods of time working in isolation and without a clear break. When you're a digital nomad, it's easy to let work consume your life if you're not careful.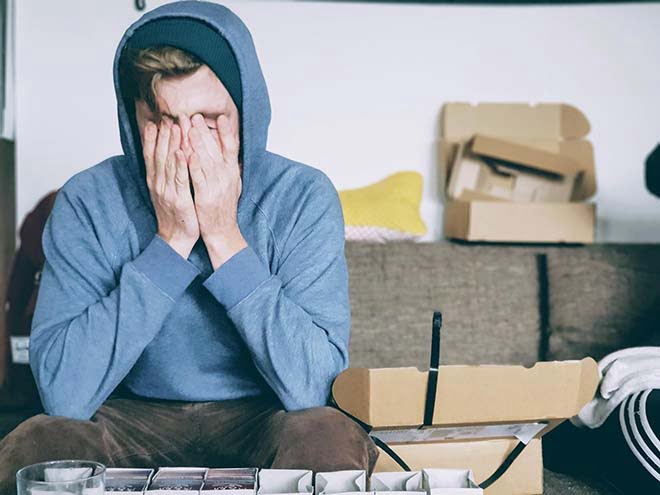 Make sure to schedule some time for yourself every day – some simple things like taking a walk or reading a book. And if you're feeling overwhelmed, step away from your work and take some time to relax.
Procrastination
When you're constantly on the move, it can be hard to find the motivation to work on your laptop. You might find yourself spending hours on social media or watching Netflix instead of working on your tasks.
This can be a major setback for your productivity. If you're not able to stay focused and get your work done, you'll likely fall behind schedule and struggle to meet your goals.
There are a few ways to overcome procrastination. One is to set specific deadlines for yourself and make sure you stick to them. Another is to find a productive work environment, whether that's in a coworking space or at home. And finally, make sure to take breaks regularly and give yourself time to relax and recharge.
Conclusion: Is This Lifestyle Right For You?
Overall, digital nomadism has its ups and downs. It's important to weigh the pros and cons before deciding if it's right for you. If you're the type of person who needs stability and routine in their life, then this lifestyle is probably not for you. On the other hand, if you thrive on change and enjoy embracing new challenges, then digital nomadism could be the perfect fit for you.
Another key consideration is whether you can handle being isolated from friends and family. For many people, digital nomadism is the perfect opportunity to take a break from their hectic lives and reconnect with nature and themselves. However, others may find the isolation to be difficult, particularly if they're used to a more social lifestyle.
Finally, the best way to find out is to just give it a try. There's no need to quit your job or sell all of your belongings – you can start by taking a few small trips and see how you like it. With a little planning and preparation, digital nomadism can be an incredibly rewarding experience.