This is an integration with BuddyBoss, to provide and help you with options to assign events to groups with each group being able to have its own events. Members of the group can submit events in posting them into the groups of which they are members.
Using the BuddyBoss platform you can create online forums and courses and make money through membership and subscriptions. With the help of this addon, now can you monetize your events too.
Here we will walk you through the process of setting up this addon.
Introduction:
First, make sure the BuddyBoss plugin is installed and active on your website. Check to have all the necessary pages of the plugin ready and that there aren't any problems in the setup.
After activating the addon, go to WP Dashboard > BuddyBoss > Integrations > MEC.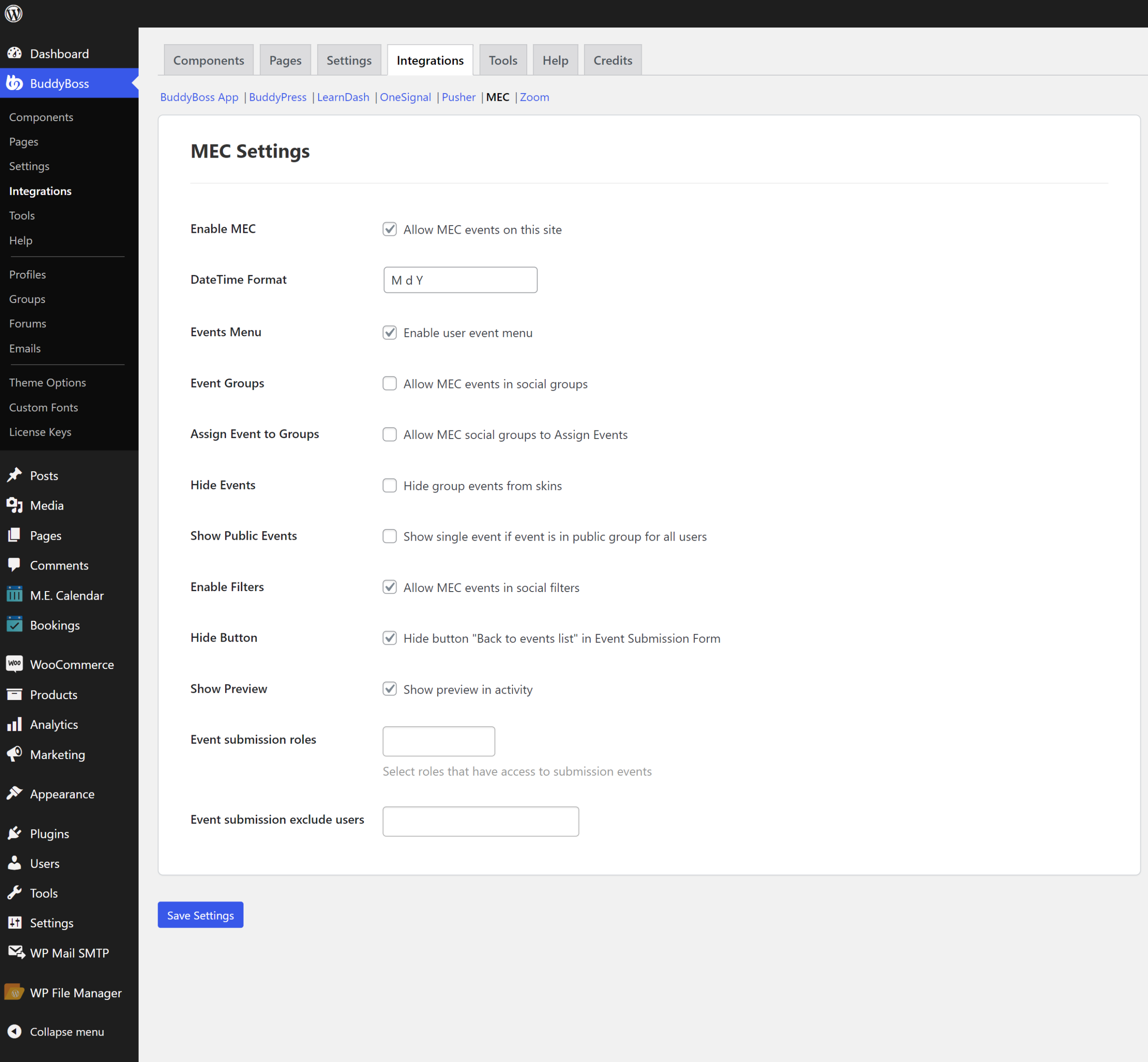 Initial setup:
To enable options compatible with MEC you should have already enabled them from BuddyBoss > Components. After this, in each profile in /members/ path on your website a new tab would have been added called Events. But before that, you need to create two pages, one to view an event list and the other for adding events. To do this, go to Front-end Events Submission > Basic and place these two shortcodes on the page you want:
To get a better grasp of this please check this guide:
In the MEC_fes_form shortcode, if a user attempts to post an event, the event will only post in their name if they have permission to post in WP. For a better understanding of this please check the info here: https://wordpress.org/support/article/roles-and-capabilities/#capability-vs-role-table
For instance, subscribers that have the Read access only can send you a form but users that have the author role can edit and publish posts and even delete posts. Take note of the following, these are things an Author can do in WordPress: delete_posts / edit_posts / delete_published_posts / publish_posts / upload_files / edit_published_posts
You're almost there. Go to your profile or a member's profile, you should be able to see a new tab called Events. Here, you or the user can attempt to register a new event. You only need to click on Create New to open the Frontend Event Submission form in MEC. In the sidebar on the left, you can see a list of your own events. Read this guide to get familiar with all these settings here: https://webnus.net/dox/modern-events-calendar/frontend-event-submission/
Here we have explained everything you need to know about creating and setting up an event. Make sure to read this guide so you can troubleshoot any potential issues that your users might face:
For example, we have explained how you can add an Organizer or enter the address for a Location.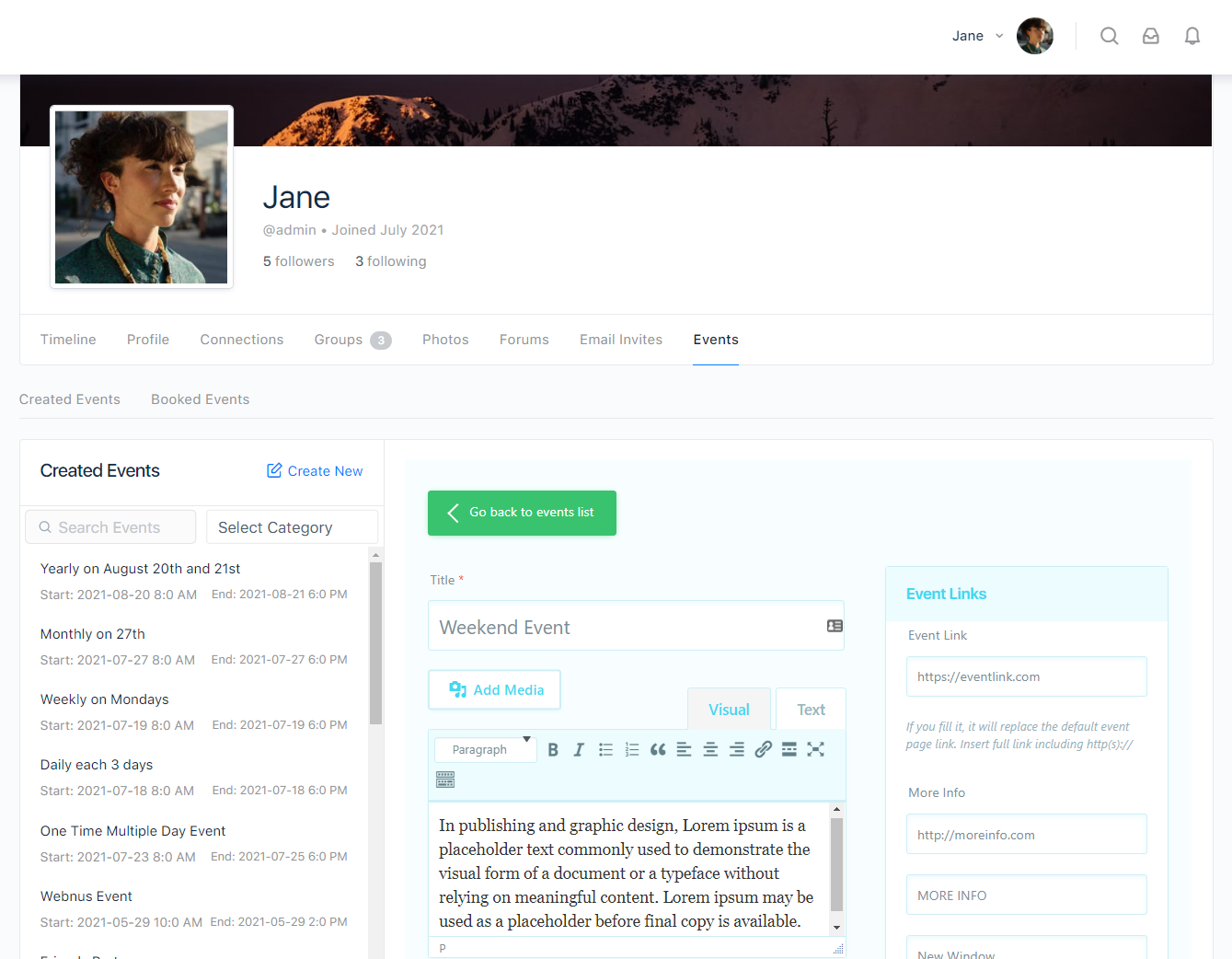 If you have many events you can use the search function to find yours.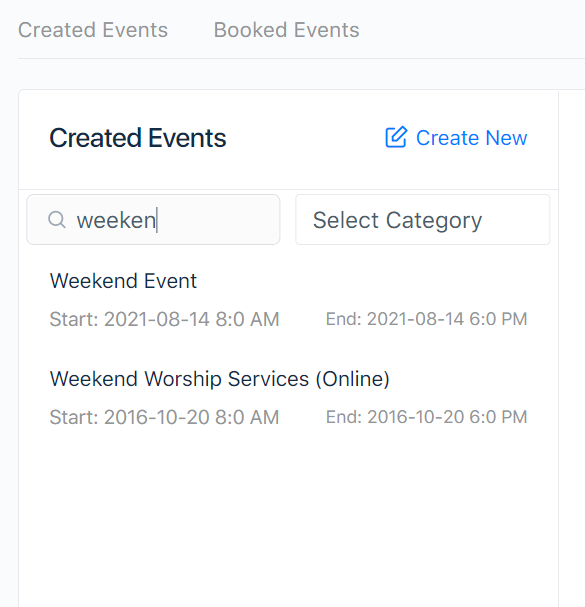 In Booked Events Tab, you can see a list of all your reservations. For example, select an event from the list on the left.
Configuring events for groups:
First, make sure you have enabled Social Groups from WP Dashboard > BuddyBoss > Components.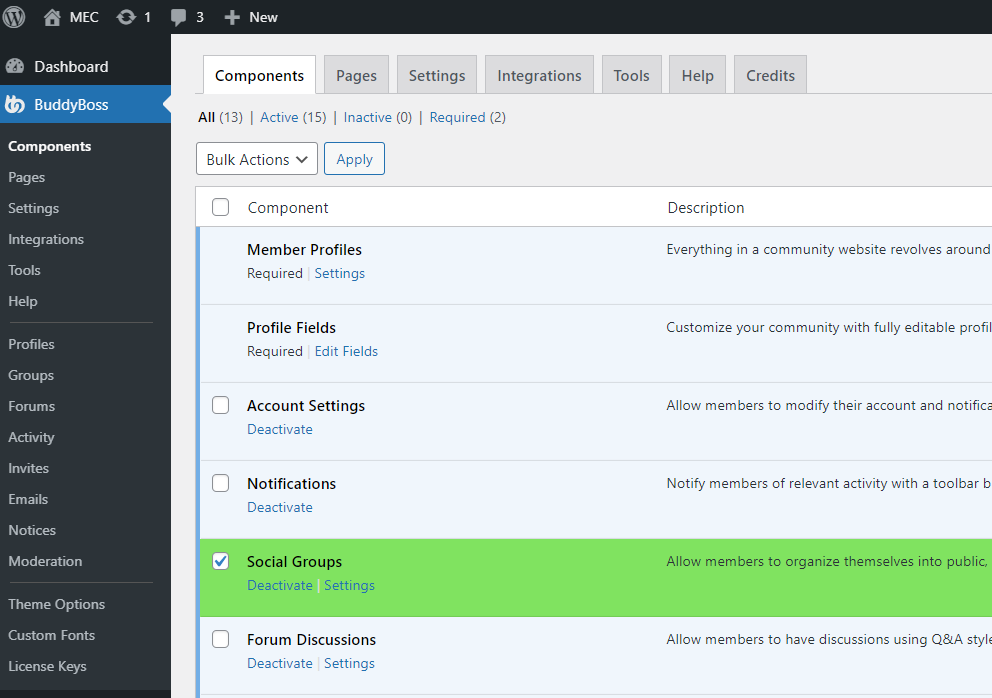 Then please navigate to the Integration tab and proceed to activate the settings that are displayed below. Once you have made the necessary changes, kindly remember to save them.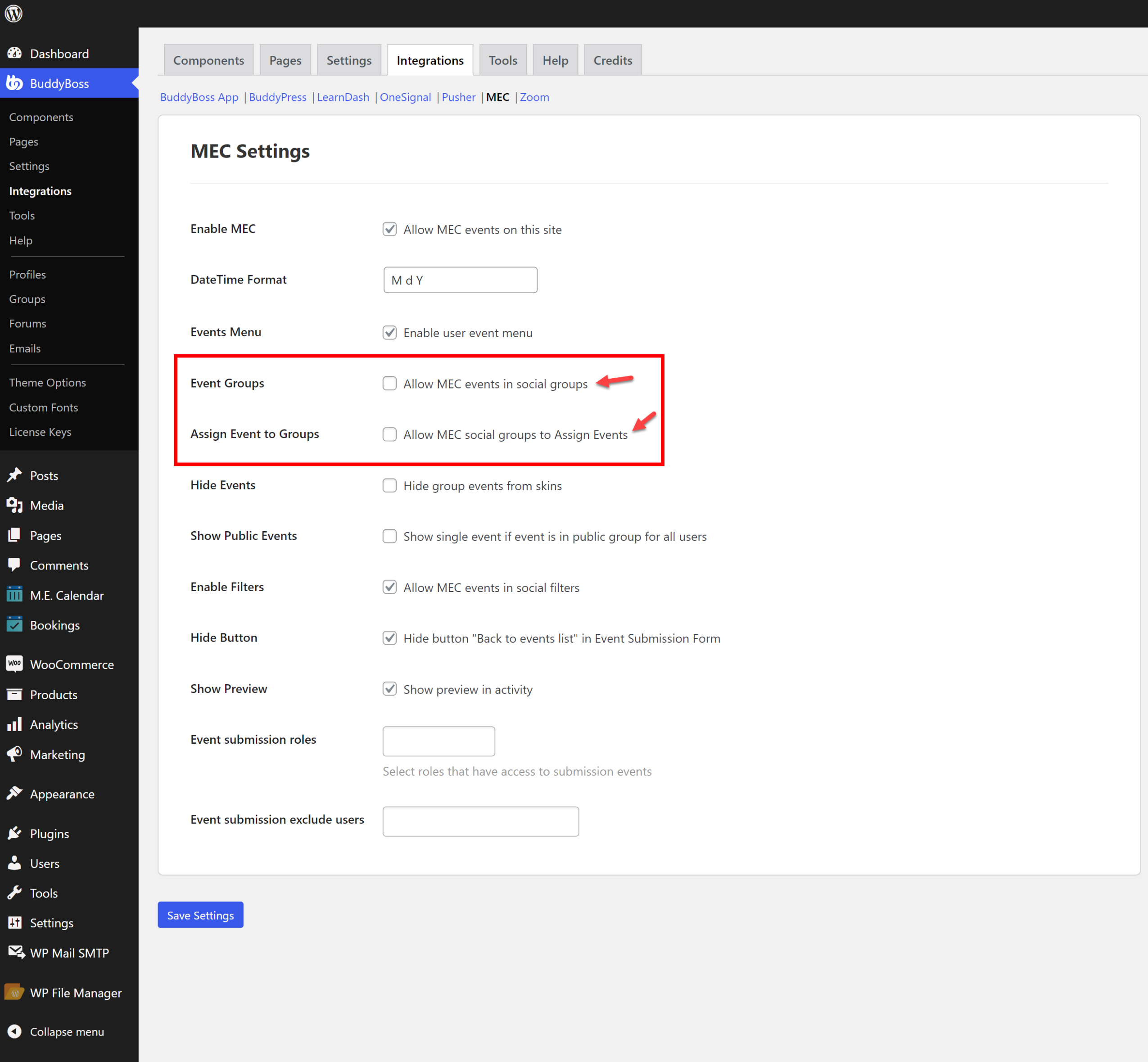 After this, you need to create a group. To do this, please refer to BuddyBoss guides and documents.
Now that you have your group, if it has members, you can manage who owns what event. To do this, the Organizer of the group needs to open to the group page and navigate to the Manage tab and then the Events menu: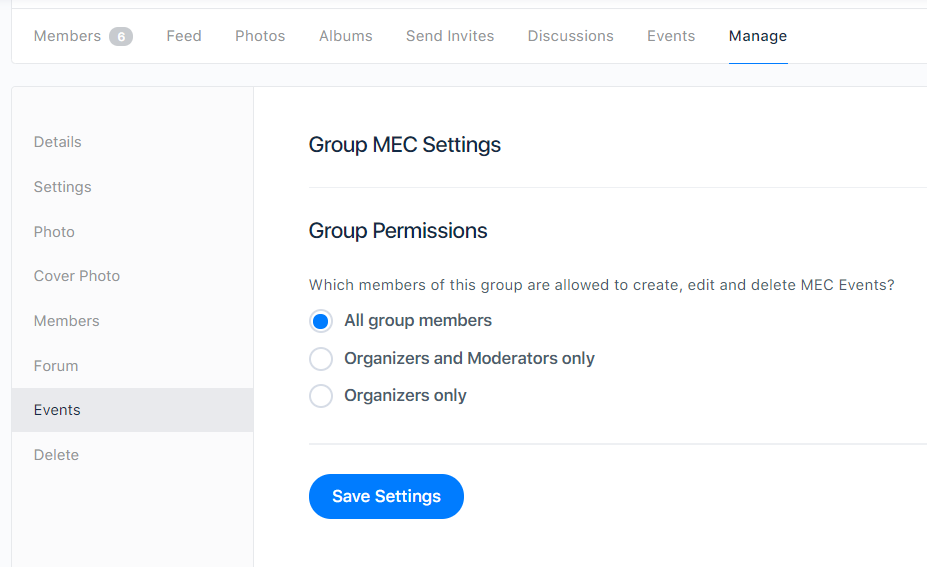 Then, you need to go to the Events tab and create a new event for the specific group.
The conditions have changed but the method of event creation is identical to the previous Frontend Submission events.
You might want to assign a specific event to a specific group, to do this, you only need to open the event in the intended group. Select the group and then click on Assign so that the event can appear in that group. Note that you must be a member of that group to do this.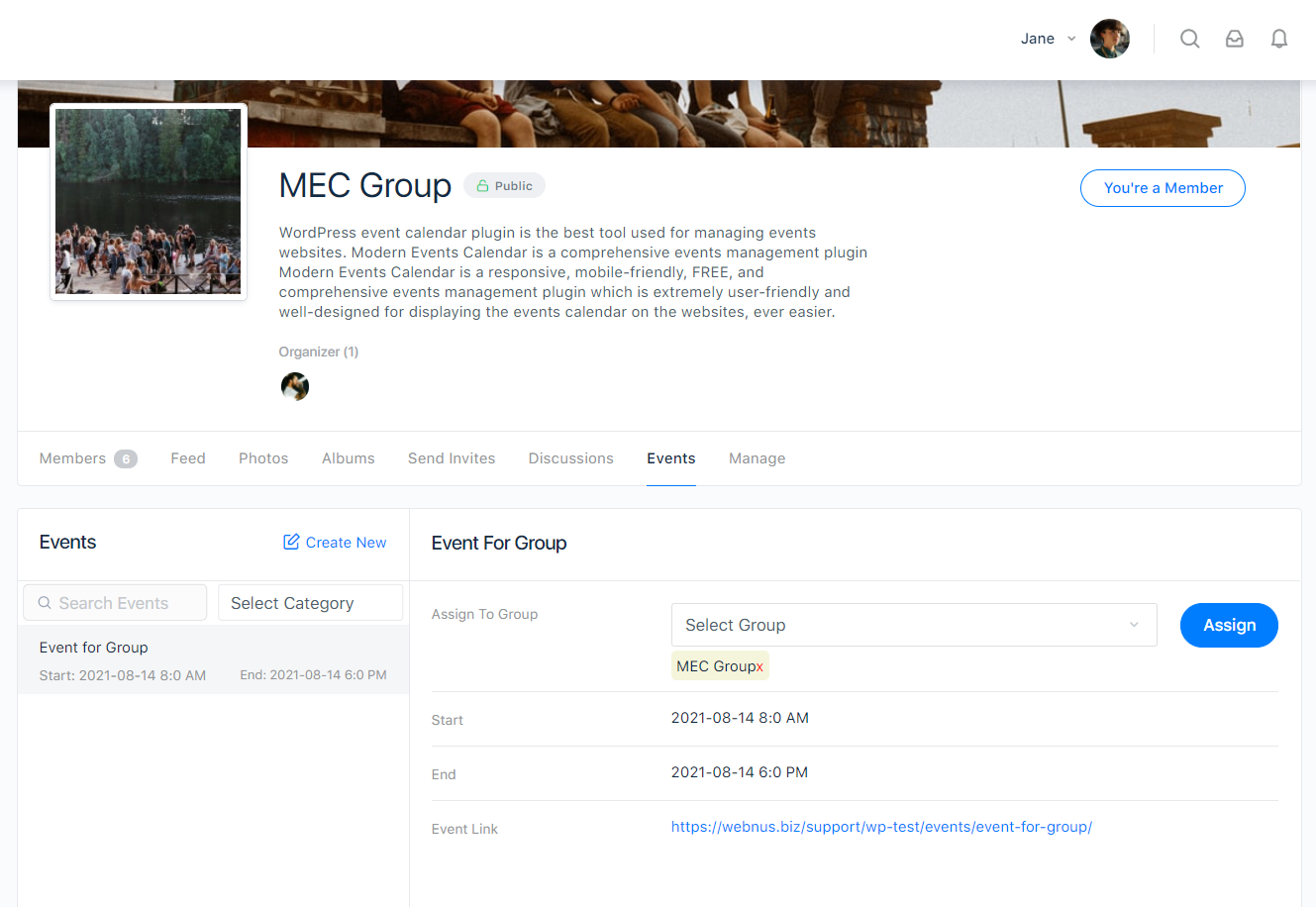 Monetizing events through ticket sales:
Since this addon works with the FES feature, you can easily setup your payment options using this guide: https://webnus.net/dox/modern-events-calendar/organizer-payment/