MEC Elementor FES Builder is a great tool for creating frontend event submission forms with Elementor Page Builder. This amazing tool gives you full control over the look and configuration of your FES form elements by presenting a drag and drop feature. There are Elementor widgets for the finest details of this form and each of these widgets has its own styling options to provide an amazing user experience for the customization of the FES forms.
Installation and activation of the addons
For installation, head over to your WordPress Dashboard > Plugins > Add New and upload, install, and activate the addon.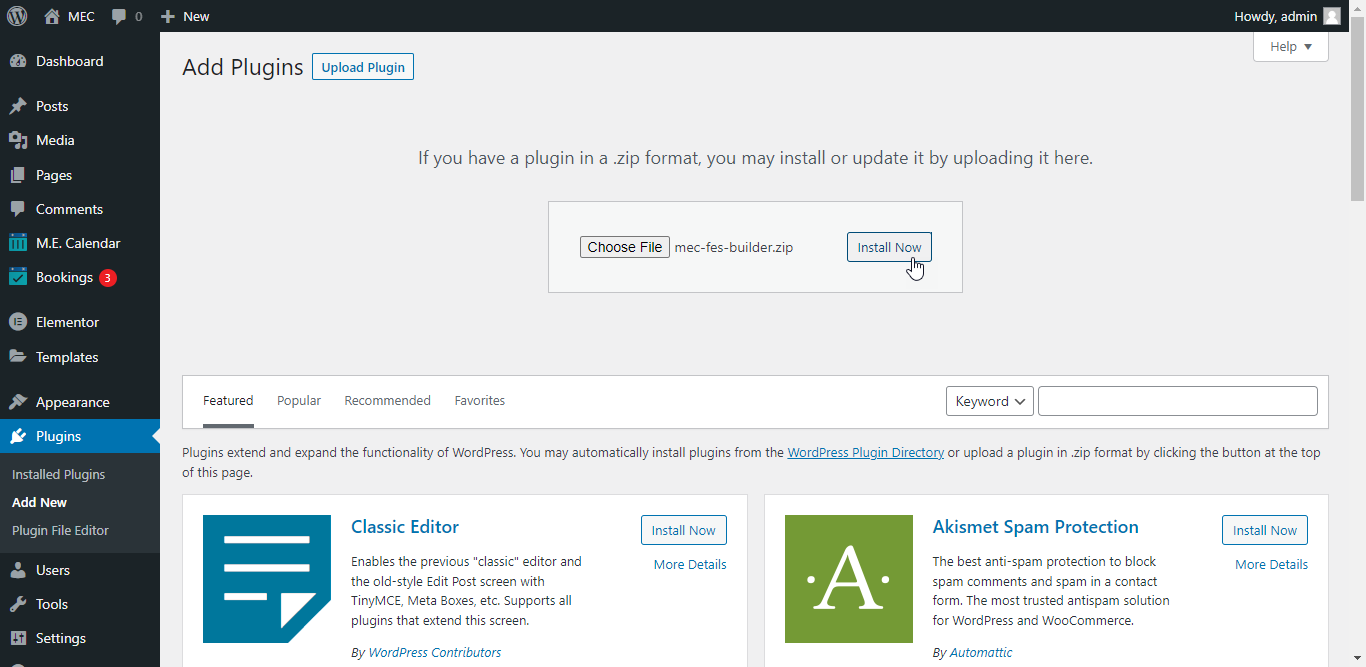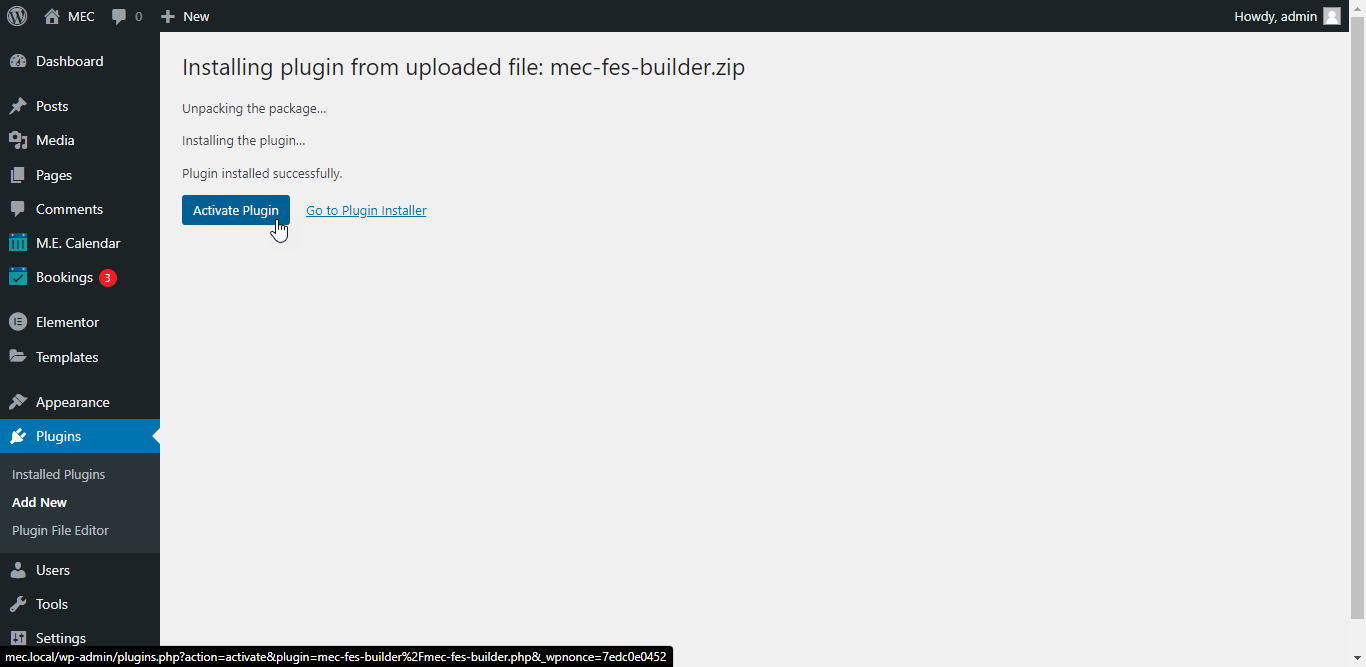 You can now see the item added to WordPress dashboard > M.E. Calendar under the name of FES Builder.
Adding new templates to your FES form
Without further ado, let's create our first template. Head over to WordPress dashboard > MEC > FES Builder and click on the Add New button.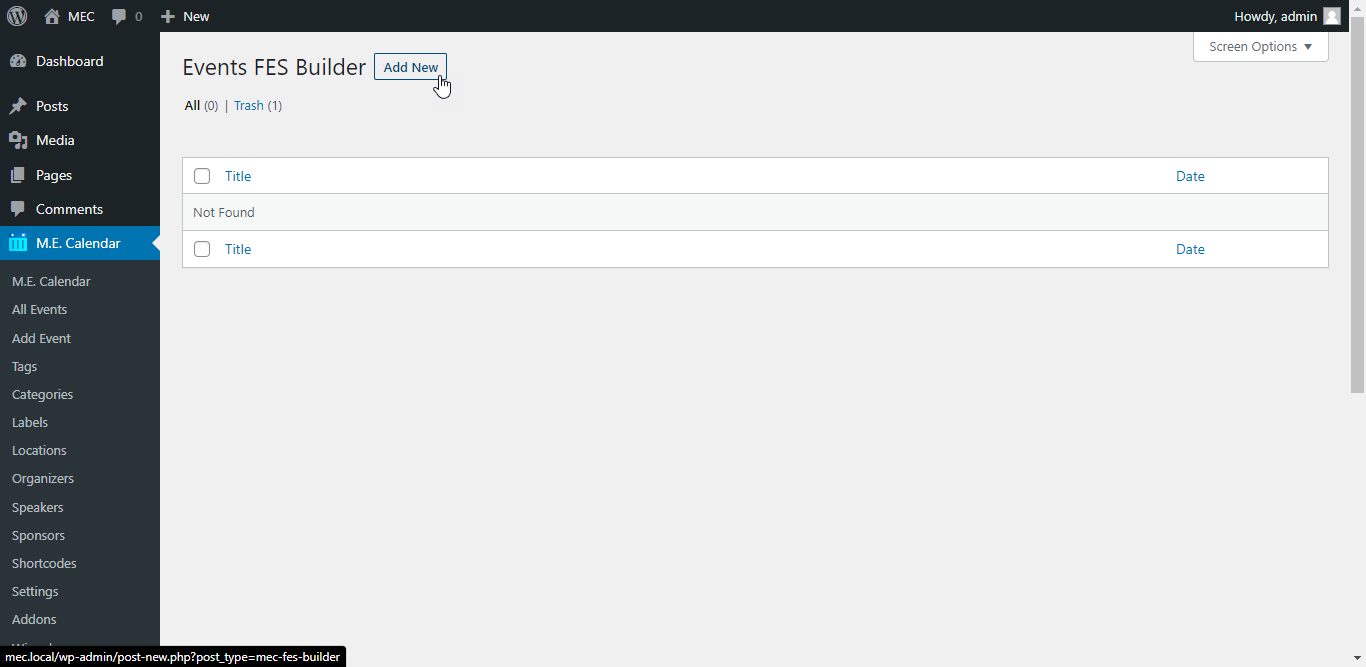 Pick a title for your template and publish it.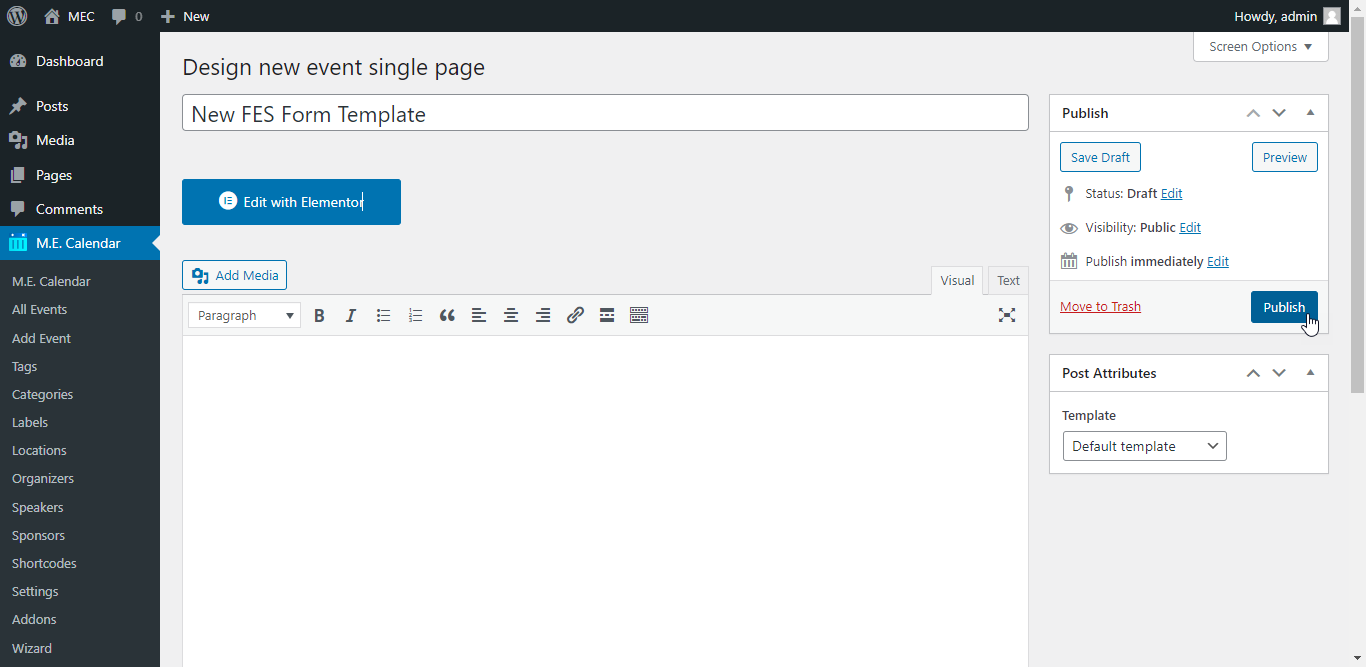 Now click on edit with Elementor to open the Elementor Editor.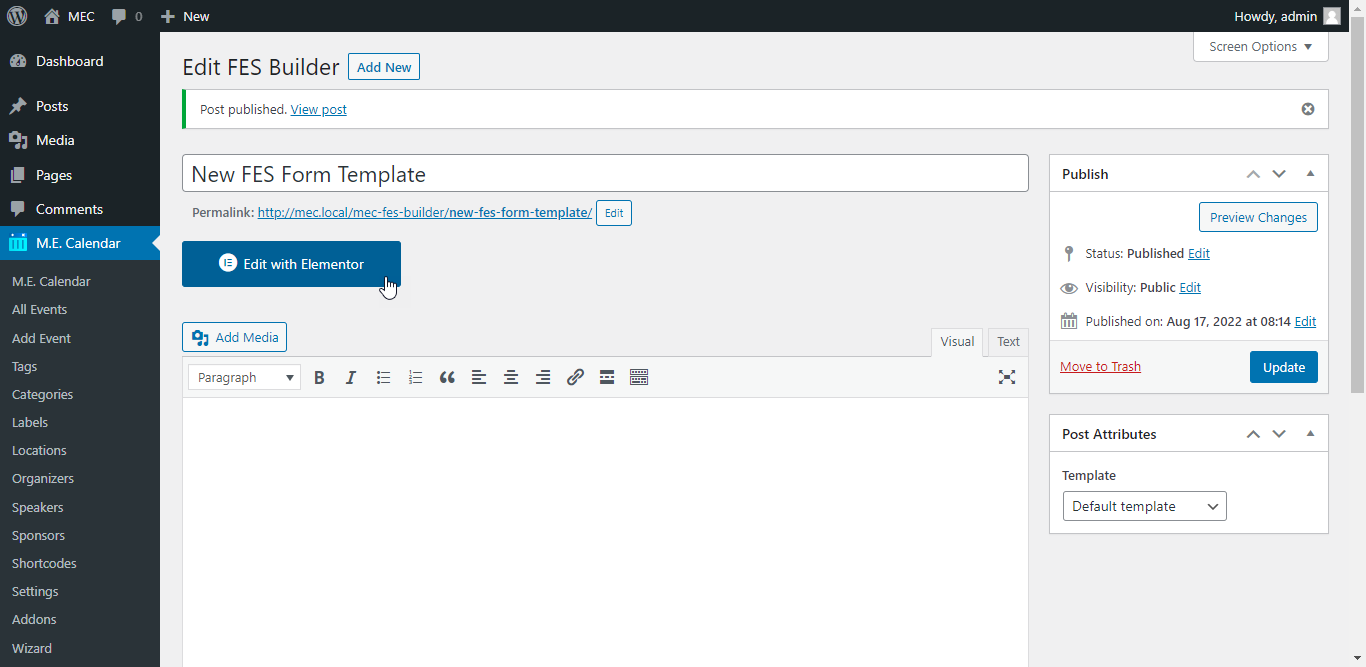 You can now see the FES Builder 40+ widgets on this window that can help you create exclusive FES forms for your website.
Creating FES forms
If you have used FES forms in MEC before, you definitely know that there are multiple fields to add to the FES forms and to have your users fill in the forms. We have assigned a separate widget in the FES builder for these fields to give you the option of adding them to your form. Obviously, if you don't add a field's widget to the form that field won't be displayed in the FES form and users won't be able to type in any data in those fields, so please consider all of your requirements carefully in terms of FES forms before creating them.
Note: It's clear that you need the submit button widget to have the option of submitting the forms to your users.
How to force your users to fill in a specific field
It is obligatory to fill in certain fields to submit the necessary event data in MEC and if you don't have enough data for them the event won't run properly whereas many other fields can be left empty that you might need their data. You can force your users to fill in those fields which is not a new feature and we have had it in MEC before, but now the FES Builder offers this feature in the widgets and the content tab.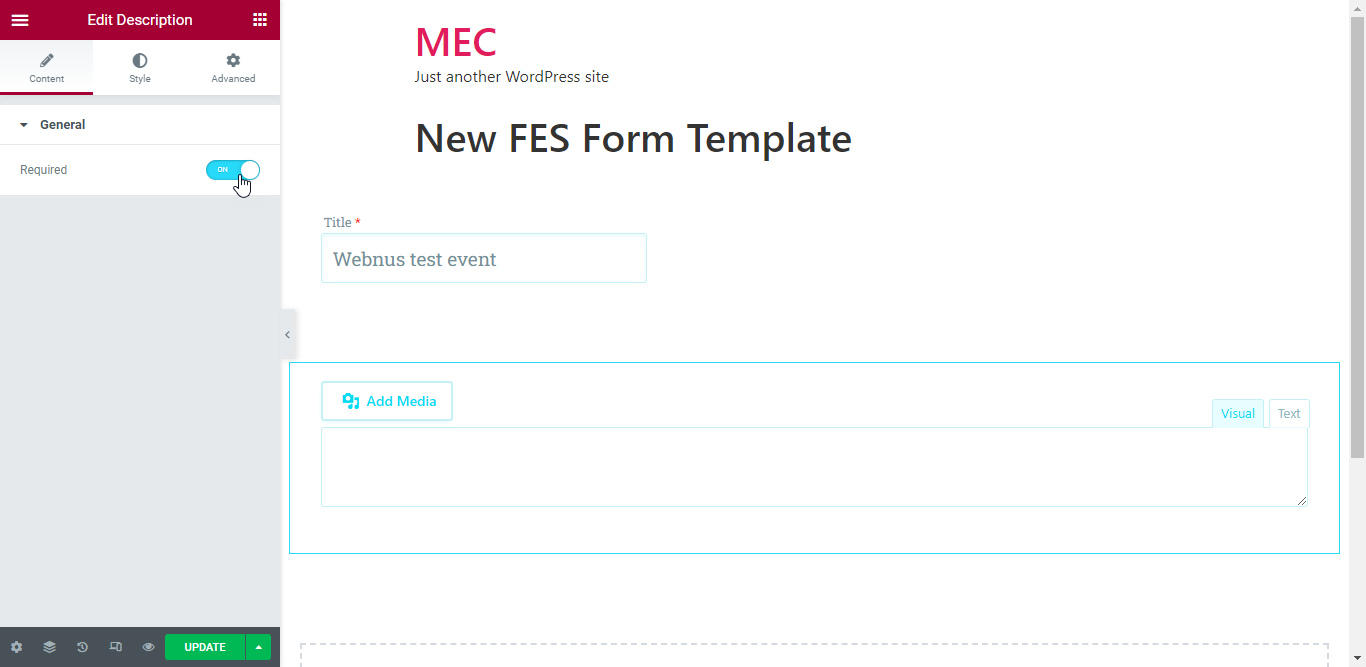 The widgets' styling options
There are multiple designated styling options for every widget in a way that there are no elements in the widgets that don't have customization options, so you are free to design any widget you like.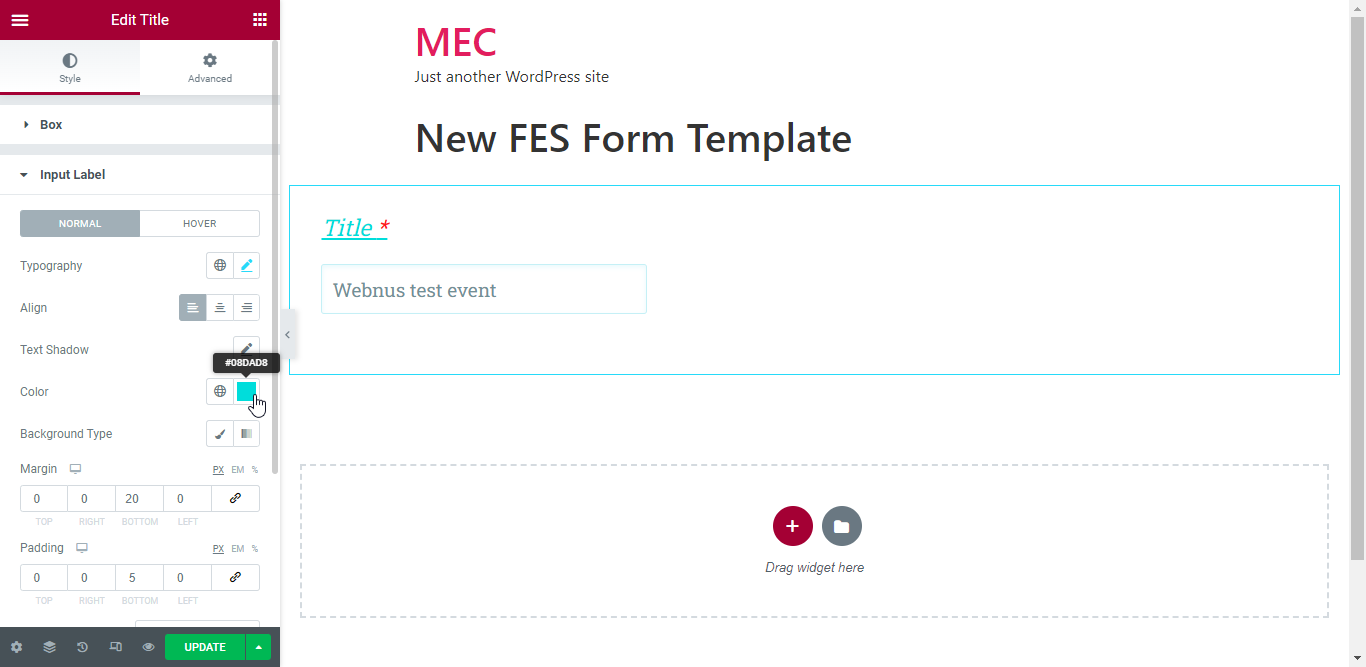 Assigning the created templates to load instead of the default MEC FES form
After designing FES forms it is time to use the forms. In order to do that you need to head over to WordPress Dashboard > MEC > Setting > Frontend Event Submission and choose the template made by Elementor and save the settings.