The Gutenberg Single Builder addon is one of the Modern Events Calendar builder addons which has been released after the Elementor Single Builder and Divi Single Builder addon.
Due to their website's speed, many users do not prefer to install page builders such as Divi and Elementor. Thus, they tend to use WordPress's default page builder, which is Gutenberg.
As we are dedicated to satisfying all our users' needs in Webnus, we have developed the Gutenberg Single Builder addon. Using it, users have been enabled to customize their single pages. In the following, we have reviewed this new amazing addon.
In order to install Gutenberg Single Builder, first, you need to download it from your WordPress dashboard and start to install and activate it using this article.
After installation, go to M.E.Calendar > Settings > Single Event directory and make sure to have disabled the Disable Block Editor (Gutenberg).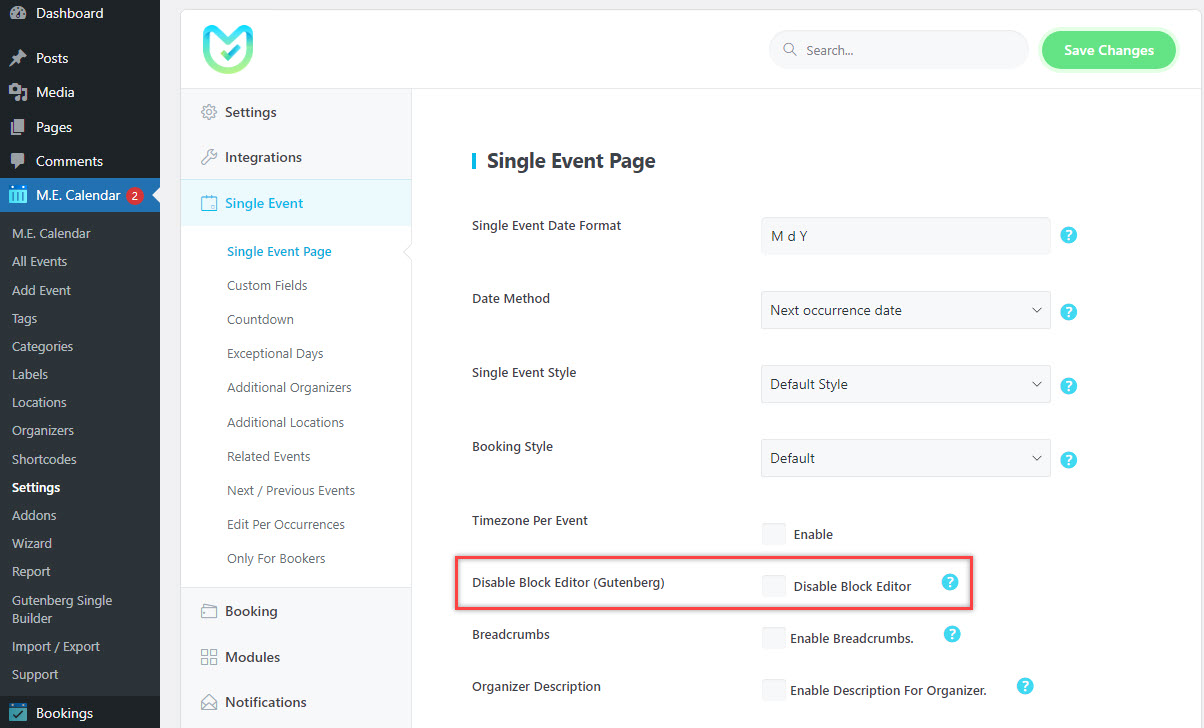 After you install the addon, the Gutenberg Single Builder will be added to MEC's settings. By clicking on it, you will be redirected to Gutenberg Single Builder.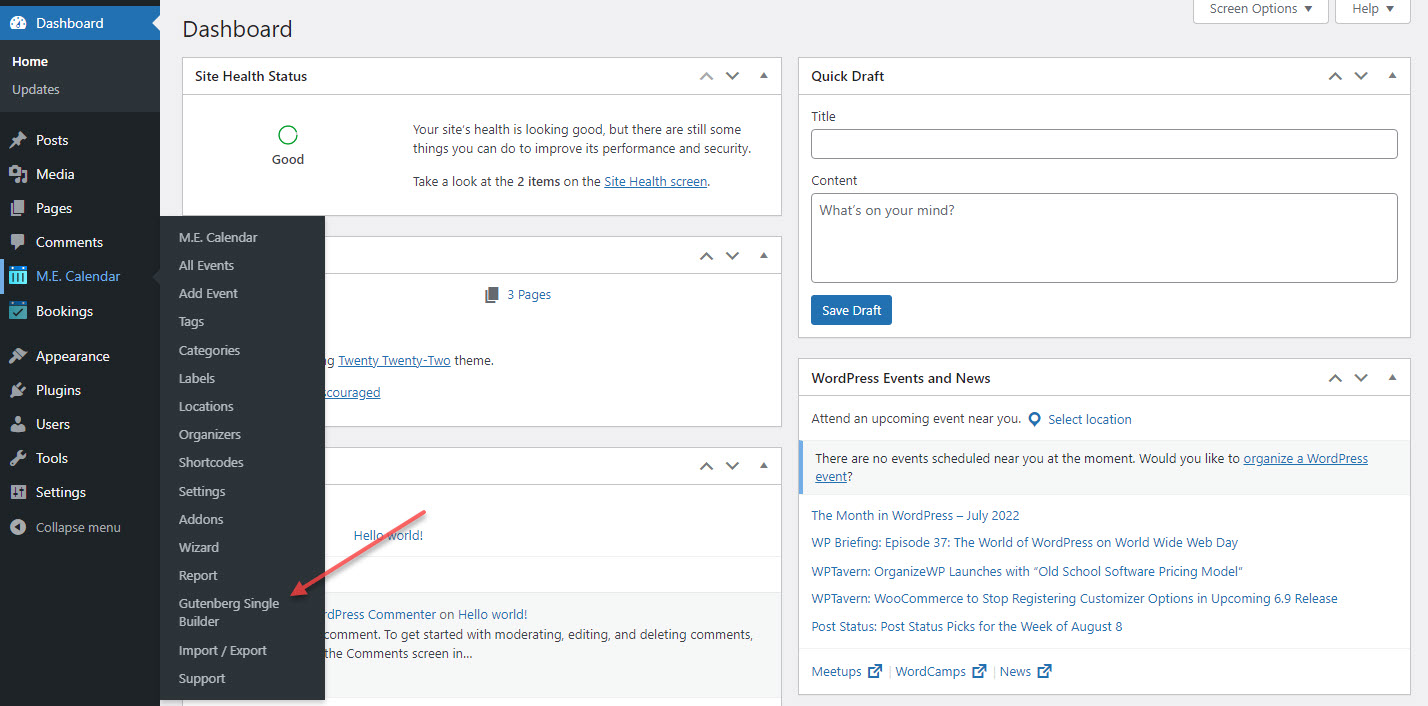 On this page, click on Add New, and a new template will be created for the Gutenberg Single Builder.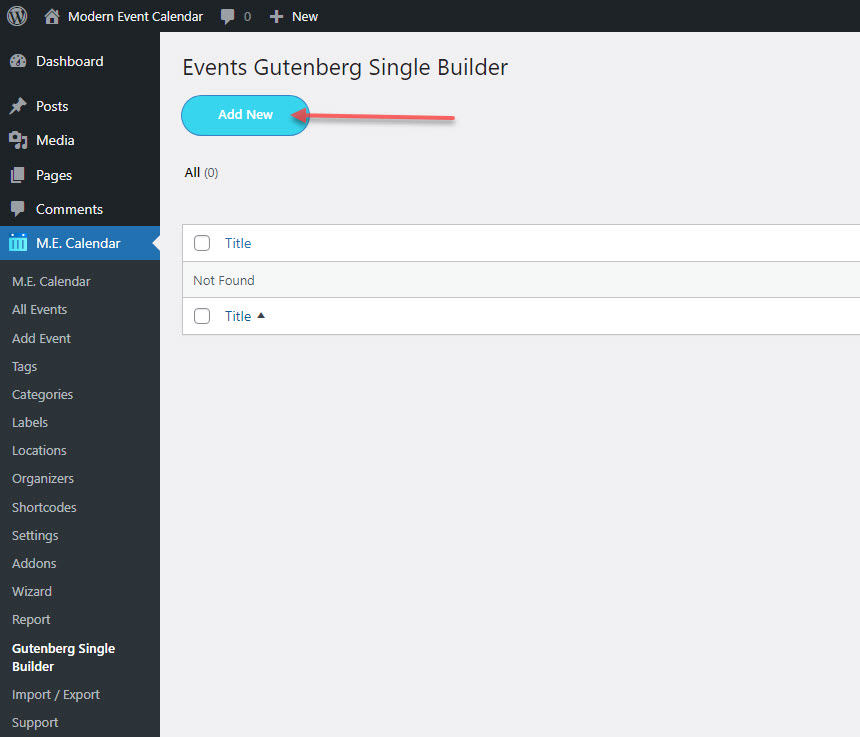 In this stage, 1-you have to set a name for the template, 2-choose your preferred widgets, and put them in the editor on the right.
After choosing the widgets and putting them in the editor, click on the
icon in order to style them.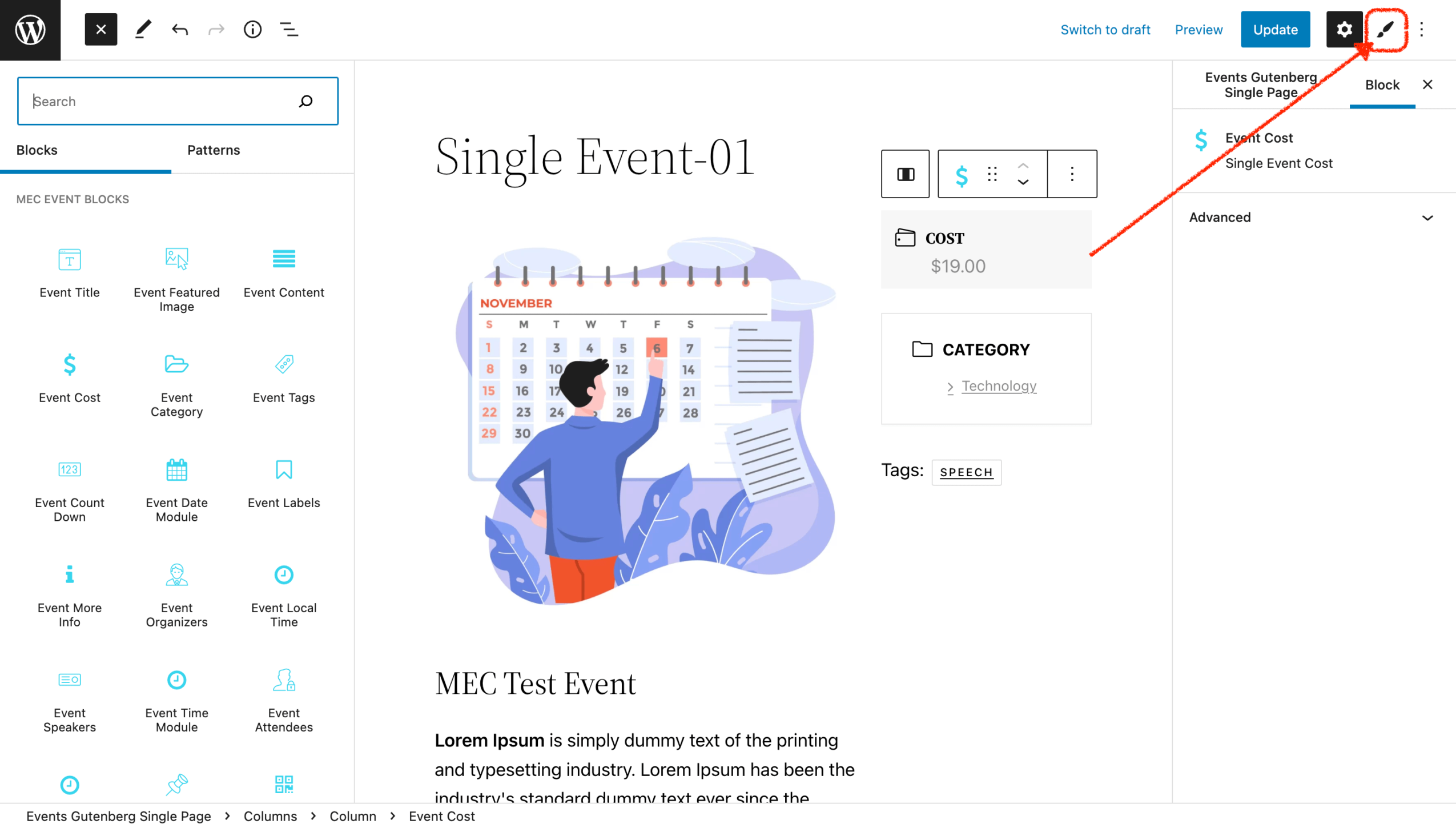 Now, you can see the ability of that widget on the left sidebar. Also, you can style those features too.
By clicking on each of those styles, you can customize them.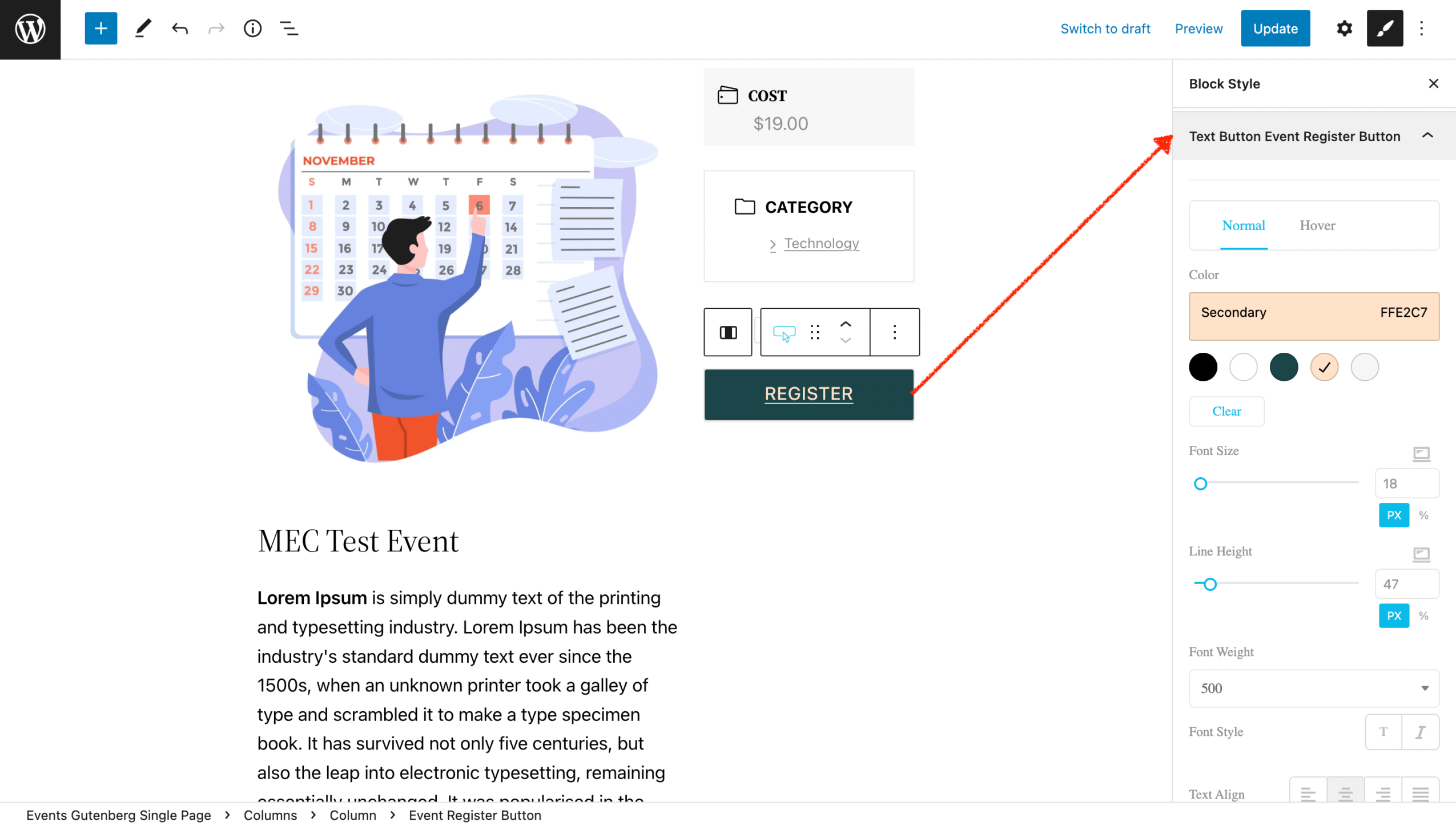 In the above example, you can see we have changed the register button style with the block style. You can apply this all to the widgets.
After restyling, click on the Update button to save your changes. Then go to the MEC Settings > Single Event directory and use your template.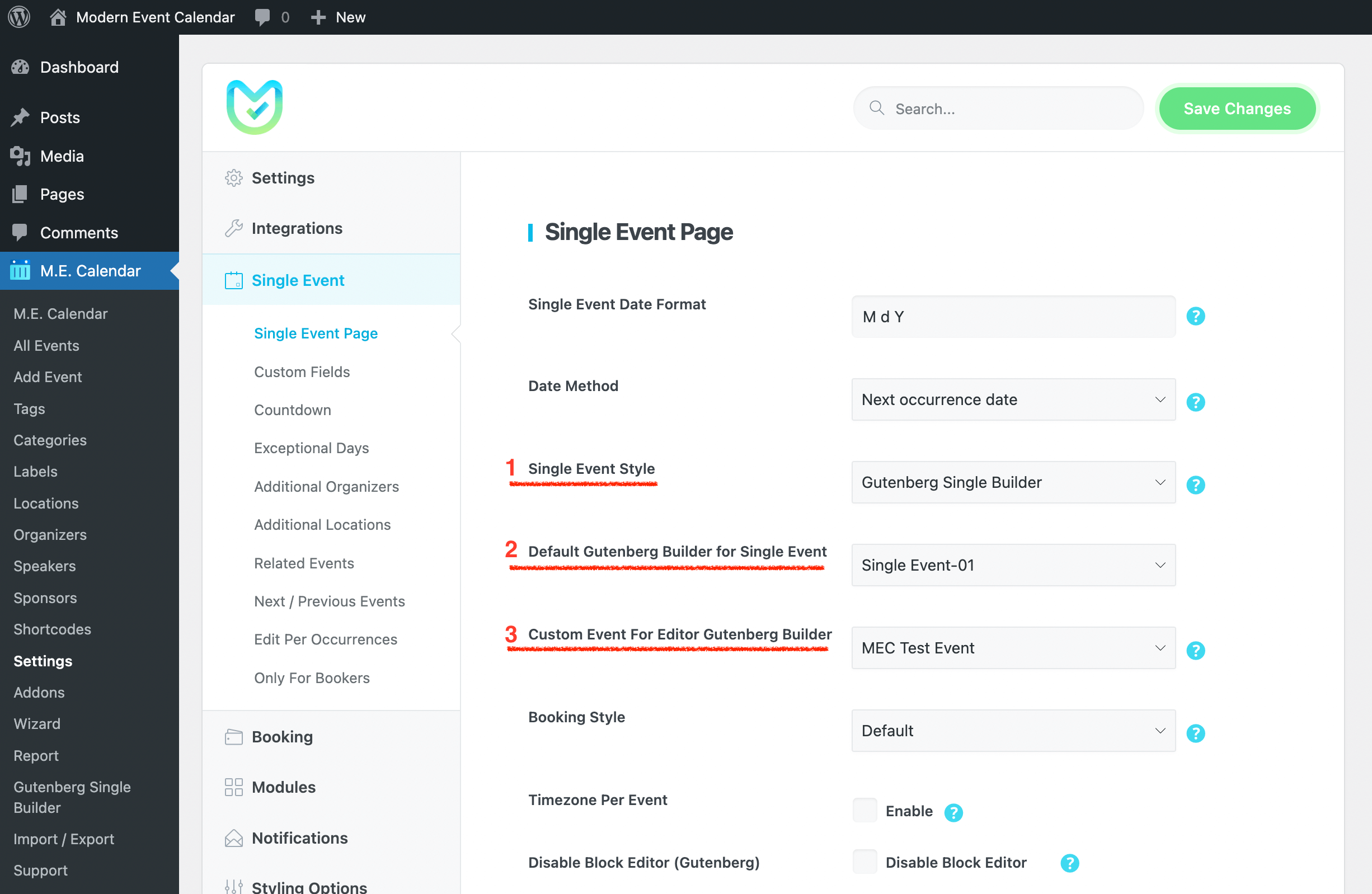 In this section, you choose the style of the single event page and put them on the Gutenberg Single Builder.
In the ​​Default Gutenberg Builder for Single Event section, you choose your template.
And finally, you choose the event you want to edit in Gutenberg.
Done! You can see all your changes applied on your single event page.
Also, you can design a page for each event individually. After designing your page, go to the single event edit section and choose its template from the bottom part of the sidebar.