With Webex Integration, you can show users the information regarding your meetings and webinars. Provide the users with an event link's embedded code, a username, and a password. You can choose whether they should be able to see this information after the reservation or be shown to everyone. You can also send this information via email after the reservation is made. Put a badge on shortcodes and single events to make them stand out.
The minimum MEC version required for this add-on is 6.6.4.
After installation, you can see a sub-menu in MEC's main menu, which allows you to access the add-on data and its integration with Webex. First, you need to get down to combining. In order for this, you should log in to your Webex account and follow the procedures below:
Connect your account
1. Register your Integration: Click Here
Registering an integration with Webex Teams is super easy. If you're logged in, select "My Webex Apps" from the menu below your avatar at the top of this page, click Create a New App, then Create an Integration to start the wizard.
You'll need to provide basic information, like your integration's name, description, and logo. This information should be user-facing since they'll see it in the permission dialog.
After successful registration, you'll be taken to a different screen containing your integration's newly created Client ID and Client Secret.
Important Note: Client Secret will only be displayed once, so please copy the data and keep it safe!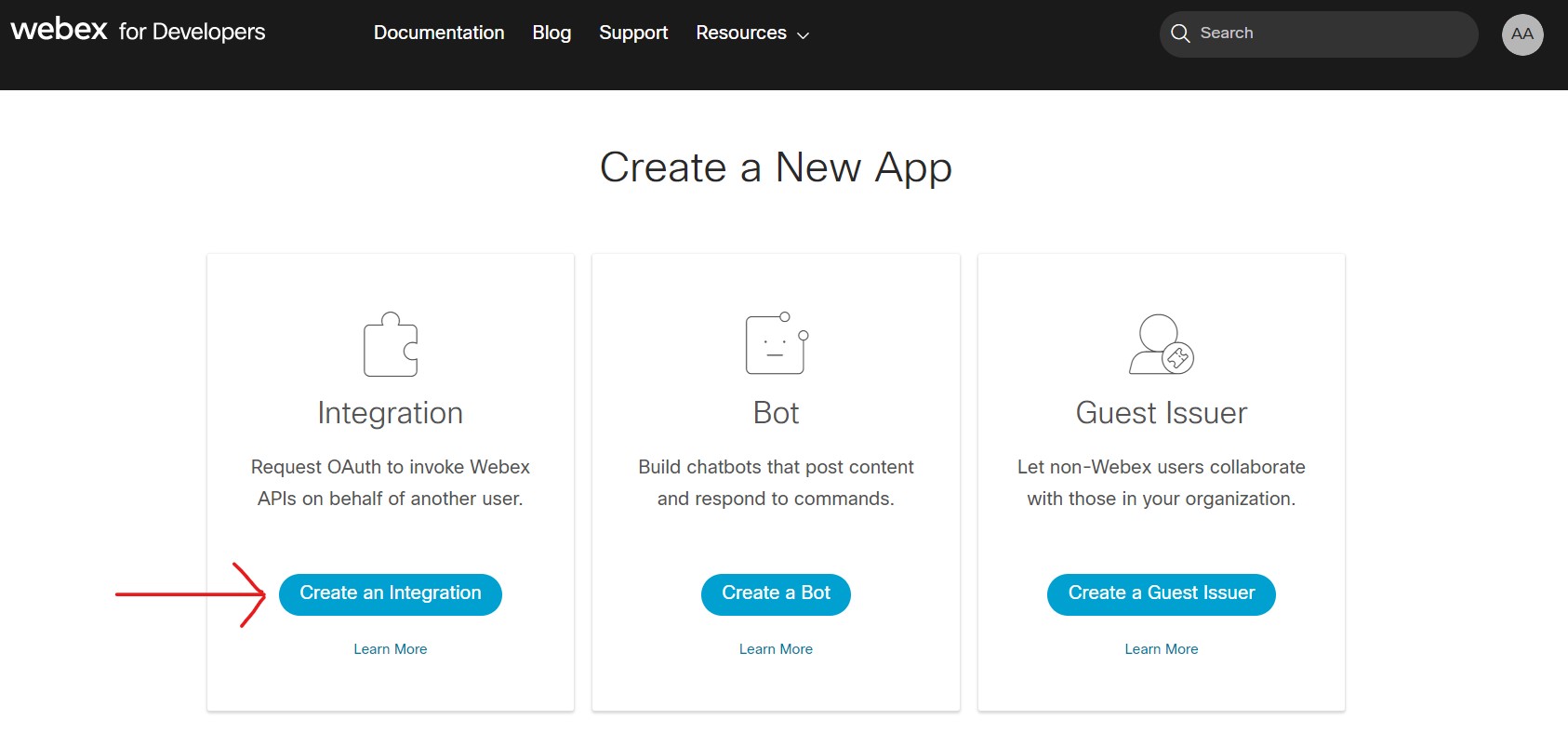 2. Configure your Webex App (You need to fill in all the below information)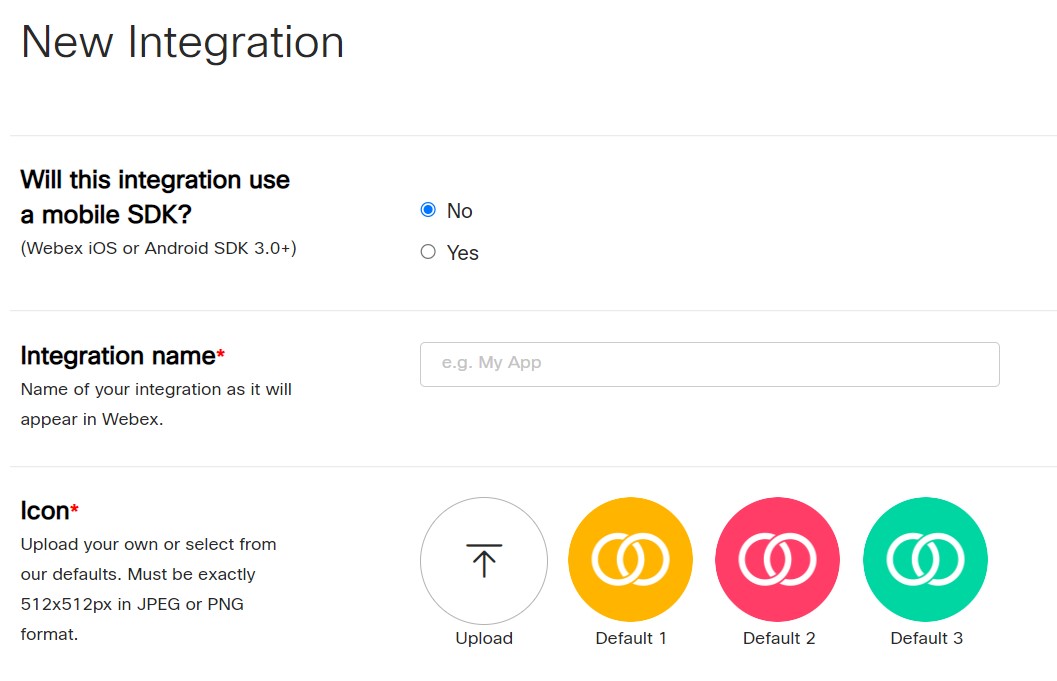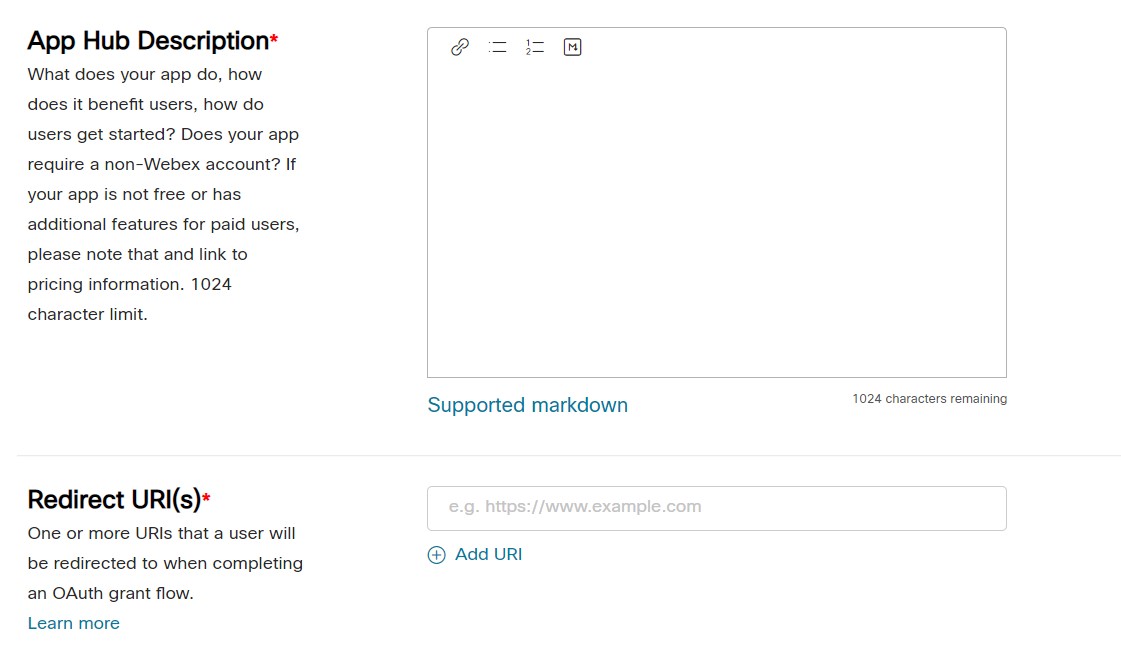 You can find Redirect URI in the Webex Integration addon dashboard :

Scopes: You need to check just meetings "schedules_read" and "schedules_write"
3. Authenticate and Generate an Access Token
After logging in, users will see a Grant Access option like in the image below. Click on Authenticate to create the Authorization Code. You will then click on Generate Access Token.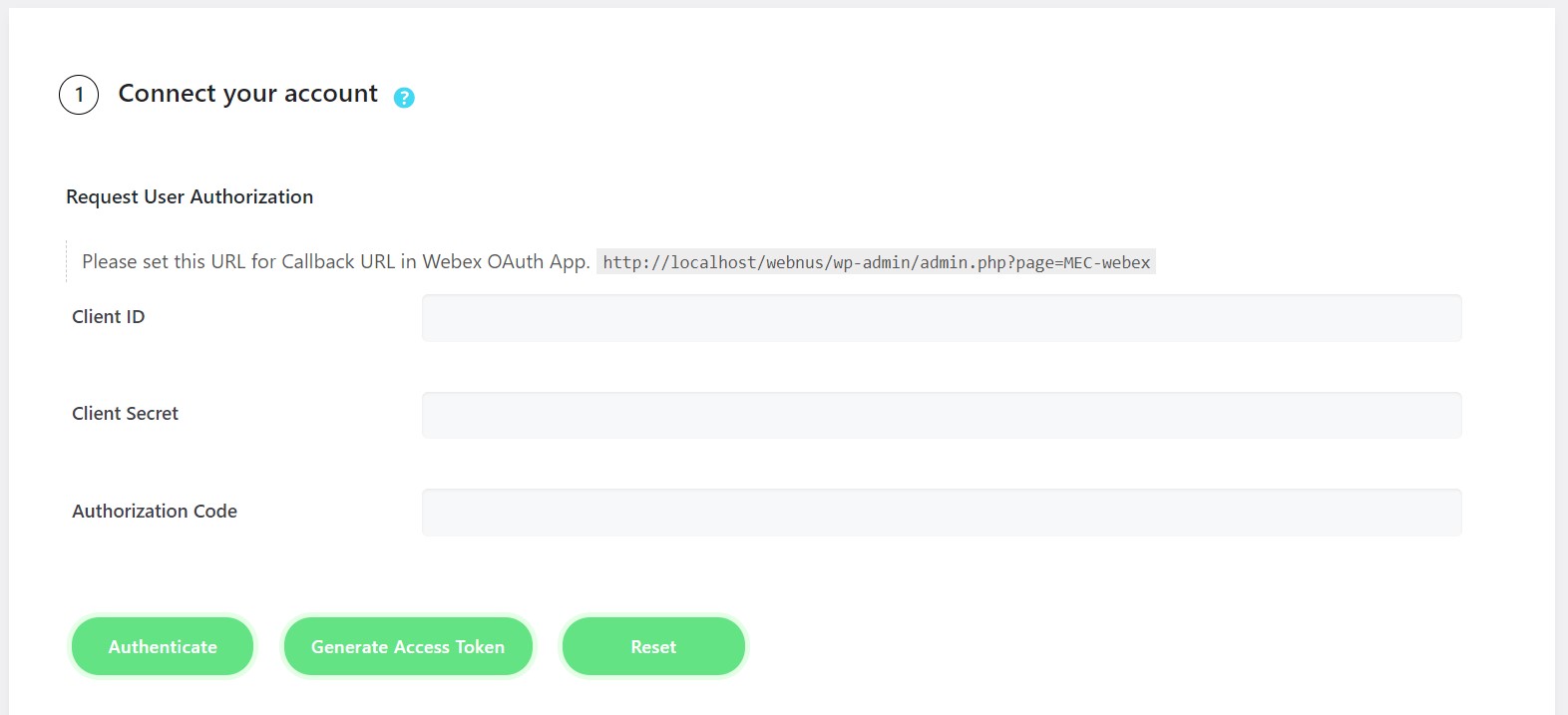 Select Webinar/Meetings to import/Export
1. Import
To import, we must select the desired time period, set the limit number, and then click on the meeting or webinar.
Note: In order not to import the expired items, we have to check the Exclude Expired Events option.
2. Export
In order to export, just click on the Export Events to Webex button to get the list of events and then export the ones you want.

Webex Options in Event Details
Like the Zoom Integration Addon, the following options are included to help you set up your Webex online event.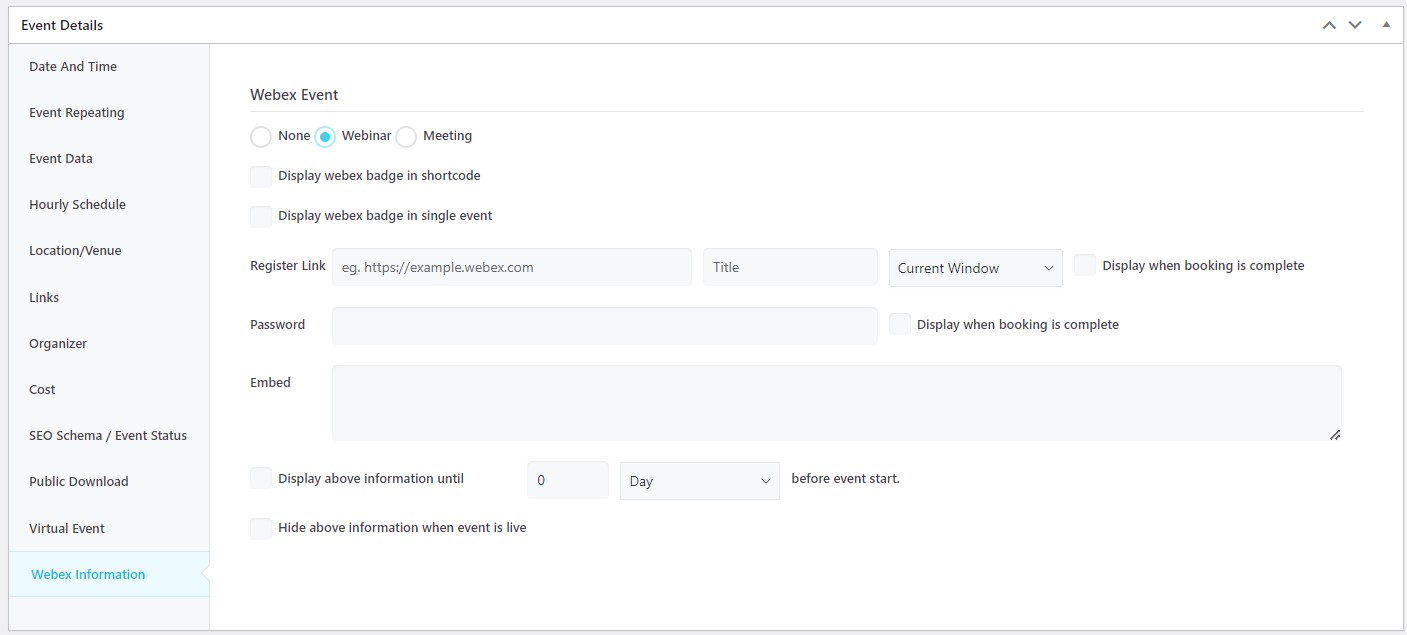 Regarding the new tab after installing Webex Integration, some complementary information is provided here:
Type of the event

View the Webex badge icon in all shortcodes as a badge:


View the badge on

the

Single Event page in the sidebar:



Join URL with title and link target

The password to join the Webex event.

Embed code (for instance, a YouTube video or…)

View the above info at a certain interval before the event starts.

Hide the details once the event is live.
A checkmark box can be found in front of the 'Link and Password' options. If you check them, the user can view that info when they make a booking, and consequently, they won't be viewed on top and will only appear when the reservation is made.

This addon uses placeholders for email to send the above-mentioned info to the users.
Making preparations for Exporting from MEC to Webex:
You may need to transfer your events from MEC to Webex. You must ensure you've defined what events need to be transferred. You can do this by going to Edit Event Page for each event you want to be transferred and then going to Event Details > Webex Information and defining that your Webex event is either a 'Meeting' or 'Webinar.'

Then go to 'Webex Menu' under MEC – you might need to generate the access code again – then in the new window, simply click 'Export Events to Webex.'
For more details about this addon, please click here.