---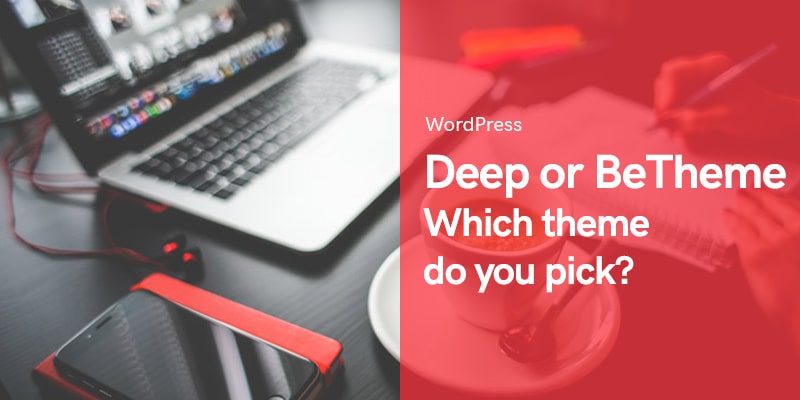 Full Review on Deep Theme VS. BeTheme
Choosing a WordPress theme is an endless game. If you don't believe in that phrase, just open 2 live demos from two different themes at the same time and try to pick one. Then you will admit it.
Appearance, menus, blog structure, features, plugins support, price and so many other factors will make it so hard for you to make the choice.
The worse thing is when you made the decision. It will be all over! You have to stick to what you have picked regarding tones of technical and SEO advisements. So you have to choose the most reliable one, but how?
In this article, we are going to compare Deep theme and BeTheme Two of the best WP themes of the current times.
We wrote this article, regardless of the same features and options and we checked 13 different factors that we will talk you through it.
You might be interested in this: 10 Best WordPress Event Calendar Plugins & Themes 2020

 
Deep and BeTheme Introduction
A deep theme is made by Webnus. A team with great plugins and themes provided for WordPress. They included all their previous themes in Deep, so this theme is a multipurpose theme with lots of modern and new demos.
Modern Event Calendar (MEC), Deeper Comments, Power VC add-on, several numbers of themes, and some template packages are the other products of Webnus.
The Deep theme has a practical online demo that you can access and experience all you are going to read.
BeTheme is provided by Muffin Group. It doesn't matter if you have heard about Muffin or not, because BeTheme is famous enough to all WordPress users. Muffin group has provided BeTheme as the main product along with some other themes, a template and a page builder called "Muffin Builder" which is used just in their own products.
You can access the BeTheme demo by searching for it in Themeforest.
Setup
Actually setup process on Deep is the most transparent process comparing to other themes. After purchase, you can download it from Webnus.net and easily upload it to your website. It also comes with a child theme which is recommended to be used if you want to customize your design.
After uploading the theme, it asks you which template and page builder you desire and import it in a couple of minutes.
After that, you will be forwarded to the welcome page. You can see some errors showing on the page of both themes and they are quite important errors and also, easy to fix ones. All you need is to follow the instructions (which is provided by Deep or will be found by googling them) or contact your hosting provider to fix them for you.
These factors help you to improve the performance on your theme.
Muffin says that BeTheme is "just-1-click-install", but actually you can't get what exactly you want by one click.
Consider you install BeTheme with one click and it congrats you for installing the theme this fast, but in that case, nothing is imported! You have just installed the theme with no template.
Actually, they have removed the step in which you choose your desired template from the setup process and put it in a separate section to be able to say BeTheme will be installed in just one click.
After installing BeTheme, you have to import your desired demo in the theme options section, but in the Deep, during the setup process, when you select which demo and page builder you want to deploy. so there is some more click than one, but when it's finished you have a completely prepared website.
Demos & Templates
Deep got more than 80 demos which some of them are Webnus previous themes that are included in this theme. The best point about these +80 demos is that they are not as same as each other. These themes got a completely different look and feel, and you have various choices for your design. Deep also got more than 160 templates that you can use them in different parts of your site.
On the other side, BeTheme has an odd number of demos. BeTheme got more than 400 demos! They got more demos that you can think, but it can be said that many of them look the same which is a common thing between those number of choices. It's normal when you got a such number of one thing, there will be lots of common designs.
You can't say they are not practical, but when you expand the choices too much, it will be hard to pick one.
Speed
For making a fair comparison for measuring speed, we downloaded the same version of these themes, then installed the Deep theme on an active domain and tested it, then we cleared everything forms Cpanel and installed BeTheme for the survey. both themes tested in a completely un-optimized situation. We used GTMetrix for both measurements.
Something important to consider is that the GTMetrix factors are based on some variables and could change in different configurations. So that these factors could be different but close in other situations.
Before the test, we thought the results will be a bit far from each other, but the result was very tight. There surely are some speed issues that need to be fixed, but both results show that both themes are providing great quality in page speed factor
SEO
Both themes are SEO friendly. We can't complain about that, but there are some tiny differences. Both themes provide various fields for meta-tags and other descriptions which are important for your SEO. For example, Deep has provided a feature that you can add all your desired tags easily in the head and body of your pages.
In this case, you can easily optimize your website for search engines
Also, both themes are compatible with SEO plugins. Actually, compatibility with SEO plugins is not an option. It's a must!
Page Builder and Page Design Elements
BeTheme uses Muffin page builder and WP-Bakery. Deep comes with three different page builders. WP-Bakery, King Composer Pro, and Elementor.
Deep is better in any aspect of designing the pages. If you are a rookie, you can build your page completely with drag&drop features in a blink of an eye. And also if you are a pro, Elementor provides various features and things that prevent installing additional plugins for your design.
Many great themes are using Elementor as their WordPress page builder nowadays.
Muffin Page Builder is something that you can rely on, but just for making an ordinary page. Building a page with Muffin Page Builder is not as easy as King Composer or as professional as Elementor.
Muffin Page Builder just provides you with some field to fill out your meta-tags and information like this. So actually it's hard to say that building a page using Muffin is as easy as Elementor or KC.
Deep has provided an exclusive header builder and footer builder section which you can create something that none have seen. Deep also comes with more than 20 pre-built styles.
BeTheme got some pre-built designs though. The main difference between Deep and BeTheme is you can't custom the header or footer as you wish. in BeTheme you have to stick to pre-built options with a tiny chance for customization.
The Deep and BeTheme, both support parallax effect and video background so this means you can create awesome styles using video, image, text and any graphical elements on your page. Also, both themes got Retina-Ready and will have a delightful view of Retina displays.
They both got a great blog pre-built styles. Deep has provided 28 and BeTheme has provided 6 different blog styles that you can use with 3 different options of the sidebar.
For creating a Mega-menu, both themes have built-in features that you can create a Mega-men as easy as possible. In Deep, you can create a menu as a single web page using a super awesome page builder like Elementor, and introduce it as a menu on your website.
This is a great idea for creating a menu because it provides you so many different possibilities to create a beautiful and well-designed menu as you desire.
Typography options are really great in both themes and you can change almost everything in this section.
Mobile Version and Responsivity
Both themes are fully responsive. You can make sure that they perform great at different screen sizes. They both have a mobile version and different layouts, but when it comes to customizing, Deep definitely beats BeTheme. Regardless of all same options you have in both themes, you can customize any section of a page using Deep dashboard.
Shop and Woocommerce Ready
If you ask your programmers about the hardest part of a site, they will all point out the shop. You can select different layouts as we mentioned in Page Builders section and customize them as you desire. Both themes support 6 columns, and you can use it for modern shop designs.
Also, the Deep theme uses AJAX method for better UX which makes your shop very user-friendly more than any other theme.
Default Plugins
When you install the Deep theme, you can see that it's using 29 different built-in premium plugins. The approximate value of these plugins is about $730. It seems that you are using a web design army instead of a theme.
On the other hand, BeTheme comes a bit short in this comparison. BeTheme uses some practical product which is quite common among WordPress users.
Multilingual Features
A multilingual website is necessary for some businesses. Both themes are WPML-ready and able to make a complete multilingual website. Both themes support RTL, so there's nothing to worry about right-sided languages.
BeTheme got a built-in WPML section which got some fields for some of your useful words and phrases that uses in buttons and parts like this. This is a great feature because sometimes it gets hard to adjust these words and phrases manually.
Other Top Features
Despite all the great features both themes have, there are some unique features on Deep that you can't ignore. One of the best features in Deep is White Labeling. You can remove all signs from the Deep theme and put your desired name on it, using this feature.
One of the other great features of deep is the built-in JS and CSS minify system. And the last one that could be mentioned is the "adaptive image" system. With this feature, all images load with different sizes on different screen sizes to decrease full page loading time.
On the other hand, we can mention the "Auto Update" feature from BeTheme which is a relief for constant performance improvements of the theme.
Offers
Deep provides several offers for its buyers. If you use 5 hosting services that are mentioned in Webnus.net you can buy these hosting services with a 50% discount and Deep theme for free, which is a precious offer. Buying the Deep theme you will have up to +20% discount on WP-Rocket services.
Also, Deep Free provides all features of the premium version for you so you can feel what you will be facing after purchase.
BeTheme, also have an offer for you in the process. If you buy BeTheme, they will provide a free hosting service for you which is good, but not as good as the Deep theme.
Pricing plans
Deep Theme is sold in 3 packages as one-time payments and it includes:
One License for All Themes $59
5 Licenses for All Themes $199
10 Licenses for All Themes $339
You can access them on Webnus' website on the pricing page.
BeTheme will cost you 59$ for a regular license which is sold in Themeforest.
If you are looking for something more, like modern designs and better tools for maintaining a website, you have to go for the Deep theme. BeTheme provides you most of the regular needs, but using it could not make you exceptional at all.
Recommended Posts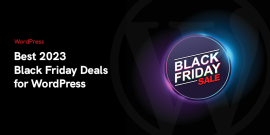 November 13, 2023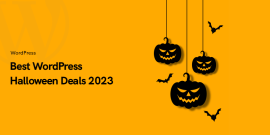 October 23, 2023