Elementor Shortcode Builder Addon allows you to freely customize your shortcodes and place them wherever you want on your website. This amazing addon can help you design the perfect website with only a few clicks.
It enables you to create shortcodes in Elementor Live Editor. Adding this widget to your pages allows previewing the events and placing the shortcodes in pages like a cakewalk.
Shortcode builder is a great choice for you if:
1) You want to design your own shortcodes
2) Speed is your first priority
This is a solution to speed up creating shortcodes in the front end.
Using this addon, you can simply create your Shortcodes in the front-end and use them instantly.
You can learn how to set it up in the following article: https://webnus.net/dox/modern-events-calendar/making-advanced-shortcodes-in-modern-event-calendar/. It will certainly improve your speed in creating shortcodes.
Using MEC Shortcode Builder has two prerequisites:
First, Elementor Page Builder,
And second, you should have the latest version of the Modern Events Calendar installed.
It is also very easy to use. After activating the plugin you'll need to simply create a new page and enter the Elementor Page Builder. Therefore, just click on "Edit with Elementor" so that the Page Builder is ready to use.
Note: Shortcode Builder Addon works with MEC version 4.2.3 and higher.
Elementor Shortcode Builder Addon Settings:
Make sure to enable this option in Elementor > Settings > General
Create a new page. Now, you can visually add the Shortcode to the desired section.
You can see the customization options below: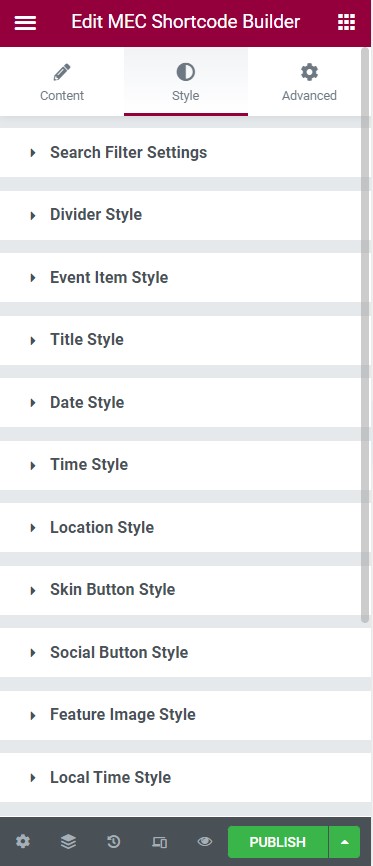 Customize the shortcode.
And save it as a template.
Then you can use it on any page.
The shortcode template will be added with all customizations.
For more information on how to work with Modern Events Calendar Shortcode Builder Addon, please refer to the following
articles:
https://webnus.net/dox/modern-events-calendar/setup-date-option-on-shortcodes/
https://webnus.net/dox/modern-events-calendar/all-date-formats/
https://webnus.net/dox/modern-events-calendar/date-and-time/
https://webnus.net/dox/modern-events-calendar/category/setup-features/
Please Note 1: If you use Elementor to create a shortcode from MEC > Shortcode then you need to save it as the template in order to use it.
Please Note 2: Do not use Elementor's Shortcode widget but instead use MEC Shortcode Builder's widget.
FAQ
01. How can I change styles in this add-on?
Make sure your added is updated since it was implemented in a recent update.
02. I want to translate my add-on, how can I do that?
Make sure to read this post on how to translate: https://webnus.net/dox/modern-events-calendar/translate-mec
03. Does this add-on work with MEC Lite?
Yes, this add-on can be used with MEC Lite.
04. Some widgets like Yearly View and Masonry View are not available to me:
These two are exclusive PRO features so if you're using MEC Lite that's why they're not available to you.
05. What do I do when I get Error 500 on Elementor's editing page?
Make sure to use the latest version of the add-on and check your server's configuration with the help of this post: https://webnus.net/dox/modern-events-calendar/what-are-best-wordpress-php-settings If doesn't help, make sure to contact us and we'll help you out.
06. I've installed the add-on but I get an error when I try to access Elementor's editor:
You go WordPress Dashboard > Settings > Permalink and set your website's permalinks on Post name. Afterward, the editor will become functional.