You can create various shortcodes combining specialized widgets on the Elementor Shortcode Designer addon with no limits and display them using the specialized shortcode you've created.
What can you do with the Modern Events calendar shortcode designer addon?
By using the Modern Events Calendar shortcode designer addon, you can create unlimited custom shortcodes. You include whichever element you wish to display in your events with the intended style and positioning.
This is done by a simple drag and drop of them with Elementor's widgets. MEC shortcode addon creates the perfect display for you and your users.
You can also limit the number of events being displayed and even add the exclusive search functionality.
MEC shortcode designer addon installation
For installation of the Modern Events Calendar shortcode designer addon, first, make sure that both MEC and Elementor Page Builder are installed and activated. Then, head over to your WordPress Dashboard > Plugins > Add New and upload, install, and activate the addon.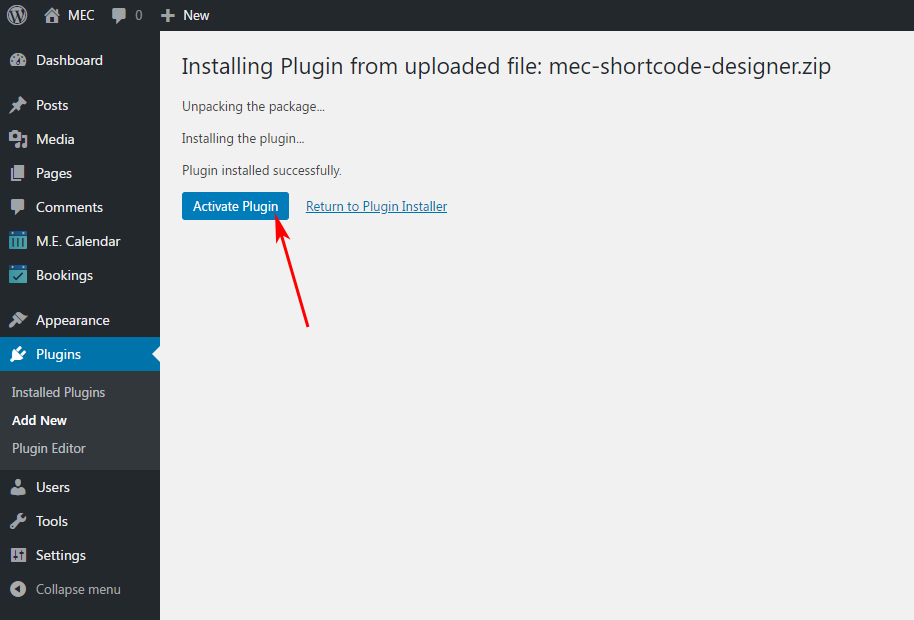 Elementor Settings:
Before designing the shortcode you should first enable the MEC Designer option in Elementor settings and save them to make the related post-type Elementor editing possible.
After activating the addon, you can go to your WordPress Dashboard > MEC Designer and access all your shortcode designs but to add a design, you need to click on Add New.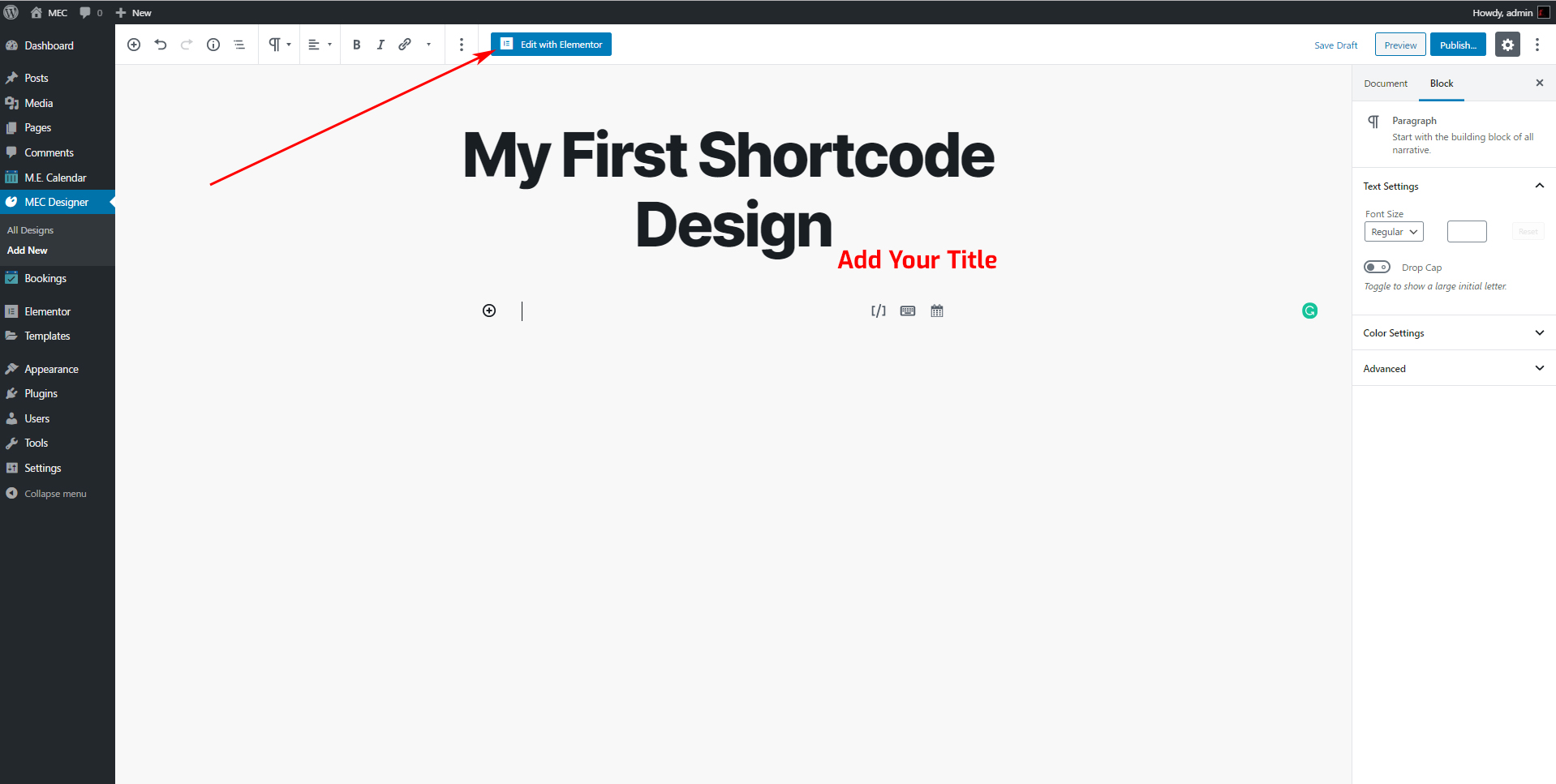 Afterward, choose a title and click on Edit with Elementor to use Elementor's editing section.

Please note that you might face an error like the one below before entering Elementor. In order to solve this go to WordPress settings and refresh permalink by clicking on the save settings button.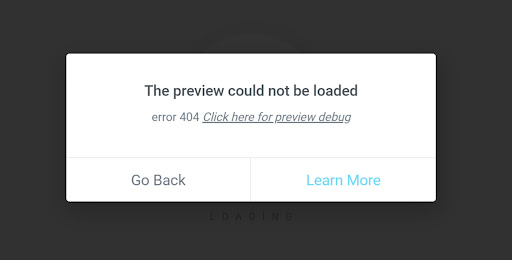 Note: Other page builders can be used alongside Elementor (such as Divi, VC, KC, etc.) and there is no limitation in this regard. You can use whichever you feel comfortable with.
After entering Elementor's editing section, add the rows and sections you have in mind and create your own shortcodes by dragging and dropping the Elementor Shortcode Designer addon widgets. Afterward, you can use MEC's widget or Inner Section Widget from the sidebar.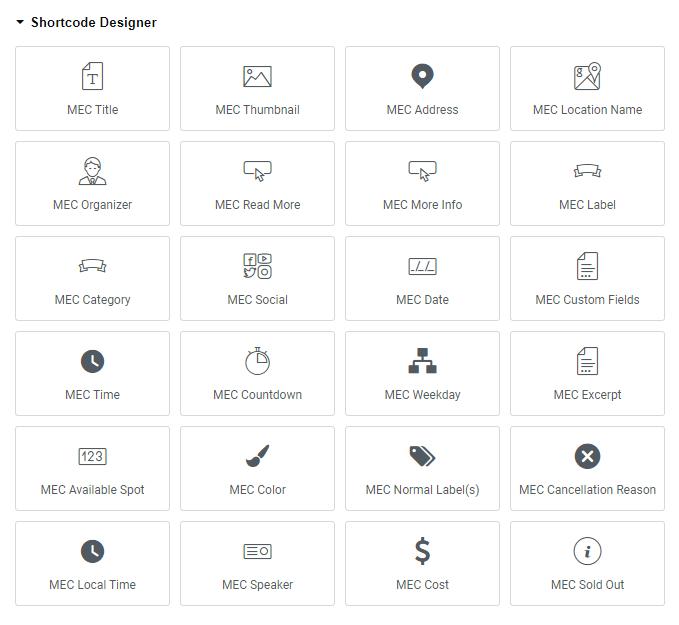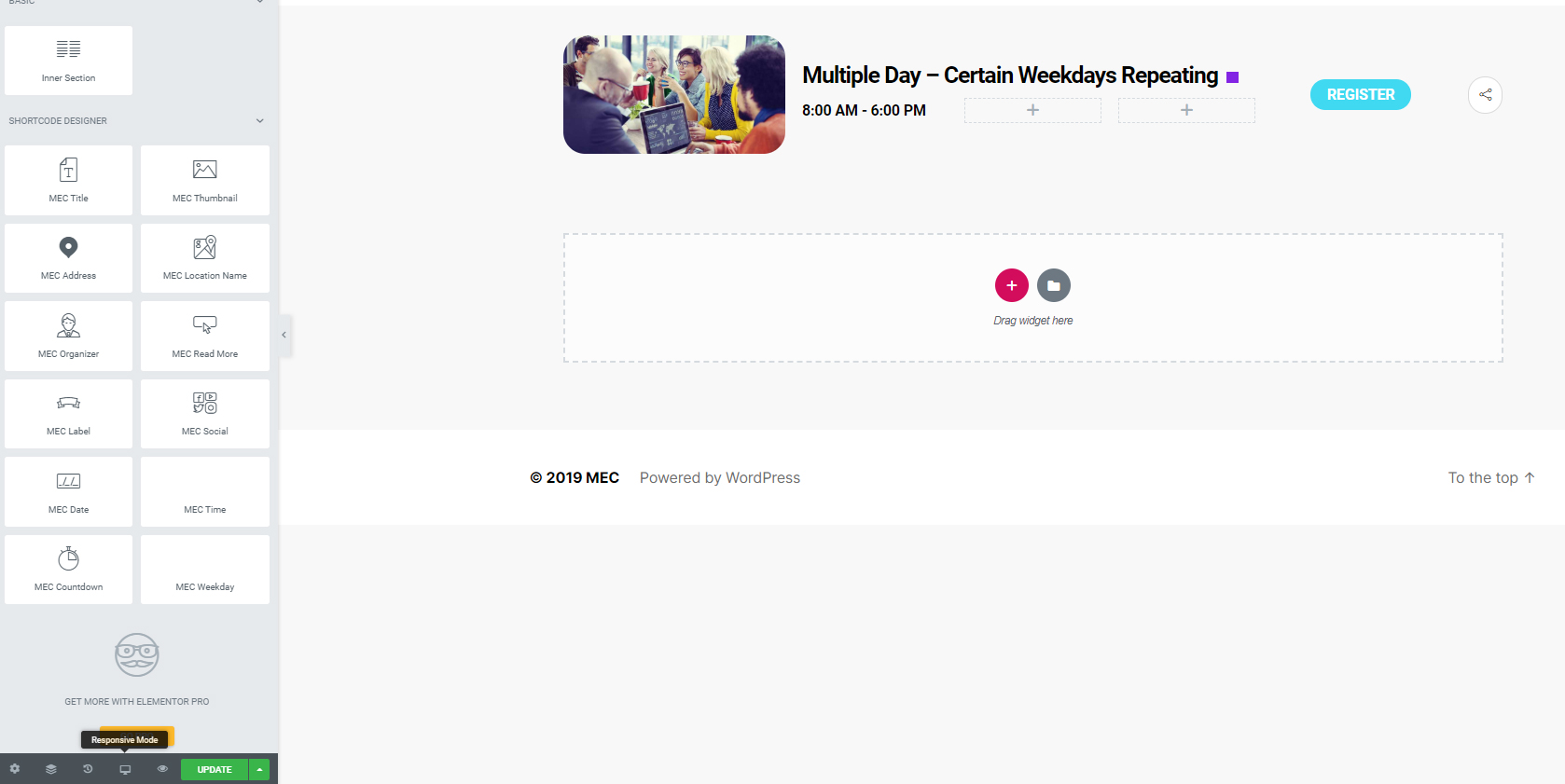 Add your preferred widget to the section and style it the way you want. If you have difficulty finding a distinguishing layout for your target check out the Best selection of Events Website. Get some ideas on how to fully take advantage of the Modern Events Calendar designer shortcode add-on.
As you can see the styling can become limitless and your ideas will be boundless with MEC features.
These styling options include typography, colors, and spacing and are part of every widget.


After you've designed your own shortcode, click on publish or update the page and return to your WordPress dashboard. In order to complete your shortcode and to be able to display it on your website do the following:
Go to WP Dashboard > M.E. Calendar > Shortcodes
Click on Add Shortcode
Choose a title
In the skins, section choose the final one "Shortcode Designer"
Configure the settings according to the article and place the shortcode within your desired event page: LINK
The style you want to display should be one that you've already designed.
Add your shortcode to the desired page: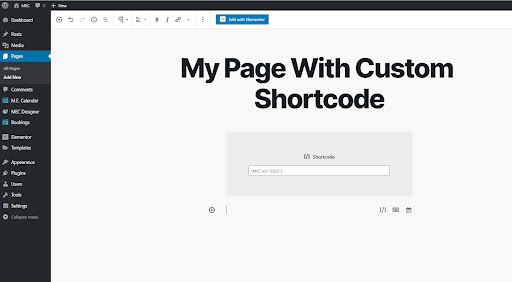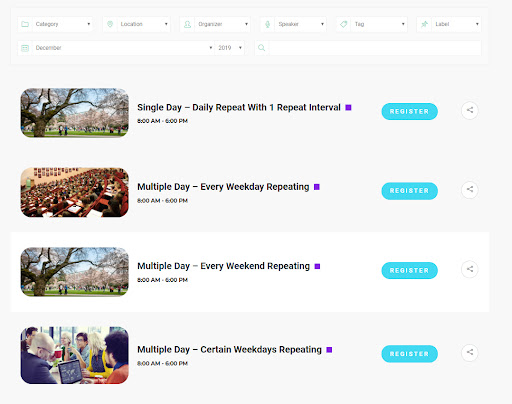 What other features you can implement into your website via the MEC shortcode designer addon?
Modern Events Calendar shortcode designer add-on has other options as well. The stages you require to follow will be the same as the rest of the shortcodes such as List, Grid, Calendar Cover and etc. are configurable.
In addition to that, filter options are also available. This allows you to implement the function within your shortcode.
There is also a search form available for use. We've got 2 ways of displaying events one Modal and the other Separate Window. Additionally, if you need a map above your shortcode select Show Map on Top.
The optimum part is that you can create a mini-library for these generated shortcodes and employ them wherever you want in the future. Or even modify them for better application.

After your setup is complete, you can use the Shortcode generated via MEC everywhere on your website and have it maintain the design you wanted.
Don't forget to publish/update your shortcode.

Add your shortcode to the desired page.
Please Note: Your server must have the allow_url_fopen property set to true. please get in contact with your host so they can enable it for you.
FAQ
1. I can't enter the Elementor environment after the addon is installed. What should I do?
This issue can be fixed easily by saving Permalinks in the WordPress Settings > General > Permalinks.
2. How can I resolve Content errors?
Please follow this instruction for more information about this issue.
3. How can I use Elementor and maybe other page builders in this addon?
Regardless of what page builder you use, it can be used together with Elementor. You can keep both Elementor and your preferred builder active at the same time. Use the Shortcode Designer document to start building your first custom shortcode.
Once you've created your shortcode, copy the shortcode ID for it and paste it into the main page builder you use.
4. Does this addon also work with MEC Lite?
Yes, you can use this addon with MEC Lite as well.